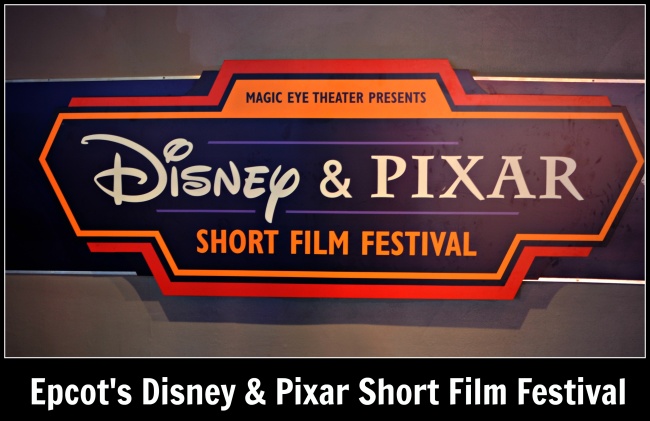 At Disney and Pixar Short Film Festival, guests can enjoy a trio of 3D animated shorts from the creative talent at Disney and Pixar.
Ride Information  Restrictions  Location  Fun Facts  Top 5 Tips
Ride Information
Opening Day: December 23, 2015
Type of Ride: 3D show
Age Recommendation: All ages
Duration of Ride: About 18 minutes
Typical Queue Time: None
Single Rider Line: No
Chicken Exit Available: No
Baby Swap Available: No
Type of Vehicle: None
Type of Restraint: None
Attraction Open During Early Theme Park Entry: No. See our Early Theme Park Entry page for more information.
Ride Photo Available For Purchase: No

Planning a Walt Disney World Vacation?
For a Free no-obligation quote, contact our sponsor
The Magic For Less Travel
. Services are provided free of charge and their expert planning advice will help you make the most of your vacation time and money.
Ride Restrictions
Height Requirements: None
Flash Photography or Video Allowed: No
Disney and Pixar Short Film Festival Location
Shopping: A gift shop is situated at the exit to the Imagination! pavilion's other occupant, Journey Into Imagination With Figment. Many of the souvenirs sold here involve Figment the dragon.
Dining/Refreshment: The adjacent "The Land" pavilion features both a full service restaurant and a counter service restaurant. The full service restaurant, Garden Grill, serves "all-you-care-to-enjoy" family style character meals at breakfast, lunch, and dinner. The breakfast offerings include biscuits and gravy, scrambled eggs, bacon, waffles, and sticky buns; the lunch and dinner platters incorporate bread, a salad, beef, turkey, fish, mashed potatoes, rice, and macaroni and cheese. Garden Grill slowly revolves, affording diners views of the "Living with the Land" boat ride. Chip 'n' Dale, Farmer Mickey, and Pluto are usually in attendance at Garden Grill.
Guests preferring a counter service meal can enjoy sandwiches, Asian dishes, soups, salads, chicken, and pork at the Sunshine Seasons food court.
Restroom: Lavatories are situated next to the Imagination! pavilion.
Smoking Location: Smoking is permitted in designated smoking areas only. Disney parks are smoke free.
Disney and Pixar Short Film Festival Fun Facts
Did you know?
Disney & Pixar Short Film Festival incorporates three shorts: "Get A Horse!," "Feast,"and "Piper." These efforts originally debuted in theaters prior to Frozen (2013), Big Hero 6. (2014), and Finding Dory (2016) respectively.
Get A Horse! is a must-watch short for fans of Disney history. Through archival audio, the effort incorporates the voice of Walt Disney as Mickey Mouse, and it features the first appearance of Oswald the Lucky Rabbit in a Disney short since 1928. Oswald, Walt Disney's flagship cartoon character before the birth of Mickey, was lost to Universal Studios in 1928 and not reacquired by Disney until 2006, when sportscaster Al Michaels moved from Disney-owned ABC-TV to Universal-owned NBC-TV.
In the Magic Eye Theater's preshow holding area, guests can view concept art from the three shorts and watch clips about the history of animation at both Walt Disney Animation Studios and Pixar.
Disney & Pixar Short Film Festival occupies the Imagination! pavilion's Magic Eye Theater, which previously housed three other 3D performances: Magic Journeys (1982-1986); Captain EO (1986-1994 and 2010-2015); and Honey, I Shrunk the Audience (1994-2010).
Top 5 Tips for Disney and Pixar Short Film Festival