March 6 – June 3, 2019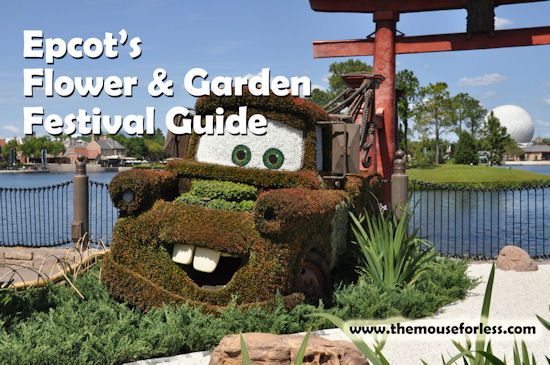 Information will be updated as more information about the 2019 Festival becomes available. 
2019 Epcot Flower and Garden Festival Information
The Epcot International Flower and Garden Festival is a spring special event filled with Disney character topiaries, a colorful array of flowers, gardens, live music, special presentations and garden marketplaces featuring festival taste treats. It's where Disney springs to life!
Disney gardeners will paint the landscape with rainbows of blooms while Epcot chefs tempt guests with marketplace tastes during the 26th Epcot International Flower and Garden Festival from March 6 – June 3, 2018, at Walt Disney World Resort.
Epcot admission is required. Most Epcot International Flower and Garden Festival events, including all gardening programs and exhibits, are included with admission to Epcot.
New for 2019 Festival Highlights Video Overview Outdoor Kitchens Menus For the Kids Tours  Highlights Merchandise Tips Fun Facts
New for 2019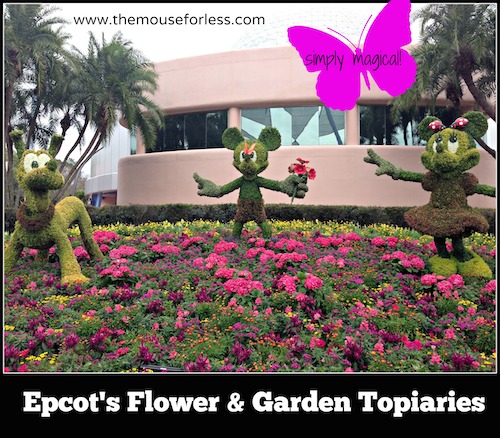 The popular Garden Rocks concert series will expand to daily concerts with three concerts each Friday through Monday that present pop musicians that span multiple genres over four decades. New artists this year include Journey lead singer STEVEN AUGERI, TobyMac, Steven Curtis Chapman and more.  See the complete line-up for 2019. If the Garden Rocks Concert Series is a must do for you, check out the Garden Rocks Dining Package so you are guaranteed a seat at the concert.
Epcot Flower and Garden Festival Highlights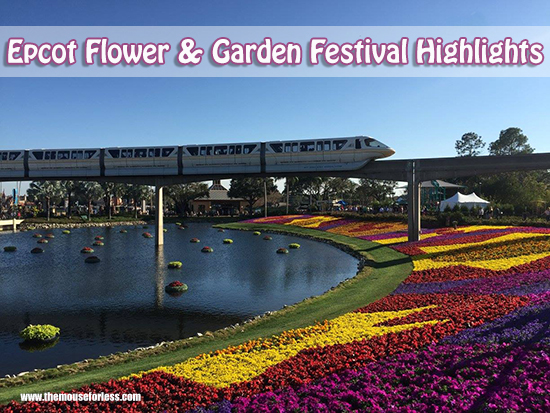 2018 Epcot Flower and Garden Festival Map
Epcot_FG_0218_Eng_web

Topiaries
You'll find 70 Disney character topiaries among the over 100 topiaries arranged throughout Epcot. Also look for more than 200 floating mini-gardens, dozens of flower towers and sweeping beds of multi-colored blooms. At themed flower and garden displays you'll learn new tips and techniques that you can try at home.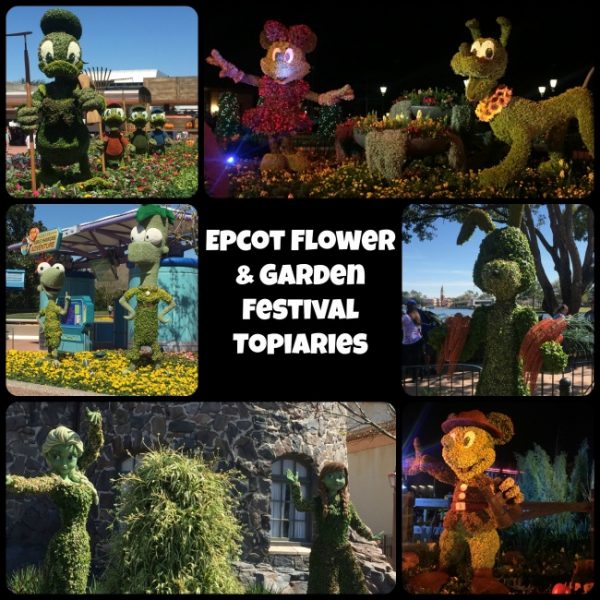 The following character topiaries can found throughout Epcot:
Anna and Elsa – Norway Pavilion
Bambi & Friends – Showcase Plaza – West Towers
Beauty and the Beast – France Pavilion
Bromeliad Dragon  – China Pavilion
Butterflies – Showcase Plaza
Buzz Lightyear – Mission: SPACE
Daisy, Chip and Dale – Near Imagination Pavilion
Donald, Huey, Dewey, and Louie – Behind Spaceship Earth
Figment – Between Future World and World Showcase
Lady and the Tramp – Italy Pavilion
Lightning McQueen and Cruz Ramirez – Near Test Track
Mickey, Minnie, and Goofy – Main Entrance
Panda – China Pavilion
Snow White and the Seven Dwarfs – Germany Pavilion
Stitch – MouseGear (Fountain Side)
The Lion King (Mufasa, Pumbaa, Rafiki, Sarabi, Simba and Timon) – The Outpost
The Three Caballeros – Mexico Pavilion
Tinker Bell – United Kingdom Pavilion
Troll – Norway Pavilion
Winnie the Pooh and Friends – United Kingdom
Woody – American Adventure
Additional Gardens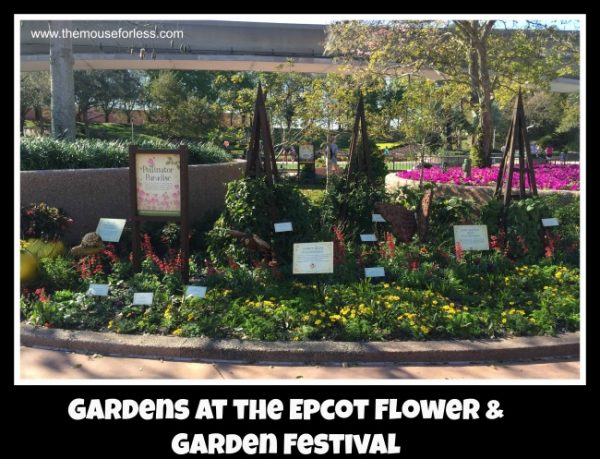 Alpine Containers – Visit the Germany Pavilion to learn about hearty alpine plants that have adapted to survive in extreme temperatures.
Bamboo Garden – Bamboo can be found at the China Pavilion in many colors, patterns and sizes.
Bonsai Collection – In the Japan Pavilion, cultivate an appreciation for an ancient art form that produces the most amazing miniature trees.
English Tea Garden – Discover the history and art of tea blending at this elegant English Tea Garden at the United Kingdom Pavilion, featuring plants important to some of Twinings finest tea blends.
Festival Blooms – Located at Future World, see thousands of flowers form colorful, living panoramas overlooking Future World's East and West lakes.
Floating Mini-Gardens – Over 100 plants drifting on the ponds that border the walkway between Future World and the World Showcase.
Florida Fresh Garden – Between Morocco and the France Pavilion, little ones are invited to climb, explore, play and more at this fun-filled garden.
Garden Italiano – This Tuscan kitchen garden at the Italy Pavilion features all the produce and herbs needed to create a classic Italian feast.
Imagination Play Garden – NEW! Explore a play garden for children near the Imagination Walkway. Test reflexes on a net play climber, discover different sounds through a musical maze and use your senses.
Purple Martins Presented by Audubon Florida – Listen to the tranquil sound of this special species of songbird at Future World East.
Road to the Florida 500 – Inspired by the film Cars, relax and recharge while your kids race around in a desert-themed mini-park at Test Track Walkway.
Shakespeare Garden – Match up famous quotes to flowers found within this vibrant garden at the United Kingdom Pavilion.
The How-To Garden – Stop by this display in Future World West and take the Disney Flower and Garden Festival home with garden-ready ideas, including how to create your own butterfly house, garden crafts and sustainable ideas.
Tropical Rainforest Garden – NEW! Learn how Mexico rainforests are rich with plants and animals that have adapted to a wide variety of light levels and water conditions.
Urban Spice – At the Morocco Pavilion, learn how in many eastern cultures, ancient spices were considered more valuable than gold.
Illuminated Gardens
Select Disney topiaries and Festival playgrounds will glow with light as the Epcot Flower and Garden Festival fun continues into the night.
Butterflies on the Go Presented by Go Go SqueeZ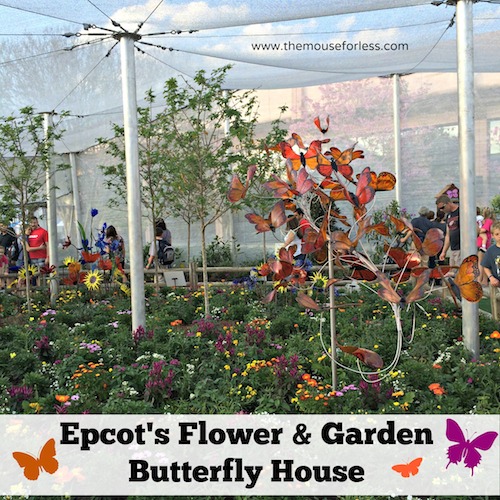 Follow the story of the Monarch butterfly as it journeys across the continent. Guests will see butterflies emerge from their chrysalis and enjoy hundreds of butterflies living in the Butterfly House.
Festival Fun for the Kids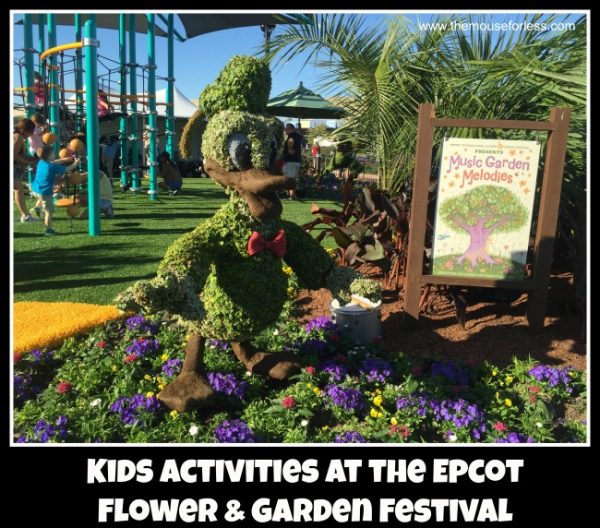 Festival fun includes special displays and interactive areas for kids.
Imagination Play Garden: Along the Imagination Walkway between Future World and World Showcase this play area will allow children to explore. Test reflexes on a net play climber, discover different sounds through a musical maze and use your senses.
Road to Florida 500 featuring Mater, Lightening McQueen and Cruz Besouro: Have fun with this Cars-themed stop near Test Track. Relax and recharge while your kids race around in a desert-themed mini park. This playful area features a canopied jungle gym and eye-catching cacti.
Butterflies on the Go gives the opportunity to see up to 10 species of butterflies up close. Stand still and the butterflies will come very close for a visit.
A new Kidcot Garden Stop Field Guide developed specifically for the Festival is available at all Kidcot locations throughout Epcot. Younger Guests can use this booklet as they explore World Showcase to learn more about fruits and berries from around the globe.
Spike's Pollen Nation Exploration will allow kids to hunt for Disney's favorite honey bee, Spike, who has been pollinating his way around the festival, giving Guests the chance to follow his pollination trail around at Epcot. You'll pick up a garden map and stickers at Port of Entry. In each garden, you'll have to search for the plant Spike has pollinated, identifiable by Spike himself, as well as a Spike's Pollen Nation Exploration plant stake. Once you find him, add the corresponding sticker to your map.Spike's Pollen Nation Exploration can be purchased for $5.99, plus tax at Port of Entry. Return the map here for a surprise.
Tours
The Gardens of the World Tour
Be treated to fanciful floral displays on this 3-hour tour held only during the Epcot International Flower and Garden Festival on Monday, Tuesday, Thursday & Friday from 9 a.m. to noon. A Disney Horticulturist will be your host on a tour of special displays and award-winning international gardens. The tour cost $85.00 + tax per person and guests must be age 16 and up. To book, call 407-WDW-TOUR (939-8687) or register at Guest Relations. Discounts for DVC members, or Disney VISA members are available.
English Tea Garden Tour

Presented by Twinings of London Tea, discover the art and history of tea blending during a free 20-minute tour of this elegant English Tea Garden, featuring classic and new tea blends. Tours are held Monday through Thursday at 3:30 p.m. and 5:00 p.m, and Friday through Sunday at 1:00 p.m., 3:30 p.m. and 5:00 p.m. Register in advance for your guided tour at The Tea Caddy located at the United Kingdom Pavilion on the day of the tour. You will be given a ticket for your tour that you can exchange at the end of the tour for several free tea packets. You'll also get the opportunity to sample several cold brew teas. Sign up early as it fills up fast!
Bring your camera! More than a dozen tea-flavoring plants are tucked inside oversized saucers strewn throughout the garden, making for delightful photo opportunities.
Royal Tea Garden Tour
Embark on a guided tour of an English tea garden, where you'll enjoy a sampling of tea and scones. The Royal Garden Tea Tour begins at 9:45 a.m. in the United Kingdom Pavilion. Your tour guide will lead you through an elegant tea garden, where you'll spend approximately 45 minutes exploring the garden in-depth, and learning the artistry and history behind growing and blending tea. Your tour ends with a stop at the Rose & Crown Dining Room, where you'll be served tea and scones. This tour costs $18.00 per person, including tax.
Epcot Flower and Garden Festival Video
Outdoor Kitchens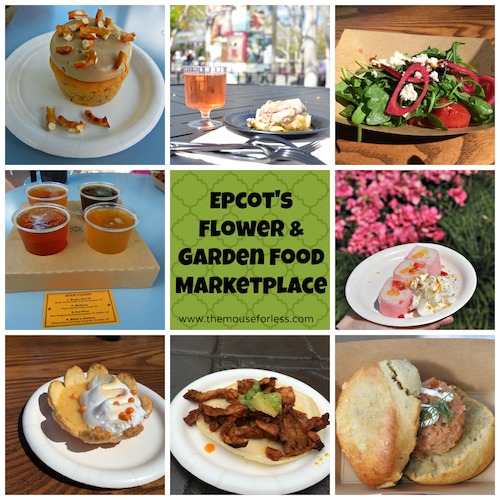 The Outdoor Kitchens return with new and favorite menu items. Prices average from $4 – $15 per dish. As with the Epcot Epcot Food & Wine Festival, many of the marketplace menu items will be available for snack credits on the Disney Dining Plan. Take a look at our guide for Using the Quick Service Disney Dining Plan during the Festivals.
Each country will have a kiosk with food and beverages highlighting produce growing in the areas nearby and making the connection of food from field to table. You'll want to look for all of the outdoor kitchen locations at World Showcase.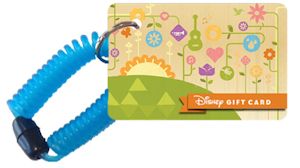 Look for mini Disney Gift Cards with an exclusive Epcot International Flower & Garden Festival design for a limited time during the festival. The Disney Gift Cards can be activated with as little as $15. Wear it around your wrist and just swipe to pay for food and more. The Disney Gift Card can be reloaded as many times as you want at most festival kiosks. When the festival is over, you can continue using your card since, like all Disney Gift Cards, it's good for practically all things Disney at the Walt Disney World Resort and beyond.
In addition to the the Epcot guide map located near the entrance of the park, a complimentary Flower and Garden Festival Garden Passport will also be available to be stamped at each Garden Marketplace you visit. Each marketplace will have its own unique stamp design, making the Garden Passport the perfect scrapbook souvenir. Pick up your Garden Passport at the Epcot entrance, Epcot Flower and Garden Festival merchandise locations or any Outdoor Kitchens to ensure you see and do everything the Flower and Garden Festival has to offer.
Festival Merchandise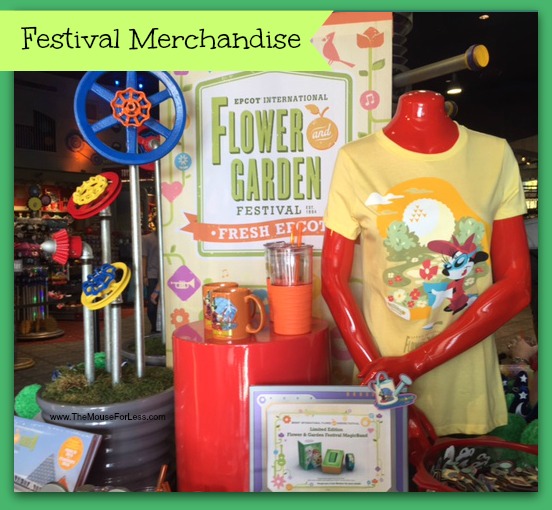 Epcot Flower and Garden Festival merchandise destinations are located in Mouse Gear and around the World Showcase promenade. New and returning artisans will be taking part in the festivities. Consult your Festival Guide Map for locations.
Last year's Epcot Flower and Garden Festival merchandise heavily featured that lovable purple friend, Figment! He's featured on clothing, a limited edition MagicBand, and even a flower pot. Another fan favorite joining the festival merchandise last year was the Orange Bird! Be sure to check out the unique merchandise from the festival.
TheMouseForLess Tips:
You may already be familiar with the miniature trains that operate daily in Germany. But, when you visit the Epcot Flower and Garden Festival, take a close look! The little town in the display is having a festival of its own!
Did you know that you can get an excellent overview of the Epcot Flower and Garden Festival from the Epcot Monorail? Some of the floating gardens in the waterway under the monorail even have LED lights. Many of the flower beds, playgrounds, topiaries also are illuminated. Plus, colorful flower beds designed to look like butterflies surround the waterway under the monorail. Even if you weren't planning to ride the Epcot monorail, consider taking the ride for a unique view, day or night, that you won't get otherwise.
Epcot Flower and Garden Festival Fun Facts
At 90 days, the Epcot International Flower and Garden Festival is one of the longest flower and garden festivals in the United States.
The festival encompasses more than 300 acres and more than a mile and a half of gardens.
Over 90 individual topiaries are on display with more than 70 Disney characters.
At nearly 20 feet long, the Dragon topiary in the China Pavilion is the longest topiary at Walt Disney World. It is composed of roughly 650 plants and over 400 of them are bromeliads.
30 million blooms blanket the park throughout the festival.
More than 500,000 plants, trees and shrubs are planted for the festival; 250,000 of those are annual blossoms installed for the festival.
Festival plants include 60 different species of trees, 47 types of palms, and 48 varieties of bedding plants.
40 Flower Towers have been added to Future World. Each tower contains 250 four-inch annuals.
209 floating mini-gardens, each three feet in diameter, of multi-hued impatiens provide splashes of color on two ponds that border the walkway between Future World and World Showcase.
700 container gardens of flowers, herbs, plants and vegetables in clay pots, barrels and urns enhance the landscape throughout Epcot.
150 hands-on gardening demonstrations and seminars will be presented.
400 Walt Disney World horticulturists are needed to install the festival landscape, topiaries and many exhibits; 100 Epcot horticulturists maintain topiaries and other festival displays.
It takes more than one full year and about 24,000 cast member hours to prepare for the annual festival.
It takes over 4 nights to plant just one side of the Festival Blooms.
Over 600 native butterflies can be found in Butterflies on the Go.
---
For the latest Epcot Flower and Garden Festival updates, guests may also visit DisneyWorld.com.
Call your travel agent or contact The Magic For Less Travel at (888) 330-6201 to book your Walt Disney World travel during this event.