Epcot| World Showcase (France)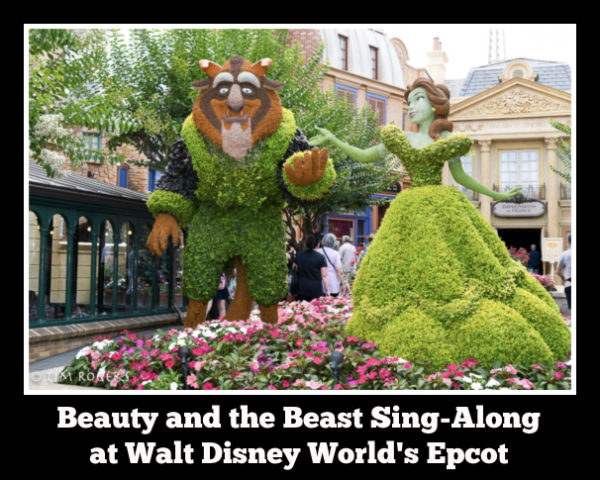 Description Ride Information Restrictions Location Fun Facts Top 5 Tips
Beauty and the Beast Sing-Along Description
Don't miss this enchanting twist on a timeless tale narrated by none other than Mrs. Potts herself—Angela Lansbury. As Belle and the Beast's love story unfolds before your eyes, tap your toes and sing along to the songs you know and love like Be Our Guest and Gaston.
Ride Information
Opening Day: January 17, 2020
Type of Ride: Interactive Film
Age Recommendation: All ages, though kids will like it more
Duration of Ride: 15 minutes
Typical Queue Time: None; shows typically commence every 30 minutes
Single Rider Line: No
Chicken Exit Available: No
Baby Swap Available: No
Type of Vehicle: Theater seats
Type of Restraint: None
Attraction Open During Early Theme Park Entry: No. See our Early Theme Park Entry page for more information.
Ride Photo Available For Purchase: No
Ride Restrictions
Height Requirements: None
Flash Photography or Video Allowed: No
Location
Shopping: Guests can shop among several locales in the France Pavilion. Colognes, perfumes, and bags pervade "Plume et Palette"; more fragrances in addition to cosmetic goods are offered at "La Signature"; apparel and kitchen goods are sold at "L'Esprit de Provence"; and "Souvenirs de France" is the spot to purchase general French merchandise, such as guide books, models of the Eiffel Tower, and apparel.
Dining/Refreshment: Several dining options are offered in the France Pavilion. At Chefs de France, guests can enjoy a table service lunch or dinner in a casual setting; menu items for lunch include French soups, salads, cheese, flatbreads, fish, chicken, and sandwiches; and dinner brings salmon, short ribs, steak, and duck. Located one floor above Chefs de France, Monsieur Paul, which was known as "Bistro de Paris" from its 1984 debut until 2012, serves escargot, mussels, lobster, snapper, scallops, chicken, duck, and beef in an upscale setting at dinner only. Diners at either Chefs de France or Monsieur Paul can opt for a prix fixe menu, which includes a choice of an appetizer, an entrée, and a dessert, in place of the regular a la carte offerings. From Epcot's opening day, October 1, 1982, until 1997, the France Pavilion featured a third table service restaurant, "Au Petit Café," which was an outdoor, sidewalk café next to Chefs de France. Au Petit Café was thereafter enclosed into the Chefs de France building.
Guests craving snacks or desserts can satisfy their desires at either the L'Artisan des Glaces ice cream parlor or the Boulangerie Patisserie les Halles bakery, which serves soups and sandwiches in addition to its pastries. Finally, wine, beer, and champagne samplings are available at Les Vins de Chefs de France.
Restroom: Facilities convenient to Beauty and the Beast Sing-Along are situated at the adjacent Morocco Pavilion.
Smoking Location: Smoking is permitted in designated smoking areas only. Disney parks are smoke free.
Beauty and the Beast Sing-Along Fun Facts
Did you know?
Beauty and the Beast Sing-Along is housed in the Palais du Cinéma, which is based on a theater in Fontainebleau. A gargoyle statue, which is a replica of the creature that guards the Notre-Dame Cathedral, is situated in the theater's lobby.
Impressions de France is narrated by Claude Gobet.
Beauty and the Beast Sing-Along premiered the same day as two other films and Epcot, Awesome Planet and Canada Far and Wide.
The theater for the Beauty and the Beast Sing-Along is shared with Impressions de France, the longest-running theater attraction at any Disney theme park. Walt Disney's Carousel of Progress, Walt Disney's Enchanted Tiki Room, Hall of Presidents, and The Country Bear Jamboree, all at the Magic Kingdom, debuted before Impressions de France but have undergone content and music changes over the years.
This retelling of the Beauty and the Beast story focuses on new footage telling Le Fou's idea of the story.
This is the third attraction telling the story of Beauty and the Beast, after the Magic Kingdom's Enchanted Tales with Belle and Disney Hollywood Studio's Beauty and the Beast Live on Stage.
Top 5 Tips for Beauty and the Beast Sing-Along
Between the L'Artisan des Glaces ice cream parlor and the Boulangerie Patisserie les Halles bakery, there are some great places nearby to have a snack.
See Beauty and the Beast Sing-Along at your convenience after the bulk of World Showcase opens at 11AM. Shows generally commence every 30 minutes.
Guests staying at one of the Epcot-area resorts—the Boardwalk Inn, the Yacht Club, the Beach Club, the Swan, and the Dolphin—may want to consider viewing Beauty and the Beast Sing-Along prior to exiting the park through the adjacent International Gateway turnstiles.
Make sure you go before 7pm, when the theater turns back to Impressions de France.
Consider viewing some Disney movies set in France, such as Bon Voyage! (1962), The Aristocats (1970), Herbie Goes to Monte Carlo (1977), Beauty and the Beast (1991), The Hunchback of Notre Dame (1996), and Ratatouille (2007), prior to your visit.