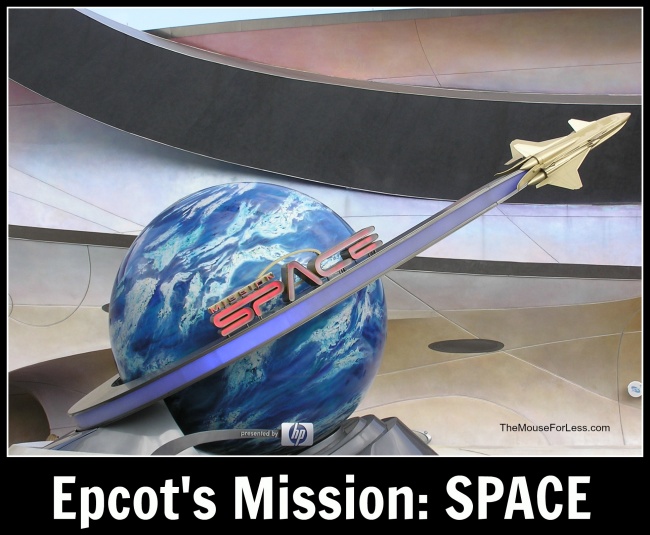 Blast off to Mars on the most ambitious simulator attraction ever created by Walt Disney Imagineering.  With Mission: SPACE, there are two very different options to choose from. On the Orange Mission, which features more intense training, Guests are able to experience a truly intense experience and feel the forces of actual space launch. On this mission, you'll dodge meteoroids, slingshot around the moon and attempt a precision landing on the Red Planet's alien surface. The Orange version has been enhanced with new HD video.
If you don't want to experience the intense version of the ride that you'll find on the Orange Mission, the new Green Mission is family-friendly courtesy of the new X-2 booster seats.  On the Green Mission, you'll get to take an exciting orbit around Earth where you'll see the Hawaiian Islands, the Northern Lights, and Italy all from space, before finally landing at Kennedy Space Center.
Mission: SPACE Ride Information
Opening Day: August 15, 2003
Type of Ride: Simulator
Age Recommendation: Older children and adults
Duration of Ride: About 5 minutes
Typical Queue Time: Moderate to long for the Orange (more intense) version; typically peaks at about 45 minutes. Short to moderate for the Green (less intense) version; typically peaks at about 20 minutes
Single Rider Line: No
Chicken Exit Available: Yes
Baby Swap Available: Yes
Type of Vehicle: Capsule
Type of Restraint: Harness
Attraction Open During Extended Evening Hours: No. See our Extended Evening Hours page for more information.
Ride Photo Available For Purchase: No

Planning a Walt Disney World Vacation?
For a Free no-obligation quote, contact our sponsor
The Magic For Less Travel
. Services are provided free of charge and their expert planning advice will help you make the most of your vacation time and money.
Mission: SPACE Ride Restrictions
Height Requirements: Green Mission – 40 inches / Orange Mission – 44 inches
Flash Photography or Video Allowed: No
Safety, Accessibility, and Guest Policies
Accessibility: Guests must transfer from Wheelchair/ECV, Handheld Captioning
Advisories: Service Animals not permitted
Guest Policies: Guests uncomfortable in dark enclosed spaces or simulators should not ride, children under 7 years must be accompanied by a person age 14 or older, seating and restraints may prohibit guests of certain body shapes or sizes from riding
GREEN MISSION: Expectant mothers should not ride
ORANGE MISSION: Expectant mothers should not ride, Guests should be in good health and free of high blood pressure, back or neck problems, motion sickness, or other conditions that may be aggravated
Mission: SPACE Location
Shopping: With astronaut Mickey looking on, a plethora of space-themed merchandise, including apparel, plush dolls, helmets, Star Wars goods, and freeze-dried ice cream, can be purchased at Mission: SPACE's gift shop, "Mission: SPACE Cargo Bay." Epcot's premier gift shop, "Mouse Gear," is also located nearby.
Restroom: Facilities convenient to Mission: SPACE are located on the path between the attraction and the Mouse Gear gift shop, on the opposite side of the monorail loop.
Smoking Location: Smoking is permitted in designated smoking areas only. Disney parks are smoke free.
Mission: SPACE Fun Facts
Did you know?
In the words of Frank Sinatra, have you ever wanted to "see what spring is like on Jupiter and Mars"?  Well, Jupiter is beyond our reach, but on Mission: SPACE, guests can train at the fictitious International Space Training Center (ISTC) for a mission to Mars, where a colony is being developed. Said mission is set in 2036, 75 years after Soviet pilot Yuri Gagarin became the first man in space.
Mission: SPACE offers two "training" options: the more intense "Orange Team" which takes Guests to Mars and the less intense "Green Team" which takes Guests on a trip that showcases some of Earth's beautiful majesty. This updated version was introduced on August 13, 2017.  If members among your party select different teams, the party will split accordingly.
Mission: SPACE features 40 four-person capsules and four centrifuges, two devoted to the Orange Team and two devoted to the Green Team, which hold 10 capsules apiece.
Mission: SPACE Orange involves covert spinning and side-to-side movements, which produce the sensations of gravity and weightlessness. The spinning is covert because, unlike other Disney spinners, such as the Magic Kingdom's Mad Tea Party, riders on Mission: SPACE are enclosed.
Mission: SPACE Green is a traditional simulator, sans spinning; guests choosing this option will have the same visual experience but will not endure the sensations of intense g-forces or weightlessness.
From 2003 to 2006, Mission: SPACE featured only the more intense (Orange) option. The Green version was added in 2006 after the Orange version proved inaccessible to too many guests.
Each simulation chamber holds four guests, who are assigned to one of four positions: Commander, Pilot, Navigator, and Engineer. Buttons can be pressed to perform these roles when indicated, but such conduct is optional and will not affect the experience either way. Video screens are included in the chambers to depict what you would be experiencing at what point on a real rocket launch. You will witness the flight through the sky into outer space, a slingshot around the Moon, a meteor shower, and the descent to and landing on the surface of Mars.
Mission: SPACE is situated in Planetary Plaza. Celestial bodies are pressed into the ground outside the building. The building proper is adorned with replicas of the Moon, Earth, Jupiter, and Mars, as well as curved facades that represent flight and orbits. The model Moon features 29 markers, indicating the respective landing locations of all United States and USSR lunar missions conducted between 1959 and 1976. Also present are a series of inspirational quotes from astronomers, astronauts, and other influential individuals, such as Galileo, Carl Sagan, Kalpana Chawla, and John F. Kennedy.
Mission: SPACE's queue is designed as a simulation laboratory. In this brilliantly-themed area, guests can view a training capsule; a replica space vehicle living quarters; a model spacecraft; a Lunar Roving Vehicle on loan from the Smithsonian Institution; a series of plagues commemorating key moments in the history of space travel, both real, such as Yuri Gagarin becoming the first man in space on April 12, 1961 and the trio of Bill Shepard, Yuri Gidzenko, and Sergei Krikalev launching Expedition 1 to the International Space Station on October 31, 2000, and imaginary, such as Expedition 205 launching the first family into space on September 1, 2030; and a command center.
Following the attraction proper, guests can experience post show activities, including a maze, a pair of interactive games, and a station to create a virtual postcard, at the "Advanced Training Lab."
Mission: SPACE was developed over a five-year period by Walt Disney Imagineering in conjunction with NASA advisors, astronauts, and scientists.
Mission: SPACE was the second Walt Disney World attraction based around a mission to Mars, the first being the fittingly-named "Mission to Mars," a theater-in-the-round presentation, which operated in the Magic Kingdom theater from 1975 to 1993.
Footage of an albatross that was originally used in Mission to Mars and that attraction's predecessor, "Flight to the Moon," is seen on video monitors in the International Space Training Center Command Area portion of Mission: SPACE's queue.
Mission: SPACE Green was Epcot's second traditional simulator after "Body Wars," which operated in the former Wonders of Life Pavilion, now the Festival Center, from 1989 to 2006.
Mission: SPACE replaced "Horizons," a tame omnimover experience projecting realistic visions of humanity's future, which operated in a different building on Mission: SPACE's turf from 1983 to 1999. Horizons' logo can be seen in the hub of the living quarters in Mission: SPACE's queue.
Top 5 Tips for Mission: SPACE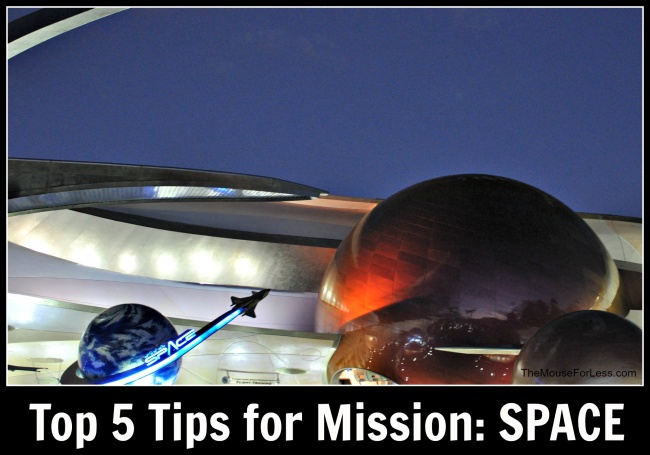 The attraction proper, both the Green Team and the Orange Team, should be avoided at all costs by those who suffer from motion sickness, claustrophobia, or any other ailment mentioned as a warning. The Orange version is arguably the most intense experience at Walt Disney World.
Space buffs should check out Mission: SPACE's queue and post show area for the details even if they do not ride the attraction proper.
Eat a regular meal, not consisting of milk or tomatoes, a couple of hours before riding the Orange version of Mission: SPACE, and/or keep a piece of mint or hard candy in your mouth while riding. Low blood sugar will increase the likelihood of nausea.
Guests who are extremely interested in space travel may want to consider an excursion to the Kennedy Space Center at Cape Canaveral, Florida, about an hour east of Walt Disney World.