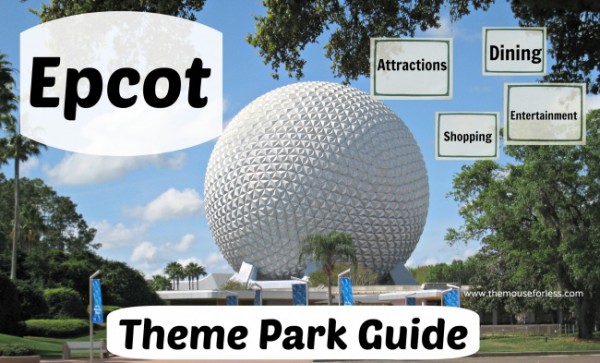 At Epcot Theme Park, Disney's unique park of discovery, fun, and imagination are combined with the wonder of diverse cultures. You'll find something to amaze and excite everywhere you turn. Where else can you travel to four continents, take a rocket ride to Mars, explore the land and sea adventures, experience future technologies today and journey into your imagination — all in one vacation? Epcot is a one-stop vacation spot for celebrating discovery.
Admission  Attractions  Kids  Early Theme Park Entry  Genie+ and Lightning Lane  Fireworks  Dining  Lockers  Park Map  Special Events  Tours  Wheelchair Accessibility and Service Animals  Transportation and Other Information

Planning a Walt Disney World Vacation?
For a Free no-obligation quote, contact our sponsor
The Magic For Less Travel
. The Magic For Less Travel is an Authorized Disney Vacation Planner and has been helping guests plan magical vacations since 2002. Receive the best prices and free travel planning services. Their fee-free services will help you save time, money, and stress while planning a vacation designed around you and your needs!
Special New Experiences
For a limited time, take advantage of these exciting new experiences
Character Visits
Throughout the day, keep your eyes open for short unscheduled visits from your favorite characters.
Alice (in the United Kingdom)
Anna and Elsa (at the Royal Summerhaus)
Belle (in France)
Jasmine (in Morocco)
Mickey and Friends (near main entrance)
Mulan (in China)
Snow White (in Germany)
Beacons of Magic
The World's Most Magical Celebration will light up with wonder as the theme park icons are transformed into Beacons of Magic, beckoning all to come and celebrate.
Lights shine from within Spaceship Earth's reflective panels as stardust emerges to symbolize beacons of possibility and optimism.
Live Entertainment
Alberta Bound (Canada) Clap and sing along as you get to know Canada's tunes—everything from traditional fiddling to songs from beloved Canadian songwriters.
JAMMitors (World Celebration) Using "found" instruments like trash cans, brooms and tin cans, these high-energy drummers will get you moving and clapping.
Matsuriza (Japan) Experience the thundering sound of Taiko, an ancient form of Japanese drumming.
Pianist (United Kingdom) Relax and enjoy a selection of songs.
Sergio (Italy) Laugh along with master juggler and mime Sergio as he delights you with his lighthearted, Old-World act.
Updates at Epcot
Big plans are in store for a multi-year transformation of Epcot, with new experiences will be impressive, all while keeping true to the original vision of the park.
First, changes are coming to the Epcot main entrance. Here the entrance plaza welcomes guests with new pathways, sweeping green spaces and a newly reimagined fountain. As part of the new entry experience, Leave A Legacy photos have been moved to just outside the park's gateway. Additional significant redevelopment will begin between Spaceship Earth attraction and the World Showcase Promenade.
In addition, announced at the D23 Expo in 2019, it was announced that Epcot would soon consist of four different neighborhoods. They are World Showcase, World Nature, World Discovery, and World Celebration.
Currently, two large scale new attractions are being added to the park. The first is a Guardians of the Galaxy coaster called Guardians of the Galaxy: Cosmic Rewind that is replacing the Universe of Energy attraction. The second is a brand new attraction for the France Pavilion, called Remy's Ratatouille Adventure. This new attraction is similar to the one that's located at the Disneyland Paris Resort.  The experience will have guests scrambling for safety through the Gusteau's legendary Parisian restaurant after being transformed to Remy's size. Remy's Ratatouille Adventure will open on October 1, 2021.
A brand new pavilion is slated to be crafted. There will soon be the Play Pavilion that will be unlike anything you've ever seen at the park. This new space will be devoted to playful fun and feature an innovative city that'll come to life under the dome of the unnamed pavilion previously known as Wonders of Life. The pavilion's city will be bursting with interactive experiences, your favorite Disney characters, hands-on activities, and engaging entertainment.
Other new changes for Epcot include:
A Space-themed table-service restaurant adjacent to Mission: SPACE
An updated film for Canada called Canada Far and Wide.
Beauty and the Beast" sing-along in the France Pavilion, showing in addition to the pavilion's current film, Impressions de France
To learn more about upcoming projects, you can stop by the new Experience Center at EPCOT. The Experience Center will be located in the Odyssey Events Pavilion and feature interactive exhibits to help visualize park projects throughout this unprecedented period of transformation.
Epcot Theme Park Admission
Deciding what ticket to get for your visit to Epcot Theme Park is no simple matter.  You can get a ticket with one day's worth of admission, a ticket with 10-days worth of admission or something in between.  You can also add options like a Park Hopping or Park Hopper Plus (which includes water parks, miniature golf, and golf at Disney's Oak Trail Golf Course, and ESPN Wide World of Sports Complex). Other admission options are available such as Walt Disney World annual pass, Florida resident passes and more.  For detailed information on Walt Disney World admission options, visit MFL's "Walt Disney World Tickets" page.
Attractions at Epcot Theme Park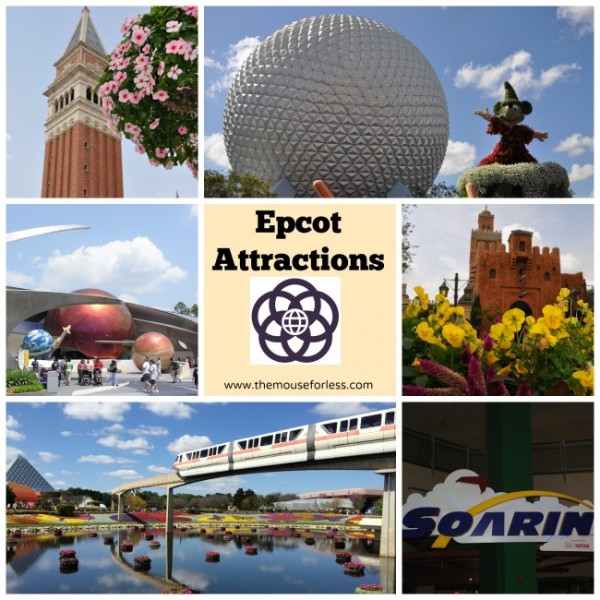 Epcot Theme Park is divided into four distinct sections: World Celebration, World Discovery, World Nature and World Showcase.
World Celebration – at the main entrance to the park, Wold Celebration offers new experiences that connect us to one another and the world around us
World Discovery – World Discovery will bring stories about science, technology, and otherworldly adventure to guests.
World Nature – in World Nature, guests can understand and learn how to preserve the beauty, awe, and balance of the natural world
World Showcase – a world of multi-cultural enchantment, featuring marketplaces bustling with international flavor and a dazzling display of countries that transports guests through the magical worlds of 11 nations with just a few steps.

Norway – Snacks, shops, and Akershus Royal Banquet Hall restaurant. Frozen Ever After attraction and Royal Summerhaus Frozen Meet and Greet.
China – Reflections of China (360 degree movie)
Germany – Restaurants, shops, and entertainment
Italy – Restaurants and street entertainment
The American Adventure – The American Adventure
Japan – Restaurants, gardens, and Japanese drums
Morocco – Restaurants, shops, entertainment
France – Beauty and the Beast: Sing-Along (movie presentation), Impressions de France (movie presentation), Remy's Ratatouille Adventure
United Kingdom – Restaurants, gardens, and street performers
Canada – Canada Far and Wide (CircleVision 360 movie)

Print out a copy of the Epcot Future World Hidden Gem pocket guide and Epcot World Showcase Hidden Gem pocket guide from our Pocket Guide page and have more fun in the park discovering the hidden gems.

Pick up an Epcot Times Guide as you enter the park for important information such as park hours, special hours, show times, parade and fireworks times, character greeting times and other park hours to help you plan your day.

Throughout the park, Disney PhotoPass photographers will capture guests caught up in the Disney experience. Disney's PhotoPass and Memory Maker allows guests to have great high-resolution photos taken by Disney Photographers using state-of-the-art digital equipment at picturesque locations. Even better, your photos can be accessed, shared, and ordered online. Visit our Disney's PhotoPass Guide for more information on Disney's PhotoPass service.
Kids
Mothers with infants can visit Epcot Theme Park worry-free with the services of the Baby Care Centers. The Baby Care Center is located at Odyssey Center between Future World and World Showcase. The facility offers guests a place to feed, change, and nurse babies. Highchairs, rocking chairs, nursing rooms, changing tables and a microwave to heat bottles and food are available. The Baby Care Center also offers formula, bottles, pacifiers, Children's Tylenol, cold and allergy medication, band-aids, Motrin, children's undergarments, t-shirts and baseball caps for Guests to purchase in those "baby emergencies."
Stroller rentals are available for single day rentals as well as the length of stay.  Visit our Stroller page for detailed information on stroller rental.
Kingdom Strollers is the top choice for families traveling to Orlando, Disney, and surrounding areas! Kingdom Strollers provides premium stroller & crib rentals delivered straight to your Orlando theme park resort, hotel or vacation home free of charge. Book your stroller as soon as you book your vacation for best selections!
There's nothing more frightful to parents than the thought of losing their child in the ocean of people inside a theme park. There are many fascinating distractions at Epcot, and children can wander off in a blink of an eye. Be prepared so that you won't spend precious vacation time frightened and in search of each other. Have a plan, before your vacation, make and print some Kids Travel IDs. There are many designs to choose from, they're easy to make, and children love to have their own ID cards. When you enter Epcot at the beginning of the day, take a picture of your child from your camera, phone or by a Disney Cast Member on your Photopass so that you can readily show a Cast Member what your child is wearing and what he/she looks like if you should become separated from your child. Set up a meeting area in the park. Locate a Cast Member so that your child can meet a Cast Member "in person" and will not be afraid of them. Let your child know to look for Cast Members with Disney ID tags and to show the Cast Member their ID cards if they could not find you.
If you become separated, stay in the area and enlist the assistance of a Cast Member to search for your child. Most likely, your child is in the same vicinity looking for you. If you have not located your child after searching the area, and there is more than one adult in your party, split up and have one go to the pre-determined meeting location while another follows the direction of a Cast Member. All lost children will be taken to Lost Children area inside the Baby Care Center by a Cast Member if they can not locate the parents in the immediate area.
Epcot Theme Park Height Requirement at a Glance
Walt Disney World attractions require children under the age of seven to have someone age 14 or older with them in the "same" ride vehicle and the "same" row or the row directly behind them.
Visit our Height Requirement page for height requirements to all Walt Disney World attractions.
Walt Disney World also offers Rider Switch so that it is possible for one or more people to stay behind with a child who cannot ride and then switch out with other members of the party.

 MouseForLess Tip: When traveling with children in a group, it may be essential to consider educational opportunities that are available at Walt Disney World.
Epcot Early Theme Park Entry
Guests staying at Walt Disney World Resort hotels can enjoy more time in the theme parks with Early Theme Park Entry benefit. Guests can enter Walt Disney World theme parks 30 minutes prior to it being open to the general public. This benefit offers guests more time to enjoy shorter lines during these extended theme park time. There is no charge for this Disney Resort guest benefit. Not all attractions are open during these 30 minutes. For details and a list of attractions currently listed as open during Early Theme Park Entry go to MFL's Early Theme Park Entry page.
Epcot Genie+ and Lightning Lane
Disney Genie+ is the new paid system that allows guests to schedule admission into a shorter "Lightning Lane" for many attractions. Some other attractions have Lightning Lane access that can be purchased individually. For Epcot, here are the applicable attractions:
Genie+
Disney and Pixar Short Film Festival
Frozen Ever After
Journey into Imagination with Figment
Living with the Land
Mission: SPACE – Green
Mission: SPACE – Orange
Remy's Ratatouille Adventure
Soarin' Around the World
Spaceship Earth
Test Track
The Seas with Nemo & Friends
Turtle Talk with Crush
Individual Lightning Lane
Guardians of the Galaxy: Cosmic Rewind
Currently, Frozen Ever After and Remy's Ratatouille Adventure are the most popular Genie+ attractions, so they should be the first priority if you want to be sure to use Genie+ for them. For other tips, visit this guide.
Epcot Fireworks
Fireworks at Walt Disney World are transformed into nighttime spectaculars. Each night, Epcot presents Epcot Forever. This show can be viewed from around the World Showcase lagoon at park closing time (check the times guide for seasonal changes). Epcot Forever celebrates the past and future of Epcot through fireworks, lasers, lights, and more.
In addition, guests can enjoy special Epcot Forever viewing through dining packages at both Spice Road Table and Rose and Crown.
Epcot Dining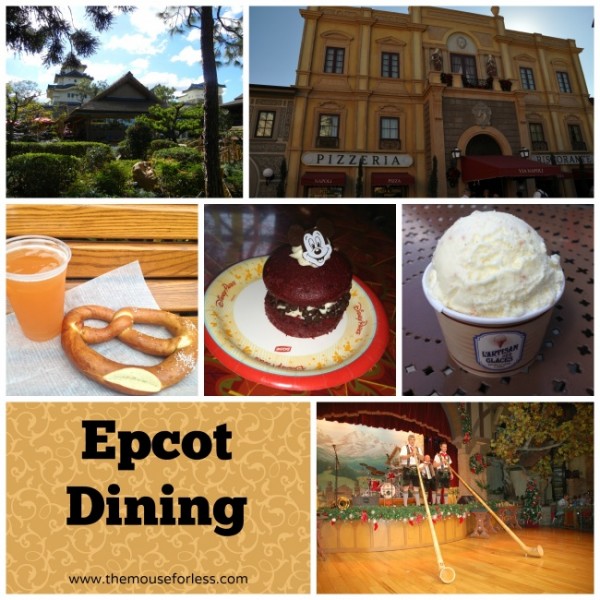 Guests to Epcot Theme Park may bring coolers smaller than 24″L X 15″W X 18″H. Coolers will be inspected and no glass containers or alcoholic beverages are allowed. For those who prefer to leave the cooking to Disney, the following selections are available. Click on the name below for menu. Visit our WDW Menu Page for a complete list of menus available for Walt Disney World. If you are on the Disney Dining Plan, you can print out a pocket guide for Epcot in our Pocket Guide page.
Epcot Lockers
There are two locations for lockers at Epcot Theme Park, one inside the park and one outside of the park. Outside lockers are located at Epcot Bus Facility, behind the Bus Information booth.   Inside Epcot, you will find the lockers located at the base of Spaceship Earth.  Guest lockers have been upgraded at all Walt Disney World theme parks. The process for renting a locker has now changed, as each locker location is now equipped with a self-service kiosk. Guests paying with cash or credit card may now proceed directly to the kiosk to rent a locker. Guests paying with a MagicBand or gift card should see a Cast Member at the nearest merchandise location where the Cast Member will provide the Guest with a code to access one of the lockers. Lockers are available in Standard (12.5" X 10" X 17") size for $7.00 per day, Large (15.5" X 13" X 17") size $10 per day and Jumbo (17" x 22" x 26") size locker for $15 per day. Guests are no longer required to pay a deposit when renting a locker.
Epcot Special Events
Epcot Theme Park hosts two of the most beloved special events at Walt Disney World. In the spring, Epcot comes to life with Epcot's Flower and Garden Festival. In the fall, experience delicious food and drink during the Epcot Food and Wine Festival. In the Winter, you can experience the Epcot Festival of the Arts and around the holidays, don't miss the Epcot Festival of the Holidays. Admission to these events is included in your park admission, although there is a separate charge for some special seminars, food, and beverages. Each festival is a unique and memorable experience.
Epcot Tours
Guests who are interested in guided tours can take advantage of some excellent tours offered at the Epcot. "Epcot Dive Quest" is a unique scuba diving experience inside the 5.7-million-gallon saltwater tank at the Seas with Nemo & Friends Pavilion in Epcot theme park. In "Dolphins in Depth," Guests can learn about and get up close with a school of dolphins at The Seas with Nemo & Friends Pavilion. "Seas Aqua Tour" allows Guests to swim on the surface of the 5.7-million-gallon saltwater tank inside the Seas with Nemo & Friends Pavilion. "The UnDISCOVERed Future World Tour" takes you into secret backstage areas of Epcot theme park and see amazing facilities that Guests are ordinarily not permitted to visit. "Behind the Seeds at Epcot" takes you through the future of agriculture in greenhouses and labs, go alligator gazing, and learn the advanced, and often experimental, techniques used to grow hydroponic crops with little or no soil. "Gardens of the World Tour (Seasonal)" is an in-depth look at the Flower & Garden Festival throughout the park. "English Tea Garden Tour (Seasonal)" explores the history of tea and teaches how blending created different tea flavors.
To reserve tours call (407) WDW-TOUR or (407) 939-8687. Visit the Epcot section of Disney Backstage Tours & Experience page for details, prices, and restrictions for each tour.
Epcot Wheelchair Accessibility and Service Animals
For the convenience of Guests with disabilities, wheelchairs and Electric Convenience Vehicles (ECV) are available for rent at Epcot. Quantities are limited and subject to availability. Guests who require a wheelchair rental for multiple days, a Length of Stay rental ticket is offered. The wheelchair and ECV rental location at Epcot is on the east side of the Epcot theme park Entrance Plaza and at the International Gateway near Spaceship Earth. See also our Wheelchair/ECV Guide as well as Services for Guests with Special Needs.
Guests can ask for a Guidebook for Guests with Disabilities. Epcot Theme Park can accommodate guests with mobility, visual, and hearing disabilities. Refer to the guidebook for more details on special restrictions and seating areas.
Trained service animals are welcome at Epcot Theme Park and are allowed in most locations. Not all attractions can accommodate service animals. In those instances, a member of the guest's party must remain with the animal. All service animals must remain on a leash or harness at all times. See also our page on Service Animals at Walt Disney World.
Most restrooms are designed for access by Guests using wheelchairs. Companion-assisted restrooms are available at the following locations: First Aid, near Spaceship Earth, Future World East opposite Test Track, Future World West Opposite The Land, Near Norway, Near Morocco, Near Canada.
Epcot Transportation and Other Information
Transportation
In addition to Walt Disney World buses running to Epcot from individual Walt Disney World resorts, Disney has added park-to-park buses permanently. Epcot Theme Park guests can catch buses running to the Magic Kingdom, Animal Kingdom and Disney's Hollywood Studios approximately every 20 minutes throughout the day.
Park guests may also take a water ferry from Disney's Hollywood Studios, Disney's Boardwalk Inn, the Yacht and Beach Clubs, and the Swan and Dolphin resorts to Epcot park.
Epcot Theme Park guests also have the option of catching a Monorail to or from the Magic Kingdom resorts. The Monorail "to" Epcot is located the Transportation and Ticket Center and can be reached from the Magic Kingdom by taking a ferry or Monorail from the park.
Guest driving electric vehicles may use one of four Level 2 ChargePoint charging stations found at the Journey parking lot at Epcot. Cost is $.35 per kW/h, with a minimum charge of $1.50. Payments can be made at the charge station with a credit card or a ChargePoint account card. For more tips, check out the Parking Information page.
Smoking Area
Walt Disney World Designated Smoking Areas are the only place where guests may smoke. Walt Disney World Resort is a smoke free environment and smoking is only permitted outside the theme park gates in dedicated areas. You can find the smoking area for Epcot on our page for Walt Disney World designated smoking areas.
Other Walt Disney World Parks: