Universal Studios  |  Hollywood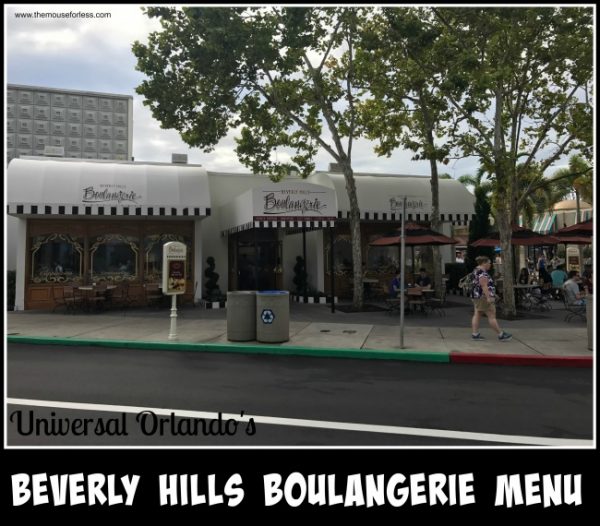 The Beverly Hills Boulangerie has closed to make way for a new restaurant offering. 
As the name suggests, the Beverly Hills Boulangerie menu is a blend of American and French sandwiches and treats. If you're ready to stop for a quick breakfast, there are croissant and pastry options as well as a variety of coffee items to grab and go.  Later in the day enjoy a sandwich with your choice of sides and dessert.
Operating hours vary. See guest services or visit location for details.
Universal Dining Plan Participant.
Beverly Hills Boulangerie Menu
Menu Date 10/2018
Sandwiches
Sandwich Combos are served with potato salad, fresh fruit, and a muffin on your choice of bread.
Smoked Turkey Combo – $12.49
Roast Beef Combo – $12.49
Baked Ham & Swiss Combo – $12.49
Tuna Combo – $12.49
Health Sandwich Combo – $12.49
Fresh Panini Sandwiches
Panini combos are served with a side of pasta salad and a muffin.
Italian Melt Combo
Salami, Ham, Capicola, and Mozzarella. Served on Rosemary Bread with a Side of Pasta Salad – $9.99
Combo – Includes your choice of muffin. – $12.49
Italian Panini Combo
Salami, Ham, Capicola, and Mozzarella. Served on Ciabatta Bread with a Side of Pasta salad – $9.99
Combo – Includes your choice of muffin. – $12.49
Beverages
Fountain Soda
Coca-Cola, Coca-Cola Zero, Diet Coke, Sprite, Minute Maid Lemonade, and Gold Peak Tea – $3.69
Juice
Minute Maid Orange Juice, Minute Maid Apple Juice – $2.39
Powerade
Mountain Berry Blast, Fruit Punch – $5.00
Bottled Water
H2O+ Premium Water – $5.00
Perrier – $4.00
Cappuccino/Cafe Latte – $3.99
Coffee or Decaf – $3.29
Cafe Mocha – $3.79
Premium Flavors – $2.59
Espresso – $2.99
Iced Coffee Drinks – $4.49 – $5.49
Domestic – $7.99
Imported – $8.49
***Beverly Hills Boulangerie Menu Items and Prices are Subject to Change***