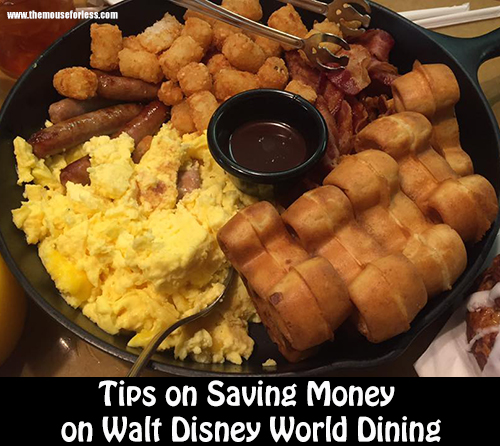 It is possible to get great value and saving money on Walt Disney World Dining.  Value however is a highly subjective subject; as they say "one man's passion is another man's poison." So it is with Disney dining. To further complicate the matter, with Disney dining, the quality of food and price are not the only "value" factors to consider. So many Disney restaurants offer something extra, whether it be showmanship, characters, a bit of Disney Imagineering, a spectacular view, unique theming, or a special treat not found elsewhere. While dining at Walt Disney World, many guests aim for something a little different from what's available at home. To determine what actually makes for a good "Disney" value, we considered whether diners returned to particular restaurants on repeat visits. With so many dining options and experiences to choose from on Disney property, this seems a fair indicator as to whether diners felt they got their money's worth.
See where to get some of the best Disney Dining Deals and also the best Disney Atmosphere at "resort-moderate" prices. Remember you'll need Advance Dining Reservations to guarantee eating at all but the counter service establishments.
Character Dining  Magic Kingdom  Epcot  Disney's Hollywood Studios
Animal Kingdom  Disney Springs  Resort Dining
Saving Money on Character Dining at the Walt Disney World Parks and Resorts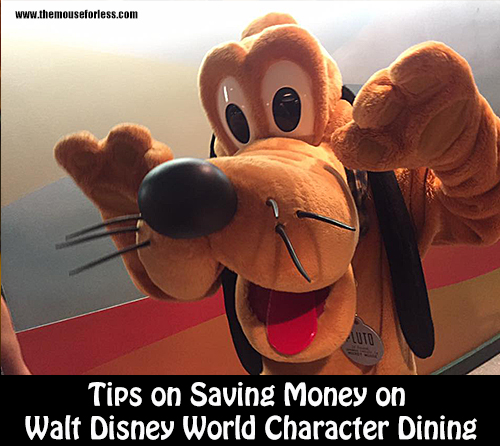 Kids love meeting characters, but dining with them can take a bite out of a family's vacation meal allowance. Those on a budget may want to select one character meal and meet other characters in the park for the remainder of their trip.  Take into account the value in this option; you are saving time you would spend in several lines to meet these characters, or in some cases meeting characters that do not have a meet and greet.  In addition, at character meals, you are able to enjoy some relaxing down time in the air conditioning.

Opt for breakfast meals when offered, as they are usually the least expensive.  If breakfast is not a big meal for your family, consider a lunch visit, as lunch is often less expensive than dinner. Treat lunch as an early dinner, with a snack or quick service meal later.

While some of the restaurants offer the same character experience for each meal, other's change depending on the meal, and some do not offer lunch at all. Make sure to do your research ahead of time.

Keep in mind that characters are always subject to change, so be careful how you present the occasion to little ones.

Most of these meals are all you can eat, so plan accordingly.   Is there a meal your family tends to eat more at?  Plan your schedule so you will be hungry for these meals, getting you the most morsels for your dollar.

The best bargain in character meals is found at the Garden Grove restaurant at the Swan Resort, located in the Epcot area and is accessible by Disney buses or by boat from Epcot. A character breakfast buffet is served on Saturdays and Sundays from 8:00 a.m to 11:00 a.m.   Although this is not an "official" Disney character meal, Pluto and Goofy often make an appearance. Restaurant.com sometimes offers discounted dinner gift certificates for this restaurant which will cut the cost of this character meal even more. For the latest Restaurant.com discount code and instructions, visit our Dining Coupons page.

You can get a great character buffet breakfast deal (one of the cheapest at Disney) at 'Ohana at the Polynesian Village Resort that includes Lilo and Stitch and is served all you can eat family style at your table.

Many of the other character breakfast meals are very close in pricing, including 1900 Park Fare's Supercalifragilistic Breakfast with Mary Poppins, the Mad Hatter, Alice, Tigger and Pooh , Cape May's Minnie's Beach Bash Breakfast with Minnie, Goofy and Donald, Crystal Palace with Pooh and Friends, Garden Grill's Harvest Feast Breakfast with Farmer Mickey and pals, Hollywood and Vine with Disney Jr Friends and Tusker House's Donald's Safari Breakfast.

Little girls who want to interact with the Princesses will enjoy the Cinderella's Happily Ever After Dinner at the Grand Floridian, which offers Cinderella and her Prince, Madame Tremaine and the hilarious Stepsisters. This dinner includes a great varied buffet and is a much more economical option than the Princess Storybook Dining in Norway at Epcot or Cinderella's Royal Table located in the castle at the Magic Kingdom.

If your 4-12 years olds are more interested in character dining than the older ones in your party, consider signing them up for the Wonderland Tea Party while the rest of the group gets an hour to relax or explore the resort.   Savings would come in because you are not paying character dining prices for your whole party. This option would depend on the make up and interest of your group, but worth a mention.

Still have your heart set on a character dinner?   The best priced options include 1900 Park Fare's Cinderella's Happily Ever After Dinner, Crystal Palace with Pooh and friends, Garden Grill's Harvest Feast Dinner with Farmer Mickey and friends, and Tusker House's Donald's Safari Dinner.   Tusker House has been compared to a mini Boma with characters. The extensive breakfast buffet is excellent and the character interaction takes place at a more leisurely pace than other character buffets.

 For a complete list of characters meals offered at Walt Disney World Resort, visit our Character Meals Page.
Saving Money on Walt Disney World Restaurants at Magic Kingdom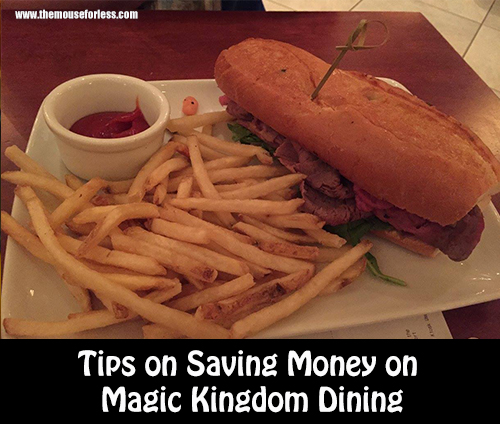 Breakfast

If you're looking for a quick and economical breakfast in the park, you can't go wrong with Starbucks Main Street Bakery. Baked-goods as well as artisan breakfast sandwiches are available.   If you have a Starbucks Card, you can get points here, however you cannot redeem any rewards.

Another good option is Sleepy Hollow in Liberty Square. This location features an interesting selection of waffles and funnels cakes, along with a stuffed pretzel, suitable for a late breakfast or a great snack later in the day.

For anything more elaborate for your morning meal, you may need to book one of the park's table service meals, like Be Our Guest Restaurant, or eat at your resort before arriving at the park.   The food courts at the resort hotels have a great selection of breakfast items.
Quick Service for Lunch or Dinner
Quick Service food is abundant in this park with fewer options for table service dining.

In the quick service category, there is one restaurant that seems a favorite with Disney veterans. If we're going with good food at a moderate theme park price, Columbia Harbour House in Liberty Square offers selections beyond the usual fast food offerings. Here you'll find great soups, salads, and creative sandwiches such as the Lighthouse (hummus with tomato and broccoli slaw), Anchors Aweigh (white tuna with lettuce and tomato served on toasted multigrain bread) and the Lobster Roll (a sandwich filled with Lobster salad); ask about omitting the accompanying chips and you'll lower the price.  The upstairs seating area is quieter, offers some nice views and the hearths add a warm feel to the room.  Grab a window seat if you can for a fun view of the guests below.

At Pecos Bill's Tall Tale Inn and Cafe, at the corner of Frontierland and Adventureland, Angus Burgers and Mexican food favorites are accompanied by one of the best fixins' bars in the West (try the sauteed mushrooms), and the room at this relaxin' dining spot contains some great hidden references to American legends. Plus, if you get a seat outside on the porch in the afternoon, you may catch a view of parade floats passing by.

The Pinocchio Village Haus in Fantasyland is counter service with pretty good food, particularly the flatbreads. The inner decor is rich with carved wood and movie murals that give the interior a fairy tale feel. The restaurant also offers an enjoyable view overlooking the boat loading area of "it's a small world."  Children (and adults) enjoy waving at the guests on the ride.

Cosmic Ray's, located in Tomorrowland, is another Quick Service spot known for it's extensive sandwich fixins' bar and varied menu. The 1/2 Rotisserie Chicken meal here is large enough for those with smaller appetites to share and is really quite good. Add dessert and even two people with larger appetites should feel comfortable splitting this meal. After 4:00 p.m., a 1/2 Rotisserie Chicken and BBQ Rib Combo meal is available as well and is great for sharing.  Plus, Sonny Eclipse, an animated singing alien, will entertain little ones while you dine.

Those who appreciate a really good hot dog will want to stop by Casey's Corner on Main Street. Enjoy the ragtime piano player while you're there!

For a lighter lunch, check out the offerings at Liberty Square Market like the hot dog, baked potatoes, corn on the cob and fresh fruit.

For a snack that can deliver the protein of a full-course meal, consider a visit to the Turkey Leg Cart in Frontierland. We are seriously not kidding when we say these are large enough to satisfy the hungriest park-goer.
Table Service Meals for Lunch or Dinner

For sit-down meals and more reserve tastes, the Plaza Restaurant serves up huge salads, generous sandwiches that are some of the best on property and milkshakes for lunch and dinner. The atmosphere has a turn of the century feel that seems more relaxing than other park eateries, and almost every table has a window view of Cinderella's Castle. The sundaes, banana splits, and other ice-cream creations at Plaza Restaurant are arguably some of the best at Walt Disney World.  Maybe split a sandwich so you have room for dessert?

The Be Our Guest Restaurant located in Beast's Castle has a real WOW factor in overall scenery and experiences.   Lunch at Be Our Guest Restaurant has to be one of the best quick service dining options available at Walt Disney World. You'll dine in a stunning restaurant with unsurpassed atmosphere, have your food delivered instead of carrying your own food trays, and dine with real silverware on real dinnerware, and have some of the best quality quick service food available at Walt Disney World. Be sure to treat yourself to the wonderful Potato Leek Soup.   Depending on appetites, the sandwiches are large enough to share if you plan on trying the soup or a dessert.  Dinner is a table service meal and more expensive than lunch. Save it for a special occasion.

For no frills American fare with 18th-century theming, Liberty Tree Tavern is a good choice for table service for lunch and dinner. Lunch offers a limited a la carte menu. We recommend the Colony Salad, Freedom Pasta and Ooey Gooey Toffee Cake. Lunch and Dinner features a a traditional Thanksgiving meal served family style. The Liberty Tree Tavern also offers a great New England Clam Chowder. But, if you're in the mood for soup for lunch, you can get the very same Clam Chowder at the counter service Columbia Harbour House for less and you won't need a reservation.
Snacks

For a snack that can deliver the protein of a full-course meal, consider a visit to the Turkey Leg cart in Adventureland. We are seriously not kidding when we say these are large enough to satisfy the hungriest park-goer.

While in Adventureland, top off your day with a delicious Pineapple Float or Dole Whip pineapple soft serve at Aloha Isle. A Disney fan favorite, you can't get this velvety ice cream confection anywhere else on earth.

Lastly, at the end of the day, stop by the Plaza Ice Cream Parlor on Main Street USA and order a sundae; enjoy it watching "The Kiss Goodnight" (castle turns colors in one final show), while the park empties out. It just doesn't get any better than that.
Saving Money on Walt Disney World Restaurants at Epcot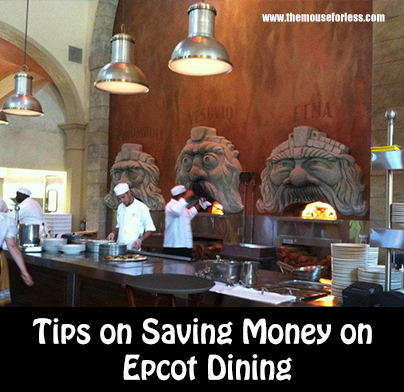 This is "the park" for dining opportunities, and most restaurants are wonderful choices offering a multitude of ethnic cuisines. Even the counter service here is tasty and varied. Almost all of the World Showcase restaurants should be tried at least once, and picking even a few gems among the many seems an impossible task. Since there is always at least one picky eater in the group who may not be up to the challenge of something new, we'll go ahead and recommend Via Napoli at Epcot's Italy pavilion as a great place to start. Everyone loves pizza and this place offers some of the best we've had anywhere! And be sure to check out the three huge wood-burning ovens named after Italian volcanoes.
Breakfast

In Future World, the food court-style Sunshine Season Food Fair in The Land pavilion is a good counter service option (some would argue the best at Disney) with lots of choices for breakfast with good food and moderate prices. The seating area is huge and if you're lucky, you may get a booth with an outlet for recharging your mobile phone. (Also a good option for lunch and dinner if you are in the front of the park at that time)

If you're looking for a quick but delicious continental-style breakfast, Boulangerie Patisserie Les Halles (opens at 9:00 a.m.) can also be a great place to grab a cappuccino or latte, chocolate croissant or gooey pastry.  Enjoy the ambiance of the World Showcase before it officially opens.
Quick Service Service for lunch or dinner
If a sit-down restaurant doesn't fit into the budget or time frame, definitely sample a few counter service meals at World Showcase.

Katsura Grill in Japan, Tangierine Cafe in Morocco (the shwarma platter for about $14 can easily be split) and Yorkshire County Fish Shop in the United Kingdom are excellent choices.

 Seasonally, typically at busy peak times, Italy's Via Napoli has been selling pizza by the slice from its quick service window.

 Boulangerie Patisserie in France offers some reasonably priced lunch items here like Quiche Lorraine or warm toasted ham and cheese sandwiches.

The orange chicken at the Lotus Blossom Cafe in China gets high reviews.

 In Future World, the food court-style Sunshine Seasons Food Fair in The Land pavilion is worth an other mention for lunch and dinner if you are in the front of the park.
Table Service options for Lunch

For breathtaking views, consider a "late lunch" as your main meal at San Angel Inn in Mexico, with its nighttime view of Mayan ruins or Coral Reef at the Living Seas pavilion with its massive salt-water aquarium.

For the fun factor, Biergarten in Germany celebrates Octoberfest every day with German folk songs and polkas, and Restaurant Marrakesh in Morocco features a live band and belly dancers; watch from the sidelines or join in the fun.

Whatever your choice, remember, lunch at many Walt Disney World table service restaurants often feature similar menu items as dinner and is almost always a few dollars cheaper. At Epcot, only Le Cellier, Teppan Edo, and Shiki-Sai: Sushi Izakaya offer the same menu and prices for both lunch and dinner.
Dinner with a Fireworks view

For a great view of Epcot's nighttime fireworks show while you dine, make 7:45 p.m. reservations at La Hacienda de San Angel or Rose & Crown, arrive a half-hour to 45 minutes early and request to wait for a window or terrace seat. There is no guarantee you will get one, but if you do, the view will go great with dessert. You never know when a little magic will happen.  La Hacienda de San Angel is a bit more expensive than Rose and Crown, but has some prix fixe menu options for two.   If that is a budget breaker, there are plenty of great spots to watch the fireworks around the lake without dining. Grab some popcorn, a pretzel or ice cream while watching this amazing view.
Snacks – Many of these are big enough for sharing, and guests enjoying eating their way around the world.

For satisfying the sweet tooth, you can't do much better than Boulangerie Patisserie in France They  offer the Creme Brulee served at the upscale Chefs de France restaurant for a few dollars less.

 Kringla Og Bakery in Norway features schoolbread and pretzels that come highly recommended.

We would be remiss to not mention the Karamell-Kuche in Germany home to everything caramel, including delicious caramel apples.

Funnel Cakes in the United States are a favorite.

Needing a more savory treat, try the hand twisted pretzels in Germany at the Bier Stand.
Saving Money on Walt Disney World Restaurants at Disney's Hollywood Studios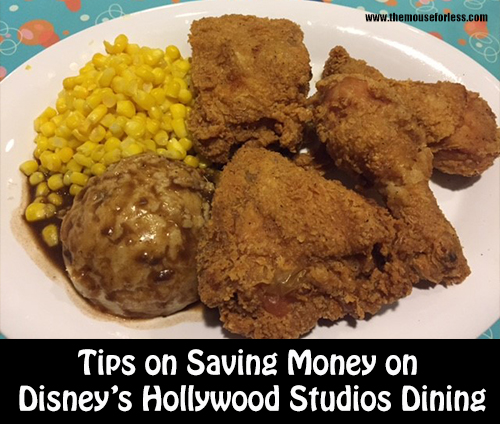 The first thing to note at this theme park is that you won't save money eating your largest sit-down meal at lunch. All of the table service restaurants at Disney's Hollywood Studios offer the identical menu and pricing for both lunch and dinner.
Breakfast

  Starbucks Trolley Car Cafe is popular for their artisan breakfast sandwiches, fantastic pastries and of course their beverages.  Grab a breakfast, and enjoy watching the fountain right outside the door.  Lines can be long here at breakfast time.  You can earn Starbucks points with your card, but cannot redeem rewards at the Disney locations.
Counter Service

For counter service, Fairfax Fare offers reasonable breakfast offerings in the morning and Chicken, Spareribs combinations for lunch and dinner that are large enough to split.

If you're looking for pizza, you can find individual pizzas at PizzeRizzo for around $8 and $2 less without the salad; asked them to leave the salad off if your kids won't eat it.

At Min and Bill's Dockside Diner grab a Frankfurter in a Pretzel Roll for about $7.50.
Themed Dining
There are a few restaurants here that offer what might be termed as "Disneyfied" dining experiences–that little bit of showmanship or over-the-top theming that you won't find anywhere else.   This falls into the extra value that comes with some of the dining experiences at Disney World.

The Sci-Fi Dine-In Theater consistently gets mixed reviews for both food and service. Still, who can resist dining in a booth constructed to resemble a vintage convertible while watching trailers of popular 50's creature-features on a simulated drive-in screen? And, kids will love the Picnic Burger – a hamburger and hot dog in one! Most Disney fans say you should dine here "at least once."

That's also the case with the 50's Prime Time Cafe, with its middle-class-American fifties decor and TV's everywhere airing the Mickey Mouse Club or Dick Van Dyke shows. It's the only place we know of to get a Peanut Butter and Jelly Milkshake. Patrons of this popular Disney's Hollywood Studios eatery generally love the attention they get or hate it. Those who enjoy a little playful interaction with their servers frequent this establishment often. Trading quips with Mom, Dad, sister Sally and long lost cousin Eric are included in the price of the meal.

One doesn't generally think of the Hollywood Brown Derby as a budget restaurant. That being said, it's Famous Brown Derby Cobb Salad turns out to be a pretty good deal for lunch (about $15) compared to other entrees on the menu. Diners won't go away hungry, and there are hundreds of movie star caricatures lining the wall and a few roving Hollywood characters to keep customers entertained. Plus, where else can you find a wait staff that wear tuxedos while you dine in your shorts! And here's a little tip, if you are sitting at a booth and notice a little telephone jack ask your server to bring you a phone; you'll get one of those old rotary styles to plug in and make your call! Of note, while not the same experience as inside, the Hollywood Brown Derby Lounge offers a half Cobb Salad that is great for one.

As we have mentioned, value doesn't not always mean the least expensive option, but often includes some of the extras Disney is known for, increasing the value.   The Fantasmic Dinner Packages is on of those options.    In addition to lunch or dinner at The Brown Derby, Mama Melrose or Hollywood and Vine, you get reserved seating in an area that is one of the best for the show.   Be prepared to have your meal mid to late afternoon, as that is the times they are typically offered.   You can then always purchase drinks or snacks on the way into the show at the Hollywood Hills Ampitheater Snack Bar if you have the munchies by the time the show starts.
Saving Money on Walt Disney World Restaurants at Disney's Animal Kingdom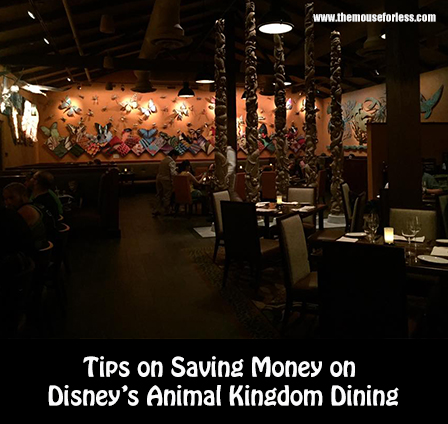 There are some wonderful counter service and buffet restaurants in this park.

Our best budget suggestions would be to begin the day with a huge, hot, sticky cinnamon roll and cappuccino from Kusafiri Coffee Shop & Bakery and then enjoy a late lunch or dinner at one of the Quick Service establishments.

To tide you over, partake of some of the fresh fruit offerings from Harambe Fruit Market, many can be purchased for under a dollar. Or enjoy a pineapple whip at Tamu Tamu Refreshments stand.

Note: All of the Disney theme parks have fresh fruit stands with offerings ranging from carrot sticks to Apples, bananas, grapes, strawberries, yogurt, fruit salad, and more.

The Rainforest Cafe, located just outside the entrance to Disney's Animal Kingdom park, is not owned by Disney and has the reputation for huge portions that can easily be shared. Recent reports, however, are that Rainforest Cafe has been downsizing portions lately. While many families find this restaurant truly fun, with animated jungle creatures and indoor thunderstorms, others have been less than impressed with the long waits and frequent loud noises. The identical menu and pricing is offered for both lunch and dinner.
Counter Service

If your budget strategy includes making the largest meal of the day lunch, Flame Tree Barbeque offers some of the best counter service food of all of the Disney parks – and one of the prettiest outdoor seating spots. Look for a table tucked away down by the water for a great view of Expedition Everest to enjoy with your barbecued chicken or ribs.

For better than average park pizza head for Pizzafari. Most of the pizza's are served with sides, if you decide to skip the side, you'll save $2. For some mealtime entertainment, search for the animals hiding in the murals on the walls.

If a good Angus bacon cheeseburger and fries are what you crave, or how about chicken or a chili dog with a varied toppings bar, head to Restaurantosaurus.  This is situated in Dinoland  and with all of the hidden gags at this eatery may require more than just one visit to locate.
Table Service

For sit-down meals, the Yak and Yeti Restaurant has better than average Asian food.

There is also a counter service here with lunch and dinner offerings that are much cheaper than the restaurant prices. The counter service seating is outdoors with not much protection from the elements. Diners may enjoy the more extensive, albeit expensive, menu inside the restaurant, while relaxing in the air conditioning. Just remember, while a pleasant meal, this is not a budget choice and the menu and prices are the same for both lunch and dinner.

For dinner, one might also try the bountiful buffet at Tusker House, offering spit-roasted meats, stews, salads, and vegetarian offerings with an African flare and characters ready to safari.   For several dollars more you can book a special dining package that includes reserved seating for the nighttime show and get some added value.

Tiffins, an expensive signature dining establishment, recently opened in Animal Kingdom. However, if only one or two nicer meals can be afforded while at Disney, Tiffins should be considered for a nice sit-down dinner.
Saving Money on Walt Disney World Restaurants at Disney Springs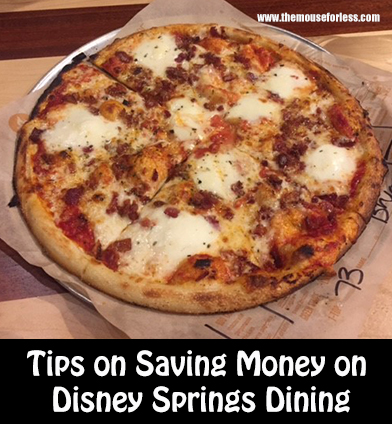 Earl of Sandwich is even more economical with a cornucopia of sandwich selections on the menu. Diners really can't go wrong at Earl of Sandwich and it definitely will not break the budget, the popularity can lead to a long line, but it moves quickly so do not be scared off.

There are also quick service restaurants all over Disney Springs that have great and varied food.  In Town Center try D-Luxe Burger , The Daily Poutine, Blaze Fast-Fired-Pizza, BB Wolf's in the Marketplace, on the West Side try the take out window at Bongo's Cuban Cafe or Yesake, in the landing check out Cookes of Dublin (the quick service version of Raglan Road) and don't forget to check out the Exposition Park Food Trucks.

For added value, you will find some great outdoor entertainment, all for free!   Musical groups can be found near the Exposition Food Trucks, Raglan Road's outdoor bar "Tonsil Tickler", The Welcome Center in Town Center,  and many other locations.   Pull up a stoop and enjoy the music.
Table Service Dining

There are a few sit down dining options that have overall lower prices such as Raglan Road and Terralina Crafted Italian (lower priced lunches than dinner.)  If you can limit yourself, the pricing at both Bongo's Cuban Cafe and House of Blues Crossroads offer a large range of pricing, from moderate to expensive.

Some of the Disney Springs as well as Swan Resort restaurants occasionally have deals on Restaurants.com, coupons, military discounts and rewards programs.  For more information visit here .   A little planning and some of these deals can save you some money, or upgrade your dining a experience a bit.

 Consider sharing some appetizers at some of the popular bars like Paradiso 37, Portobello, The BOATHOUSE and Raglan Road.
Dessert

With the opening of Disney Springs, it is hard to keep up with all the options.   Some of the great, reasonably priced options for a sweet treat include  Sprinkles cupcake bakery, if you are intimidated by the line, you can get a cupcake from the vending machine outside. Other options include Erin McKenna's Bakery NYC, or Tea Trader's Cafe


For a bit more, you can enjoy some fabulous, cooling creations at the Vivoli Gelateria, Haagen-Dazs Ice Cream or the Ghiradelli Soda Fountain and Ice Cream Shop


Visit Goofy's Candy Company for an inexpensive handmade confection that you create yourself from pretzels, marshmallows, apples, Rice Krispie Treats and more. You can choose how you want it  dipped and decorated with a variety of toppings such as caramel, milk chocolate, white chocolate, crushed nuts, sprinkles, or a variety of crushed candies.   Another option is the design your own slushy drink, perfect for a hot day.


Consider sharing some of these sweet treats, a bit of sweetness in the heat can go a long way!
Other Disney Springs Dining with value

The star-struck will want to pay a visit to Disney Springs West Side where you may be able to catch a free concert on the front porch of House of Blues during their happy hour from 3:00 p.m – 5:00 p.m. or stop by Planet Hollywood where every nook and cranny if filled with photos and actual movie props (discount coupons are numerous for this restaurant; visit our Dining Discount page to find one).


For something uniquely different, have dinner and take in a movie at the same time! AMC Downtown Disney 24 theater features Fork & Screen, which provides restaurant dining with "seat-side service". Eat an early lunch and get a deal on movie prices; shows starting before 12 p.m. are only $9.00 for adults or children. The menu features a variety of classic favorites for an additional charge.


Or how about combining dining with bowling? At Splitsville Luxury Lanes, you can dine while you're bowling and even indulge in fresh sushi.  This is way more than your average bowling alley fare.
Saving Money on Walt Disney World Restaurants at the Disney Resorts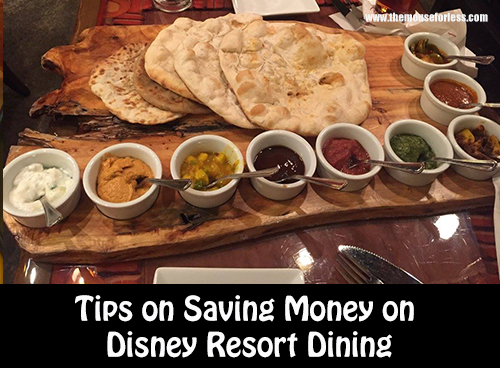 Here one will find some of the best bargains and Disney experiences on property–bountiful buffets, fantastic burgers, family-style all-you-care-to-eat dinners, and interactive silliness all await. Don't hesitate to hop on Disney's resort transportation from the parks and give some of these a try. A few are within walking distance of Epcot or a short ride away on the resort monorail departing the Magic Kingdom.  Travel between resorts can be somewhat time consuming, so allow extra time for travel, or consider the small fee to take a taxi when
The food courts at All Star Movies, Music and Sports, as well as  Pop Century and Art of Animation: You won't find more economical dining deals than at the food courts of these resorts. They each have the same basic offerings with some unique offerings at Art of Animation, including everyone's breakfast favorite – Mickey Waffles. If staying at one of these resorts, use the food court whenever possible for breakfast, lunch, or dinner and supplement the rest of your vacation with a few nice meals.

Market items like Pop-Tarts and popcorn can be purchased at these resorts and heated in toasters and microwave ovens found at the food courts. Packets of peanut butter, jelly and honey are available for free in the condiment section of the dining area and several slices of bread can be purchased at the counter upon request (or bring your own).

Pizza delivery (window pickup) at the All Star resorts is also a good choice for a late dinner by the resort's swimming pool.

Animal Kingdom Lodge:

Boma, Boma, Boma, need we say more. This is an expansive breakfast or dinner buffet with lots of adventuresome (and some not so adventuresome) choices. Much of it may be dishes you're unfamiliar with, but give it a chance. The food is quite excellent and most people who travel out of their way to try this restaurant aren't disappointed.

For that bit of extra magic, take a tour of the animal viewing area out the back doors of the resort lobby. There is even a fire pit surrounded by rocking chairs to sit in while an African storyteller spellbinds visitors with tales from the dark continent (call ahead to get specific times).  Also see if they are offering the nightvision goggles viewing during your visit.   Plenty to see at Animal Kingdom Lodge to add extra value to your meal.

If you'd rather view your animals "while you eat," Sanaa at Animal Kingdom Lodge's Kidani Villa features big picture windows look out onto a the savanna where giraffes, zebras and other African wildlife graze. There are several sandwiches on the lunch menu for around $12, and where else can you get that kind of dining experience? While dining here the bread service is a must try!

Mara, AKL's counter service restaurant, serves the popular Zebra Domes from Boma and many of the delicious homemade soups people rave about ala carte and you won't have to pay the price of Boma's buffet to try them.

Disney's Beach Club:
Beaches and Cream Soda Shop is a wonderful little place offering burgers, sandwiches, salads and lots of ice cream. Many people claim the burgers are the best on Walt Disney World property. The Beach Club is just a short walk or boat ride for the World Showcase entrance to Epcot. Making the trip to Beaches and Cream is a nice way to break up a park-touring day and explore a few of Disney's Deluxe resorts, or just sit on the front porch with a treat and relax.

And let's not over look the bountiful dinner buffet at Cape May, better known as the "clambake." Besides great seafood options like giant snow-crab legs, mussels, clams, shrimp and fresh fish, there are plenty of other meat and side dish options.
Disney's BoardWalk:


BoardWalk Pizza Window is the place for families to head. A full-size pizza with drinks is quite reasonable for a family of four. Plus, as you dine in outdoor seating along Crescent Lake you may be treated to some of BoardWalk's ongoing free entertainment such a magicians, jugglers and more, and depending on the weather back home, a fun thing to mention to friends that your are eating pizza outside!

Big River Grille  A great place to grab a burger and a flight of their own brews, they offer a full menu as well.  Make sure and sign up ahead of time online for their email list for occassional special offers.
Fort Wilderness:


For one of the best dinner buffet deals on property, Disney veterans know to head to Trail's End Restaurant, located in Pioneer Hall. This establishment seems to be cutting back on selections in recent years, although recently a wonderful new baked potato bar was added. Still, this buffet is all about down-home, comfort foods and plenty of them. It's a great choice for families with picky eaters. Trail's End Restaurant is not convenient to get to. Unless you are staying at a monorail resort or Disney's Wilderness Lodge, you may be disappointed, if making a special trip from your resort (or some theme parks) for this meal and don't have a car. Relying on Disney transportation as round-trip travel can take several hours out of your day for the combined trip to and from Fort Wilderness. If your traveling from the Magic Kingdom, it's pretty simple and quick to get to Trail's End by boat. Trail's End is just a short walk (less than 5 min) from the marina. The boat ride from Magic Kingdom is only about 10-15 minutes. If you'd like to spend an afternoon or evening at Fort Wilderness, it's still a great bargain buffet and well worth the visit. Brunch is a delicious recent addition to this establishment.

If you don't eat too much at Trails End, you can also make the short trip to Meadow Trading Post and watch a free Disney movie around a campfire while enjoying roasted marshmallows or S'mores made from supplies purchased at a nearby stand. Chip and Dale may even make an appearance.

For something more expensive but well worth the cost, Walt Disney World's best dinner show also takes place at Fort Wilderness. The Hoop Dee Doo Revue at Pioneer Hall is a foot-stompin', good time feast for the whole family. If you only see one of Disney's dinner show, this would be the one.
Disney's Polynesian Village Resort:


'Ohana offers a family-style all-you-care-to-eat feast of Hawaiian sides and skewers of assorted meats. If the price of a sitter or several hours at a kids' club aren't in the budget, this may be a good way for adults to get a small break and a nice meal at Disney. 'Ohana has coconut races (pushed by a broom), hula hooping, and other activities to keep young children entertained throughout the evening while parents enjoy their meal at a more leisurely pace. And, save room for one of the best desserts at Disney, Pineapple Coconut Bread Pudding with Bananas Foster Sauce! Make your Advance Dining Reservations early; this restaurant is extremely popular. After dinner take a walk along the Polynesian's beach, catch the Magic Kingdom fireworks, and enjoy the Electric Water Pageant (around 9:00 p.m.) on the lagoon.

For breakfast, Kona Cafe's banana-stuffed, cinnamon-rolled version of French toast, Tonga Toast, is almost legendary and truly delicious.

Most people don't know you can get the almost the exact same Tonga Toast (all it's missing is the strawberries) served at Kona Cafe for half the price at the Polynesian's counter service restaurant Captain Cooks.
Wilderness Lodge:


Whispering Canyon Cafe is another restaurant with Disney fun included with the price of meal. Be forewarned, the ribbing you will take from the waitstaff and possible disruptions to your meal may be more annoying than fun. Kids, however, love it here and if one isn't the sort that would mind a few unexpected disruptions, a rip-roaring good time for a moderate price can be had by all. For lunch you'll find a delicious Roast Beef and Blue Cheese Sandwich. All-you-can-eat meals served in a lazy susan at your table are available for dinner. Also, don't miss the all-you-can-drink milkshakes. They are thick and fabulous. Be sure to visit the rear pool area of the resort after the meal to see Disney's version of Old Faithful (erupts on the hour).


For breakfast, don't miss the great selection on Mickey Waffles at Roaring Forks for a great price.    They come in four flavors: Wilderness Waffles (with maple butter and candied pecans), Bananas Foster (warm bananas in a buttered rum flavored sauce), Strawberry & Orange (fresh strawberries & orange flavored whipped cream), and Chocolate Lovers Waffles (chocolate chips, whipped cream and chocolate sauce).
TheMouseForLess Tip: Remember, at most Walt Disney World Quick Service locations, you can order an entree that come with a side item (salad, chips, fries, etc) without the side and save a dollar or two. If you don't feel like having the side, ask if there's an entree-only price.
TheMouseForLess Tip: A final factor to be aware of is that premium pricing goes into effect during certain peak seasons of the year, and guests will pay more at buffets, character meals and even at some table service meals. Those who purchase the Disney Dining Plan will also pay an increase up front during certain times of the year. To see a list of seasonal pricing and the restaurants impacted, visit our Seasonal Pricing Page.