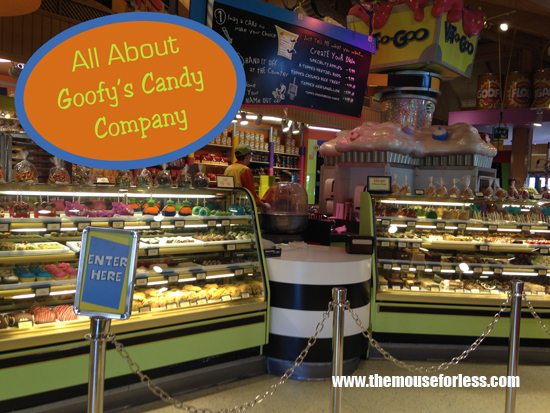 Goofy's Candy Company
Goofy's Candy Company is a sweet tooth's go-to destination. The shop is located in Disney Springs in the Marketplace section. Here guests will find lots of different types of candy and other sweet treats such as pecan clusters, cupcakes, slushies, caramel apples, taffy, cookies, fudge, jelly beans, lollipops, and much, much more. This is NOT a 'kids only' destination…there is something there for anyone at any age.
Create Your Own Options
When guests step inside the candy shop, two things are evident: Goofy is in charge with his whimsical design tastes and it smells heavenly. This is an 'interactive' candy store; there are opportunities to create your own confection fantasy right in the store.
Frozen Slushy
The first major area is design your own frozen slushy drink (think Slurpee) called Goofy's Glaciers. Flavors typically include options like Pucker Purple, Goofy's Glacier Apple, Rootin' Tootin' Red, Orange You Happy Orange, Gawrshly Berry Blue and Coca-Cola Cooler. What's great is that you can mix and match whatever flavors you would like to create your own Goofy Glacier drink. You can choose from a regular or souvenir cup to sip your creation from. Be careful not to get a Brain Freeze!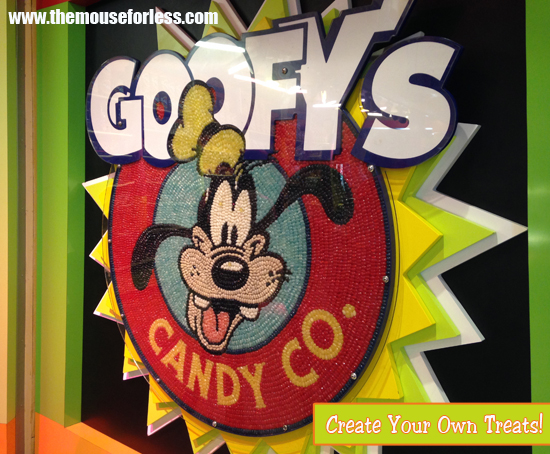 Treat Factory
The second section, which really is the centerpiece of the store, is a mini treat-making factory. Pick up a green order form and mark off what you would like made especially for you.
You can choose from a caramel apple, pretzel rods, marshmallows, a Mickey cookie, or a Mickey crispy rice treat. Once you've selected your treat, you'll choose one flavor for dipping. The treats can be dipped in your choice of white chocolate, milk chocolate, or dark chocolate. Next, select a topping from sprinkles, chopped peanuts, mini M&Ms, peanut butter chips, chopped pecans, crushed Oreos, sliced almonds, dark and white chocolate chips, crushed Butterfingers, cinnamon and sugar, Reese's Pieces, coconut, or graham cracker crumbs. (Additional toppings are available for an additional cost.) Finally, you can choose one type of drizzle—white chocolate, dark chocolate, or milk chocolate. After making all of those selections, hand the order to one of Goofy's candy makers and they make it for you right then and there. This is a fun way to make your own unique snack to sample and enjoy.
Shopping at Goofy's Candy Company
The shop also has three other areas for shopping. First is the pre-bagged candy—everything from cotton candy and popcorn to taffy and gummies! Second, you'll find a wall of Jelly Belly Jelly Beans where you can make your own bagged combination. Finally is the candy counter where you can choose from many different sweet treat offerings like special cupcakes, themed caramel apples, cookies, fudge, pretzel rods, and crispy rice treats. You can watch Goofy's chefs create the special treats right in the store.
TheMouseForLess Tips

Consider stopping here before heading home. It's a great place to stock up on goodies to remind you of a great trip! This is especially true if you are on the Disney Dining Plan and have extra snack credits to use.

When purchasing a crispy rice treat, seriously consider having it specially made, as you get the topping included on both sides. When purchasing a pre-made crispy rice treat, it is typically only covered with the topping on the back side. Plus you get to choose exactly what you want on the treat!

This is a fun stop to make on a non-park day at Walt Disney World. We have lots of other suggestions for your day at Disney World without a ticket if you're looking for something to do!