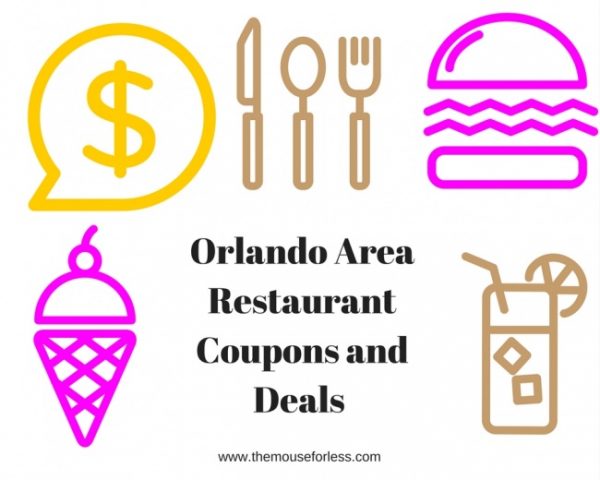 There are many discounts available to the general public for Orlando restaurants, both on property and off.  
Dining Certificates & Deals for Purchase Free Coupons Clubs & Loyalty Programs Other Disney & Orlando Area Dining Deals Deals Through Disney
Orlando Restaurants Dining Certificates & Deals "For Purchase"
Restaurant.com Deals
Restaurant.com offers gift certificates to many Orlando restaurants at a discounted rate. To see what restaurants are available near Walt Disney World, click the link above and enter zip code 32830. In general, the following gift certificates discounts are always available (denominations offered will vary by restaurant). No special code needed!
• $100 gift certificates for $40
• $75 gift certificates for $30
• $50 gift certificates for $20
• $25 gift certificates for $10
• $15 gift certificates for $6 (perfect for breakfast or lunch)
• $10 gift certificates for $4
• $5 gift certificates for $2
Occasionally, Restaurant.com will offer even better discounts that require a special limited-time promotional code to be used during checkout.
Orlando restaurants certificates change frequently, so if you don't see anything that interest you the first time, but have several months until your trip, be sure to check the inventory again prior to leaving. Restaurant.com sometimes has certificates for restaurants on Disney property. In the past, there have been certificates for restaurants in the Downtown Disney shopping and entertainment district, Downtown Disney hotels and restaurants located in the Swan and Dolphin hotels in the Epcot area. You can also sometimes find certificates for restaurants located in on property at Universal Orlando (zip code 32819). If you'll have a car while at WDW, you might try search for restaurants within a 5 mile radius of zip code 32830. Restaurant.com gift certificates never expire, and can be exchanged for a different restaurant at ANY time. Certificates sometimes require that two meals are purchased or they may have a minimum expenditure amount or have other restrictions. Generally only one certificate can be used per restaurant in any given month, but you may visit as many different restaurants as you like. To maximize your savings, please make sure you review the restrictions for each restaurant before you finalize your purchase. Under the certificate denominations for the restaurant, there is a box with the terms. The box shows the terms for the $25 certificate, a default setting. When you click on a different denomination, the terms will change to reflect your choice. Additionally, there is a link on the payment page to the specific restrictions for each Restaurant Certificate in your shopping cart. Restaurant.com certificates are also great for dining in your hometown. If you'll be dining for the evening anyway, you can search for your restaurant online, purchase a discounted certificate, print it, and go.
MouseForLess Tip: Restaurant.com gift certificates can be combined with other printable restaurant discount coupons.
Birnbaum's Walt Disney World Guide Book
The "Birnbaum's Walt Disney World guide book" typically comes with valuable coupons for dining at Downtown Disney. You can purchase it now at a Walt Disney World Birnbaum Guidebook.
Orlando Restaurants Groupons
Web sites like Groupon offer one or more new deals per day in the Orlando area. In the past, Groupon has offered "two for the price of one" discounts on parasailing at the Contemporary Resort at Walt Disney World, as well as discounts for restaurants and attractions throughout the Orlando area. Most discounts are 50% off or more. Groupon discounts are activated when a minimum number of people agree to buy; for the most part, this is never an issue and deals are most always available. Deals change daily. It's worth checking each day to see what's available (link goes to deals in Orlando area). Use the Food & Drink link at the top of the page to narrow your search for the Orlando area.
Costco Stores
Costco Stores offer discounted restaurant gift cards. You can sometimes find McCormick & Schmick gift cards for a discount. The McCormick & Schmick website says you can use your McCormick & Schmick's gift cards and egift cards at any of our 400 Landry's restaurants nationwide." T-REX, Rainforest Cafe and Yak & Yeti are all owned by Landry's restaurants. Gift cards may not be combined with any other discounts including Landry's Select Club.
Orlando Restaurants Dining Coupons
Disney Restaurant Meal Receipts
In recent years, Disney sometimes adds offers for merchandise discounts to the bottom of park Quick Service restaurant receipts during peak times of the year. Typically, these discounts have been for 10% – 20% off merchandise at one or several park stores if you shop before noon. Disney park merchandise shops that are most often included in this deal are: Emporium at Magic Kingdom; Mouse Gear at Epcot; Mickey's of Hollywood or Keystone Clothiers at Disney's Hollywood Studios; Island Mercantile or Disney Outfitter at Disney's Animal Kingdom; and World of Disney Store at Downtown Disney Marketplace.!
Coupons for House of Blues at Downtown Disney
www.orlandocouponsfree.com is currently offering a coupon for 15% off your bill at HoB with no expiration date. Excludes alcohol and gratuity.
Visit Orlando offers at various Orlando area restaurants. Offers change several times throughout the year. Click here to see looking under "Dining" to see what is currently offered.
Other Online Coupon Sites
A few web sites offer coupons that include Orlando area restaurants:
Orlandocouponsfree.com offers attraction and dining coupons, most with no expiration date. Includes coupons for multiple restaurants at Universal Orlando's CityWalk restaurants.
Destination Coupons has coupons for Planet Hollywood
Restaurant Rewards Clubs & Loyalty Programs
Starbucks Rewards and Gift Cards
The Main Street Bakery in the Magic Kingdom serves Starbucks coffee and treats. Starbucks gift cards are accepted as payment at this location. Also, if you are a Starbucks Rewards member, you can earn "stars" on your purchases at this location. My Starbucks Rewards are not honored at Main Street Bakery, however, so you can't redeem free birthday drinks or other freebies you may have earned. A second Starbucks venue is located in Epcot at Fountain View Cafe.
Earl of Sandwich eClub
Earl of Sandwich is located at Downtown Disney Marketplace. Join the Earl of Sandwich Rewards and you'll get special offers to this restaurant, along with a free sandwich on your birthday.
Swan & Dolphin Dining Passport
The Swan & Dolphin resort is now offering a reward dining program in which frequent diners at select Swan & Dolphin restaurants can earn loyalty points. You will be awarded 1 base point for every $1 purchased. Points will not be issued for tax or tip. Points can be redeemed for exclusive dining experiences, dining gift certificates, hotel stays with park tickets, unique gifts and more. Participating restaurants include Shula's Steak House, Il Mulino New York, Todd English's bluezoo and Kimonos. The Dining Passport CAN be used in conjunction with a coupon or special offer, but you will only earn points on actual dollars spent. Swan & Dolphin's Dining Passport is free to join. To join, fill out a short application at a participating Walt Disney World Swan and Dolphin restaurant and later register register online. You will receive your Dining Passport and begin earning points immediately on that same visit. You'll also be kept updated on new promotions and opportunities for even more rewards!
Dining Clubs for "Off-Property" Restaurants
Several off-site restaurants in the Disney World area have free clubs you can sign up before your vacation for and get special coupons and offers via email. There's no guarantee they will have an offer during your travel dates, but if you would like to eat at one of these establishments, it's worth signing up. Here are just a few of the closer ones:
Other Disney & Orlando Area Deals
Food Discounts for the Military at Disney
Members of the military can show their ID and get 10% – 25% off their meals at the following Orlando Restaurants at Downtown Disney (excludes alcohol).
AAA and CAA
Some independently-owned restaurants at Walt Disney World offer a discount American and Canadian Auto Club members. Reports are that these discounts have not always been honored. Still, if you have either a AAA or a CAA card, it's worth a try.
AARP
AARP members save 10% on food and non-alcoholic beverages at Rainforest Cafe. Check to see if other Landry-owned restaurants that qualify for this discount.  (T-Rex and Yak and Yeti are owned by Landry).
"All-You-Can-Eat" Buffets
"All-You-Can-Eat" Buffets are some of the numerous Orlando Restaurants on International Drive. If you have a car these restaurants can be quite filling at around $15 or less per person. A few buffets include Golden Corral offering a huge lunch buffet.   Ponderosa Steakhouse has affordable entrees under plus a huge buffet bar.  Cici's Pizza featuring an Italian family-style buffet with pizza, pasta and salad.  Sweet Tomatoes offering salad bar with soups, pastas, breads and dessert; Sizzler offering a salad, soup, appetizer and dessert bar along with separate steaks, seafood, chicken, sandwiches and burger entrees.
Visit our Orlando Dinner Show page for discounts on meals with a show.
Dining Deals Directly Through Disney
Disney offers dining deals directly either through the purchase of a vacation packages, through certain ticketing options or through membership in various Disney clubs. Click on the links below to see what Walt Disney Dining Deals are currently being offered for each.
Disney Resort Hotel vacation packages for Disney resorts come with some discounts.
Free Dining – Disney MYW vacation package that includes one of Disney's Dining Plans at no charge, offered at select times of the year – typically available to book sometime in spring for travel late August through most of September
Disney Dining Packages – Disney meal plans available to those purchasing a Disney MYW vacation package
Tables in Wonderland – Discount WDW Dining Club for Florida Residents, Annual Passholders and Disney Vacation Club members; requires annual purchase
Disney Visa Card – This Visa card (choose from Rewards, Premier or Debit cards) from Chase Bank offers dining discount at the select Walt Disney World Resort dining locations.
Annual Passholder Dining Discounts – Requires purchase of 12-month WDW admission pass
Disney Vacation Club Dining Discounts – Requires buying into Disney's vacation time-share program
Disney's D23 Dining Discounts – The official Disney Fan Club; yearly membership for fee required.
Seasonal Dining Information – Restaurant price increase based on guest demand