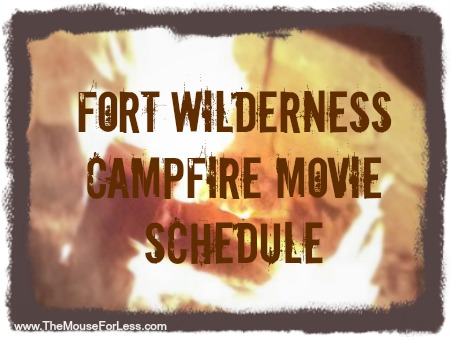 Join Chip and Dale just behind the Bike Barn for a campfire sing-along followed by a classic Disney movie. Admission to the Fort Wilderness Campfire Movie is free and open to all Disney guests whether staying at Fort Wilderness or not. An entertainer (typically a guitar-strummin' cowboy) leads the sing-along that includes dances such as the Hokey-Pokey and the Chicken Dance. Chip and Dale will then visit with guests and sign autographs. After a sing-along, the Disney movie is shown on a large outdoor screen. Both bleacher and bench seating are available. Guests may want to consider bringing along a cushion or pillow to sit on. Restrooms are located behind the snack bar area. This is a wonderful experience for younger children!
Before the Fort Wilderness Campfire Movie, guests can roast marshmallows, hot dogs or just about anything around one of two campfires. Marshmallow roasting supplies are available for purchase at the Chuckwagon Snack Bar, along with other snacks, such as S'mores Kit ($9.99), hot dogs, candy, nachos with cheese, popcorn, cotton candy, sodas, coffee and beer. Marshmallows cost $4.99/bag and a roasting stick runs $0.59 (also eligible for snack credits on Disney Dining Plan). You can also bring along your own snacks or marshmallow roasting supplies.
May 2018 Fort Wilderness Campfire Movie Schedule
Sundays
May 6, 20 – An Extremely Goofy Movie
May 13, 27 – Brave
Mondays
May 7, 21 – The Princess and the Frog
May 14, 28 – Up
Tuesdays
May 1, 15, 29 – Toy Story
May 8, 22 – The Lion King
Wednesdays
May 2, 16, 30 – Toy Story 2
May 9, 23 – The Great Mouse Detective
Thursdays
May 3, 17, 31 – Toy Story 3
May 10, 24 – Dinosaur
Fridays
May 4, 18 – Moana
May 11, 25 – Tangled
Saturdays
May 5, 19 – Coco
May 12, 26 – Finding Dory
Fort Wilderness has a great lineup of outdoor movies and activities. You'll find new Disney movies like the recently released  Coco! You can see the complete list of movies and activities on the Fort Wilderness Activity Calendar. The campfire begins at 7:30 pm, Sing-a-long starts at 8:00 pm, and the movie starts at 8:45 pm. Times may vary depending on the season. Look for a new calendar each month. On Fridays and Saturdays the campfire events start one hour earlier for a movie double-feature event.
As always, double check the times with a cast member when you get to Walt Disney World. In the event of rain, a "Porch Jam" sing-a-long is "usually" held on the porch of the Meadow Trading Post, but if the rain persists, the movie showing will most likely be cancelled. Consult our weather page for additional info.
Directions
For those driving, take I-4 to Exit 64B. Take the right lane to the Magic Kingdom. Let the gate guard know that you have dining reservations at Fort Wilderness. You'll then follow the signs to the campground and park at the Outpost. Whether you drive, take a boat from the Magic Kingdom or Contemporary Resort or take a bus from the Wilderness Lodge, you'll need to catch the Yellow bus line once you arrive at Fort Wilderness. Take the bus to the 1500 stop (Meadow Trading Post & Recreation area). From there, cross the wooden bridge. You'll find the outdoor theater that hosts the campfire past the volleyball court and swimming pool, behind the pool building.
Outdoor Movies at Other Disney Resorts
In addition to the Fort Wilderness Campfire Movie, ALL Walt Disney World resorts feature nightly Disney movies in the beach or pool areas. Movies are shown on a blow-up screen at most resorts, although a few do have a large permanent screen. A few will also include a campfire. Sticks, marshmallows, and sometimes even S'mores fixin's are are often available for free at resorts that feature a campfire.
Bring your own chair or blanket for these complimentary screenings of Disney films; some resort hotels even offer benches. The front desk at individual resorts can provide a list of movies, dates and times. You can also visit our Movies Under the Stars page and click on the "Activities Calendar" link for a list of movies playing at each resort for the current month. You can also call 407-939-2273 for the movie schedule at a particular resort. The Fort Wilderness Campground movie is the only one to feature a visit by Disney characters, a sing-a-long, and elaborate western theming.