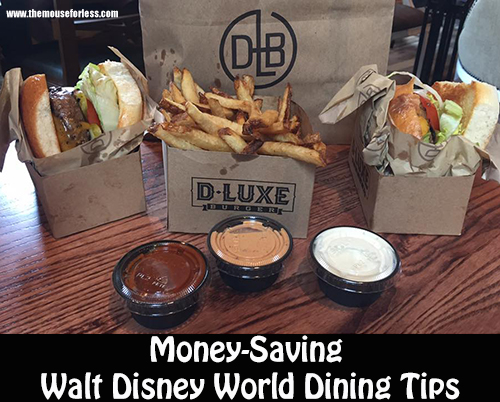 While Disney Dining can sometimes be expensive, there are many ways to save a few dollars on counter service and table service meals, as well as snacks. Using these money saving tips can help.
Disney's Dining Plan Annual Passholder Dining Discounts Bring Snacks Sit-Down Meals Sharing Meals Have Dessert Restaurant Dining
For Current Deals Look for the

Mickey Ears
Disney's Dining Plan
The Disney Dining Plan (DDP) is Disney's Meal add-on component to Disney Resort Hotel Vacation Packages (which include park admission tickets) and is available only to those staying at a Disney-owned resort for the length of the stay. The Dolphin and Swan, Shades of Green, Disney Springs and Good Neighbor hotels and resorts are excluded. Packages with hotel and dining only can be booked over the phone and require a minimum two night stay, but are not available to book online in most cases.
Disney offers two levels of the Disney Dining Plans, including Quick Service Plan and Standard Plan. To learn more about the two Disney Dining Plans offered and how to use them to your advantage, visit our Disney Dining Plan page.
Using Disney's Advance Dining Reservation (ADR) system will help to optimize the savings from your Disney Dining Plan. Disney highly suggests that you make at least some restaurant choices in advance to ensure availability. You'll find tons of tips about restaurant choices on our ADR page and on our Saving Money at Walt Disney World Restaurants page.
In order to make the most of the Disney Dining Plan, you'll also want to have some idea of the restaurants at which you would like to dine and the prices of meals offered. Like anything else, it takes a bit of footwork to make the Dining Plan work to your best advantage. TheMouseForLess.com has a complete list of menus available for Walt Disney World restaurants. Many Disney restaurants are more than just the food served and include unique dining experiences you won't find anywhere else. To help plan out your dining plan meal credits, TheMouseForLess.com offers a handy Meal Planner Tool in Excel spreadsheet format to keep track of all of your meal credits. You can also use the ADR calculator to figure out the first date for which you can make ADRs.
Lastly, watch for Disney to announce future Free Dining packages. For the past several years, Disney has offered a Disney Resort Hotel Vacation Packages that includes a Dining Plan at no additional cost. This is a great deal. Visit our Packages for Every Budget page to learn more about the Free Dining Package. Don't be immediately sold on the Free Dining package, though. If you are planning a week-long stay at a high-budget resort, such as the Grand Floridian, and a room discount is offered at the same time as a Free Dining package, you may save more taking the room discount and purchasing the Disney Dining Plan at regular rate as part of a discounted room package.

Check our Current Code and Discount page to locate all recent promotions offered by Disney and to see if a Free Dining deal is currently available.

Look for shareable meals. For example, Flame Tree BBQ in Animal Kingdom offers a 1/2 Chicken and BBQ Ribs Combo that's big enough to share. The costs is over $15 but it only requires one Quick Service credit – making it a great choice when on the Disney Dining Plan.

At counter service restaurants, you can order a regular or large fountain drink. The default on the Disney Dining Plan is the regular size, but if you'd like a large, you just have to ask.

Most Snack credits can be used for individual serving snack under $5. To get the most bang for your buck, avoid buying bottled water with your snack credits; try purchasing specialty cupcakes at bakeries or other delectable confectioneries in the parks that typically sell for $4.99 or higher.

Signature Restaurants at Walt Disney World Resort require 2 Table Service credits on the Disney Dining Plan. Since it's very unlikely that a meal at one of Disney's Signature Restaurants would be double the cost of a meal at a regular table service restaurant, Signature Restaurants are generally considered to be a poor use of your table credits on the Disney Dining Plan.
Annual Passholder Dining Discounts
Annual Passholders are entitled to discounts at select Walt Disney World restaurants. Most discounts are 10%, but there are a few of up to 20% at Disney Springs restaurants. Check here for a complete listing of Annual Pass Discounts at Walt Disney World restaurants.
Disney has added the ability for Annual Passholders to purchase special packages that include the Disney Dining Plan without tickets. Each person on the reservation will need to purchase the Dining Plan for length of stay, but only one person per room must have an Annual Pass. There are no minimum stay requirements, but a $200 room deposit will be required along with payment in full within 45 days of visit and cancellation fees will apply.

For Current Annual Passholder package deals that include the Dining Plan, check our Current Codes and Discount page to see what, if anything, is available for your travel dates.
Bring Snacks
Disney will search backpacks, purses, and anything else carried, pushed or pulled into the parks. While guests are not allowed to bring large coolers (or rolling backpacks) into the park, nor are there any picnic areas, Disney does not object to packing a few snacks. Small coolers or picnic totes (no larger than 24″ x 15″ x 18″) with a shoulder strap are fine and help with money saving, as long as they do not contain any alcoholic beverages or glass containers. Other than strollers, guests may not bring any wheeled conveyances into the parks. Consider bringing packets of peanut butter crackers, granola bars, fruit roll ups, candy bars, beef sticks, juice boxes and other small snacks from home.
If luggage room allows, slip in a few bags of popcorn for an evening snack or Pop-Tarts for the morning. Most resort food courts and quick service restaurants have a microwave and toaster for guests' use, as well as free condiments like peanut butter, honey, jelly and butter. Reasonably priced snacks can also be purchased at the Speedway gas stations on Walt Disney World property. Generally, they are a little cheaper than at resort grab 'n' go sections for snacks, sodas and bottled water. There are three Speedway stations on property. One Speedway is located at the Car Care Center on World Drive near the exit of the Magic Kingdom parking lot, another across from Disney Springs and the third in the area of Disney's Hollywood Studios just before the entrance to the Boardwalk Inn. TheMouseForLess hears they also have good reasonably priced pizza and $1 hot dogs there.
Make Your Sit-Down Meal Lunch (or Breakfast)
Disney has some fabulous restaurants and dining experiences. If you are able to purchase a Dining Plan as part of your vacation package, that's great news. You'll get to sample many of them. If vacationing on a tight budget, food is one area where cost will likely be trimmed.
Don't underestimate, however, just how much "Disney Experience" is incorporated into dining at Walt Disney World. Vacationers who cook all of their meals or dine only at counter service in the parks will miss out on a lot. We have some suggestions for Saving Money on Walt Disney World Dining.
At table service restaurants, many of the same choices are featured on both lunch and dinner menus and in most cases guests will pay less at lunch. At the very least, the opportunity exists to sample some great theming and interactive fun. This value suggestion particularly applies to the Epcot World Showcase table service restaurants, Disney Springs restaurants and some restaurants at Deluxe Resorts that serve lunch. If on a budget, consider dining as part of the experience and partake at lunch. All of the table service restaurants at Disney's Hollywood Studios offer the identical menu and prices for both lunch and dinner, so don't plan on using this tip at that theme park. At Epcot, only Le Cellier, Teppan Edo, and Shiki-Sai: Sushi Izakaya offer the same menu and prices for lunch and dinner and at Animal Kingdom, Rainforest Cafe and Yak & Yeti have one menu for both lunch and dinner. Also, be aware that Disney raises prices, mostly at buffets, during peak times of the year. To save even more money, plan to avoid lunch at restaurants where seasonal pricing is in affect.
Share
In recent years, Disney seems to have caught on to the sharing idea and has been downsizing counter service portions in many locations. At the Animal Kingdom, head for Flame Tree BBQ. The 1/2 Chicken and BBQ Rib Combination for about $15 is one of the few remaining park meals that is bountiful enough to share. Sharing can still be a great idea for saving money at sit-down restaurants, and is a good way to sample some of Disney's finer dining. At restaurants where entrees can be ordered ala carte, purchase one to split and supplement with salads, soups or flatbreads. You'll still have a great culinary treat and the cost of a few additional sides is not likely to exceed the cost of an additional Cedar Plank Roasted Salmon meal at Artist Point or a Braised Beef Short rib at Jiko.
Some Disney veterans have said they prefer to purchase kids meal at counter service restaurants rather than share. Currently, kid's meals are running $4.99 and usually include a burger, macaroni & cheese or chicken nuggets (however other unique dishes like baked chicken and turkey meatloaf,  are now being offered as well at some restaurants); a choice of two sides (carrot sticks, grapes or applesauce); and a small milk, bottled water or juice box. Fries and soft drinks can be substituted upon request. Be aware that this is not an option that will work at table service restaurants where kids' meals run $8.59 and wait staff knows who's ordering what.
Sharing, especially at a table-service restaurant, may not always work well for guests using a Disney Dining Plan. Pay attention to what is included in a plan meal before choosing to share.
Have Dessert and Soak up the Atmosphere
On a budget, this is one of the very best ways to experience Disney's finest restaurants. With Disney heavily promoting their Dining Plan these days, seating is getting harder and harder to come by without Advance Dining Reservations (ADRs). However, with a little effort, guests may still be able to make this strategy work. Try for a walk-in at odd hours like 3 p.m. or have an early dinner in the parks and try for availability after 8 p.m. This plan will probably work best at any of the World Showcase restaurants at Epcot, or hop a resort monorail from the Magic Kingdom and have dessert in a resort restaurant. Our suggestion would be to visit Narcoosees or Citricos at the Grand Floridian (you just may get a great view of MK fireworks with dessert). The California Grill at the Contemporary Resort is located on the 15th floor and has one of the most spectacular views of the Magic Kingdom fireworks anywhere. The chances of getting a walk-in table in the evening for dessert is next to nil. If you'd like to see this breathtaking show, make ADRs for the appropriate time well in advance and be prepared to order dinner from the menu. Also consider dessert at Jiko at Animal Kingdom Lodge and Artist Point at the Wilderness Lodge. These restaurants are off the beaten path and may have availability during odd or late hours.
TheMouseForLess Tip: If you can't get reservations for California Grill during the firework viewing, don't worry. As long as you have dined that day, you will be allowed to return and watch the Fireworks from the restaurant's private viewing balcony on the fifteenth floor of the Contemporary Resort. Simply show your receipt at the 2nd floor podium to be allowed access. This is a fantastic view and shouldn't be missed. The general public can use the viewing area on the 4th floor observation deck of the Contemporary resort and still get a great view of the Magic Kingdom fireworks.
More In Depth Dining Tips:
Cooking Meals and Ordering Groceries for Delivery
Shopping For Groceries Locally
Saving Money on Walt Disney World Restaurants
On-Property and Off-Property Restaurant Coupons
Refillable Mugs & Beverages