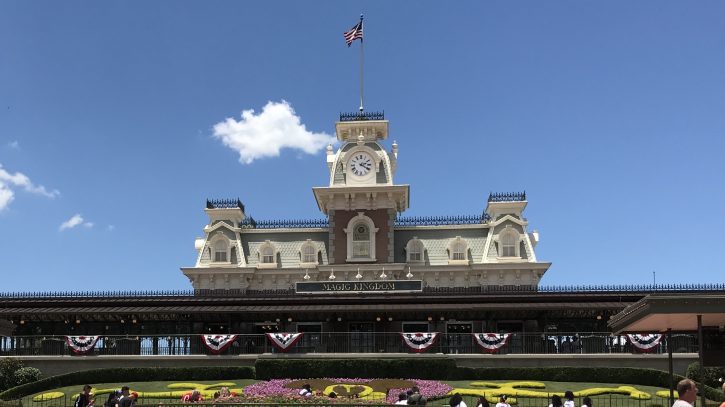 Disney has converted the Disney FastPass+ system at Walt Disney World Resort to a paid version with the introduction of Disney's Genie+. DisneyGenie+ (Genie+) is a great system that lets you make your theme park visit easier and more fun.
Disney Genie+ service can be found in the My Disney Experience mobile app. It can help you to book guaranteed ride times for favorite shows and attractions and allows Guests the opportunity to use Lightning Lane entrance at select attractions and experiences at the Walt Disney World theme parks. (The former FastPass+ queues.)
Disney Genie+ varies in pricing, based on the date the Guest is visiting and which park you'll be going to, much like theme park tickets currently do. Pricing is lower on less busy days. However, it will cost you more to use the Disney Genie+ service on busier, peak days. Example pricing is $15 per Guest, per day on less busy dates, $35 on busier dates, and somewhere in between on other dates (plus tax.) Disney states that on average, Guests can experience 2 to 3 attractions or experiences per day using Disney Genie+, if the first selection is made early in the day.
Disney has also introduced individual park pricing for those looking to take advantage of Disney Genie+. Guests at Walt Disney World will now be able to purchase Disney Genie+ based on how they want to visit. This means that Guests will be able to purchase for either a single-park option OR they can choose a multiple-parks option. In addition some Walt Disney World theme parks may offer lower pricing for Disney Genie+ than other parks.
So, let's break this down. Guests who are only visiting, say Disney's Hollywood Studios for the day will only need to purchase the service for that specific park. But, let's say that you are Park Hopping. So, you're visiting Disney's Animal Kingdom and the Magic Kingdom in the same day; you'll then need to purchase the multi-park option for Disney Genie+.
There are two different ways you can take advantage of getting faster access to attractions. These are Disney Genie+ and Individual Lightning Lanes. Find out more about these systems and how they are similar, as well as how they differ below.
Reservations  How To Use Disney Genie+  Know Before You Go
Reservations
Disney Genie+ reservations can be made using the MyDisneyExperience App or on the MyDisneyExperience webpage. Once you have set up a personal account, it is pretty simple to make a Disney Genie+ reservation.
First, purchase park tickets and link them to your account. You must also have a valid theme park reservation for the same park on that same day of visit. Park reservations are limited, subject to capacity and availability, and specific dates or Parks are not guaranteed.
Getting the most out of both Genie+ and Individual Lightning Lanes first involves preparation. For Genie+, you definitely want to have completed your purchase before you try to make your first booking. To purchase, you can choose to buy through the My Disney Experience app starting at midnight.
At 7 a.m., everyone is able to start making their first Genie+ reservation. Guests staying at select Walt Disney World resort hotels can also begin making Individual Lightning Lane reservations at that time. (More on Individual Lightning Lanes below.) You will want to start choosing your attractions as close to 7 a.m. as possible for the best selection.
To fully maximize your Lightning Lane usage, you will also want to make any additional selections as soon as possible. If your first selection was made inside that 2 hour line, you can make a new selection as soon as your final entry scan is complete. (So if you make your first selection at 11:00 a.m. for a ride on Peter Pan's Flight with a return time to the attraction of 12:30 p.m., you'll actually be able to make your next Genie+ selection at 12:30 p.m., after you scan through the final touch points.) To optimize the number of attractions you'll be able to see, you'll want to start booking your next Genie+ attraction AS SOON AS you scan through that final touch point.
Pay attention to the exact time your initial selection was made, if your first Genie+ selections are more than 2 hours in the future. At that time, Gusts will want to be ready on the My Disney Experience app to make another selection. This can be done 2 hours after making their first selection. (So if you make your first selection at 7:00 a.m. for a ride on Peter Pan's Flight with a return time to the attraction of 10:00 a.m., even though you've not ridden the attraction, you'll actually be able to make your next Genie+ selection at 9:00 a.m.)
Guests are able to enjoy ride one attraction or see one show using the Disney Genie+ Lightning Lane entrance once per day. If you'd like to experience the attraction again within the same day, you'll need to use the standby line.
Experiences may vary by date and are subject to change or closure. There's limited availability for experiences. Also they may not be available at all on the date of visit. Or it is possible they are not available at the specific time you are looking for.
What Are Individual Lightning Lanes?
A part of the Disney Genie system, but separate from it are Individual Lightning Lanes.
Guests will need to purchase access for Lightning Lane entrances individually for the most popular attractions. Guests may purchase and select an arrival window one at a time. They can make purchases for up to 2 of the Individual Lightning Lane attractions a day. (If available.) This option is available for all Guests, no matter whether you've already purchased Disney Genie+ or not. The pricing varies by attraction, and can even vary by day. Guests will find out the cost of the Individual Lightning Lane access in the My Disney Experience app on the day of their visit. To purchase, you can do so within the Disney Genie service Tip Board or My Day itinerary in the app. This must be done on the same day of your visit.
Guests of a Disney Resort Hotel can make their first purchase starting at 7:00 AM on the day of their visit. This option is available to Disney Resort hotel Guests and Guests of Walt Disney World Swan and Dolphin Hotels and Shades of Green. All Other Guests will be able to make their first purchase when the park opens.
You can find out more details about the Disney Genie+ system, Lightning Lanes, and Individual Lighting Lane Attractions in our Lightning Lane Guide.
Which Attractions Should You Make Disney Genie+ Reservations For?
Not all Disney Theme Park attractions offer Disney Genie+. However, most of the popular attractions do. For advice in choosing your Disney Genie+ selections, as well as choosing Individual Lightning Lane selections, check out our park specific pages:
Using Disney Genie+
Once your reservations are booked through MyDisneyExperience, here are some tips on how to use this tool.
Any time during your 1-hour reservation window, go the attraction you selected.
Find the Lightning Lane queue line, and scan your MagicBand or park ticket.
Enjoy the attraction with a much shorter wait!
Guests may enter the Disney Genie+ line up to 5 minutes before their reservation. They also have up to 15 minutes after the reservation time has ended. Cast members are stationed at each Lightning Lane queue entrance to help if something goes awry in the process.

Planning a Walt Disney World Vacation?
For a Free no-obligation quote, contact our sponsor
The Magic For Less Travel
. Services are provided free of charge, and their expert planning advice will help you make the most of your vacation time and money.
MagicBands/MagicBand+
MagicBands are used when Guests go to the attraction to redeem their Disney Genie+ reservation. MagicBands/MagicBand+ are available for purchase at a special pre-arrival price. This special price is for guests staying at a Walt Disney World resort. The MagicBand can be shipped to you before your trip. For guests not staying at a Walt Disney World Resort, MagicBands/MagicBand+ are available for purchase. In addition, your park admission ticket can be used in place of a MagicBand. For more information about MagicBands, click here.
What if the Attraction is Closed?
Unfortunately, attractions sometimes cease operations during the day for maintenance, safety, or even the weather. If you have a Disney Genie+ or Individual Lightning Lane reservation for an attraction and the attraction closes during the time window you can experience the attraction, then you will generally receive a bonus reservation for a variety of other attractions. Typically, this bonus reservation does not have a time window and can be used anytime during the day.
Disney Genie+ with an Annual Pass
Annual Passholders can use Disney Genie+ the same way that a regular Guest would use the system.
Know Before You Go
If you are booking those Disney Genie+ reservations later in the day, you can also "stack" reservations close to each other. This means that you can experience numerous attractions in quick succession. Be sure you give yourself enough time to experience the attractions and travel to the next.
Availability of a Disney Genie+ experience, the number of experiences you may select and arrival windows are limited and may vary based on factors such as the theme park you are visiting, the attraction or entertainment experience, the time of year and the day of the week, and prior demand.
 If you are traveling with a group, you may make Disney Genie+ selections for yourself, your Managed Friends, and your Connected Friends. Your Connected Friends may also make selections for you or modify the selections you've made without notification to you. You can see the selections and modifications made by Connected Friends for you when you log into your account and view your itinerary.
 Each confirmed Disney Genie+ attraction, entertainment or restaurant selection is valid for (1) guest admission to the entrance of the designated Disney Genie+ location on the date and during the arrival window confirmed by the Site/App.
 Each Disney Genie+ selection will designate an arrival window for an attraction, restaurant location, or entertainment experience. The Disney Genie+ selection is not valid before or after the designated arrival window or at any other location.
All Disney Genie+ selections, whether arranged by you or a Connected Friend, expire at the end of the day for which they were confirmed. Unused and expired selections will not roll over to the next day.
Ticket holders holding passes or tickets with block-out dates may not make selections for any block-out date without the purchase of separate valid park admission and assigning that admission entitlement to your account.
Disney reserves the right to re-assign or re-schedule a Genie+ selection due to an unplanned attraction or entertainment downtime or change in operating hours.
Other restrictions and rules may apply based on the type of park admission. Disney Genie+ experiences are not transferable, have no cash value, and may not be substituted.
Currently, all guests can access Genie+ online. The system also works in conjunction with the My Disney Experience mobile application.