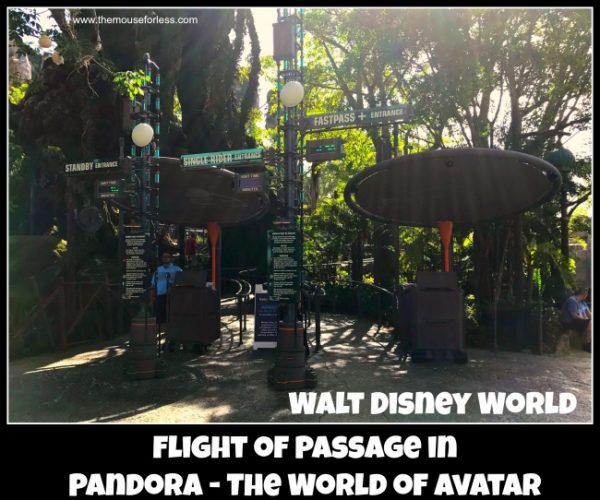 Hop aboard a banshee for an exciting flight over Pandora on the Animal Kingdom's newest thrill ride, Avatar Flight of Passage.
Ride Information  Restrictions  Accessibility  Location  Fun Facts  Top 5 Tips
Ride Information
Opening Day: May 27, 2017
Type of Ride: Simulator
Age Recommendation: Older children and adults
Duration of Ride: 4.5 minutes
Typical Queue Time: Moderate to long; typically peaks at about an hour
Single Rider Line: Yes
Chicken Exit Available: Yes
Baby Swap Available: Yes
Type of Vehicle: Banshee
Type of Restraint: Back and leg restraints
Attraction Open During Early Theme Park Entry: Yes. See our Early Theme Park Entry page for more information.
Ride Photo Available For Purchase: No

Planning a Walt Disney World Vacation?
For a Free no-obligation quote, contact our sponsor
The Magic For Less Travel
. Services are provided free of charge and their expert planning advice will help you make the most of your vacation time and money.
Ride Restrictions
Height Requirements: 44 inches
Flash Photography or Video Allowed: No
Safety, Accessibility, and Guest Policies
Accessibility:
Guests must transfer from wheelchair and to the ride vehicle
Audio Description
Video Captioning
Assistive Listening
Service animals not permitted
Guest Policies: Children under age 7 years must be accompanied by a person age 14 years or older. The seating and restraints on this ride might inhibit guests of certain body shapes and sizes from riding.
Location
Shopping: Guests can purchase a plethora of goods, including animal toys, science kits, and faux Na'vi artifacts, at Pandora's gift shop, "Windtraders."
Dining/Refreshment: At Pandora—The World of Avatar, guests can enjoy a counter service lunch or dinner at Satu'li Canteen. This new restaurant offers a variety of entrée bowls, including a chicken bowl, a grilled beef bowl, a fish bowl, and a tofu bowl. Each bowl comes with a choice of a base–quinoa and vegetable salad; red and sweet potato hash; mixed whole-grain and rice; or romaine and kale salad—and a sauce—charred onion chimichurri; black bean vinaigrette; or creamy herb dressing. Stuffed bao buns with either cheeseburger or vegetable steamed curry fillings are also available.
Restroom: Facilities are available in Pandora-The World of Avatar.
Smoking Location: Smoking is permitted in designated smoking areas only. Disney parks are smoke free.
Avatar Flight of Passage Fun Facts
Did you know?
Avatar Flight of Passage is one of two attractions at the Animal Kingdom's new Pandora—The World of Avatar section. The other, "Na'vi River Journey", is a boat ride.
Avatar Flight of Passage, like the rest of the features in Pandora—The World of Avatar, is based on James Cameron's 2009 film Avatar, which transpires on a distant celestial body called "Pandora" in the year 2154. Pandora's atmosphere is poisonous to humans, but with the use of Avatars, a combination of human DNA and the DNA of Pandora's native peoples, the Na'vi, scientists from earth's Resources Development Administration (RDA) attempt to acquire needed minerals for a resource-deficient earth.
In addition to the visuals of Pandora, Avatar Flight of Passage incorporates 4-D effects, including smells, vibrations, and mist sprays.
Pandora—The World of Avatar is set after the events of the movie when peace has been reached between humans and the Na'vi.
The attraction's name is a play on the phrase "rite of passage." By riding the banshee, guests are undertaking a Na'vi rite of passage, symbolizing harmony between humans and the natives of Pandora. Prior to boarding the creature, guests are scanned and matched with an Avatar, which can then fly the banshee with its thoughts.
The "banshee" ride vehicles on Avatar Flight of Passage are similar to a bicycle or a motorcycle with guests straddling a seat. Storage space for guest belongings is provided on a back wall behind the ride vehicles. A similar bike ride vehicle is utilized on "E.T. Adventure" at Universal Studios Florida.
Guests adorn 3-D glasses, termed "Flight Visors," on Avatar Flight of Passage. 3-D glasses are also worn by Walt Disney World guests at the Animal Kingdom's It's Tough to be a Bug, the Magic Kingdom's Mickey's PhilharMagic, Epcot's Disney & Pixar Short Film Festival, and Disney's Hollywood Studios' MuppetVision 3D and Star Tours—The Adventures Continue.
History
Pandora—The World of Avatar replaced the Animal Kingdom's Camp Minnie Mickey section which operated from 1998 to 2014. Camp Minnie Mickey originally acted as a placeholder for a land based around mythical creatures such as dragons. This vision finally came to fruition in a different form with Pandora. Camp Minnie Mickey featured two shows, Festival of the Lion King and "Pocahontas and Her Forest Friends," during its run. The former show, which remains immensely popular, was moved to a new theater in the Animal Kingdom's Africa section in 2014, while the latter production closed in 2008.
Avatar Flight of Passage is the first attraction with a height requirement to be added to the Animal Kingdom since Expedition Everest in 2006.
The Walt Disney Company acquired the rights to use Avatar in its theme parks in 2011.
Avatar Flight of Passage is theoretically the creation of the Pandora Conservation Initiative, which is working to reverse the damages inflicted on Pandora by the RDA. The Initiative's leader, Jackie Ogden, has received permission from the Na'vi to use Avatars such as to augment Pandora's depleted banshee population. Ogden acts as a nod to a real Jackie Ogden, who served as Disney's Vice President of Animals, Science, and Environment from 1997 to 2015.
Avatar Flight of Passage is a simulator attraction, similar to but much more innovate than Soarin' at Epcot. Visuals on Avatar Flight of Passage include floating mountains and an ocean.
The queue for Avatar Flight of Passage is one of the best-themed queues in all of Walt Disney World. Before boarding the banshee, guests encounter lush foliage, waterfalls, caves, totems, paintings, lighting effects, and eye-catching science experiments, including an animatronic Avatar floating in a giant test tube.
Top 5 Tips for Avatar Flight of Passage
Consider watching Avatar prior to your trip such as to better appreciate this attraction.
Take in the immense details of the queue.
Guests wanting to experience Avatar Flight of Passage with shorter waits should consider staying at an on-site Walt Disney World resort hotel such as to take advantage of Early Theme Park Entry. Alternatively, take advantage of the single-rider line if it is operating during your visit.
As Pandora Flight of Passage is a simulator, guests prone to motion sickness should probably avoid the attraction. In addition, due to the unusual setup for the ride vehicle, some Guests who are taller or who have thicker calves may not be able to experience the attraction. A test seat is available outside the attraction for Guests who are concerned.
After riding Pandora Flight of Passage, consider checking out the Animal Kingdom's Rafiki's Planet Watch. This area focuses on conservation issues.