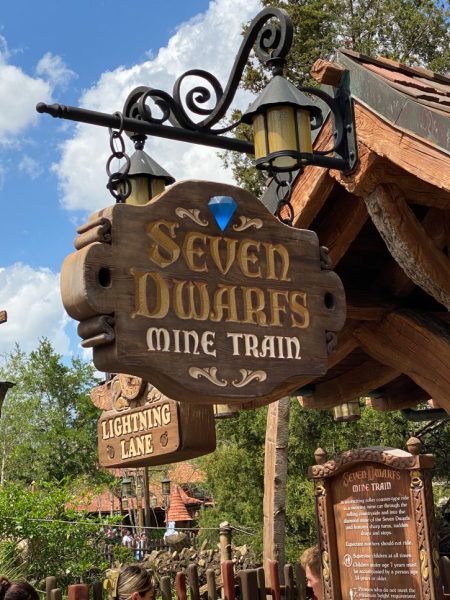 Seven Dwarfs Mine Train is one of the most popular attractions in the Magic Kingdom! This attraction features the beloved Snow White along with all seven dwarfs. When riding Seven Dwarfs Mine Train you board a train with swinging barrel cars and then embark upon a high-speed journey to discover the seven dwarfs in their gem mine.
Ride Information Restrictions Accessibility Location Fun Facts Top 5 Tips
Ride Information
Opening Day: May 28, 2014
Type of Ride: Roller Coaster
Age Recommendation: All ages that meet the height requirement
Duration of Ride: 2 minutes and 30 seconds
Typical Queue Time: Very Long; often over one hour or more
Single Rider Line: No
Chicken Exit Available: Yes
Rider Switch Available: Yes, Visit our Rider Switch page for more information
Type of Vehicle: Swinging roller coaster cars that seat a total of 4 each with 2 people beside each other. This is a somewhat small ride vehicle, some people with larger frames report that it can be a tight fit.
Type of Restraint: Lap bar
Attraction Open During Extended Evening Hours: Yes. See our Extended Evening Hours page for more information.
Ride Photo Available For Purchase: Yes

Planning a Walt Disney World Vacation?
For a Free no-obligation quote, contact our sponsor
The Magic For Less Travel
. Services are provided free of charge and their expert planning advice will help you make the most of your vacation time and money.
Ride Restrictions
Height Requirements: 38 inches
Motion sickness warning. Expectant mothers should not ride.
Flash Photography or Video Allowed: Yes
Safety, Accessibility, and Guest Policies
Accessibility: Guests must Transfer from Wheelchair/ECV
Guest Policies: Children under age 7 years must be accompanied by a person age 14 years or older.
Location
Park Map of Magic Kingdom:
Other Rides/Attractions In the Area:
This attraction is located in Magic Kingdom's Fantasyland.
Shopping: Nearby shops include Hundred Acre Goods, Sir Mickey's, Castle Couture, and Bon Jour Village Gifts.
Dining/Refreshment:  Nearby dining locations include Friar's Nook, Storybook Treats, Gaston's Tavern, Be Our Guest, Pinocchio Village Haus, and Cinderella's Royal Table.
Restroom: Restrooms are located nearby beside Gaston's Tavern or beside Pinocchio Village Haus. There are also restrooms in the nearby Storybook Circus area.
Smoking Location: Smoking is permitted in designated smoking areas only. Disney parks are smoke free.
Seven Dwarfs Mine Train Fun Facts
Did you know?
Seven Dwarfs Mine Train was not the first Snow White themed attraction at the Magic Kingdom. This new attraction replace Snow White's Scary Adventure.
Seven Dwarfs Mine Train features some figures from Snow White's Scary Adventure. These include: Grumpy, Doc, Bashful, Sleepy, and Happy.
Innovative Imagineering techniques were applied to this attraction. The swinging mine train carts had never been used on a roller coaster before, and the projected faces on the animatronics of the seven dwarfs utilized new projection mapping technology.
Many features of this attraction come straight from scenes of the Snow White and the Seven Dwarfs movie. The shadows of the Seven Dwarfs marching up from the mine, the vultures, the cabin scene at the conclusion of the ride, and the ride vehicles themselves are all exact representations of scenes from the film.
Seven Dwarfs Mine Train was the fourth roller coaster to reside in the Fantasyland section of a Disney park after Disneyland Park's "Matterhorn Bobsleds" (1959 to present), Disneyland Park Paris's "Casey Jr. Circus Train" (1994 to present), and the Magic Kingdom's Barnstormer Starring The Great Goofini (2012 to present in Fantasyland; 1996 to 2011 in "Mickey's Toontown Fair"). Although California's Disneyland Park also has a "Casey Jr. Circus Train," this version uses a regular train track as opposed to the tubular steel track featured in the Paris version.
In 2016, a second version of "Seven Dwarfs Mine Train" opened in Fantasyland at the new Shanghai Disneyland Park. Considering that California's version of Casey Jr. Circus Train, unlike the Paris version, is not a roller coaster, Seven Dwarfs Mine Train is the first Fantasyland roller coaster to be cloned in the Fantasyland of another Disney park.
Hidden Mickeys:
In the queue some rocks in the low rock wall could be hidden mickey's
In the attraction look among the jewels in the mine scene. Specifically behind Grumpy's head and beside Dopey's ears.
Sponsored Ad: Learn more about Hidden Mickey details and location throughout Walt Disney World in A Field Guide to Walt Disney World's Best Kept Secrets .
Top 5 Tips for Seven Dwarfs Mine Train