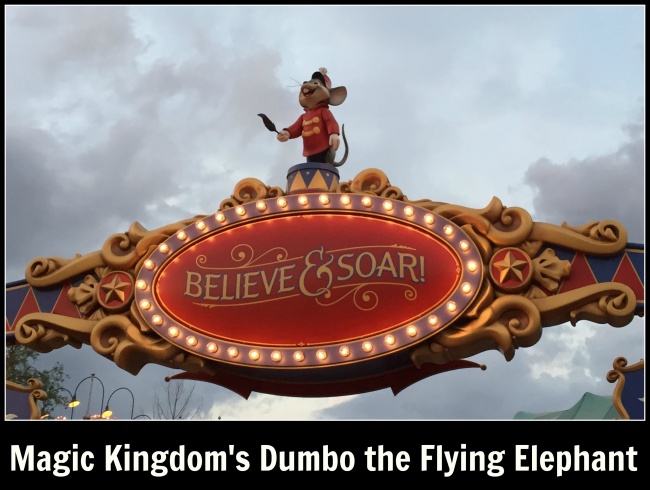 Dumbo the Flying Elephant allows guests to climb aboard Disney's legendary elephant for an unforgettable flight on this classic attraction.
Ride Information  Restrictions  Accessibility  Location  Fun Facts  Top 5 Tips
Ride Information
Opening Day: October 1, 1971
Type of Ride: Spinner
Age Recommendation: All ages; children especially love this attraction
Duration of Ride: 90 seconds
Typical Queue Time: Moderate to long; usually between 30 minutes and 1 hour
Single Rider Line: No
Chicken Exit Available: No
Baby Swap Available: No
Type of Vehicle: Flying elephant
Type of Restraint: None
Attraction Open During Extended Evening Hours: Yes. See our Extended Evening Hours page for more information.
Ride Photo Available For Purchase: No

Planning a Walt Disney World Vacation?
For a Free no-obligation quote, contact our sponsor
The Magic For Less Travel
. Services are provided free of charge and their expert planning advice will help you make the most of your vacation time and money.
Ride Restrictions
Height Requirements: None
Flash Photography or Video Allowed: Yes
Safety, Accessibility, and Guest Policies
Accessibility: Must Transfer from Wheelchair/ECV
Guest Policies: Children under age 7 years must be accompanied by a person age 14 years or older.
Location
Park Map of Magic Kingdom:
Other Rides/Attractions In the Area:
This attraction is located in the Magic Kingdom's Fantasyland.
Shopping: Assorted souvenirs, many pertaining to Dumbo (1940) and circuses, can be purchased nearby at "Big Top Souvenirs." Sunscreen is sold nearby at the "Casey Jr. Railroad Mercantile" cart.
Dining/Refreshment: Inside "Big Top Souvenirs," Big Top Treats offers a plethora of circus-inspired snacks, including cotton candy, caramel corn and apples, chocolate-dipped fruits, cake pops, brownies, and cookies.
Restroom: Convenient restrooms are situated at Fantasyland's "Walt Disney World Railroad" station.
Smoking Location: Smoking is permitted in designated smoking areas only. Disney parks are smoke free.
Dumbo the Flying Elephant Fun Facts
Did you know?
Dumbo the Flying Elephant is one of 14 attractions remaining in some form from the Magic Kingdom's opening day, October 1, 1971. The others are Cinderella's Golden Carrousel (now Prince Charming Regal Carrousel), Country Bear Jamboree, "Frontierland Shootin' Arcade," Hall of Presidents, Haunted Mansion, It's a Small World, Jungle Cruise, Mad Tea Party,  Peter Pan's Flight, Swiss Family Treehouse, Tropical Serenade (now Enchanted Tiki Room), Grand Prix Raceway (now Tomorrowland Speedway), and "Walt Disney World Railroad."
Dumbo the Flying Elephant is named after and inspired by Disney's 1940 film Dumbo.
From opening day until 2012, Dumbo the Flying Elephant sat adjacent to Prince Charming Regal Carrousel. As part of the Magic Kingdom's Fantasyland expansion, the attraction relocated to the land's new "Storybook Circus" section, where "Mickey's Toontown Fair" formerly sat.
The elephants are attached via arms to an elaborate carrousel. The carrousel includes busts of elephants and storks, and paintings that summarize the movie.
Dumbo the Flying Elephant features 32 elephants, 16 on each adjacent carrousels, which rotate in opposite directions. Originally featuring 10 elephants on a single structure from opening day until 1993, the 6 additional elephants were added on the single structure in 1993. In 2012 the ride was relocated and the second structure with 16 elephants joined the original. Each elephant seats two riders.
Dumbo the Flying Elephant now features fountains at the base of the carrousels. Though its counterparts at Disneyland Park, Disneyland Park Paris, and Hong Kong Disneyland Park, respectively, had included fountains for years, a similar water feature was untenable at Dumbo's previous Magic Kingdom location because of the park's submerged utilidors. Currently, only Tokyo Disneyland's version of the ride omits a water feature.
A figurine of Timothy Q. Mouse from Dumbo stands atop the attraction's entrance. In the other versions of Dumbo the Flying Elephant, in contrast, Timothy stands on top of the respective ride carrousels rather than the entrances.
Dumbo the Flying Elephant was originally intended to incorporate ten pink elephants based on the movie's hallucinatory "Pink Elephants on Parade" segment because, in the interest of maintaining a story, there was only one Dumbo, not ten. Considering the illicit nature of the pink elephants, however, Walt Disney elected to bend the story and just use ten Dumbos.
Dumbo the Flying Elephant debuted at Disneyland Park on August 16, 1955, about a month after the park itself. It was intended to open with Disneyland on July 17, 1955, but the heavy weight of the fiberglass elephant vehicles caused technical difficulties.
When former-President Harry Truman, a Democrat, visited Disneyland in 1957, he declined to ride this attraction because the elephant is the mascot of the rival Republican Party.
In California, Paris, and Hong Kong, Dumbo the Flying Elephant features 16 elephants. The Tokyo version has only eight elephants.
Besides Dumbo the Flying Elephant, two attractions based on Dumbo exist: "Casey Jr, Splash 'N' Soak Station" in Storybook Circus and "Casey Jr. Circus Train" at the Disneyland Parks in California and Paris.
Top 5 Tips for Dumbo the Flying Elephant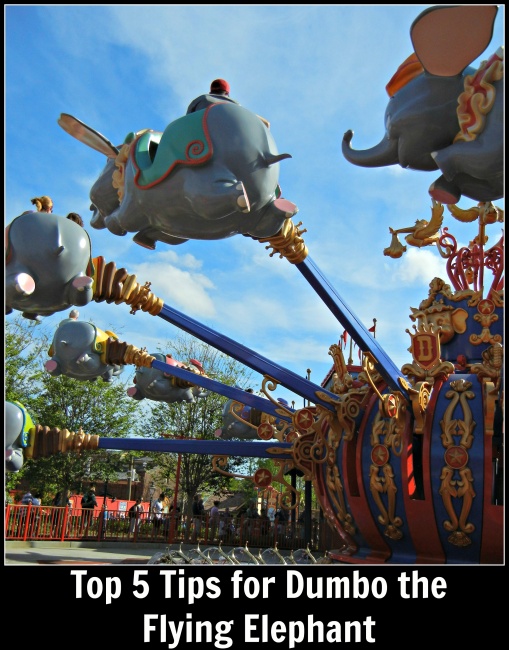 Consider watching Dumbo before your visit such as to better appreciate the attraction.
Check out Dumbo the Flying Elephant at night, when lights augment the attraction's beauty.
Control your elephant's altitude via the handle inside the vehicle.
If you enjoy Dumbo the Flying Elephant, consider riding The Magic Carpets of Aladdin, across the Magic Kingdom in Adventureland, and "TriceraTop Spin" at Disney's Animal Kingdom. These attractions also involve the orbiting of themed vehicles, magic carpets and dinosaurs, respectively, around a central hub.