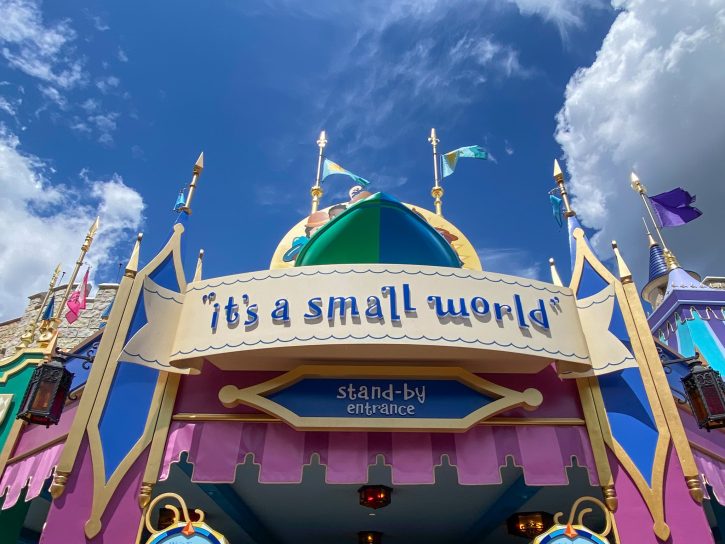 You'll take a legendary boat ride around the globe on this musical tour of nations. As you glide along through the themed rooms (Europe, Asia, Africa, Central/South America, and the South Pacific Islands) hundreds of international dolls will sing and dance to the famous "it's a small world" medley. Your voyage will end as you exit the Good-bye Scene, which is full of brightly colored flowers displaying parting phrases from different cultures around the world.
Ride Information   Restrictions  Accessibility  Location Fun Facts Top 5 Tips
Ride Information
Opening Day: October 1, 1971
Type of Ride: Slow boat ride using flume pumps. Continuous loading.
Age Recommendation: All ages
Duration of Ride: 10 minutes 30 seconds
Typical Queue Time: This ride is usually prone to moderately long lines.
Single Rider Line: No
Chicken Exit Available: Yes
Baby Swap Available: Yes
Type of Vehicle: Boats with bench seating.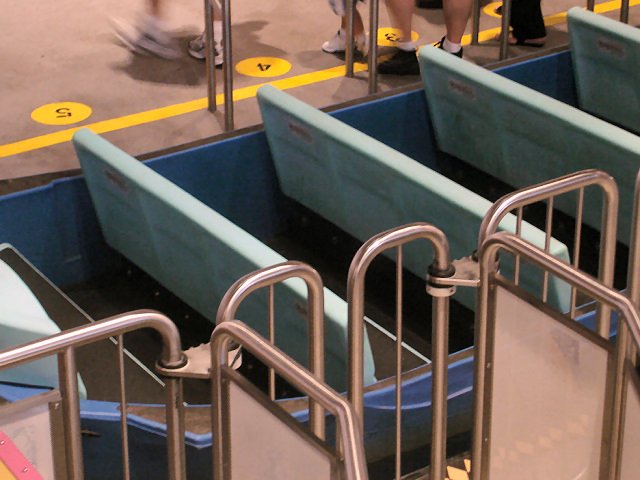 Type of Restraint: None
Attraction Open During Extended Evening Hours: Yes. See our Extended Evening Hours page for more information.
Ride Photo Available For Purchase: No

Planning a Walt Disney World Vacation?
For a Free no-obligation quote, contact our sponsor
The Magic For Less Travel
. Services are provided free of charge and their expert planning advice will help you make the most of your vacation time and money.
Ride Restrictions
Height Requirements: None
Flash Photography or Video Allowed: All types of photography are permitted.
Safety, Accessibility and Guest Policies
Accessibility:
Must Transfer to Wheelchair
Audio Description
Handheld Captioning
You must be able to step "down" in to the boats which have very low "bench" seating. The boats occasionally bump in to one another during their voyage and during unloading. Because of this children should remain seated at all times. Some boats are equip to load a wheelchair so if you are unable to transfer on your own into a boat, you can still experience this attraction.
Guest Policies: Children under age 7 years must be accompanied by a person age 14 years or older.
Location
Park Map of Magic Kingdom:
Other Rides/Attractions In the Area:
This attraction is located in the Magic Kingdom's Fantasyland.
Shopping: There is no gift shop associated with this ride. Sir Mickey's, Fantasy Faire and Hundred Acre Goods are located near-by in Fantasyland.
Dining/Refreshment: Guests can enjoy a counter service lunch or dinner nearby at Pinocchio Village Haus; this eatery specializes in Italian offerings, including flatbread pizzas, a meatball hero, and garlic knots. Additionally, Friar's Nook seasonally offers macaroni and cheese, and Storybook Treats is the place in Fantasyland for ice cream sundaes. Guests preferring a full service meal may consider eating dinner at Be Our Guest Restaurant or any meal at Cinderella's Royal Table. Cinderella and other princesses entertain guests at the latter restaurant, situated in Cinderella Castle. ADRs are strongly recommended for any meal at Be Our Guest Restaurant or Cinderella's Royal Table.
Restroom: The nearest restroom is under the Tangled Tower just before you enter Liberty Square. The nearest Companion Restroom is located in the lower level of Cinderella's Royal Table.
Smoking Location: Smoking is permitted in designated smoking areas only. Disney parks are smoke free.
Full Video Ride Through
it's a small world Fun Facts
Did you know?
The original name of this ride was "children of the world". When Walt Disney demonstrated it to songwriters the ride's soundtrack featured numerous national anthems all playing at once. Walt Disney said, "I need one song." In response, they created "It's a Small World" and the ride, consequently, renamed.
There are 472 animated/unanimated figures, 289 audio-animatronics dolls, 147 toys, and 36 animated props in the Magic Kingdom's ride.
The "flume" is 1085 ft (330.7 m) long and holds 500,000 US gallons (2,000 m³) of water.
There are only two "American" dolls inside "it's a small world". Can you find them?
it's a small world Hidden Mickeys:
In the Africa room, to the left of the elephant, look for the vines. Some of these vines have Mickey shaped flowers.
The Pom-poms on the Yodeler's belt form a Hidden Mickey.
Sponsored Ad: Learn more about Hidden Mickey details and location throughout Walt Disney World in A Field Guide to Walt Disney World's Best Kept Secrets .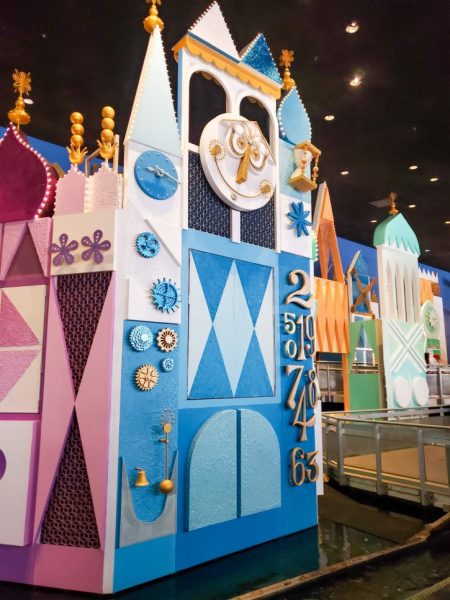 Top 5 Tips for it's a small world
If you are looking for a place to cool off when it's hot outside, this attraction is a great place to do it! You can enjoy the air conditioning AND sit down and rest those tired feet at the same time!
Sit in the front for great views. With no "heads" to block your view you can see on both sides of the boat easily. This is great for taking photos or video!
You can view parts of the attraction from Pinocchio Village Haus restaurant.
There are some great photo opportunities in this attraction so have your camera ready.
Many cultures are represented!  Pay special attention to the detailed costumes and the animal friends that feature throughout the attraction.