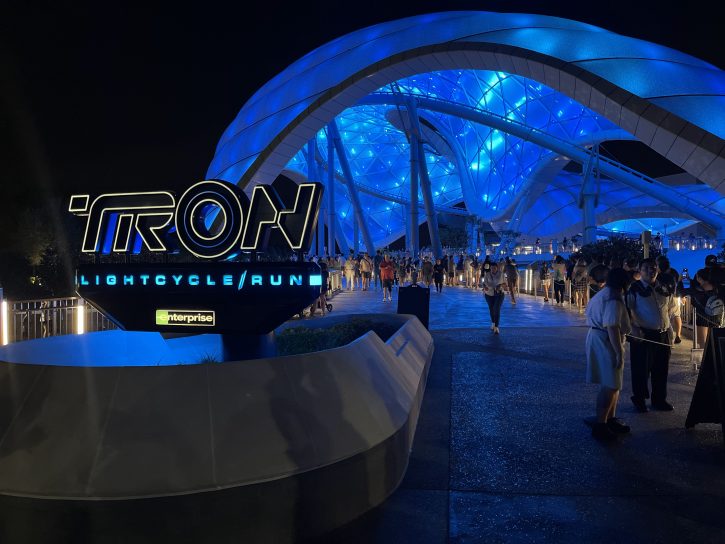 Inspired by the world of the Disney film, TRON, TRON Lightcycle / Run is a thrilling addition to Tomorrowland in the Magic Kingdom. Guests climb aboard their very own Lightcycle and take off on a high-speed adventure, racing against the Grid's most menacing Programs.
Ride Information  Restrictions  Accessibility  Location  Fun Facts  Top 5 Tips
TRON Lightcycle / Run Ride Information
Opening Day: April 4, 2023
Type of Ride: Roller Coaster
Age Recommendation: Ages 8 and up; best for teens and young adults
Duration of Ride: 1 minute
Typical Queue Time: Virtual queue and Individual Lightning Lane available. Attraction is very popular.
Single Rider Line: No
Chicken Exit Available: Yes
Baby Swap Available: Yes
Type of Vehicle: Pairs of lightcycles
Type of Restraint: Back and leg restraints
Attraction Open During Extended Evening Hours: Yes. See our Extended Evening Hours page for more information.
Ride Photo Available For Purchase: Yes

Planning a Walt Disney World Vacation?
For a Free no-obligation quote, contact our sponsor
The Magic For Less Travel
. Services are provided free of charge and their expert planning advice will help you make the most of your vacation time and money.
Ride Restrictions
Height Requirements: 48 inches. Motion sickness warning. Expectant mothers should not ride.
Flash Photography or Video Allowed: No
Safety, Accessibility, and Guest Policies
Accessibility:
Must Transfer to Wheelchair (from electronic scooters), Then to Ride Vehicle. A transferable vehicle is available with a bench seat and lap bar.
Service Animals Not Permitted
Guest Policies:
Children under age 7 years must be accompanied by a person age 14 years or older.
All loose articles must be stored in provided lockers or left with a non-rider
Location
Park Map of Magic Kingdom:
Other Rides/Attractions In the Area:
This attraction is located in the Magic Kingdom's Tomorrowland.
Shopping: A newly renovated gift shop between this attraction and Space Mountain called Tomorrowland Launch Depot is available. A vast array of souvenirs can be purchased nearby at "Mickey's Star Traders."
Dining/Refreshment:  Located near the attraction is Energy Bytes, which serves breakfast, savory and sweet snacks, and beverages. Also in Tomorrowland, Tomorrowland Terrace seasonally offers counter service meals of burgers and sandwiches. Also in Tomorrowland, Cosmic Ray's Starlight Café serves counter service meals of chicken, ribs, burgers, and sandwiches; and Auntie Gravity's Galactic Goodies offers ice cream. For those preferring a sit-down meal, The Plaza Restaurant is located nearby off Main Street USA and offers numerous sandwiches and ice cream treats.
Restroom: Restrooms are located nearby between Space Mountain and Walt Disney's Carousel of Progress
Smoking Location: Smoking is permitted in designated smoking areas only. Magic Kingdom smoking areas can be found on our Walt Disney World Designated Smoking Areas page.
TRON Lightcycle / Run Fun Facts
Did you know?
The original TRON from 1982, and its sequel, TRON: Legacy, are the inspiration for this attraction
The Magic Kingdom version is the second iteration of this attraction. The original opened at Shanghai Disneyland on June 16, 2016
The film TRON was seen as groundbreaking for its use of computer generated imagery, and won an Oscar for Technical Achievement.
A special tunnel was constructed for the Walt Disney World Railroad to travel under TRON Lightcycle / Run. Be sure to ride between the Fantasyland and Main Street U.S.A. stations for some TRON related surprises.
Hidden Mickeys:
Check back later!
Sponsored Ad: Learn more about Hidden Mickey details and location throughout Walt Disney World in A Field Guide to Walt Disney World's Best Kept Secrets
.
Top Tips for TRON Lightcycle / Run
Disney resort guests may be able to enjoy shorter waits for this popular attraction during Extended Evening Hours.
Guests wanting to make sure they are able to ride will be able to purchase an Individual Lighting Lane for this attraction.
A sample ride vehicle is available in front of the attraction to test fit and comfort
At opening, there will not be a standby queue, only a virtual queue. Guests should be ready to join that queue at 7am for the best result. A second Virtual Queue opportunity may open up again at 1:00 p.m., however Guests must be in the park to be able to potentially join that Virtual Queue.
Whether using Virtual Queue or Individual Lightning Lane, Disney is very strict with return times. Do not miss your return time to experience this attraction, otherwise you may not be able to ride.
Save time by consolidating loose items or giving them to a non-rider ahead of time
If you are hesitant about riding, ride the tamer Big Thunder Mountain Railroad or Space Mountain first. If you find those attractions too scary, you are likely better off skipping TRON Lightcycle / Run.
Even if you are not riding, make sure to travel to Tomorrowland after dark to see the canopy and lights at night.