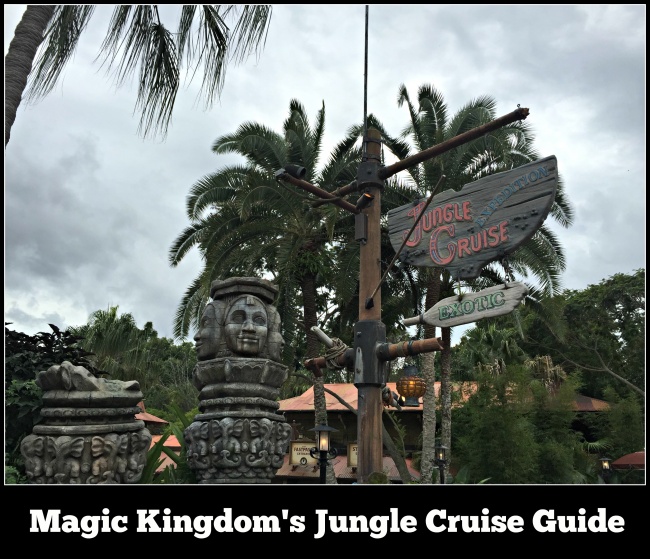 Embark on an exciting voyage, on a Jungle Cruise where numerous animatronic animals and corny jokes from the boat's skipper are enjoyed.
Ride Information  Restrictions  Location  Fun Facts  Top 5 Tips
Ride Information
Opening Day: October 1, 1971
Type of Ride: Boat
Age Recommendation: All ages
Duration of Ride: 8 minutes
Typical Queue Time: Moderate to long; usually peaks at about fifty minutes, but can reach about 90 minutes on the busiest days
Single Rider Line: No
Chicken Exit Available: No
Baby Swap Available: No
Type of Vehicle: Boat
Type of Restraint: None
Attraction Open During EMH: Yes; evening. See our Extra Magic Hours page for more information.
Ride Photo Available For Purchase: No

Planning a Walt Disney World Vacation?
For a Free no-obligation quote, contact our sponsor
The Magic For Less Travel
. Services are provided free of charge and their expert planning advice will help you make the most of your vacation time and money.
Ride Restrictions
Height Requirements: None. Guests may remain in their wheelchairs and ECVs.
Flash Photography or Video Allowed: Yes
Location
Park Map of Magic Kingdom:
Other Rides/Attractions In the Area:
This attraction is located in the Magic Kingdom's Adventureland.
Shopping: An array of necessaries and souvenirs can be purchased among five shops in Adventureland: "Agrabah Bazaar," "Island Supply by Sunglass Hut," "La Princesa de Cristal – Caribbean Plaza," "Plaza del Sol Caribe Bazaar," and "Zanzibar Trading Co."
Dining/Refreshment: Three counter service restaurants are located near Jungle Cruise in Adventureland. The popular Aloha Isle and Sunshine Tree Terrace locations specialize in ice cream, the former serving the cult-favorite Dole Whip and the latter the Citrus Swirl. Additionally, guests craving Mexican cuisine, including burritos and rice bowls, can find it seasonally at Tortuga Tavern. A new restaurant based on the Jungle Cruise, "Jungle Navigation Co., Ltd. Skipper Canteen," is scheduled to debut in Adventureland in late 2015. The restaurant will be staffed by Jungle Cruise skippers and incorporate several themed rooms.
Restroom: Facilities in Adventureland are situated near Tortuga Tavern and Pirates of the Caribbean, respectively.
Smoking Location: Smoking is permitted in designated smoking areas only. Disney parks are smoke free.
Jungle Cruise Fun Facts
Did you know?
Jungle Cruise is one of 14 attractions remaining in some form from the Magic Kingdom's opening day, October 1, 1971. The others are "Cinderella's Golden Carrousel" (now Prince Charming Regal Carrousel), Country Bear Jamboree, "Dumbo the Flying Elephant," "Frontierland Shootin' Arcade," Hall of Presidents, Haunted Mansion, It's a Small World, "Mad Tea Party," "Peter Pan's Flight," "Swiss Family Treehouse," "Tropical Serenade" (now Enchanted Tiki Room), "Grand Prix Raceway" (now Tomorrowland Speedway), and "Walt Disney World Railroad."
Jungle Cruise was inspired by both the 1951 film The African Queen and Disney's own 1955 nature documentary The African Lion, which was created for Disney's "True-Life Adventures" series.
Famous Jungle Cruise skippers have included actor Kevin Costner, Disney Chief Creative Officer John Lasseter, and Ron Ziegler, President Richard Nixon's press secretary.
Walt Disney originally intended the Disneyland version of Jungle Cruise to utilize real animals and be a serious nature journey. An opening day attraction in California, Jungle Cruise did not incorporate its legendary jokes until 1962. Walt Disney was dissuaded from using real animals on the Jungle Cruise for two reasons. First, real animals could render upkeep havoc, and, second, most of the animals Disney wanted to use were nocturnal and, thus, would be sleeping during operating hours. With the opening of Disney's Animal Kingdom in 1998, real animals finally became the centerpiece of a Disney attraction in the magnificent "Kilimanjaro Safaris."
Jungle Cruise is set in South America, Africa, and Asia.
Animals featured in the Jungle Cruise include pythons, elephants, zebras, giraffes, gazelles, lions, hippos, and crocodiles.
The second half of the fractured airplane between the Schweitzer Falls and hippo pool scenes of the Jungle Cruise is located in the Casablanca scene of "The Great Movie Ride" at Disney's Hollywood Studios. Your skipper may have used this plane to "land" his or her job at the Jungle Cruise (just kidding).
16 titled boats, 14 of which utilize alliteration—"Amazon Annie," "Nile Nelly," and "Volta Val" to name three—are featured in the Jungle Cruise. One of these vessels, "Kwango Kate," was taken out of service in 2000.
Since 2013, the Jungle Cruise has received a holiday overlay entitled "Jingle Cruise."
The elaborate Cambodian temple scene is not included in Disneyland's version of the Jungle Cruise.
In August 2015, a film adaptation of Jungle Cruise starring Dwayne "The Rock" Johnson was announced.
In the early 1990s, Disneyland's version of the Jungle Cruise was rerouted to allow for the construction of "Indiana Jones Adventure," which debuted in 1995.
Hidden Mickeys: A Hidden Mickey can be found on the fractured plane.
Sponsored Ad: Learn more about Hidden Mickey details and location throughout Walt Disney World in A Field Guide to Walt Disney World's Best Kept Secrets
.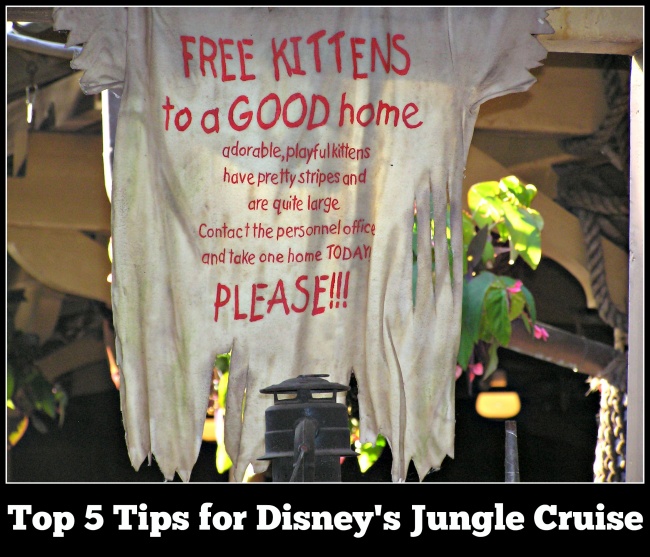 Top 5 Tips for Jungle Cruise
Enjoy the details and funny signs in the queue.
Your experience on the Jungle Cruise is highly dependent on your skipper. An especially enthusiastic skipper will enhance your voyage.
Photography is permitted on the Jungle Cruise, so feel free to take pictures of the animals and other surroundings.
The darkness in the Cambodian temple scene may frighten young children.