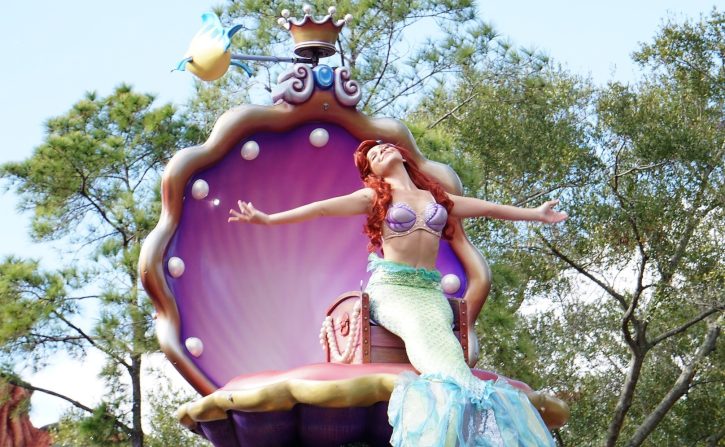 Viewing Locations  Dining Package   Fun Facts
The Festival of Fantasy Parade occurs at 3:00 daily in the Magic Kingdom. This parade is a fantastic opportunity to view both rare and familiar Disney characters.
Viewing Locations
The Festival of Fantasy parade route can be viewed on the Magic Kingdom park map. The route begins in Frontierland and runs through Liberty Square and down Main Street USA. Main Street is the most crowded viewing location, but it is often preferred by guests because of Cinderella Castle. Most anywhere along the parade route provides a good view of the parade. By searching out a viewing location early, you will be able to see the parade with no one blocking your view, this may lead to some character interaction as the parade goes by. If you do not wish to find a viewing location early, it is okay to walk up as the parade is beginning. It is likely that you will be standing behind other guests, but the parade floats are very tall so your view will not be limited very much.
Video
Festival of Fantasy Parade Dining Package
** Please note:  The Festival of Fantasy Dining Package is currently temporarily unavailable. **
Guests can enjoy a Lady and the Tramp inspired lunch before taking in the Festival of Fantasy Parade as a VIP.
How it works
Arrive at Tony's Town Square and dine. You will be given a special voucher after your meal that will admit you to the reserved VIP viewing area for the Festival of Fantasy Parade. There is no charge for this pass and charges apply only to your pre-priced lunch. At least 15-35 minutes before show time, head to the Main Street, U.S.A. flagpole and the Cast Members will direct you to the right spot. If you arrive less than 15 minutes before show time, you may not be able to enter the area.
Note: In the event of a parade cancelation due to inclement weather, a replacement voucher will be given for an alternative performance within five days of the date you were originally scheduled to attend. Valid theme park admission is required.   You will, however, still dine on the scheduled day and time.
The Festival of Fantasy Dining Package is offered daily. During most of the year, the parade starts in Frontierland at 3pm, so the VIP viewing takes place at the end of the parade route. Additional performances may be added during peak season days, and the parade might be replaced with a holiday parade in the days closest to Christmas. Walt Disney World Dining will be able to give you times for the Festival of Fantasy parade up to 180 days in advance. You can also check the Times Guide at the Magic Kingdom theme park for schedule and show times.
*If you are using a dining plan this requires 1 table service credit per person ages 3 and up. Theme park admission is required
Additional Information
The VIP area is around the Flag Pole right as you enter Main Street U.S.A. This can be one of the best locations in all of the Magic Kingdom to view the parade, as you can look down Main Street and see Cinderella Castle behind the parade.
However, this spot is also in the middle of the street, so there is no shade or cover. Guests should prepare appropriately for the type of weather they might have on their visit.
While there is no additional charge beyond buying your meal for the package, you must guarantee it with a credit card when reserving. Your card is not charged at the time of reserving, but a $10 cancellation fee will be applied to your card if the package is not canceled at least 48 hours prior to restaurant seating time. After dining, pay for your meal with cash, credit card, room charge or Dining Plan credit(s). Call (407) WDW-DINE (939-3463) up to 180 days in advance to make Advance Dining Reservations. The Festival of Fantasy Dining Package is also available to book through Disney's Online Reservation System. These packages are limited and must be booked in advance. It's best to reserve one as soon as your 180-day booking window opens up.
Festival of Fantasy Parade Fun Facts
The Festival of Fantasy Parade features many popular characters.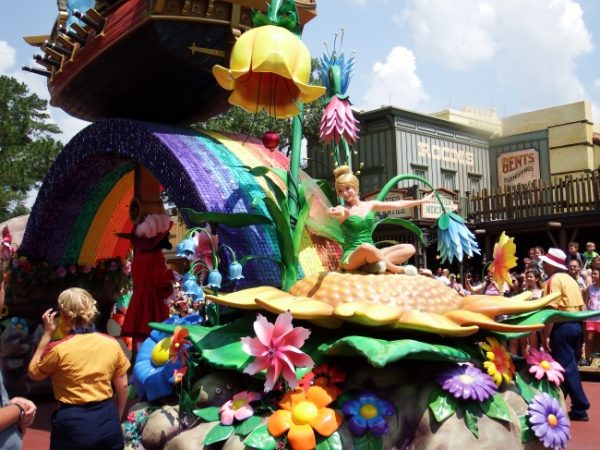 The Tangled float features huge swinging arms with ruffians including Flynn Rider hanging on and swinging over the crowd.
There is a princess float that features the ever popular, Anna and Elsa.
The Maleficent dragon float is 26 feet tall and breathes fire. Proceeding this float is Prince Phillip who is fighting the evil Maleficent along the Festival of Fantasy parade route.
The Festival of Fantasy parade float of the Maleficent dragon was designed in collaboration with Michael Curry who was a prominent designer of the Tapestry of Nations parade from Epcot's millennium celebration along with the Finding Nemo show at Animal Kingdom.
The final float in the parade is also the tallest. This hot air balloon float features Mickey and Minnie Mouse waving to their adoring fans.
Mark Hammond composed the music for Festival of Fantasy parade. He has also written pieces that are featured in Disneyland and Hong Kong Disney theme parks.
The Festival of Fantasy Parade debuted on March 9, 2014.