This post may contains affiliate links for your convenience. If you make a purchase after clicking a link we may earn a small commission but it won't cost you a penny more! Read our full disclosure policy here.
---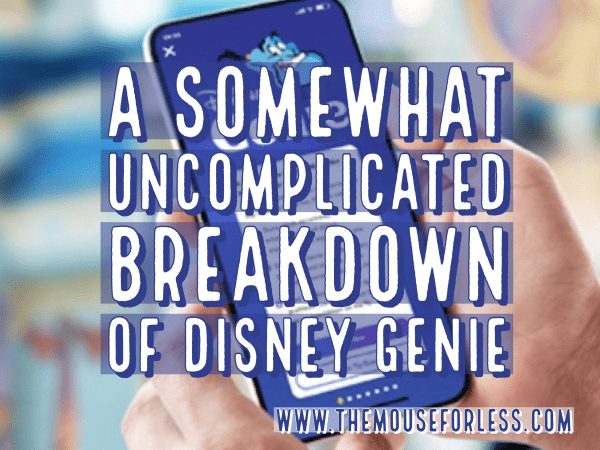 Disney just announced their new Disney Genie offering. Disney Genie is going to be a complimentary and convenient new digital service for both Walt Disney World and Disneyland that is designed to create the best Disney day. The goal is to make planning easier, for Guests to have more flexibility and for the ability to use better tools to help Guests make the most of their visits.
What Is Disney Genie?
Guests will find Disney Genie in the My Disney Experience and Disneyland apps. There will be a personalized itinerary feature that will quickly map out an entire day, from attractions, foodie experiences and entertainment, to general interests like Disney princesses, villains, Pixar, Star Wars, thrill rides and more. All Guests will need to do is tell Disney Genie what they want to do and it will do the planning for them.
In addition to the Disney Genie tool, there will actually be two paid options that will be available for Guests, should they choose to utilize them. These paid options will allow Guests to utilized the Lightning Lane entrance.
The first paid option is called Disney Genie+ service. It will cost $15 per ticket per day at Walt Disney World Resort and $20 per ticket per day at Disneyland Resort with it, Guests can choose the next available time to arrive at a variety of attractions and experiences using the former FastPass entrance. But there will be some attractions that are not a part of Disney Genie+. For those attractions, you'll have the ability to purchase individual attraction access for high demand attractions. Guests can schedule a time to arrive at up to two highly demanded attractions each day using the Lightning Lane (former FastPass line) entrance and skip the standby line. You'll pay for this service for each individual ride separately.
So wait….what does this mean for FASTPASS, FastPass+ and Disney MaxPass? Well those services will officially be retired. With Disney Genie, Guests will be able to choose from all of the  new options, a mix of them or none at all. This flexibility will allow Guests to continue to have a great experience no matter how they decide to plan their Disney day.
But What Does It All Mean?
Ok…so all that is fine and dandy, but as with anything new, there is definitely some confusion. So, I wanted to explain a few things in the most uncomplicated way possible.
Disney Genie is essentially going to be a tool to guide you through the parks, in My Disney Experience or the Disneyland app. It will help you to see wait times and when is the optimal time to ride attractions by waiting in the standby line, plan your whole day based on suggestions you provide it, etc. It is my understanding it is not what we know as FASTPASS, which I think is where people are getting stuck.
Also helping to cause the confusion is the fact that Genie+ is called Genie+.
Genie+ WILL be similar to FASTPASS but will actually more more like Disney MaxPass in California. It will work similar to how Fastpass used to work, except it will all be on the app. (And you have to pay for it.) So you go in the app, and select the next available ride time for the attraction you are looking to ride. That ride time availability could be right now or it could be hours from now. There are also some other perks like augmented reality filters for photos available to those who purchased Disney Genie+. How you use it to maximize your day is up to you but it will work in conjunction with the tools of planning your day WITH Disney Genie. Pricing is $15 per person, per day at WDW or $20 per person, per day at DL.
Finally, we have Individual Attraction Access. This will only be available on a few select rides and they will be headliners. These rides will not be offered as part of Disney Genie+. You can choose to wait in the standby queue (or use the virtual queue for an attraction like Rise of the Resistance) OR you can choose to pay for access to the Lightning Lane to "guarantee" a ride the attraction. You can only choose up to two of these individual attractions to pay extra for each day. Pricing has not been set and will be flexible for Disney. Again, how you use it to maximize your day is up to you but it will work in conjunction with the tools of planning your day WITH Disney Genie.
In addition, there are questions about actually purchasing Disney Genie+ or individual attraction access. Guests won't have to purchase the individual attraction access or Genie+ for every person in their party. Only those who will be riding the specific attractions. So if you buy the individual attraction access and have a little one who won't be riding something like Seven Dwarfs Mine Train, you will only have to pay for the Guests who will actually be riding.
In addition, you don't have to purchase individual attractions or Genie+ every single day of your trip. If you had a seven day trip, and you only want to purchase three days worth of individual attraction access, you can do that.
There is currently no word on how many or which attractions will be part of the Disney Genie+ option and there is no word on how many/which attractions that will be a part of the Lightning Lane attraction choices. That's the real question, in my mind, right now.
I think that boils it all down to its most basic form, that I can understand right now. Let me know if you have questions and I can try to answer them. Let us know them in the comments or on Facebook or Twitter!
Or, if you want assistance our friends at The Magic For Less Travel will be more than happy to help and break everything down even more!
Did you like this article? Make sure to share it with your friends! Check below for easy ways to share!  
Want to visit a Disney Destination? Contact The Magic for Less Travel for more information and a free, no-obligation quote.