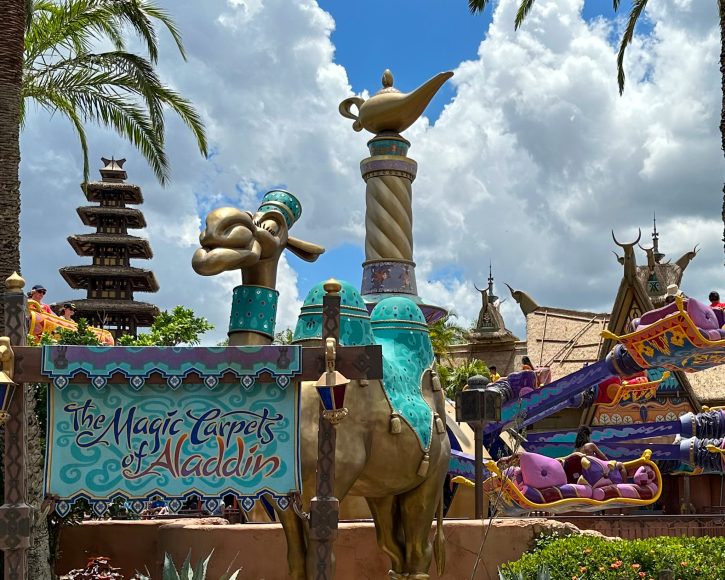 Guests of all ages can find their inner Jasmines and Aladdins from Disney's classic 1992 film Aladdin on this Magic Carpet ride.
Ride Information Restrictions  Accessibility  Location Fun Facts Top 5 Tips
Ride Information
Opening Day: May 24, 2001
Type of Ride: Spinner
Age Recommendation: All ages; best for children and preteens
Duration of Ride: 1.5 minutes
Typical Queue Time: Short. Typically less than 30 minutes, except on the busiest days
Single Rider Line: No
Chicken Exit Available: No
Baby Swap Available: No
Type of Vehicle: Flying Magic Carpets
Type of Restraint: None
Attraction Open During Extended Evening Hours: Yes. See our Extended Evening Hours page for more information.
Ride Photo Available For Purchase: No

Planning a Walt Disney World Vacation?
For a Free no-obligation quote, contact our sponsor
The Magic For Less Travel
. Services are provided free of charge and their expert planning advice will help you make the most of your vacation time and money.
Ride Restrictions
Height Requirements: None
Flash Photography or Video Allowed: Yes
Safety, Accessibility, and Guest Policies
Accessibility: Must Transfer to Wheelchair (from electronic scooter)
Guest Policies: Children under age 7 years must be accompanied by a person age 14 years or older.
Location
Park Map of Magic Kingdom:
Other Rides/Attractions In the Area:
This attraction is located in the Magic Kingdom's Adventureland
Shopping: Guests can purchase various goods and souvenirs in Adventureland's five shops: Agrabah Bazaar, Island Supply by Sunglass Hut, La Princesa de Cristal – Caribbean Plaza, Plaza del Sol Caribe Bazaar, and Zanzibar Trading Co.
Dining/Refreshment: Several counter service restaurants are located near The Magic Carpets of Aladdin in Adventureland. The popular Aloha Isle and Sunshine Tree Terrace locations specialize in ice cream, the former serving the cult-favorite Dole Whip and the latter the Citrus Swirl. Additionally, Mexican cuisine, including burritos and rice bowls, are served seasonally at Tortuga Tavern.
Restroom: There are two restrooms in Adventureland, one near Tortuga Tavern and another near Pirates of the Caribbean.
Smoking Location: Smoking is permitted in designated smoking areas only. Disney parks are smoke free.
The Magic Carpets of Aladdin Fun Facts
Did you know?
The spitting camel at the attraction's entrance was part of the Aladdin's Royal Caravan parade, which ran at the then-Disney MGM Studios from December 1992 to August 1995.
16 Magic Carpets are featured in The Magic Carpets of Aladdin.
Another version of The Magic Carpets of Aladdin, Flying Carpets Over Agrabah, opened at the Walt Disney Studios Park at Disneyland Resort Paris on March 16, 2002. A related attraction, Jasmine's Flying Carpets, debuted at Tokyo DisneySea at Tokyo Disneyland Resort on July 18, 2011.
Hidden Mickeys:
Look for a Hidden Mickey entrenched in the pavement outside The Magic Carpets of Aladdin.
Sponsored Ad: Learn more about Hidden Mickey details and location throughout Walt Disney World in A Field Guide to Walt Disney World's Best Kept Secrets
.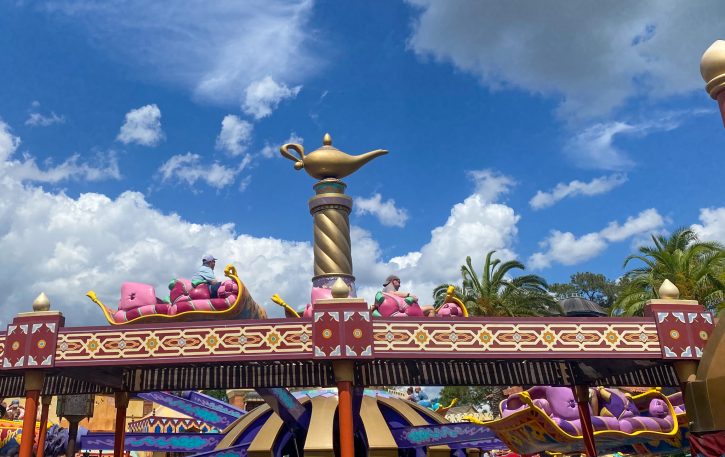 Top 5 Tips for The Magic Carpets of Aladdin
Guests in the front row of the carpet can control the carpet's height.
Guests in the back row of the carpet can control the carpet's tilt, either forwards or backwards.
Make a wish on the Magic Lamp atop the attraction!
This attraction is a good alternative or counterpart to the classic Dumbo the Flying Elephant attraction in Fantasyland.
If you enjoy The Magic Carpets of Aladdin, be sure to check out TriceraTop Spin at Disney's Animal Kingdom.