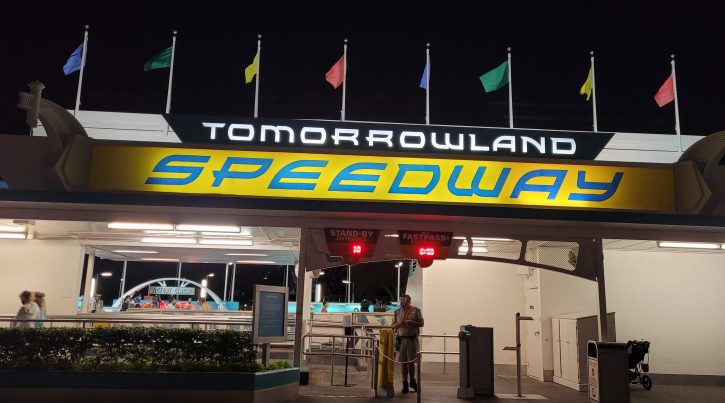 At Tomorrowland Speedway, kids and kids at heart can play out their car racing fantasies on the Magic Kingdom's legendary racetrack.
Ride Information  Restrictions  Accessibility  Location  Video  Fun Facts  Top 5 Tips
Ride Information
Opening Day: October 1, 1971
Type of Ride: Racetrack
Age Recommendation: All ages, though better for children
Duration of Ride: About 5 minutes
Typical Queue Time: Moderate to long; typically peaks at about an hour on the busiest days
Single Rider Line: No
Chicken Exit Available: No
Baby Swap Available: Yes
Type of Vehicle: 2-person cars
Type of Restraint: Seat belt
Attraction Open During Extended Evening Hours: Yes. See our Extended Evening Hours page for more information.
Ride Photo Available For Purchase: No

Planning a Walt Disney World Vacation?
For a Free no-obligation quote, contact our sponsor
The Magic For Less Travel
. Services are provided free of charge and their expert planning advice will help you make the most of your vacation time and money.
Ride Restrictions
Height Requirements: 32 inches to ride as a passenger. A person at least 54 inches tall must be in the car for riders between 32 inches and 53 inches to drive.
Flash Photography or Video Allowed: Yes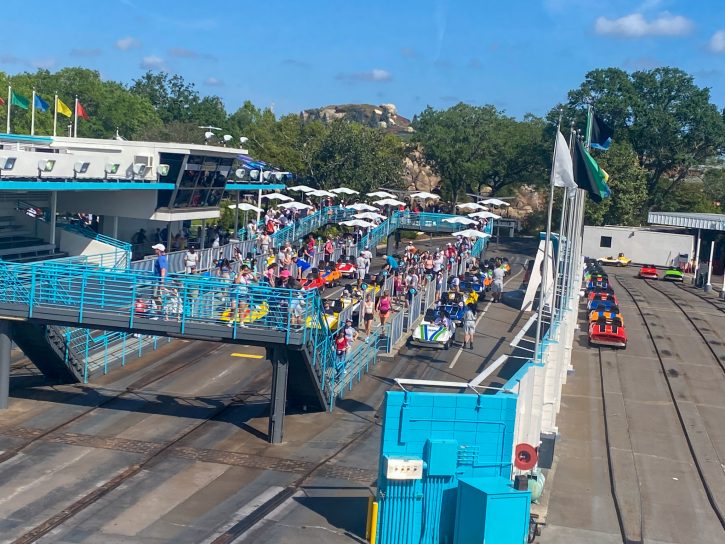 Safety, Accessibility, and Guest Policies
Accessibility: Must Transfer from Wheelchair/ECV
Guest Policies: Children under age 7 years must be accompanied by a person age 14 years or older.
Location
Park Map of Magic Kingdom:
Other Rides/Attractions In the Area:
This attraction is located in the Magic Kingdom's Tomorrowland.
Shopping: The "Racing Specialties" cart outside Tomorrowland Speedway offers a variety of souvenirs
Dining/Refreshment: Near Tomorrowland Speedway, guests can enjoy a counter service meal at Cosmic Ray's Starlight Cafe. This eatery offers sandwiches, burgers, hot dogs, and chicken and rib combo meals. Also, Auntie Gravity's Galactic Goodies specializes in ice cream
Restroom: A restroom is located nearby between Cosmic Ray's Starlight Cafe and Auntie Gravity's Galactic Goodies
Smoking Location: Smoking is not permitted inside the Walt Disney World parks. Smoking areas can be found on our Walt Disney World Designated Smoking Areas page.
Video
Tomorrowland Speedway Fun Facts
Did you know?
The cars in Tomorrowland Speedway utilize gas to move around the track and reach a top speed of 7.5 miles-per-hour.
The track of the "Tomorrowland Transit Authority PeopleMover" crosses over Tomorrowland Speedway.
Prospective riders of Tomorrowland Speedway measure their height with oil cans in addition to a traditional ruler.
Other versions of Tomorrowland Speedway can be found at the Disneyland parks in Anaheim, Tokyo, Paris, and Hong Kong.  The Tokyo attraction is called "Grand Circuit Raceway," while the other three versions are called "Autopia," an amalgamation of the words "automobile" and "utopia."  Considering the traffic on the freeways near Los Angeles, the original Autopia may, relatively speaking, live up to its name.
Tomorrowland Speedway is themed after a racetrack, and riders on the four adjacent rails can engage in friendly competition to take the checkered flag.
From 1959 to 1999, Disneyland featured separate Autopia attractions in Tomorrowland and Fantasyland, respectively. The latter version was briefly rechristened "Rescue Rangers Raceway" from 1991 to 1992 to promote the syndicated "The Disney Afternoon" television block.  The two attractions combined in 2000 to form the park's current Autopia.
Whereas Tomorrowland Speedway is themed as a competitive racetrack, Disneyland's Autopia is inspired by daily driving, including freeways and local streets, because the development of the original attraction coincided with that of the United States' Interstate Highway System in the mid-1950s.
History
Tomorrowland Speedway is one of 14 attractions remaining in some form from the Magic Kingdom's opening day, October 1, 1971. The others are "Cinderella's Golden Carrousel" (now Prince Charming Regal Carrousel), Country Bear Jamboree, "Dumbo the Flying Elephant," "Frontierland Shootin' Arcade," Hall of Presidents, Haunted Mansion, It's a Small World, Jungle Cruise, "Mad Tea Party," "Peter Pan's Flight,"  Swiss Family Treehouse, "Tropical Serenade" (now Walt Disney's Enchanted Tiki Room), and "Walt Disney World Railroad."
Tomorrowland Speedway was termed "Grand Prix Raceway" from opening day until 1996, when it was afforded the current name.  Because of a sponsorship agreement between Disney and the Indianapolis Motor Speedway, the attraction was rechristened "Tomorrowland Indy Speedway" from 1999 to 2008, when the sponsorship culminated.
Goodyear sponsored the Tomorrowland Speedway from opening day until 1999. Then the Indianapolis Motor Speedway sponsored the ride from 1999 until 2008.  The attraction does not have a sponsor currently.  The press box-like structure that hangs over the loading area was formerly a lounge for Goodyear executives.
Tomorrowland Speedway's track was considerably shortened in 1987 to allow for the construction of "Mickey's Birthdayland," which later turned into "Mickey's Starland" from 1989-1995, "Mickey's Toyland" during the winter of 1995, and "Mickey's Toontown Fair" from 1996-2011. The area was a major component of the recent Fantasyland expansion.
Though riders on Tomorrowland Speedway move their vehicles with a gas pedal, the cars themselves remain on a guided track.  For the first decade of Disneyland's operation, 1955-1965, Autopia's cars were not attached to a submerged rail, and drivers could maneuver all over the course.  This freedom damaged the cars and led to the implementation of the guide rail, which Tomorrowland Speedway also implements.
Hidden Mickeys:
Look for a Hidden Mickey in the dots on the Racetrack map in the Lightning Lane queue.
Sponsored Ad: Learn more about Hidden Mickey details and location throughout Walt Disney World in A Field Guide to Walt Disney World's Best Kept Secrets
.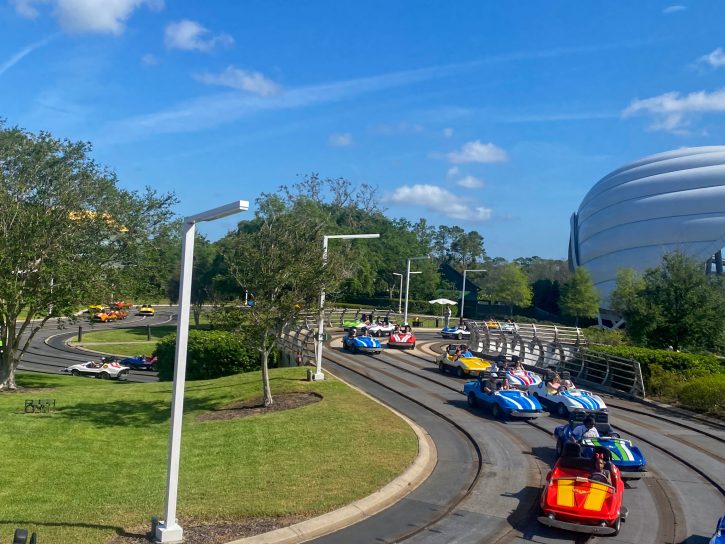 Top 5 Tips for Tomorrowland Speedway
Keep in mind that although guests need only be 32 inches tall to ride Tomorrowland Speedway, a person of at least 54 inches must accompany shorter riders for the latter to drive the car.
A bleacher-style viewing area is provided for guests who don't want to ride, but might want to watch the attraction.
Take some photos of the surroundings.
Prepare for the smell of exhaust fumes in the queue.
After your ride, inquire about an "Official Speedway License." They are a neat memento, especially for kids.