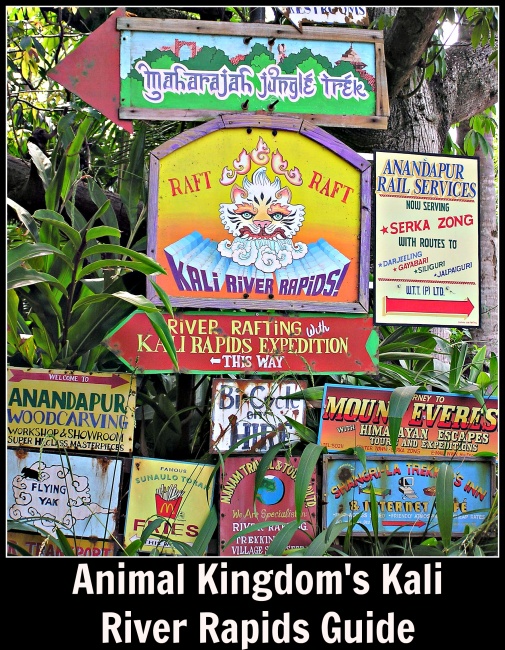 At Kali River Rapids, guests enjoy a rafting adventure amidst picturesque surroundings and environmental messages on the Animal Kingdom's premier water ride.
Ride Information  Restrictions  Accessibility  Location  Fun Facts  Top 5 Tips
Ride Information
Opening Day: March 18, 1999
Type of Ride: Whitewater rapids adventure
Age Recommendation: Anybody who meets the height requirement
Duration of Ride: 5 minutes
Typical Queue Time: Long; often upwards of one hour
Single Rider Line: No
Chicken Exit Available: Yes
Baby Swap Available: Yes
Type of Vehicle: Circular rafts
Type of Restraint: Seat belt
Attraction Open During Early Theme Park Entry: No. See our Early Theme Park Entry page for more information.
Ride Photo Available For Purchase: No

Planning a Walt Disney World Vacation?
For a Free no-obligation quote, contact our sponsor
The Magic For Less Travel
. Services are provided free of charge and their expert planning advice will help you make the most of your vacation time and money.
Ride Restrictions
Height Requirements: 38 inches
Flash Photography or Video Allowed: No
Safety, Accessibility, and Guest Policies
Accessibility:
Guests must transfer from wheelchairs
Service animals not permitted
Guest Policies: Children under age 7 years must be accompanied by a person age 14 years or older.
Location
Shopping: Guests can purchase Asian goods, such as brass bells, paper umbrellas, wooden wind chimes, jewelry, hats, and bags, nearby at "Mandala Gifts." Additionally, apparel, tea sets, jewelry, key chains, bags, and stuffed animals are available at "Yak And Yeti Bhaktapur Market."
Dining/Refreshment: Enjoy both full service and counter service meals for lunch or dinner at the adjacent Yak and Yeti Restaurant and Yak and Yeti Local Food Cafes. The former establishment serves chicken wings, egg rolls, lo mein, ribs, and chicken and fish salads and entrees; while the latter eatery features teriyaki beef bowls, stir fries, chicken sandwiches and salads, and egg rolls. Guests craving a snack can choose among varies teas and pastries at Royal Anandapur Tea Company.
Restroom: Find facilities convenient to Kali River Rapids situated at the entrance to the adjacent Maharajah Jungle Trek attraction.
Smoking Location: Smoking is permitted in designated smoking areas only. Disney parks are smoke free.
Kali River Rapids Fun Facts
Did you know?
Kali River Rapids sits in the fictional village of Anandapur on the fictional Chakranadi River.
On Kali River Rapids, guests double as patrons of Anandapur's "Kali Rapids Expeditions," a travel adventure company owned by Manisha Gurung, which takes tourists rafting on the Kali Rapids, the most intense section of the Chakranadi River.
Chakranadi is Sanskrit for "flowing in a circle." Guests indeed flow in a circle on Kali River Rapids.
Kali is a Hindu goddess of the destructive forces of nature.
Kali River Rapids exudes environmental messages, specifically the harmful effects of the slash and burn deforestation methods used by the Tetak Logging Company. A related display, including a Tetak Company truck, feature on the rapids.
Prior to boarding the rafts, guests hear an announcement telling Manisha Gurung to halt rafting tours because the illegal logging operations have moved close to the river. Fortunately or otherwise, Gurung is on break, and the tours, including yours, proceed.
A variety of scents, including jasmine, ginger, and smoke, complement Kali River Rapids.
Representing the bulk of Anandapur, Kali River Rapids' queue is arguably the most underrated queue in all of Walt Disney World. It is overshadowed by its great counterpart at the more popular Expedition Everest attraction, but it should not be missed.
A faux hotel advertisement in the queue touts: "cheap prices, friendly staff, nice view, rooms with windows available, fans in most rooms, bathroom with running water on both floors, mattress and toilet paper just a little extra, and next to bird market."
The Kali River Expedition Office includes a typewriter, a telephone, brochures, a raft position board, a portrait of the Royal Couple of Anandapur, a plethora of paddles signed by "rafting guides," and a slide show starring Manisha Gurung. The portrait of the "Royal Couple" is found in various locations across the Animal Kingdom's Asia section. One of the paddles signed by the Imagineers who developed Kali River Rapids also features in the office.
History
Disney Imagineers conducted extensive research throughout Southeast Asia prior to Kali River Rapids' debut, and the queue features more than 5,000 props purchased from local vendors. Sights encountered in the queue include lush foliage, decaying relics and statues, the grand "Tiger Temple," "Mr. Panika's Shop," a faux bird market, and the Kali Rapids Expedition Office.
A mass of bells and ribbons hanging outside the Tiger Temple represent, respectively, answered prayers and yet-to-be answered prayers. Animal carvings, religious artifacts, traditional costumes and masks, pictorial tales about the previous lives of the Buddha, and a grand tiger statue occupy the Temple's interior. The room with the Buddha stories is termed the "Painted Pavilion."
Kali River Rapids was the first whitewater rapids attraction to appear in any Disney theme park. A second such attraction, "Grizzly River Run," debuted with Disney's California Adventure on February 8, 2001. Kali River Rapids is superior in thematic aspects; Grizzly River Run is more thrilling.
The ride utilizes circular, spinning raft vehicles that seat up to twelve riders and contain a central storage space. The climactic plunge is thirty feet.
In 2012, Disney commenced a locker system for Kali River Rapids. Free storage is available in these lockers, located near the restrooms at the attraction's entrance, for up to two hours.
Kali River Rapids was originally envisioned as another whitewater rapids attraction to be called "Tiger Rapids Run" and feature real tigers along its perimeter. Due to the speed of the attraction obviating good views of the tigers and the likelihood of screams from the riders scaring the animals, Tiger Rapids Run evolved into the current product.
 
Top 5 Tips for Kali River Rapids
Prepare to be drenched, especially if you are facing backwards on the final plunge.
Consider purchasing a poncho and wearing it on the ride.
Take in the details throughout the queue and the attraction proper.
Consider wearing sandals instead of sneakers in order to avoid blisters.
Consider storing loose objects and extra clothing in a locker while you ride Kali River Rapids.