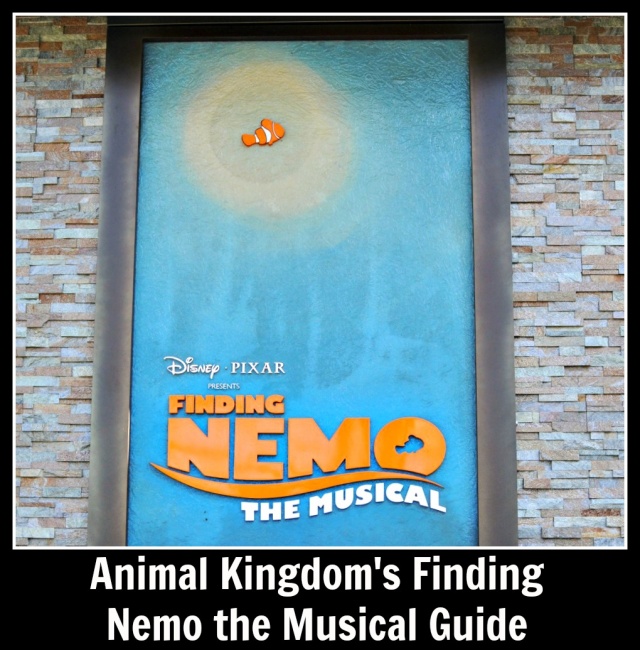 Enjoy an elaborate, musical rendition of Pixar's Finding Nemo (2003) at this lavish production at DinoLand's Theater in the Wild.
Ride Information  Restrictions  Accessibility  Location  Fun Facts  Top 5 Tips
Ride Information
Opening Day: June 13, 2022
Type of Ride: Show
Age Recommendation: All ages
Duration of Ride: About 35 minutes
Typical Queue Time: None; shows start at scheduled times
Single Rider Line: No
Chicken Exit Available: No
Baby Swap Available: No
Type of Vehicle: None; guests sit on benches
Type of Restraint: None
Attraction Open During Early Theme Park Entry: No. See our Early Theme Park Entry page for more information.
Ride Photo Available For Purchase: No

Planning a Walt Disney World Vacation?
For a Free no-obligation quote, contact our sponsor
The Magic For Less Travel
. Services are provided free of charge and their expert planning advice will help you make the most of your vacation time and money.
Ride Restrictions
Height Requirements: None
Flash Photography or Video Allowed: No
Safety, Accessibility, and Guest Policies
Accessibility:
Guests may stay in wheelchair
Audio Description
Sign Language
Assistive Listening
Location
Shopping: Purchase various goods including toys, apparel, and beverages nearby in the zany "Chester & Hester's Dinosaur Treasures."
Dining/Refreshment: Across DinoLand U.S.A., Restaurantosaurus serves lunch and dinner in a counter service setup. Choices include salads, hot dogs, and burgers. Restaurantosaurus housed Donald Duck's character breakfast until 2007, when the meal moved to its current residence at Tusker House.
Restroom: Find restrooms behind Theater in the Wild.
Smoking Location: Smoking is permitted in designated smoking areas only. Disney parks are smoke free.
Finding Nemo: The Big Blue…and Beyond Fun Facts
Did you know?
The original show, Finding Nemo-The Musical opened on January 24, 2007. This updated version opened on June13, 2022.
Finding Nemo: The Big Blue…and Beyond incorporates a number of major songs: "In the Big Blue World," "Just Keep Swimming," and "Go with the Flow." These numbers were written specifically for this attraction, marking the first time Disney had devised a theme park musical production based on a non-musical film.
Robert Lopez and Kristen Anderson-Lopez, who wrote the songs for Finding Nemo: The Big Blue…and Beyond, also wrote the music for Disney's animated features Winnie the Pooh (2011) and Frozen (2013).
Finding Nemo: The Big Blue…and Beyond is performed with costumed actors and elaborate puppets amidst changing backdrops and video clips. The puppet of Crush the sea turtle is gargantuan.
Theater in the Wild is situated in DinoLand U.S.A even though none of its productions have involved dinosaurs.
Theater in the Wild has a 1,500-guest capacity.
Theater in the Wild was enclosed in 2006 to prepare for the debut of the original show, Finding Nemo—The Musical. The theater was previously exposed to the elements.
Prior to Finding Nemo—The Musical, Theater in the Wild housed "Journey into the Jungle Book" from opening day until 1999 and "Tarzan Rocks" from 1999 to 2006. The former show was a theatrical retelling of The Jungle Book (1967), while the latter production was an acrobatic show based on Tarzan (1999).
Finding Nemo: The Big Blue…and Beyond is one of three attractions at Walt Disney World based on Finding Nemo, the others being "The Seas with Nemo & Friends" and "Turtle Talk with Crush," both housed in The Seas pavilion at Epcot.
Hidden Mickeys:
Find Hidden Mickeys in the bubbles on both sides of the stage.
Sponsored Ad: Learn more about Hidden Mickey details and location throughout Walt Disney World in A Field Guide to Walt Disney World's Best Kept Secrets
.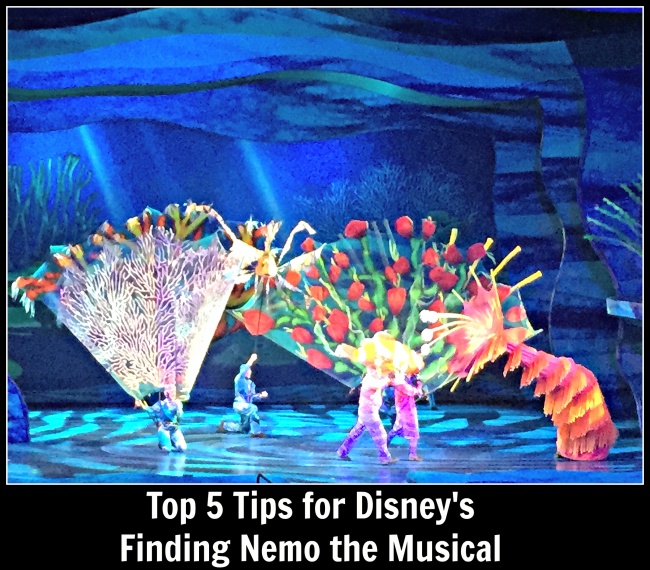 Top 5 Tips for Finding Nemo: The Big Blue…and Beyond
Finding Nemo: The Big Blue…and Beyond is performed at scheduled times throughout the day. Check the Times Guide to plan your visit. Guests should arrive at the theater 20-30 minutes prior to the scheduled showtime to ensure a seat during busier times.
If touring with children, consider the long runtime before attending this show. Some scenes may also be too intense, visually and emotionally, for young children.
A good place to sit and escape the Florida heat.
Prepare for the songs to linger in your head for a while after exiting the theater.
Consider watching Finding Nemo prior to your visit such as to better appreciate this attraction.