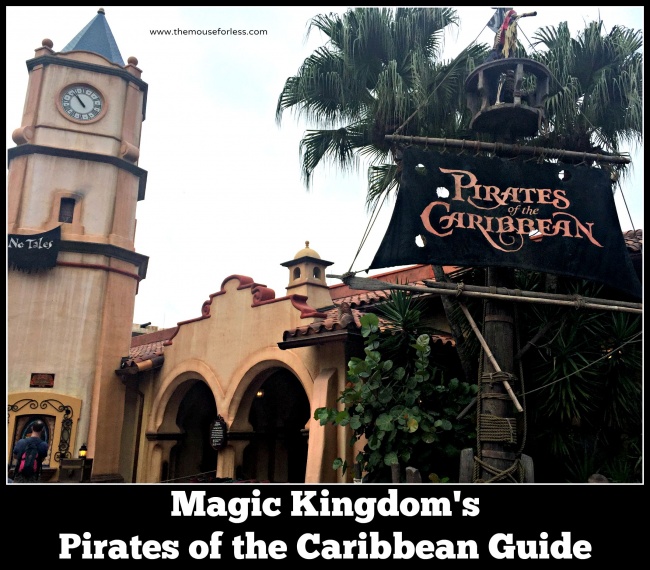 On this classic attraction, guests sail through elaborate pirate dioramas while humming "Yo Ho (A Pirate's Life for Me)."  Pirates of the Caribbean is the attraction that inspired an epic film series which in turn inspired a classic attraction.
Ride Information  Restrictions  Location  Fun Facts  Top 5 Tips
Ride Information
Opening Day: December 15, 1973
Type of Ride: Boat adventure
Age Recommendation: 7 and up
Duration of Ride: 8 minutes 30 seconds
Typical Queue Time: Moderate; usually peaks at around one hour
Single Rider Line: No
FastPass+: Yes, visit our FastPass+ Guide for more information on FastPass+.
Chicken Exit Available: No
Baby Swap Available: No
Type of Vehicle: Boat
Type of Restraint: None
Attraction Open During EMH: Yes; evening. See our Extra Magic Hours page for more information.
Ride Photo Available For Purchase: No

Planning a Walt Disney World Vacation?
For a Free no-obligation quote, contact our sponsor
The Magic For Less Travel
. Services are provided free of charge and their expert planning advice will help you make the most of your vacation time and money.
Ride Restrictions
Height Requirements: None
Flash Photography or Video Allowed: No
Location
Park Map of Magic Kingdom:
Other Rides/Attractions In the Area:
This attraction is located in the Magic Kingdom's Adventureland.
Shopping: Guests exit Pirates of the Caribbean through the "Pirates Bazaar" gift shop, where a variety of related merchandise can be purchased.
Dining/Refreshment: The cult-favorite Aloha Isle and Sunshine Tree Terrace locations specialize in ice cream, the former serving the divine "Dole Whip" and the latter the "Citrus Swirl." Additionally, Mexican cuisine, including burritos and rice bowls, are served seasonally at Tortuga Tavern.
Restroom: Nearby restrooms are located circa "Pirates League" and on the walkway from Adventureland to Frontierland, respectively.
Smoking Location: Smoking is permitted in designated smoking areas only. Magic Kingdom smoking areas can be found on our Walt Disney World Designated Smoking Areas page.
Pirates of the Caribbean Fun Facts
Did you know?
Walt Disney originally intended Pirates of the Caribbean to be a walk-through wax museum. The eventual immersive boat ride that originated at Disneyland on March 18, 1967 arose from the success of Disney's animatronic exhibits at the 1964 New York World's Fair: It's a Small World, "Walt Disney's Carousel of Progress," and "Great Moments with Mr. Lincoln."
Pirates of the Caribbean was not originally planned for the Magic Kingdom.  An elaborate substitute, "Western River Expedition," was being developed, but complaints from guests aware of the brilliance of Disneyland's Pirates of the Caribbean forced Disney to build a version for Florida. The Florida version, though still a great attraction, is abridged, omitting several scenes from the original.
Pirates of the Caribbean is housed in a Spanish fort.
 Pirates of the Caribbean was the basis for Disney's ongoing movie series of the same name. Elements from the movies provided new show elements for the attraction beginning in 2006.
Versions of Pirates of the Caribbean can also be found overseas at the Disneyland parks in Paris and Tokyo.
The Magic Kingdom's Pirates of the Caribbean stands alone among its counterparts in not having an adjacent sit down restaurant with views of the floating riders. Blue Bayou Restaurant complements the attraction in California and Tokyo, and Paris includes the "Blue Lagoon Restaurant." A similar effect can be experienced at Walt Disney World, however, at Epcot's San Angel Inn, where diners can view boaters on "Gran Fiesta Tour Starring The Three Caballeros."
Pirates of the Caribbean incorporates a short, sudden drop down a flume. The versions in California and Paris have two flume drops; Tokyo's Pirates, like that at the Magic Kingdom, has only one drop.
Hidden Mickeys:
A Hidden Mickey can be found amid a pile of coins as you exit the attraction into the gift shop.
Sponsored Ad: Learn more about Hidden Mickey details and location throughout Walt Disney World in A Field Guide to Walt Disney World's Best Kept Secrets
.
Top 5 Tips for Pirates of the Caribbean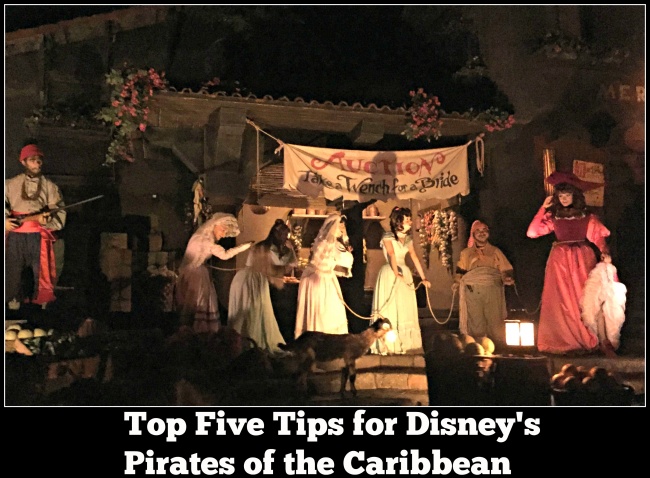 Enjoy the sets and the music. They are among Disney's best efforts.
Though there is no height requirement for Pirates of the Caribbean, the dark setting and realistic-looking pirate animatronics may frighten children.
FastPass Plus is solidly used for Pirates of the Caribbean, though the attraction loads quickly.
Wear a poncho if possible. Pirates of the Caribbean underwent a refurbishment in the summer of 2015 to replace the boats, which had been drenching riders on the flume drop. The new boats may solve this problem, but keep this risk in mind, especially on cooler days.
Watch the Pirates of the Caribbean movies before your vacation. They may enhance your experience on the attraction.