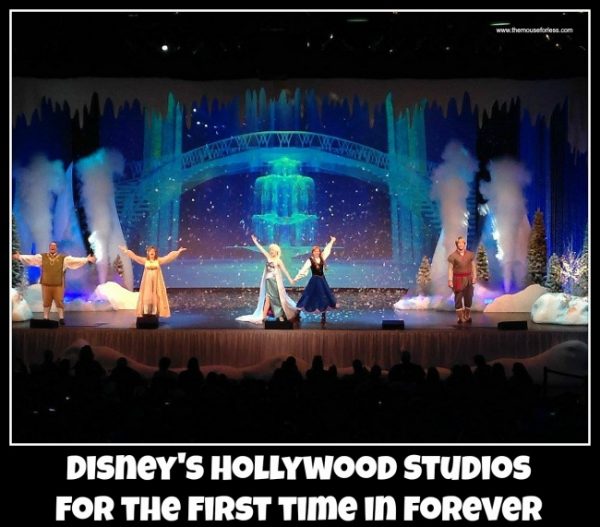 For the First Time in Forever is a stage show featuring the beloved characters from Frozen. This show is a dramatic retelling of the Frozen film with exciting sing-alongs to some of the memorable songs of the hit film. The show is full of silly jokes and puns. Have fun and sing at the top of your lungs during your trip to visit Arendelle in the Hyperion Theater.
Ride Information  Restrictions  Accessibility  Location  Fun Facts  Top 5 Tips 
For the First Time in Forever: A Frozen Sing Along Ride Information
Opening Day: July 5, 2014
Type of Attraction: Stage Show
Age Recommendation: All ages
Duration of Attraction: About 30 minutes
Typical Queue Time: None; shows start at scheduled times, see times guide or MyDisneyExperience for daily showtimes
Single Rider Line: No
Chicken Exit Available: No
Baby Swap Available: No
Type of Vehicle: None; guests sit in theater seating
Type of Restraint: None
Attraction Open During Early Theme Park Entry: No. See our Early Theme Park Entry page for more information.
Ride Photo Available For Purchase: No
Ride Restrictions
Height Requirements: None
Flash Photography or Video Allowed: No
Safety, Accessibility, and Guest Policies
Accessibility:
Guests may remain in wheelchair
Video Captioning
Handheld Captioning
Assistive  Listening
Location
Shopping: Guests will find a lot of Frozen themed merchandise located at the exit of the theater at "Frozen" Fractal Gifts.
Dining/Refreshment: Dining nearby includes: Backlot Express, Min and Bill's Dockside Diner, 50's Prime Time Cafe,and Hollywood and Vine.
Restroom: Nearest restrooms are located near the back of the theater. You must leave the theater to access the restrooms.
Smoking Location: Smoking is permitted in designated smoking areas only. Find smoking areas for Hollywood Studios on our Walt Disney World Designated Smoking Areas page.
For the First Time in Forever: A Frozen Sing Along Fun Facts
Did You Know?
The Hyperion Theater has also been home to "The American Idol Experience", "Doug Live" and "Superstar Television." All shows in which guests came onstage to participate in the production.
The Hyperion Theater's old name was "Superstar Television Theater." This changed when the theater received an updated to host For the First Time in Forever.
For the First Time in Forever debuted as part of the Frozen Summer Fun event at Hollywood Studios and has stuck around long after the event came to a close.
Top 5 Tips for For the First Time in Forever: A Frozen Sing Along
Be prepared to sing along with the memorable songs from Frozen, and rest assured that the young kids in the theater will be belting out these favorites!
This show features some fun effects including a special snowy treat from Elsa herself.
Guests in wheelchairs will be seated in the back of the theater with their parties in handicap seating.
Don't worry about forgetting the words, they are displayed on a huge screen. Just have fun and sing along!
A perfect place to get out of the hot Florida sun and chill out.