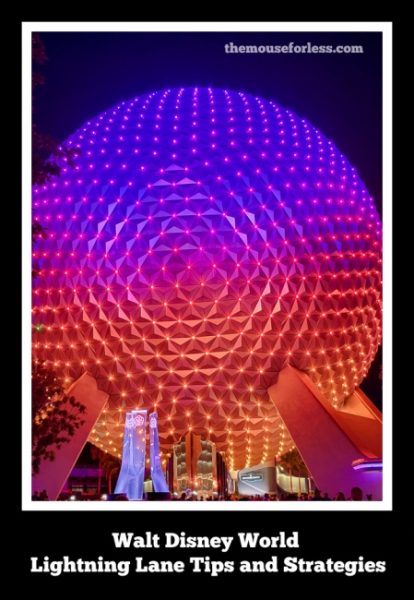 As part of the Disney Genie service, guests to Walt Disney World now have two ways to access Lightning Lanes (the newest version of Fastpass). Those are the daily Genie+ service, or by purchasing Individual Lighting Lane access for specific attractions.
Maximizing your benefit while utilizing these services will look a little different in each theme park, but some tips and strategies are the same no matter where you are visiting.
Keep reading for more information, tips, and strategies on how to best utilize these options while on your Walt Disney World vacation.
General Disney Genie+ Tips Magic Kingdom Tips and Strategies Epcot Tips and Strategies Disney's Hollywood Studios Tips and Strategies Disney's Animal Kingdom Tips and Strategies
General Tips
Getting the most out of both Genie+ and Individual Lightning Lanes first involves preparation. For Genie+, you definitely want to have completed your purchase before you try to make your first booking. To purchase, you can or buy through the My Disney Experience app starting at midnight.
At 7 a.m., everyone is able to start making their first Genie+ reservation, and guests staying at select Walt Disney World resort hotels can begin making Individual Lightning Lane reservations. As such, to have the best selection, you will want to start as close to 7 a.m. as possible.
To fully maximize your Lightning Lane Usage, you will also want to make additional selections as soon as possible. If your Genie+ selections are more than 2 hours in the future, pay attention to the exact time your initial selection was made, and be ready on the app to make another selection 2 hours afterward. If your selection is inside that 2 hour line, you can make a new selection as soon as your final entry scan is complete, so keep an eye on whether that is one or two touchpoints for the attraction you are entering.
For those who are booking Lightning Lane reservations later in the day, you can also "stack" reservations close to each other. This will allow you to experience numerous attractions in quick succession. You'll just want to make sure you give yourself enough time to both experience the attractions and travel to the next.
Guests are also able to book a Lightning Lane reservation for a park that they have not yet park hopped to. So, if you are planning on hopping, you can make a reservation before you begin your travel to save time upon arrival.
Tips for using Lightning Lanes at the Magic Kingdom
The Magic Kingdom also has the most attractions of any park at Walt Disney World. This means that there are many ways to approach Lightning Lanes. Genie+ can often be the most highly utilized with the right strategy. If you are thinking of trying Genie+ for a single park during your stay, the Magic Kingdom is an excellent option.
General Strategy
If you and your group are up for anything and just want to experience all that the park has to offer, the best approach is prioritizing attractions for which using the Lightning Lane will save you the most time, or which are at the highest risk of "selling out" for the day. First among these are generally Peter Pan's Flight, and the Jungle Cruise. Both are very popular, get and keep long lines throughout the day, and typically book all available Lightning Lane reservations. While you can order them any way you want, they should almost definitely be your first two reservations.
The Disney Festival of Fantasy parade is part of the Genie+ listings. Since this parade only happens once or twice a day, the overall availability might be a little less than some of the other attractions. If you want to see the parade in a reserved spot, prioritizing that reservation early in the day might be a good idea.
After those two, the next set of attractions consists of the mountains (Space and Big Thunder) and the popular classics (Pirates of the Caribbean and Haunted Mansion). Deciding which of these to prioritize should take into account how fast they are being booked, which ones are most important to your group, and the other plans you have in place (like dining reservations). Some seasonal effects might change your priorities. For example, the Haunted Mansion is always popular around Halloween.
Individual Lightning Lane Strategy
At the Magic Kingdom, if you are wanting to take advantage of the Individual Lightning Lanes, the best time-savings are for Seven Dwarfs Mine Train. Booking early in the day is a good idea, but you can select whichever time of day makes the most sense for your other plans. When available as an Individual Lightning Lane, Space Mountain does not typically save a lot of time. However, keep in mind the conditions of the day of your visit can have an impact on that.

Planning a Walt Disney World Vacation?
For a Free no-obligation quote, contact our sponsor
The Magic For Less Travel
. Services are provided free of charge and their expert planning advice will help you make the most of your vacation time and money.
Lightning Lane Tips for EPCOT
EPCOT currently has the least attractions included in Genie+, and many of them regularly have very short waits. As such, in general, EPCOT can be the least valuable use of Genie+, but guests can still save time with the right strategy.
General Strategy
Since many of the Genie+ included attractions in EPCOT have fairly low waits, prioritizing those that get longer waits first is generally the best strategy. Thus far, Test Track has routinely been one of the most popular Genie+ selections and can book up fairly fast. In addition, Remy's Ratatouille Adventure competes, and sometimes surpasses Test Track for "selling out" availability. In addition, Frozen Ever After is a very popular selection and will book up fast.
After both of those, your best bet is Soarin' followed by Mission Space (if you are trying to ride everything). The rest of the options would all be about the same priority. That means making reservations based on what part of the park you are in or plan to be in is your best bet.
Because Epcot has fewer attractions on Genie+ overall, Guests starting the day in EPCOT should prioritize these few higher demand attractions. That way you will have them complete or reserved before Park Hopping begins for the day.
Individual Lightning Lane Strategy
Guardians of the Galaxy: Cosmic Rewind is an Individual Lightning Lane selection. This option is incredibly valuable if available, both for access generally and saving time in line. It does routinely book up earlier in the day, so it is best to make a plan and reserve your time in the morning.
Disney's Hollywood Studios Lightning Lane Tips and Strategies
After the Magic Kingdom, Disney's Hollywood Studios is generally the second most productive park for using Genie+. It might even allow guests to save even more time, although by experiencing a few fewer attractions.
General Strategy
Far and away, the most popular Genie+ selection nearly every day across all of Walt Disney World is Slinky Dog Dash. If you are wanting to ride this attraction, booking right at 7am is almost a necessity for ensuring a reservation at this point.
After Slinky, there is a set of attractions to prioritize, based both on your party's favorites and how things are actually looking for both wait times and booking times that day. When it is available through Genie+, Mickey & Minnie's Runaway Railway will often be the best second selection. Close behind, though, are  Millennium Falcon: Smugglers Run or Tower of Terror, which both can book up pretty fast and also post standby wait times well past an hour. Rock n' Roller Coaster rounds out that grouping – it can get long waits but doesn't book up as fast, so you can likely get a reservation later in the day.
If you have gotten through all of those Toy Story Mania! and Alien Swirling Saucers both can save you some time, but usually have pretty good availability. The rest of the options at Disney's Hollywood Studios can be slotted in as available and fitting your plans; these generally aren't the highest priority. One possible strategy is "stacking" the higher priority attractions later in the day. You can then book reserved seating for some of the shows mid-afternoon while you are waiting for your later return times.
Individual Lightning Lane Strategy.
Much like how Slinky Dog Dash is the most popular Genie+ reservation at Walt Disney World, Star Wars: Rise of the Resistance is the most popular Individual Lightning Lane. It almost always books up quickly for the day, and has stayed at the more expensive end of the variable pricing. With some of the longer standby wait times in any of the parks, you will also definitely save a fair amount of time booking access here. If you are wanting to reserve a spot, doing so first thing in the morning is almost a necessity. That extra time available only to on site guests might be the difference between being able to make a reservation or not.
Tips for using Lightning Lanes at Disney's Animal Kingdom
Disney's Animal Kingdom features the least Genie+ attractions of all the parks. The park does host several very popular attractions, so utilizing Genie+ can be worthwhile. This is especially true if you also might park hop to another park later in the day.
General Strategy
Some of the strategy for Disney's Animal Kingdom will undoubtedly depend on the crowd levels that day. Regardless, the two most worthwhile attractions to book are Kilimanjaro Safaris and Na'vi River Journey. Both of them are popular and can develop long lines. Deciding which to do first can largely be based on your other plans and preferences. For example, if you want to try to ride Avatar Flight of Passage first thing in the morning consider booking Na'Vi River Journey for right after. This could be a good way to avoid lots of running back and forth. Conversely, the animals on the safari are sometimes more active in the morning, especially in the hotter months, so heading there first could be a better experience. The choice is yours.
After those two DINOSAUR, Expedition Everest, and Kali River Rapids all can develop longer lines, especially on very busy days. If wanting to experience everything, you can reserve those pretty much in any order to suit your plans.
The other options you will almost never need to utilize. If you already have Genie+ though, feel free to save a few minutes here and there.
Individual Lightning Lane Strategy
Much like Epcot, Disney's Animal Kingdom has one very popular ride, Avatar Flight of Passage, which can also be a great time savings using the Individual Lightning Lane. In fact, if you only want to buy either an Individual Lightning Lane or opt in to Genie+ for the day, getting access to Flight of Passage might be a good option. It does routinely book up earlier in the day. That means it is best to make a plan and reserve your time in the morning.