Home > Walt Disney World > Parks > Guide to MyMagic+
Guide to Disney's MyMagic+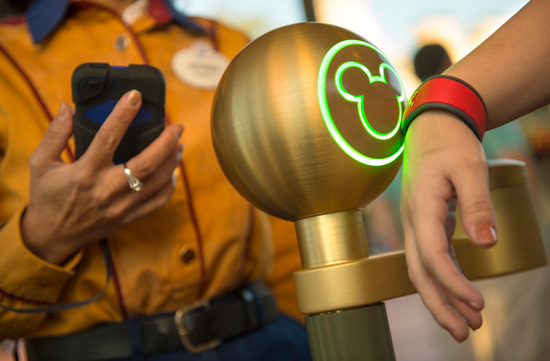 Jump to any of these topics:

What is MyMagic+?
Can You Tell Me More About Disney's 'NextGen' Technologies?
What About Privacy Issues?
How Does Disney's 'Family and Friends' Network Work?
How Does MyMagic+ Affect Online Check-in?
How Will MyMagic+ Change the Way I Plan Vacations or Tour Parks?
What's the Current Status of MyMagic+ - Who Gets What, When?
MyMagic+ Updates, News, and Developments
Latest Developments
Disney will soon begin testing "touch to pay" at Walt Disney World table service restaurants and select recreation activities and rentals. During last week in May, "touch to pay" will be tested at the Contemporary Resort's Wave restaurant and at outdoor recreation locations, such as boat rentals. To use the service, guests will touch their RFID Key to the World card to a Cast Member's mobile device. A pin number must be enter to complete the transaction. The system will also work with dining entitlements for those on the Disney Dining Plan.
We are also hearing that select cast members and their guests may soon be testing Magic Bands and other MyMagic+ features at Walt Disney World parks. For additional updates on MagicBands, click here.
This guide is updated frequently so check back often!

What is MyMagic+?
After three years of development and $1 billion in expenditures, Walt Disney World Resort has unveiled new technology tools that will allow guests to customize and personalize their Disney vacation experience like never before. Collectively, these "Next Generation" (NextGen) efforts compose MyMagic+ - a vacation management system that connects nearly all aspects of the guest experience. MyMagic+ is comprised of 3 main components.
• My Disney Experience, a new website and mobile application, will provide a one-stop shop for all things Walt Disney World during every phase of a guest's vacation. Guests may use My Disney Experience to get information on all Walt Disney World offerings, reserve dining and other experiences and make FastPass+ selections in advance. Some people like to plan every aspect of their Disney vacation in advance while others like to plan very little, letting their day unfold spontaneously. My Disney Experience gives guests the flexibility to plan as much or as little as they'd like to create the exact Disney experience they want. The My Itinerary section of the web site gives guests a daily view of their plans; here guests can choose to add plans such as resorts, dining ADRs, and parks or locations they plan to visit on a specific day. My Reservations contains a list of resort and dining reservations, including confirmation numbers. Guests can also use My Disney Experience system to connect with Family and Friends to coordinate plans and share photos. There is no charge to use the My Disney Experience system. Visit our Mobile Option page to learn more about the My Disney Experience mobile application.

• Disney FastPass+ service will allow guests to lock in some of their must-do attractions and experiences for each day of their trip - up to 60 days in advance for Magic Your Way ticket holders and Annual Passholders - through My Disney Experience. For the first time, guests will be able to reserve firework and parade viewing areas, shows, Disney character greetings, quick service restaurants and more before ever leaving home. Initially, guests will be able to choose a maximum of 3 FastPass+ experiences at one park per day. For guests who don't know where to start, Disney will recommend FastPicks – a set of three FastPass+ selections that serve as a starting point – and give guests the option to customize their selections. Once guests arrive, they can use their smart phones or park kiosks to spontaneously change their plans in the moment, even once the FastPass+ arrival window begins. Those with My Disney Experience mobile app loaded on their phones can even be notified in the event of an attraction closure (guests may opt out of notification). Over 60 rides, shows, parades, and meet & greets will be included in FastPass+. There is no charge to use the FastPast+ system. Visit our FastPass page to learn more about FastPass+.

• MagicBands, worn on the wrist, are all-­in-­one devices that connect all the vacation choices guests make online with My Disney Experience. Guests can use their radio frequency identification-equipped wrist bands to enter their Disney Resort hotel room, buy food and merchandise, and enter any theme parks and water parks for which they've purchased tickets. Plus, the MagicBand provides FastPass+ access to all the experiences selected in advance and serves as the connection to Disney's PhotoPass+ Service.

No personal information is stored on the bracelet. Rather, the bracelet contains a unique ID code that identifies guests in Disney's encrypted database. If the MagicBand is lost, guests will have the option to disable it through their My Disney Experience account using their smartphones or by reporting it to any Guest Services Cast Member. In fact, Disiney claims it will be very easy to replace a lost or malfunctioning MagicBand. Guests may choose or limit the amount of information shared when registering the MagicBand online.

Initially, guests staying at Walt Disney World resort hotels, Annual Passholders, and those who purchase PhotoPass+ packages will automatically receive a complimentary standard MagicBand. Guests staying in a hotel that is not located within the Walt Disney World Resort will be issued a special RF card instead of the MagicBand. A paid version of MagicBand will be available at a later time for guests staying off-property.

Standard MagicBands will be hypoallergenic; completely waterproof for use in water parks, showers, heavy rain and the washing machine; and be ventilated for comfort in high heat. MagicBands will come in single adjustable size with a removable layer, allowing the bracelet to be sized for younger guests. It you remove the outside layer, however, you cannot add the outside piece back on; thus, it's important to be sure that you want to shortened the band before you do so. The Mickey Mouse head on the MagicBand must come into contact with the Mickey Mouse symbol on the RFID reader for your MagicBand to be read. MagicBands are also expected to be reusable for future visits, although we are hearing the non-replaceable battery has only a 2-3 shelf-life. Additionally, using My Disney Experience app or website, guests will be able to customize their MagicBands with their names (printed on the underside of the band using up to 9 or 10 characters) and choose from 7 possible colors, including red, gray, blue, green, pink, orange and yellow. Click here to see how the MagicBand will arrive at your home after you book your vacation. Disney also plans to introduce collectible sets of MagicBand accessories and charms that park guest can purchase to make each wristband even more unique.

Disney is expected to use the following delivery schedule in regards to MagicBands. From booking until 10 days prior to check-in dates, guests may customize their MagicBands online and choose to have their bands sent to their homes or to their resorts where they may be picked up at the front desk upon check-in. Guests who elect to have their MagicBands sent to their home, will receive them no more than 30 days prior to their arrival dates. From 9 to 5 days prior to arrival, guests may still customize their MagicBands online but must then pick them up at their resorts. Guests who have less than 5 days prior to arrival or who do not wish to pre-customize their bands will receive a plain gray band at check-in. Guests who do not wish to wear the MagicBand can request instead, a RFID card similar to the current Key to the World card.
Guests at each of Walt Disney World's theme parks will be greeted by newly trained Guest Relations Cast Members positioned at park entrances with iPads or iPhones in hand, ready to help with any My Disney Experience-related questions or issues guests may have. Before, when a guest had a problem with a ticket, he was re-directed to Guest Relations. Now Guest Relations can resolve your issue on the spot. Additionally, as part of the new Mobile Lobby Experience, trained Guest Relations Cast Members using iPads are also now available in the lobbies of Disney resorts to aid new arrivals with check-in. Guest will be able to check-in quickly from curbside or from anywhere within the lobby area - without having to stand in lines. Guests should also watch for the new park maps at the four Disney theme parks, water parks, ESPN Wide World of Sports, and Downtown Disney. The maps have a look similar look to the 'My Disney Experience' apps and website with familiar icons and artwork.


Can You Tell Me More About Disney's Next-Gen Technologies?
Other aspects of MyMagic+ that have already rolled out at Walt Disney World are "touch to pay" machines, now located at most Disney merchandise stores, and "tap to enter" RFID scanners, positioned at the entrance to all 4 theme parks and both water parks that eliminate the use of turnstiles. Keyless hotel-room doors that require guests to simply touch their RF Device (Key to the World card or MagicBand) to an RFID reader to gain entry have been installed at many Disney-owned resorts (all guest rooms at Walt Disney Resort hotels will use RF technology by the end of 2013). Also, several new interactive ride queues, such as those at 'Haunted Mansion' and 'Under the Sea: The Voyage of The Little Mermaid' attractions, have been installed in the Magic Kingdom, and Disney has recently debuted an interactive queue for the Big Thunder Mountain Railroad ride. These queues already create a more immersive, personal experience for park guests. Down the road, these queues and others may interact with guests in much more sophisticated ways.
To facilitate the use of the My Disney Experience mobile app, Disney has installed complimentary WiFi at the theme parks, Downtown Disney and resort guests rooms and public areas. Disney also installed an outdoor seating area in the Magic Kingdom adjacent to the new Rapunzel restrooms that features 6 charging stations with 2 outlets each (concealed in tree stumps) to recharge mobile and electronic devices. USB outlets are said to be added in the future. There are also recharging stations in the FastPass tent in the Storybook Circus area of Fantasyland. Guests can expect to see more such charging stations at other parks in the near future. In short, Walt Disney World is preparing full steam ahead for the arrival of MyMagic+.
In the future, MagicBands may be encoded, at the guest's election, with all sorts of personal details allowing for more personalized interaction with Disney employees, characters or rides. For example, a guest's "favorite" character would "magically" know the guest's name before being told or announce the guest's birthday or anniversary. Rides and queues could use MagicBands to give guests a more personalized experience. For example, the Audio-Animatronic Buzz Lightyear in Buzz Lightyear Space Ranger Spin queue may some day in the not too distant future converse with guests on a first name basis or the ride itself may remember your previous scores. Rumors suggest there are plans currently in the works for the "it's a small world" attraction in the Magic Kingdom to say goodbye to guests personally after gathering their names off of their MagicBands. Another feature of MyMagic+ that will be available in the coming days, Disney FastPass+ Quick Service, will allow guests to select a quick service restaurants and order food up to 60 days prior to arrival. Or, imagine while standing in line for an attraction, using your smart phone to get a same-day time-window for a quick service restaurant, placing your order and paying for your food prior to arrival. And moving even farther into the future, imagine no lines at all, just plenty of entertainment and seating to accommodate parkgoers while they wait for their designated ride times. Read this story on Disney at Work to learn more about what might be in store in the distant future with Next-Gen Technologies.
In the meantime, here are some things Disney is or may currently be working on:
NextGen Story Makers: Installation has begun at Walt Disney World Resort for a new interactive adventure that would encompass all 4 theme parks and perhaps the entire resort. According to Disney at Work web site, 'Story Maker' (also being referred to as Memory Maker) will encompass a "host of still and video cameras" capable of capturing "photos and video, and then thematically weaving them into a variety of media outputs such as a flip book or a photo keepsake." New props at 'Muppet Vision 3-D' and the hallway of Rock 'n' Roller Coaster at Disney's Hollywood Studios and new signs at the exit of "it's a small world" ride in the Magic Kingdom "could" bring a whole new layer of interactivity to the ride experience. Using a recent patent called 'Storytelling Engine,' a guest's MagicBand could be used to track which attractions a guest has visited and based on the guest's pre-selected theme and a corresponding template's criteria, create a virtual scrapbook to be shared online with family and friends. The patent application provides one such example, titled 'I Conquered the Mountains,' which requires guests to visit Space Mountain, Big Thunder Mountain Railroad and Splash Mountain to complete the story. Guests may also be able to prompt a simple interactive moment when they wave their MagicBands in front of the new props. The system would read and connect the guest with their account on MyDisneyExperience, sending their video right into the app on their phone or to an email account. They could then share the experience with family and friends.
Autonomatronics: At Disney's first two D23 fan expos in Anaheim in 2009 and 2011, the company debuted Otto and Destini, "autonomatronic" characters. Cameras and sensors enable them to identify and react to facial expressions. Could this be the next generation of autonomatronics at Walt Disney World - interactive, robotic characters that can sense the world around them and perform in unexpected ways based on their interaction with people?
Interactive Scavenger Hunts: Guests can already play Sorcerers of the Magic Kingdom and Phineas & Ferb: Agent P's World Showcase Adventure. In the very near future, a pirate-themed version of these games will debut in the Magic Kingdom called "A Pirate's Adventure: Treasures of the Seven Seas". The new pirate interactive game will have its headquarters in Crow's Nest (the old Kodak store in Adventureland).


What About Privacy Issues?
On the flip side of the experience, parts of MyMagic+ will allow Disney for the first time to track guests' behavior during their vacations - many believe primarily for the purpose of maximizing guest spending. Did you purchase Disney collectibles during your vacation, such as trading pins or Vinylmation? Stop to greet Donald Duck while walking past Minnie Mouse? If you gave Disney permission to send you special offers during your stay via the My Vacations Notifications feature on the My Disney Experience website or mobile app, this information could be used to target real-time marketing ads on your cellphone by text or email, or to customize information you see while visiting Disney's web site in the future.
Guests must opt in to use the MyMagic+ service. Thus, guests worried about privacy concerns may choose not to participate in MyMagic+ or limit the information they choose to share. According to Disney's web site, the information required to use MyMagic+ is consistent with practices utilized by the hospitality and travel industries for guest registration, and in fact, guest staying staying at Walt Disney World resorts already provide the same information. Guests who participate in MyMagic+ need only provide basic contact information: name, email, address and date of birth. Guests would also provide the name and age of other members participating in the program. Any additional information provided would be at the guest's option. Another section of Disney's web site confirms that "by using My Disney Experience Website or the My Disney Experience Mobile Application [Disney] will collect information from you through [its] Site/App, and through your experience at the Resorts." In addition, a prepared comment from Disney affirms: "MyMagic+ is a completely optional program. Disney's privacy policies and practices are fully transparent, and guests can choose whether or not to participate in MyMagic+. In addition, guests control whether their personal information is used for promotional purposes and no data collected is ever used to market to children. MyMagic+ is designed to make [guests'] visit to Walt Disney World more personalized, seamless and customized than ever before."
Disney also may share information about your experiences at Walt Disney Parks and Resorts locations with other members of the Walt Disney Family of Companies, such as ABC, Baby Einstein, BabyZone, Club Penguin, ESPN, Hollywood Records, Kaboose, Marvel, Muppets, Pixar, Playdom, Tapulous, Touchstone and others. However, information about your specific Park Experience collected automatically through your use of the RF Device will not be shared with members of the Walt Disney Family of Companies unless you have elected that Disney do so.
Disney has said that the MagicBand is not GPS-based and does not enable collection of continuous location signals, but rather are detected by long-range RF readers. Guests who are uncomfortable with the MagicBand can still participate in MyMagic+ while visiting the parks by choosing a RF-enabled card instead. The card contains a short range chip whose location cannot be detected by the long-range readers stationed in the park. Disney also plans to provide the option for such guest to use the FastPass System by simply providing basic contact information (name & email address).
Radio-frequency identification aimed at travelers isn't new, however. Great Wolf Resorts has been using wrist bands since 2006 to eliminate the need for cash or room keys, and even to allow guests to transmit photos to Facebook over the course of their stay. Las Vegas has been using RFID chips in high-value casino chips that can be immediately render worthless if stolen. Data collection and targeted marketing is used by many smart phone applications these days and conducted by Google, Apple, and others. Walt Disney World guests should also see some benefits to Disney knowing what they do in the parks, such as more efficient managing of in-park traffic patterns, the deployment of additional entertainment as needed or the increase of an attraction's capacity upon demand.
United States Congressman Edward J.Markey of Massachuesetts, Co-Chairman of the Congressional Bi-partisan Privacy Caucus, sent a letter to Disney Chairman and CEO, Bob Iger, on January 24, 2013, requesting answers to a series of questions regarding privacy concerns over MyMagic+, how it relates to children, and Disney's plans to use MagicBands at its Walt Disney World Resort. You can read about the letter and the full text of Iger's response on our MyMagic+ supplemental page. You may also be interested in reading an interesting article by Theme Park Insider that explains that Markey/Iger fight isn't about Disney - it's about the future of RFID tracking.
At the present, it is unclear as to just how information will specifically be used when "opting in" to MyMagic+. Additional concerns center around how the park experience of the guest who opts out may differ from the guest who opts in. We know that guests will be able to gain admission to the park without having to register or provide any personal information all. But, will the "opt out" guest have to wait longer to ride popular rides, being relegated only to standby lines, or will he still have access to standard FastPass machines at the parks? Many of these questions remain unanswered at this time. Those interested in exploring the subject further can review the Disney Park Experience Terms and Conditions, My Disney Experience Frequently Asked Questions and Disney's Privacy Polices.


How Does Disney's 'Family and Friends' Network Work?
Guests can also use the My Disney Experience system to coordinate and make plans with family and friends and to share photos. The Family and Friends feature allows you to assign Experience benefits you've purchased to your "Friends" such as ticket entitlements and plan activities for them such as Disney FastPass+ selections and dining reservations. "Friends" will fall within either of two groups, "Managed" friends or "Connected" friends.
You can add "Managed" friends to your account and create a Site/App profile for them that you control. "Manage" friends do not have their own account or are ineligible for one such as guests under the age of 13. You are completely in control of your "Managed" friends profiles, information and whom they may connect with. You manage on their behalf. Anyone on your Disney experience reservations (such as a room, package or dining reservation) will automatically be listed in your account as a "Managed" friend.
You can also connect with friends who have their own Site/App profiles; these are "Connected" friends. Connected friends share itinerary and activity information and can book activities for one another, such as FastPass+ selections and dining reservations. If you want to allow others to make reservations for you, add them to your "Connected" friends. You may choose whether your "Connected" friends can see all of your activities or only activities that you have in common with them. In your Friends List, there is also a box that can be checked so one friend cannot see another friends information. If your "Connected" friends have selected activities for you, you may also choose not to participate in those activities. However, FastPass+ selections made for you by your Connected Friends will count against the number of FastPass+ selections you may hold, and are subject to modification restrictions and expiration rules. Thus, it appears that some care should be used when selecting your "Connected" friends. You can edit your "Friend List" at any time.


How Does MyMagic+ Affect Online Check-in?
Disney's Online Check-In service is a convenient option that starts your check-in process online from home and may reduce registration time upon arrival at your Disney Resort hotel. As part of Disney's recent MyMagic+ updates, Disney has made several changes and enhancements to the Online Check-in process. First, all Guests, no matter how their reservations were booked (i.e. directly through Disney or using a travel agency), will be required to log on to My Disney Experience to complete the Online Check-In process. This means, travel agents will no longer able to complete the Online Check-In process on behalf of a client and each guests must sign into their Disney account with their personal I.D. and password if they wish to use the optional Online Check-In. Additionally, the service is now available up to 60 days in advance rather than the previous 10 days. Guests will also now have the option to prioritize room ready upon arrival over room requests. Guests who select this option should be aware that it is a non-guaranteed request. Lastly, guests who will be staying at a resort where 'touch to pay' functionality is available will have the opportunity to create a Personal Identification Number (PIN) during the Online Check-in process.
If you add a credit card to your profile on My Disney Experience during the Online Check-in process, everyone on your reservation ages 10 and over will have charging privileges during your vacation. To change charging privileges assigned to each member of your party, you will need to visit the front desk of your resort after your arrival.
The PIN chosen during the online check-in process will be required when using the new MagicBand bracelet's touch-to-pay capability. Guests will touch their bracelet (or RF-enabled card) to the touch point on the payment device and if the purchase is over $50, and provide the unique PIN provided at check-in to complete the purchase (note we've also heard that the PIN will be required for all purchases regardless of the amount). Locations that allow the inclusion of an optional tip, such as restaurants, will require that the PIN be entered for all purchases.


How Will MyMagic+ Change the Way I Plan Vacations or Tour Parks?
One of the Goals of Disney's MyMagic+ is to reduce the amount of time park guests must spend waiting in lines and to enhance the user's park experience. The less time guests spend in the queue lines, the more time they are likely to spend shopping, dining and doing other activities in the parks. Disney's touch-to-pay systems may stimulate more guest impulse buying. In the future, MyMagic+ may generate one or more schedules, based on a guests' pre-selected experiences and resort areas, designed to optimize the guests' route through the theme park and placing them at desired locations during meal- or down-times. Those who wish to explore the subject further should read our supplement regarding Disney's patents application for a "Guest Experience Management System and Method" relating to MyMagic+. No one can say exactly in what ways the user's park experience may change, but as with anything else, guests can expect some practical and enchanting pros, as well as some not-so-magical cons. Here are a few topics recently discussed by various Disney fandoms that may loom on the MyMagic+ horizon. Information in this section is largely speculation.
The Convenience Debate: First, guests will spend more time planning and setting up their vacations prior to leaving home than ever before. Many think perhaps too much and feel Walt Disney World parks are slowly losing their spontaneity. Those who prefer not to spend so much time planing fear that just like Walt Disney World table service Restaurants are largely unavailable on a walk up basis to those who have not made Advance Dining Reservations, access to popular rides and attractions may soon become even more limited to those lacking FastPass+ reservations. Once guests using MyMagic+ arrive at Walt Disney World Resort, however, for the most part, they will be able to leave their wallets securely stored in their room safes (or wear it on their wrist so to speak). No more scratchy lanyards around guests' necks or fanny packs loaded with 'Key to the World' cards or park tickets, PhotoPass cards, reservation lists and itineraries. RF-enabled wristbands or cards will become guests entry ticket, room key, store FastPass+ selections and Dining Plan entitlements, and can be used to pay for dining and merchandise. Cash, dining credits, FastPasses and park ticket days are electronically deducted as they are use throughout the Walt Disney World Resort. If additional identification is needed, Disney can use stored biometric information or require the use of a personal PIN pre-selected by the guests during the Online Check-in process. Guests will be able to access their itineraries, reservations, and other important information through their smart phones and change selections on the fly. Plus, anyone who's witnessed how RFID reduces congestion at highway toll booths via speed lanes will appreciate its efficiency at park concession stands. Those who don't have smart phones or similar devices may find themselves standing in new kiosk lines, however, just to make adjustments to their existing plans.
FastPass+ Quick Service: While Disney has made very few changes to booking online Advance Dining Reservations (ADRs) with recent enhancements, it has mentioned one change guests can expect in the coming days. Disney FastPass+ Quick Service, which will allow guests to select a quick service restaurants and order food up to 60 days prior to arrival, should be available soon. Disney's FastPass+ Quick Service should also allow guests standing in line for a ride to get a same-day time-window for an available quick service restaurants and order food prior to arrival, using only their smart phones. Speaking of ADRs, some Disney-specialized travel agencies make online reservations for their guests for table service restaurants, character meals and dinner shows as part of their services. Travel agents will still be able to provide these services for guests using Disney's new My Disney Experience web site enhancements, however, each guests will need to make sure to add their agent's email address to their "Connected" friends list to grant authorization.
Dining-FastPass Conflicts: For the first time, Walt Disney World guests will be able to specify ride times for their most important "must do" attractions and experiences up to 60 days in advance. If dining reservations have already been made, guests will be able to choose FastPass times that won't conflicted with their dining reservations. Under the old FastPass system, ride time return windows were based on how many FastPasses were distributed on any given day, making return times for popular attractions basically a crap shoot. One could easily find themselves with a return window for an attraction such as Soarin' that conflicted with an evening dinner reservation at Epcot - even if the FastPass was obtained very early in the morning. With careful planning, those so inclined, should be able to eliminate the possibility of such conflicts, with only one small caveat. While we assume it wouldn't happen often, Disney has the right to re-assign FastPass+ selectons for you in case of unplanned attraction down time.
FastPass Machines vs. FastPass+: While it is unclear whether the new FastPass+ service will eliminate the existing park FastPass machines entirely, the popular thinking seems to be that once FassPass+ is completely phased in and operating as intended, the existing FastPass machines will be eliminated in favor of the new paperless system. That being said, evidence seems to point to the fact that parkgoers will only be able to get one FastPass for any specific attraction per day (i.e. you will not be able to get two FastPasses for Splash Mountain in a single day). Thus, those with a favorite attraction wishing to ride multiple times, will need to hit the standby line for additional rides. For those who don't schedule attractions in advance, it is assumed that any remaining FastPasses for the day, will be dispensed via mobile device or park kiosks through guests' My Disney Experience accounts. Guests using FastPass+ will also receive a limited number of FastPasses per day, speculation suggests 3 per day for regular guests and 80 per year (20 per quarter) for annual passholders; this info has not been confirmed, however. Although Disney maintains that the new FastPass+ System will remain free, several sources are convinced that parkgoers will eventually see 'FastPass+ extra packages' or 'FastPass+ on demand' for a fee.
Rope Drop and Morning Extra Magic Hours: Pre-arrival FastPass+ selections could also spell the end of the long-standing conventional wisdom that dictates guests must arrive at parks early in order to ensure riding all of their "must do" attractions. In the future, resort guests may find better uses for their early morning hours than selecting the day's park based on its morning Extra Magic Hours schedule or waiting patiently with coffees in hand for opening rope drop and the mad scramble for popular FastPass machines. For example, the new FastPass+ system may allow more park guests (who have already secured their FastPasses) to spend their mornings over a leisurely breakfast at some out-of-the way resort restaurants, which offer bountiful breakfast choices (Boma at Animal Kingdom Lodge comes to mind). Breakfast is almost always cheaper than lunch or dinner, and having a large leisurely breakfast may become the new best way to save on Disney Dining when paying by cash or getting the most value from your Disney Dining Plan.
Longer Standby Lines at Less Popular Attractions: Some of Disney's most popular rides and attractions, such as Toy Story Mania at Disney's Hollywood Studios park, have limited capacity. FastPasses go quickly and standby lines can be long throughout the entire day. It simply would not be possible for Disney to give out enough Fastpasses to accommodate everyone who would like to ride Toy Story Mania in a single day. With Disney's new FastPass+ system, Disney will be offering its FastPasses in tiers. Guests will be asked to select their FastPasses from several levels of FastPasses, ranging from popular rides to not so popular rides and attractions. This scheme would of course allow everyone to experience at least one of Disney's best park rides using the new system. It will also mean that rides that formerly moved quickly without offering any FastPass at all, may now offer them, and park guests will be motivated into selecting them. Consider if Disney begins offering FastPass+ for "it's a small world", which typically has very short wait times. Those without a FastPass must now wait in a standby line where none existed before. Since those with FastPasses are served first, those in the standby line are likely to have much longer waits for the attraction than they experienced prior to FastPass+. Currently, there is no information on which rides and attractions will ultimately offer FastPass+ selections.
Park Hopping: Disney's new FastPass+ system may make it difficult for guests using the new system to effectively park hop. Under Disney's stated rules for the new system, guests may only make FastPass+ selections for one park per day. If a guest wishes to change parks at the last minute, he or she can not make selections for the new park without first canceling the previous FastPass selections for that day, at which point FastPass+ selections for the new park may be scant at best. Additionally, if the day's allotment of FastPass+ selections was used up prior to switching parks, guests are just plain out of luck making new ones. While it is unclear whether the new FastPass+ service will eliminate the existing park FastPass machines entirely (or whether guests may use them in conjunction with the new FastPass+ system), most believe the existing machines will eventually be eliminated. If they are, Park hopping may become a far less desirable ticket option than it once was. Of course, Disney tends to catch on quickly and additional FastPass+ selections for a second park in one day, may eventually become a "new" park hopping benefit. Only time will tell where MyMagic+ will take us.
'NO Expiration' Tickets: As of January 2013, Disney World has altered the way it sells the "NO Expiration" option for Magic Your Way tickets. The option will no longer be available through Disney online. The "NO Expiration" option is also no longer listed on theme park ticket signage. The "NO Expiration" option continues to be available at theme park front gates or by calling Disney directly to purchase. For the time being, the option remains available to travel agents through their portal into the WDW system. Walt Disney World Tickets with the NO Expiration option are also available through our discounted ticket partner, Undercover Tourist. Disney may be attempting to phase out the option as it moves toward the use of the MyMagic, system. Tickets that never expire would present Disney with some challenges - either leaving those possessing them out of the MyMagic+/MagicBand loop entirely or requiring Disney to keep guests' information in the system indefinitely.


What's the Current Status of MyMagic+ - Who Gets What, When?
Disney will be testing, adjusting and adding features and improvements to MyMagic+ and My Disney Experience based on guests feedback over the coming days, months and years. Any guest, regardless of how they booked their vacation (i.e. directly through Disney or through a travel agency or those staying off-site), will be able to participate in the MyMagic+ program. Initially, MyMagic+ will be available only to guests staying at Walt Disney World Resort hotels and Annual Passholder, and will be rolled out over the the coming months. If all goes as planned, MyMagic+ will go live as currently outlined for guests staying at Disney resorts by this spring. MyMagic+ is expected to be available to all Walt Disney World Resort guests, regardless of whether they are staying at a non-Disney hotel, by the end of 2013.
The standard MagicBand will be complimentary only for Walt Disney World hotel guests, Annual Passholders (whose passes provide admission to the Magic Kingdom, Epcot, Disney's Hollywood Studios or Animal Kingdom), and guests who purchase other specific products such as a PhotoPass+ package. Guests who stay at non-Disney hotels will receive a ticket with features of touch to enter the park, touch to redeem FastPass+ and touch to pay. These guests can participate in My Disney Experience and will, at some point, be able to purchase a MagicBand for an additional fee if they wish.
Select Guests at Disney's Animal Kingdom Lodge recently had the opportunity to try out the new "Magic Bands" in April across the Walt Disney World Resort. Test participants worn and used MagicBands to enter their hotel rooms, Disney Parks, as a form of payment, and for FastPass+ redemption. Annual Passholders have also been told that they will be among the first to receive information and to use the new MagicBands.
Overall, MyMagic+ seems to be falling behind the schedule that was somewhat outline when the new vacation management system was first announced by Disney. According to Jim Hill Media, a cascade of changing plans in the Magic Kingdom may be, at least in part, responsible. Visit the Jim Hill Media website to read the entire story. Meanwhile, over at Disney's Hollywood Studios, a whole new set of problems may have developed. According to Internet fan buzz, the wireless microphones that were used by the Pixar Pals Countdown to Fun parade and Disney Channel Rocks performers may have been interfering with the RFID card readers at the front of the parks. Both the parade and show were canceled with very little notice and no replacements announced, an unusual move for Disney. Rumors are that the Mickey's Jammin' Jungle Parade at Animal Kingdom is presenting similar problems and may eventually be terminated, possibly by the end of this October 2013. Since Disney is currently offering paper and plastic tickets encoded with RFID chips to enter its parks, problems could warrantDisney's seemingly drastic action with several of its parades. Additionally, some guests who recently did beta testing for MyMagic+ are reporting that the My Disney Experience website and mobile app failed to sync their various reservations together. We're also hearing that Disney is currently experiencing problems with their new complimentary WiFi for guests in the park, and that they are having to periodically shut the system down to perform upgades. With no official comments from Disney concerning these issues, at this point many of these problems and the delay of MyMagic+ remains speculation.


MyMagic+ Updates, News, and Developments
FastPass+ Updates: Late April to early May, Disney tested FastPass in the Magic Kingdom for the 'Celebrate A Dream Come True Parade' and the 'Main Street Electrical Parade.' FastPass tickets will be distributed randomly to park guests. The parade FastPass viewing location will be located in the area around Town Square on Main Street, U.S.A. Holding a parade FastPass ticket will not impact Guests' ability to obtain a FastPass ticket for another attraction. Previously, Disney tested Fantastmic! at Disney's Hollywood Studios with FastPass. Eventually, most parades, fireworks, and shows are expected to be included in the new FastPass+ system.
My Disney Experience Updates:
• Currently, the FastPass+ features of My Magic+ are not active and cannot be added via the My Disney Experience web site or mobile app.
• Unless you have purchased a vacation package, currently, there does not appear to be a way to link tickets purchased separately from the room via the My Disney Experience web site.
• Currently, Disney's online dining reservation system seems to have several glitches. First, for guests staying at Walt Disney World Resorts, the 180+10 days is not working. If you are staying at a Disney resort and want to book a restaurant on the first day it becomes available to you, you will need to call Disney's dining line at 407-WDW-DINE. There also seems to be a glitch that sometimes charges guests for dining reservations when the reservation should be merely a credit card guarantee. This will clearly show with a dollar amount instead of credit card guarantee. If you are on the dining plan, reservations should show as a credit card guarantee in most circumstances for reservations that require prepayment. This has been happening mainly with Cinderella's Royal Table bookings on the Dining Plan. IF this happens to you we advise you to remove the reservation from your cart as getting the refund processed can be very time consuming and may require you to give up that reservation. Once you have removed the item from your cart, you can checkout with any other reservations in your cart. Then call the Disney dining line at 407-WDW-DINE to get that particular reservation. Make sure to keep your eye on any ADR that should be a credit card guarantee, especially if you are on the Disney Dining Plan.
Annual Passholder Update:
• Beginning March 20, 2013, Walt Disney World guests who purchase or renew their Annual Passes will be issued one of the new RFID passes at any ticket window. The new passes can be used to enter the park using the 'Touch to Enter' system, as well as used in the existing FASTPASS machines. The new sturdier plastic passes will have a green background and will include either an orange strip or black stripe to indicate whether the pass includes parking privileges - an orange stripe indicates that it does and a black stripe indicates that parking is not included. Passholders simply touch their passes against the glowing circle and place a finger on the security reader to gain park access. According to some cast members, these new RFID-enabled passes will also work with the new FastPass+ system once it becomes available and will soon work with PhotoPass+, giving passholders the ability to merely touch their cards against PhotoPass readers. We're also hearing that Passholders have been trying out their new cards at the Test Track attraction at Epcot in place of the cards used in the design studio portion of the ride. It will not be possible, however, to link a credit card to the new AP cards, so passholders will have to wait for MagicBands to use Disney's touch-to-pay system. The MagicBands are expected to be mailed to passholders within the next few months.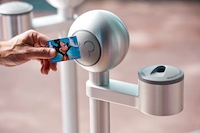 • Between March 20 and May 19, 2013, existing passholders can convert their old-style annual passes to RFID passes by going to the Odyssey Center in Epcot during regular park hours. A valid annual pass and photo ID will be required to convert the existing pass. Passholders may also have their choice of the following Disney characters on the front of their passes: Mickey, Minnie, Goofy and Donald Duck. After May 19, other ways will be made available to exchange existing annual passes. Premier Passport holders, those with an annual passes that includes admission to both Walt Disney World and Disneyland resorts, are also able to convert those passports at the Odyssey Center. Water park or Disney Quest annual passes cannot be converted at the Odyssey Center and must be converted at the venue or park for which they are issued. Additional information is available on Disney's MyMagic+ Passholder web page.
• For those who choose not to convert their paper ticket, existing passes will still be accepted as valid forms of park entry, but these passholders must use one of the few turnstiles that have not been converted to the 'Touch to Enter' system to gain access to the parks.
MagicBand and the Law Update: After Disney lobbied the Florida Legislature to rewrite the state's ticket laws to cover its new MagicBands, a Senate committee approved a bill on April 8, 2013, that addressed several of Disney's concerns. First, Disney wanted to see the definition of "ticket" go beyond the conventional printed media. The new bill broadens the legal definition of park tickets to include new technologies. The new bill also increases fines on people who fraudulently re-sell theme-park passes from $500 to a maximum of $10,000. Repeat violations will also become a felony, instead of a misdemeanor. Currently, it is illegal to resell or transfer a multiuse theme-park pass to someone else after it has been used at least once — but only as long as a phrase such as nontransferable; must be used by the same person on all days is printed somewhere on the pass. Disney hopes that eventually, it be illegal to resell any such pass unless the ticket or venue owner's website clearly specifies the pass may be used by more than one person. That's because it will be unsightly to print warnings on it's new MagicBands which Disney hopes to turn into collectible souvenirs. Some sports fans and activist groups, however, say such a measure would go too far and would unfairly impede consumers from reselling tickets to football games, concerts and other events. The Senate committee has said, however, that the focus this year's legislation was solely on combating theme-park ticket fraud and that so late into the session, the committee simply did not have time to sort through it all. Read more of the story in the Orlando Sentinel, here and here.
RFID Tickets Update: As of February 1, 2013, all single-day and multi-day tickets purchased at Walt Disney World theme parks are enabled with the new RFID chip. The sturdy plastic tickets will allow guests to use the new main entrance touch points and the traditional turnstiles as well, however, the new turnstiles with the Mickey symbol RFID readers are much quicker and can accommodate four guests at a time. The new tickets will continue work with the existing FASTPASS machines. Also, those with non-expiring tickets, or paper tickets with days and/or "Water Park Fun and More" options left over can exchange them in at any Guest Relations window for a new plastic ticket with the RFID technology embedded. RFID tickets and cards may also be scan from inside of a plastic holder such as those that clip on lanyards. Just be aware that when several RFID cards are contained in the same holder, such as a Key to the World card and the new RFID annual pass, the sensors will pick up both chips and can not tell which is which.
'Tap to Enter' Update: Beginning May 1, Epcot opened new 'Tap to Enter' turnstiles at the International Gateway. Epcot's entrance at the back of the park is the last location to receive the new RFID enabled turnstiles. All Disney theme parks and water parks are now equipped with 'Tap to Enter' technology at the entrances. However, paperwork has been filed to possibly add additional 'Tap to Enter' turnstiles to Animal Kingdom park and Blizzard Beach. Walt Disney World's Next-Gen turnstiles are available to Resort guests and all other guests with RF-enabled tickets, including tickets sold at park entrances.
'Touch to Pay' Update: Disney will soon begin testing "touch to pay" at Walt Disney World table service restaurants and select recreation activities and rentals. During last week in May 2013, "touch to pay" will be tested at the Contemporary Resort's Wave restaurant and at outdoor recreation locations, such as boat rentals. To use the service, guests will touch their RFID Key to the World card to a Cast Member's mobile device. A pin number must be enter to complete the transaction. The system will also work with dining entitlements for those on the Disney Dining Plan.
MyMagic+ 'Touch to Pay' system is available at the following locations: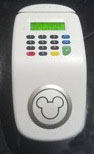 Epcot
Magic Kingdom
Disney's Hollywood Studios
Disney's Animal Kingdom
Downtown Disney
Winter Summerland Mini Golf
Disney's Fantasia Gardens Miniature Golf Course
Typhoon Lagoon
ESPN Wide World of Sports
Disney's Art of Animation Resort
Disney's Pop Century Resort
Disney's Port Orleans Resort
Disney's Caribbean Beach Resort
Disney's Coronado Springs Resort
Disney's Animal Kingdom Lodge
Disney's Boardwalk Resort
Disney's Contemporary Resort
Disney's Grand Floridian Resort
Disney's Old Key West Resort
Disney's Saratoga Springs Resort
Disney's Wilderness Lodge
Disney's Yacht & Beach Club Resort
'Touch to Pay' is not available for laundry, valet and arcade locations in resorts.
At this time, only guests staying at a Walt Disney World Resort hotel that has been activated (listed above) can utilize the touch to pay functionality. A PIN is required for purchases of $50 or more, except for locations with a tip line; a PIN is required for all purchases at these locations (note we also hearing that the PIN will be required for all purchases regardless of the amount). Guests staying at a Walt Disney World Resort hotel that has been activated with touch to pay functionality will have the opportunity to set up a PIN during the check-in process or through a modification to the existing Online Check-In Service. Guests with RF-enabled Key to the World cards will then have the ability to make purchases using this payment process wherever a new payment device is available. Photo ID will be necessary, however to make purchases for alcohol and tobacco or to obtain Annual Passholder or Disney Vacation Club member discounts since the RF-enabled Key to the World cards do not have any identification information. Lost cards should be reported at the Front Desk or Guest Relations and will then be deactivated immediately. Guests will also have the option to bypass 'Touch to Pay' devices and use cash or credit cards when paying for transactions.

Follow this discussion on the MFL Boards
Updated March 21, 2013