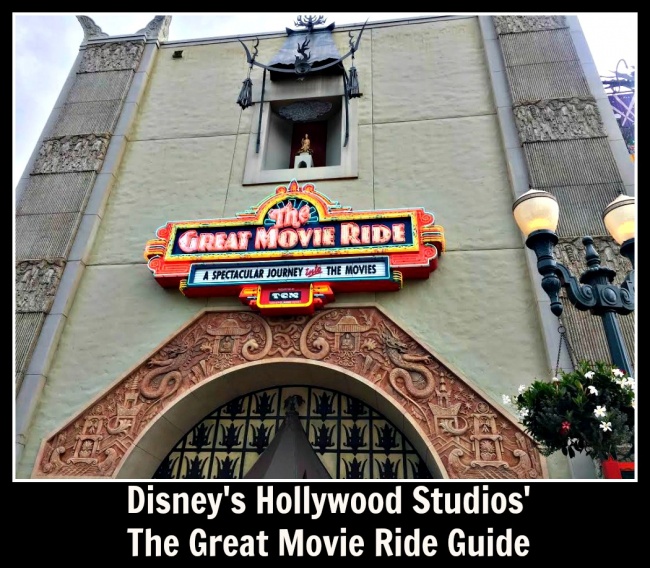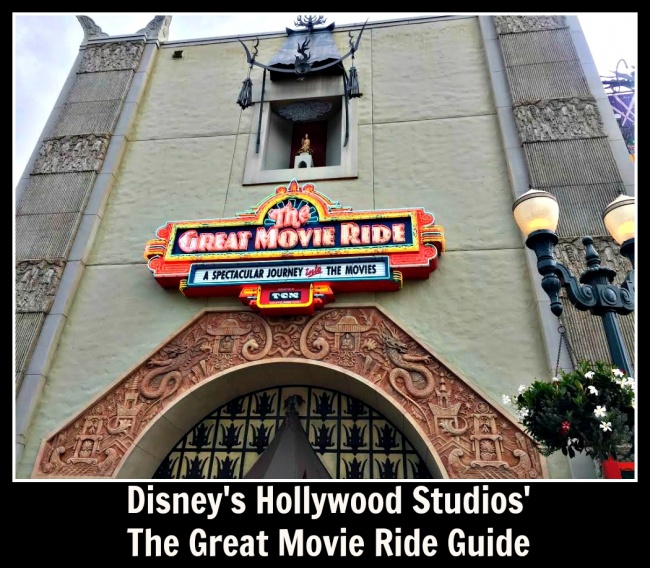 Become part of classic movie scenes on this Disney's Hollywood Studios mainstay, The Great Movie Ride is located in an iconic replica of TCL Chinese Theatre.
On July 15, 2017, Disney announced that The Great Movie Ride would be closing. The attraction permanently closed on August 13, 2017 to prepare for a new attraction, "Mickey and Minnie's Runaway Railway."
Ride Information  Restrictions  Location  Fun Facts  Top 5 Tips
The Great Movie Ride Ride Information
Opening Day: May 1, 1989
Type of Ride: Tram tour through classic movies
Age Recommendation: Older children and adults
Duration of Ride: About 20 minutes
Typical Queue Time: Moderate to long; typically peaks at about 40 minutes
Single Rider Line: No
Chicken Exit Available: No
Baby Swap Available: No
Type of Vehicle: Tram
Type of Restraint: None
Attraction Open During Early Theme Park Entry: Yes. See our Early Theme Park Entry page for more information.
Ride Photo Available For Purchase: No

Planning a Walt Disney World Vacation?
For a Free no-obligation quote, contact our sponsor
The Magic For Less Travel
. Services are provided free of charge and their expert planning advice will help you make the most of your vacation time and money.
The Great Movie Ride Ride Restrictions
Height Requirements: None
Flash Photography or Video Allowed: No
The Great Movie Ride Location
Shopping: Assorted goods and souvenirs can be purchased among the various shops, including "Mickey's of Hollywood" and "Keystone Clothiers," along Hollywood Boulevard.
Dining/Refreshment: Across the courtyard from The Great Movie Ride, lunch and dinner are served in an upscale, old time Hollywood setting at Hollywood Brown Derby. The house specialties at Hollywood Brown Derby are the Cobb Salad and the Grapefruit Cake, the latter made with yellow cake and grapefruit icing. Other options on the expansive menu include crab cakes, pork tenderloin, salmon, lamb, beef, and a noodle bowl.
Restroom: Facilities convenient to The Great Movie Ride are located at the adjacent Hyperion Theater.
Smoking Location: Smoking is permitted in designated smoking areas only. Disney's Hollywood Studios smoking areas can be found on our Walt Disney World Designated Smoking Areas page.
Ride Through Video
The Great Movie Ride Fun Facts
Did you know?
With Disney's Hollywood Studios moving away from its original concept as a working movie studio, The Great Movie Ride is the only attraction remaining from the park's opening day, May 1, 1989. Indiana Jones Epic Stunt Spectacular! and the original "Star Tours" debuted later in 1989.
Before former Disney CEO Michael Eisner decided to build an entire movie-based theme park in the mid-1980s, The Great Movie Ride was conceived for an entertainment pavilion in Epcot's Future World.
The Great Movie Ride is housed in a replica of Hollywood's famed TCL Chinese Theatre at the end of the park's Hollywood Boulevard. From 2001, the celebration of Walt Disney's one-hundredth birthday, through 2015, the building's façade was blocked by a large Sorcerer Mickey's Hat, which served as the park's icon.
In 2015, the Turner Classic Movies (TCM) television station began sponsoring The Great Movie Ride.  New movie posters were added to the queue, and commentary by TCM's Robert Osborne was incorporated through a new preshow movie and on-ride audio. The 45-minute preshow video examines various film genres, such as adventure, science fiction, gangster, westerns, and musicals.
As part of its contract with Disney, TCM has aired periodic vintage Disney programming nights, primarily hosted by Leonard Maltin, since December 21, 2014.
The Great Movie Ride was previously sponsored by Coca Cola from opening day until 1998.
Before the TCM partnership commenced, The Great Movie Ride's preshow video consisted of a twenty-minute loop of trailers.
The Great Movie Ride occurs on a tram led by a live Cast Member, a rarity nowadays among Walt Disney World attractions. Epcot's Living with the Land substituted prerecorded audio for its live cast members in 2006, and the "Studios Backlot  Tour," an opening day attraction at Disney's Hollywood Studios that permanently closed in 2014, received a similar alteration in 2008.
On The Great Movie Ride, guests travel through elaborate dioramas depicting unforgettable scenes from classic movies, including Alien (1979), Casablanca (1942), Fantasia (1940), Footlight Parade (1933), Mary Poppins (1964), Raiders of the Lost Ark (1981), Singin' in the Rain (1952), Tarzan the Ape Man (1932), The Public Enemy (1931), and The Wizard of Oz (1939). Music, elaborate props, animatronics, and live actors complement the action. The animatronic characters include Gene Kelly, Julie Andrews, Clint Eastwood, an alien, Tarzan, Jane, and the Wicked Witch of the West.
Guests will encounter one of two "trouble" scenes during The Great Movie ride. The more common rendition commences in The Public Enemy scene, where the trams endure an "unpleasant" interaction with gangsters from the movie. A faux shootout occurs, and one of the gangsters "steals" the tram for a few scenes. Trams that bypass this encounter will witness a bank robbery in the adjacent western movie room.
The Casablanca scene includes the front half of a Lockheed Electra 12A airplane. The back half of the plane can be seen on the Magic Kingdom's Jungle Cruise. Ironically, by virtue of the Tarzan the Ape Man scene, a jungle is also incorporated in The Great Movie Ride.
The Great Movie Ride culminates with a video montage featuring notable scenes from a plethora of movies, including Frozen (2013), The Godfather (1972), Good Morning, Vietnam (1987), Lady and the Tramp (1955), Pretty Woman (1990), Tangled (2010), The Terminator (1984), and Toy Story (1995).
Of the movies depicted in the ride proper, only Fantasia and Mary Poppins were Disney productions.
Programs, tickets, and other momentos related to Mary Poppins and The Jungle Book (1967), both of which premiered at the real TCL Chinese Theatre, are displayed in windows on the side of the building.
Celebrity handprints, including those of Chevy Chase, Dick Clark, David Copperfield, Macaulay Culkin, Harrison Ford, Michael J. Fox, Annette Funicello, Bob Hope, Samuel L. Jackson, Billy Joel, George Lucas, Steve Martin, Bette Midler, Mary Tyler Moore, Rick Moranis, Pat Morita, Mickey and Minnie Mouse, Maureen O'Sullivan, Dick Van Dyke, and Robin Williams, are embedded in cement outside The Great Movie Ride.
Hidden Mickeys:
Mickey and Donald Duck can be seen among hieroglyphics in the Raiders of the Lost Ark room.
Sponsored Ad: Learn more about Hidden Mickey details and location throughout Walt Disney World in A Field Guide to Walt Disney World's Best Kept Secrets
.
Top 5 Tips for The Great Movie Ride
Watch some of the highlighted movies before your trip such as to better appreciate this attraction, though keep in mind that many are not suitable for children.
Prepare children for the robbery scenes. Adults will realize that the action is part of the attraction, but children might be unsure.
Take some photographs of the exhibits outside the theater.
Be prepared to have some classic music, such as "Raiders March," "Chim Chim Cher-ee," and "Ding-Dong! The Witch Is Dead," stuck in your head for a while after leaving the attraction.