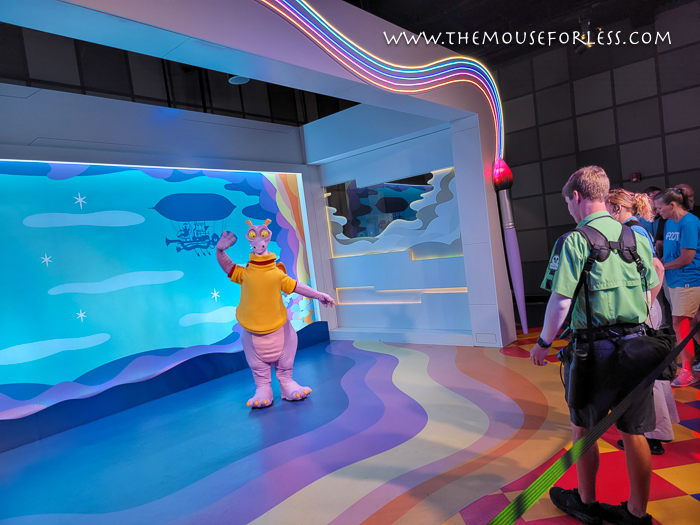 With guests who use Memory Maker, the whole family can be included in the picture and photos can be accessed digitally! Guests will be able to prepay for up to 30 days worth of unlimited photos ahead of time. With this service, guests are able to get not only all of their PhotoPass photos, but they'll also get any attraction and dining photos that are taken at the Walt Disney World Resort. And get this…the photos are all available to download digitally. Forget about having to purchase each photo individually—with Memory Maker, you can get digital copies of them all. As an added bonus, Memory Maker can be purchased in advance of your trip at a savings, either separately OR as part of a Disney Vacation Package.
Photopass     Memory Maker     Locations
What is Disney PhotoPass?
Disney PhotoPass photographically captures your magical experiences throughout your Disney vacation. It is a completely complementary service that allows guests to catch those special vacation moments they want to remember for a lifetime.
First, you'll need to locate a PhotoPass Photographer. They are pretty easy to spot, as they will be carrying professional camera equipment and usually can be found wearing a bright green shirt with blue stripes on the sleeves (on Main Street look for blue and white pinstripe shirts). Guests will be able to find them throughout Walt Disney World Resort's four theme parks, water parks, Disney Spring, at the Bibbidi Bobbidi Boutique, as well as a few other locations. PhotoPass photographers are also located at both Disneyland parks.
Guests will have a couple of options available to them when they get their photos taken. One option will be that guests can use their MagicBand, MagicBand+, Disney Magic Mobile digital pass, or admission card. The Disney PhotoPass photographer will simply scan the band, card, or device and your photos will be linked to your account. Another option is that guests will be given a PhotoPass card. This plastic card is free will include a unique 16 digit barcode. The PhotoPass photographer will scan that each time they take your photo and then hand it to you. Any time you get your photo taken by a Disney's PhotoPass photographer, you will need to scan one of these options.
With Disney's PhotoPass, you are under no financial obligation to purchase the photos the photographers take. Even if you don't purchase any photos after your vacation, you can still share them online with friends and family for up to 30 days.
If you receive a PhotoPass card, make sure to keep it card safe and accessible at all times during your stay because you will need to present your card to the Disney Photographer each time a photo is taken.

Planning a Walt Disney World Vacation?
For a Free no-obligation quote, contact our sponsor
The Magic For Less Travel
. Services are provided free of charge and their expert planning advice will help you make the most of your vacation time and money.
Magic Shots
Wanting a little more than just a family photo? Ask your photographer about Magic Shots and have one of your Disney favorites join the picture! Magic Shots are available throughout Disney's theme parks and resorts. You can add memorable characters to your photo like Tinker Bell and Stitch, or sweet treats such as giant ice cream cones!
There are also a few Magic Shots taken with special cameras at specific locations. The first of these are the "Tiny World" Magic Shots, which capture your group with a 360-degree camera. These shots can typically be found near the entrance of EPCOT and near the Tree of Life in Disney's Animal Kingdom. The other special camera takes a "Super Zoom" Magic Shot, which will start really far away and then cut close on your group. These shots can be found near the Hub in front of Cinderella Castle at the Magic Kingdom, in front of the Millennium Falcon in Disney's Hollywood Studios, and behind the theater seating across from Expedition Everest in Disney's Animal Kingdom.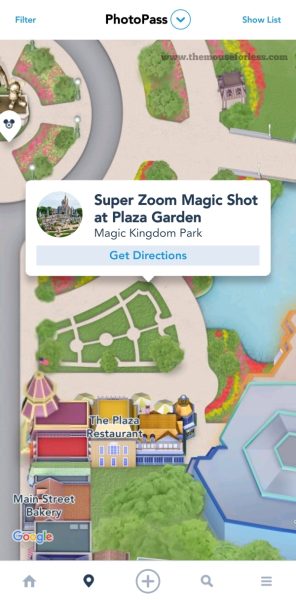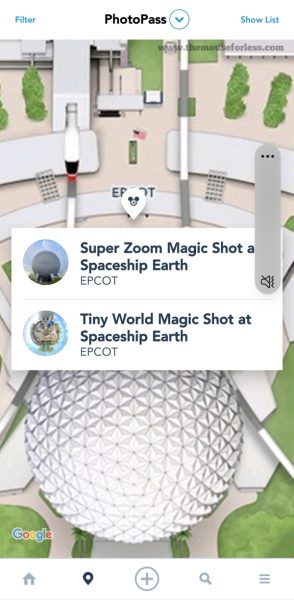 In the My Disney Experience App, you can go to the map and then select "PhotoPass" to locate specific locations of Magic Shots or other PhotoPass photographers.
Magic Shots are unlimited, though you'll want to keep them all! Disney's PhotoPass Memory Maker is a great way to go to get the best deal.
Memory Maker
Memory Maker allows you to capture more memories than ever before and preserves those special moments that happen while you are on vacation for you. Utilizing Memory Maker will give you the ability to relax and simply enjoy the fun of being on vacation with your family and friends.
Purchasing Memory Maker will allow guests to collect, view, download, and share all of their Walt Disney World vacation photos that are linked to My Disney Experience. Guests who purchase Memory Maker will be able to enjoy unlimited downloads of digital photos that were taken during their stay at the Walt Disney World Resort, including attraction photos and those taken by PhotoPass Photographers for them and up to 25 linked friends and family members. You can easily relive all your memories, as well as have the ability to share them with family and friends.
The pre-purchase cost of the Memory Maker is $185 – a savings of $25. (Purchasing the new service at select merchandise locations around Walt Disney World will cost $210.) Once Memory Maker is purchased, you will be able to obtain any photos taken by PhotoPass Photographers, as well as some candid shots, dining location photos, and attraction photos.
PLUS, there is now a Memory Maker One Day product. For $75, this offers the benefits of the Memory Maker for just one day of your visit. This product is available for purchase only through the My Disney Experience mobile app. Memory Maker One Day can be purchased during or after your vacation. It can also only be purchased if there are Disney PhotoPass photos present in your account.
Additionally, Annual Passholders have the option to customize their pass with a PhotoPass add-on for $99 for the year.
The process:
Link Memory Maker to your My Disney Experience account. If you pre-purchased it online, it may have been linked automatically.
Add people to your Family & Friends list. This will enable you to be able to view, as well as download any of their photos too.
Get photos taken at any of the of Disney PhotoPass location. You can also get them at select attraction and dining locations throughout Walt Disney World Resort. Each photo will need to be linked to your My Disney Experience account through your MagicBand, Memory Maker card, Disney Magic Mobile, park admission ticket, or Disney PhotoPass Card by touching card or band to a device the photographer uses. On-ride attraction photos will be able to be added at the counter where they can currently be viewed.
View and download your photos. Guests will be able to download any photos they want as soon as they are available in their My Disney Experience account. In addition, photos can be downloaded as many times as you would like. Keep in mind that once you download the first photo, which essentially redeems your Memory Maker purchase, you will have 30 days in which to capture more photos. (This includes adding any photos you would like to have from the Friends and Family you are connected with via My Disney Experience.) PhotoPass photos will remain in your account for 45 days after they are taken. An extension can be purchased on the Disney PhotoPass website. This extension is good for an extra 15 days. This then allows you to have access to your photos for 60 days from the date the photos are taken.
You will still be able to make your edits, add borders, etc to your photos before you download them.
There are several ways to purchase Memory Maker, including:
Online or over the phone prior to arriving at the Walt Disney World Resort. This can be purchased as either a standalone product or as part of a vacation package.
Prior to arriving onsite, from approved Walt Disney World ticket sellers.
At select merchandise and Disney PhotoPass sales locations at theme parks and Disney Springs.
If you do pre-purchase the Memory Maker package, any photos taken within a three day window from the date Memory Maker is purchased will not be included in your My Disney Experience account. This means that any photo taken outside your Memory Maker window must be purchased separately. Also, the purchase of Memory Maker is non-refundable.
If you don't want your family or friends you are connected with to be able to have access to your photos, you can restrict the access. Photo sharing is set one person at a time. This means you can control who's able to view the images that are linked to your My Disney Experience account. One thing to note is that anyone you allow access to view your Disney PhotoPass photos will also be able to purchase any of the products offered. You can restrict others from viewing the photos in your account. This can be done by setting up photo sharing permissions using the Family & Friends page that's located in your profile.
Locations
Participating Attractions:
Photos captured during Enchanted Tales with Belle
Photos captured during a Bibbidi Bobbidi Boutique transformation
Pictures for Photo Booth locations throughout the Walt Disney World resort. Currently, these include locations on the Boardwalk, in Dinoland at Disney's Animal Kingdom, and in the Imagination pavilion in Epcot.
Photos at the PhotoPass Studio in Disney Springs.
Photos taken during a "Capture Your Moment" photo session at any of the 4 theme parks.
Participating Character Dining Locations:
Note that these are generally a specific staged location including a PhotoPass photographer at either the beginning or end of your meal. Generally, there will not be PhotoPass photographers accompanying the characters going from table to table.
For more information on how the Disney PhotoPass service works, visit our PhotoPass page.