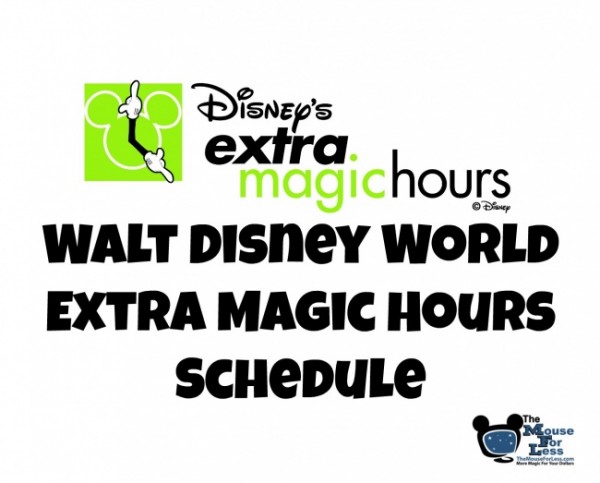 Guests staying at Walt Disney World Resort hotels can enjoy more time in the theme parks with the enhanced Extra Magic Hours (EMH) benefit. Each day, one of the theme parks opens an hour early, or stays open up to two hours extra after regular park hours. This benefit offers guests more time to enjoy shorter lines during these extended theme park hours. There is no charge for this Disney Resort guest benefit. Below is the current Extra Magic Hours schedule for Walt Disney World.
March 2020 April 2020 May 2020 June 2020 July 2020 August 2020 September 2020
For information on which resorts are eligible for EMH's, which rides and attractions are open during EMH's, go to our EMH Information Page

MouseForLess Tips:


You must use a day of admission to enter the Extra Magic Hours park.

If your ticket does not allow park hopping and you would like to enjoy Extra Magic Hours, plan ahead and make sure to visit the park offering EMH hours that day.

As always, the schedule is subject to change. Check here for the latest from Disney:http://disneyworld.disney.go.com/calendars/
April 2020
Morning Extra Magic Hours Schedule
Magic Kingdom – April 3, 10, 17, 24
Epcot – April 2, 9, 16, 23, 30
Animal Kingdom – April 4, 6, 11, 13, 18, 20, 25, 27
Evening Extra Magic Hours Schedule
Magic Kingdom – April 1, 8, 15, 22, 29
Epcot – April 7, 14, 21, 28
Hollywood Studios – April 5, 12, 19, 26
May 2020
Morning Extra Magic Hours Schedule
Magic Kingdom – May 1, 8, 13, 15, 22, 29
Epcot – May 7, 14, 21, 28
Animal Kingdom – May 2, 4, 9, 11, 16, 18, 23, 25, 30
Evening Extra Magic Hours Schedule
Magic Kingdom – May 6, 20, 27
Epcot – May 5, 12, 19, 26
Hollywood Studios – May 3, 10, 17, 24, 31
June 2020
Morning Extra Magic Hours Schedule
Magic Kingdom – June 5, 12, 19, 26
Epcot – June 4, 11, 18, 25
Animal Kingdom – June 1, 6, 8, 13, 15, 20, 22, 27, 29
Evening Extra Magic Hours Schedule
Magic Kingdom – June 3, 10, 17, 24
Epcot – June 2, 9, 16, 23, 30
Hollywood Studios – June 7, 14, 21, 28
July 2020
Morning Extra Magic Hours Schedule
Magic Kingdom – July 1, 10, 17, 24, 31
Epcot – July 2, 9, 16, 23, 30
Animal Kingdom – July 4, 6, 11, 13, 18, 20, 25, 27
Evening Extra Magic Hours Schedule
Magic Kingdom – July 3, 8, 15, 22, 29
Epcot – July 7, 14, 21, 28
Hollywood Studios – July 5, 12, 19, 26
August 2020
Morning Extra Magic Hours Schedule
Magic Kingdom – August 7, 14, 17, 28
Epcot – August 6, 13, 20, 27
Animal Kingdom – August 1, 3, 8, 10, 15, 21, 22, 24, 29, 31
Evening Extra Magic Hours Schedule
Magic Kingdom – August 5, 12, 19, 26
Epcot – August 4, 11, 18, 25
Hollywood Studios – August 2, 9, 16, 23, 30
September 2020
Morning Extra Magic Hours Schedule
Magic Kingdom – September 4, 11, 18, 25
Epcot – September 3, 10, 17, 24
Hollywood Studios – September 6, 13, 20, 27
Animal Kingdom – September 5, 7, 12, 14, 19, 21, 26, 28
Evening Extra Magic Hours Schedule
Magic Kingdom – September 2, 9, 16, 23
Epcot – September 1, 8, 15, 22
As always, the schedule is subject to change. Check here for the latest from Disney:http://disneyworld.disney.go.com/calendars/