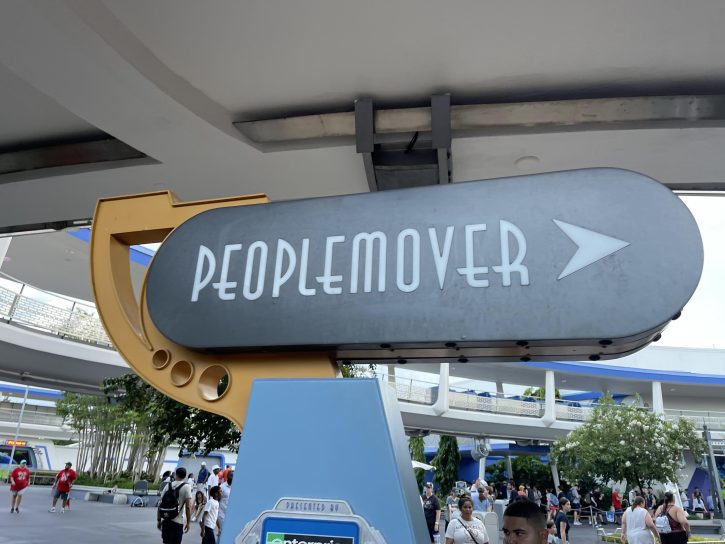 On the Tomorrowland Transit Authority PeopleMover, guests can enjoy a tranquil journey high above Tomorrowland on an innovative motion system.
Ride Information  Restrictions   Accessibility  Location  Fun Facts  Top 5 Tips
Ride Information
Opening Day: July 1, 1975
Type of Ride: Tranquil track ride above Tomorrowland
Age Recommendation: All ages
Duration of Ride: 10 minutes
Typical Queue Time: Short; typically less than 10 minutes
Single Rider Line: No
Chicken Exit Available: No
Baby Swap Available: No
Type of Vehicle: Cars with seats facing in both directions
Type of Restraint: None
Attraction Open During Early Theme Park Entry: Yes. See our Early Theme Park Entry page for more information.
Ride Photo Available For Purchase: No

Planning a Walt Disney World Vacation?
For a Free no-obligation quote, contact our sponsor
The Magic For Less Travel
. Services are provided free of charge and their expert planning advice will help you make the most of your vacation time and money.
Ride Restrictions
Height Requirements: None
Flash Photography or Video Allowed:  No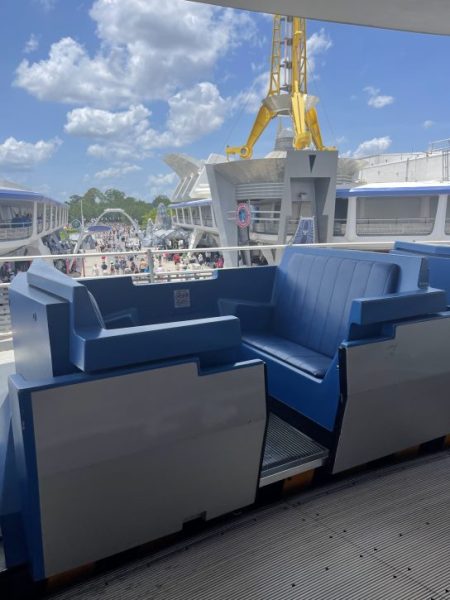 Safety, Accessibility, and Guest Policies
Accessibility:
Guests must be ambulatory
Audio Description
Handheld Captioning
Guest Policies: Children under age 7 years must be accompanied by a person age 14 years or older.
Location
Park Map of Magic Kingdom:
Other Rides/Attractions In the Area:
This attraction is located in the Magic Kingdom's Tomorrowland.
Shopping: Guests riding Tomorrowland Transit Authority PeopleMover get an overhead view of Tomorrowland's largest gift shop, "Mickey's Star Traders."
Dining/Refreshment: Adjacent to Tomorrowland Transit Authority PeopleMover, The Lunching Pad offers specialty hot dogs and pretzels, and frozen beverages. Also in Tomorrowland, Tomorrowland Terrace seasonally offers counter service meals of burgers and sandwiches; Cosmic Ray's Starlight Café serves a diverse array of food, including chicken, ribs, burgers, and sandwiches; and Auntie Gravity's Galactic Goodies specializes in ice cream. For those desiring a sit-down meal, The Plaza Restaurant is located nearby off Main Street USA and offers numerous sandwiches and ice cream treats.
Restroom: Restrooms are located close by between Space Mountain and Walt Disney's Carousel of Progress, and between Cosmic Ray's Starlight Cafe and Auntie Gravity's Galactic Goodies
Smoking Location: Smoking is permitted in designated smoking areas only. Disney parks are smoke free.
Tomorrowland Transit Authority PeopleMover Fun Facts
Did you know?
This ride was originally known as "WEDway PeopleMover" from its 1975 debut until 1994 and as "Tomorrowland Transit Authority" from 1994 to 2010.
Tomorrowland Transit Authority PeopleMover takes guests behind the scenes of such Tomorrowland staples as "Buzz Lightyear's Space Ranger Spin," Space Mountain, "Tomorrowland Speedway," and the "Mickey's Star Traders" store, in addition to a model diorama for Progress City, the precursor to Epcot.
Mike Brassell, who also narrates "Living with the Land" at Epcot, narrates this experience. The attraction was previously narrated by Disneyland park announcer Jack Wagner and actor Peter Renaday, respectively.
Tomorrowland Transit Authority PeopleMover originated in Disney's "Magic Skyway," an exhibit at the 1964 New York World's Fair created for the Ford Motor Company. Magic Skyway involved actual Ford cars propelled by motorized tires submerged in a track. Though the exhibit proper, in contrast to It's a Small World and "Carousel of Progress," was not duplicated at Disneyland, the ride system was utilized in Disneyland's PeopleMover.
Tomorrowland Transit Authority PeopleMover's vehicles magnetically propelles via linear induction motors, unlike those featured at the New York World's Fair and Disneyland which utilized motorized tires on a track.
Disney hoped to see the PeopleMover become a viable public transportation system throughout the United States, but only one version was implemented outside a Disney theme park, at George Bush Intercontinental Airport in Houston.
Disneyland's PeopleMover operated from 1967-1995. In 1998, the track was resurrected for "Rocket Rods," a budding high-speed thrill ride, which experienced multiple technical problems and permanently closed in 2001.
Hidden Mickeys:
Find a Hidden Mickey in the beauty salon diorama just before the overlook to Buzz Lightyear's Space Ranger Spin.
Sponsored Ad: Learn more about Hidden Mickey details and location throughout Walt Disney World in A Field Guide to Walt Disney World's Best Kept Secrets
.
Top 5 Tips for Tomorrowland Transit Authority PeopleMover
Consider riding when Space Mountain closes for a period. Riders will likely see Space Mountain's track with the lights on.
Tomorrowland Transit Authority PeopleMover is a must-experience attraction for Disney history buffs.
With mostly short wait times, Tomorrowland Transit Authority PeopleMover offers a reprieve for the crowded middle part of the day.
Tomorrowland Transit Authority PeopleMover provides shade and a nice breeze, perfect for guests that need a break from the hot Florida sun.
Enjoy the various dioramas and attraction look ins featured throughout the journey.