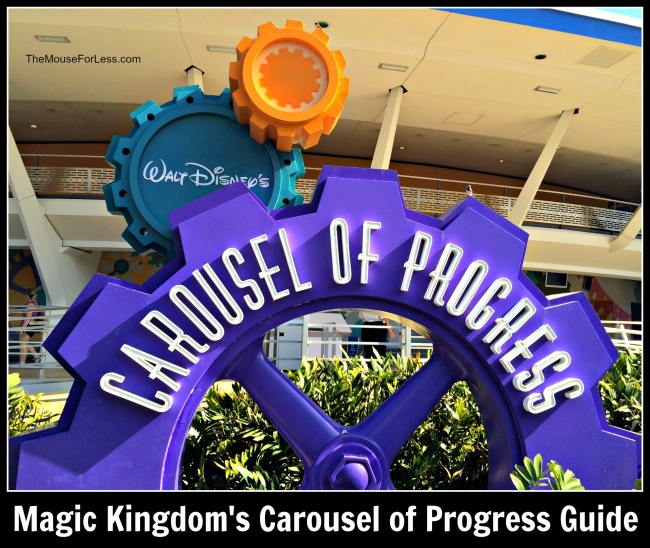 Enjoy a progressive trip through the 20th century and beyond on Walt Disney's Carousel of Progress.
Ride Information  Restrictions  Accessibility  Location  Fun Facts  Top 5 Tips
Ride Information
Opening Day: January 15, 1975
Type of Ride: Stage show
Age Recommendation: All ages, though better for adults
Duration of Ride: 21 minutes
Typical Queue Time: Typically nonexistent; shows begin every 21 minutes
Single Rider Line: No
Chicken Exit Available: No
Baby Swap Available: No
Type of Vehicle: Rotating theater
Type of Restraint: None
Attraction Open During Extended Evening Hours: No. See our Extended Evening Hours page for more information.
Ride Photo Available For Purchase:  No

Planning a Walt Disney World Vacation?
For a Free no-obligation quote, contact our sponsor
The Magic For Less Travel
. Services are provided free of charge and their expert planning advice will help you make the most of your vacation time and money.
Ride Restrictions
Height Requirements: None
Flash Photography or Video Allowed: No
Safety, Accessibility, and Guest Policies
Accessibility: 
May Remain in Wheelchair/ECV
Audio Description
Video Captioning
Handheld Captioning
Assistive Listening
Location
Park Map of Magic Kingdom:
Other Rides/Attractions In the Area:
This attraction is located in the Magic Kingdom's Tomorrowland.
Shopping: Find a plethora of necessaries and Disney souvenirs nearby at "Mickey's Star Traders" and "Merchant of Venus."
Dining/Refreshment: Several restaurants are located near the Carousel of Progress. In Tomorrowland, guests can enjoy a counter service lunch or dinner at Cosmic Ray's Starlight Café, The Lunching Pad, and Tomorrowland Terrace. Cosmic Ray's features an eclectic menu of burgers, hot dogs, chicken, and ribs; The Lunching Pad specializes in fancy pretzels and hot dogs; and Tomorrowland Terrace has seasonal offerings. Guests who rather enjoy a table service meal can choose among a wide variety of sandwiches and ice cream at Plaza Restaurant, located on Main Street USA near the Tomorrowland border.
Restroom: Find facilities situated between Carousel of Progress and Space Mountain.
Smoking Location: Smoking is permitted in designated smoking areas only. Disney parks are smoke free.
Walt Disney's Carousel of Progress Fun Facts
Did you know?
Walt Disney's Carousel of Progress is considered a stage show and has garnered more performances than any other show in the history of American theater.
On Walt Disney's Carousel of Progress, a series of theaters rotate around a centralized core of stages, as horses would rotate on a traditional carousel.
Walt Disney's Carousel of Progress traces the 20th-century evolution of technology and cultural offerings in the United States, including electric light bulbs, airplanes, sports, movies, and household appliances, and the impact of said developments on a nuclear family. The appliances originally doubled as advertisements for the products of the attraction's then-sponsor, General Electric, but now just complement the story.
Audio Animatronics serve as the show's "actors."
At the World's Fair, Walt Disney's Carousel of Progress was entitled "Progressland." Six rotating theatres transported guests through four generational segments: the turn of the 20th century; the 1920s; the 1940s; and the present day, then the 1960s.
This attraction is one of two current Magic Kingdom attractions to have originated at the New York World's Fair, It's a Small World being the other. The track technology for Tomorrowland Transit Authority PeopleMover also debuted at the 1964 World's Fair.
Disneyland's Carousel of Progress incorporated a post-show diorama of "Progress City," Walt Disney's intended EPCOT. A small rendering of Progress City can be viewed by guests on Tomorrowland Transit Authority PeopleMover.
Walt Disney's Carousel of Progress was updated in 1981 and 1993, respectively. These renovations pushed the fourth act from the 1960s to the 1980s and 2000, respectively. Thus, the current incarnation makes a 60-year jump between the third and fourth scenes. In addition to representing different time periods, the scenes represent different seasons, moving from spring in the first scene to winter in the final segment.
"Carousel of Progress" was rechristened "Walt Disney's Carousel of Progress" following the 1993 renovation.
History
Walt Disney's Carousel of Progress claimed its footprint at the Magic Kingdom in 1975, moving to Florida from Disneyland after General Electric expressed concern over dwindling attendance and the predominately California-based audience at Disneyland. General Electric hoped a move to Florida would introduce its products to a wider cross section of people.
Walt Disney's Carousel of Progress debuted at the Magic Kingdom on the same day as Space Mountain, January 15, 1975.
This ride originally premiered at the 1964 New York World's Fair, the upshot of a concept that Disney and General Electric had been developing for an aborted section of Disneyland Park, "Edison Square," since the late 1950s. Edison Square would have been located off Main Street USA near the current site of Plaza Inn.
General Electric sponsored Carousel of Progress from the attraction's time in New York until 1985.
A slightly revised version of Walt Disney's Carousel of Progress arrived at Disneyland from the World's Fair in 1967, and it remained in California until 1973. Because of the attraction's overt advertising for General Electric products, Carousel of Progress did not require a lettered, A-E, ticket to experience at Disneyland.
The famed duo of Richard and Robert Sherman wrote the show's theme, "There's a Great Big Beautiful Tomorrow.  The Sherman brothers are best known for their musical contributions to Mary Poppins (1964). "There's a Great Big Beautiful Tomorrow" has been the Carousel of Progress's theme song since the 1993 renovation; it had previously served this role from 1964-1973.
From 1975 until 1993, another song by the Sherman brothers, "The Best Time of Your Life," replaced the original number. General Electric ordered the change because they did not want guests to wait until "tomorrow" to purchase the products advertised in the attraction. So, interestingly, the attraction's vision has fluctuated between the future and the present during its long history.
Hidden Mickeys:
Look for a Hidden Mickey as cloth on a mirror in the opening scene of Carousel of Progress as the daughter gets ready to go out for a Valentine's Day dance. Additionally, a Sorcerer Mickey hat appears adjacent to the daughter in the third act as she exercises.
Sponsored Ad: Learn more about Hidden Mickey details and location throughout Walt Disney World in A Field Guide to Walt Disney World's Best Kept Secrets
.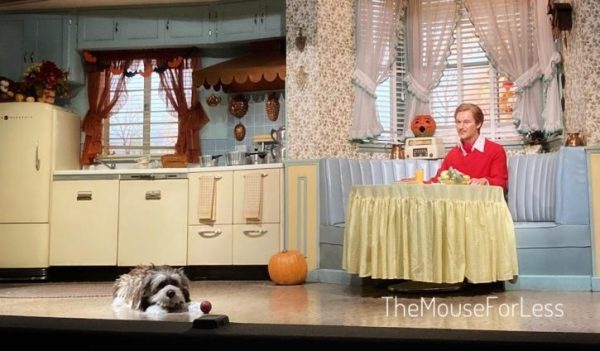 Top 5 Tips for Walt Disney's Carousel of Progress
There is rarely a wait for Walt Disney's Carousel of Progress, so experience it after enjoying the Magic Kingdom's headliner attractions.
Walt Disney's Carousel of Progress is a must-see attraction for Disney-history buffs.
Be prepared for "There's a Great Big Beautiful Tomorrow" to get stuck in your head.
Do not expect an up-to-date attraction.
If you enjoy Walt Disney's Carousel of Progress, be sure to check out "Spaceship Earth" at Epcot.