No pilot's license? No problem! On Astro Orbiter, guests of all ages can soar in rockets high above Tomorrowland.  This rocket-spinner attraction spins high above Tomorrowland, providing a wonderful view of the entire area! The view at night is a "don't miss"! The rocket can be controlled by guests with a joystick that moves the rocket up and down.
Ride Information  Restrictions  Accessibility  Location  Fun Facts  Top 5 Tips
Ride Information
Opening Day: November 28, 1974
Type of Ride: Spinner – Controlled moving rockets rotating around central tower.
Age Recommendation: All ages
Duration of Ride: 1 minute 30 seconds (11 rotations)
Typical Queue Time: Moderate; typically peaks at around 50 minutes, but loads slowly
Single Rider Line: No
Chicken Exit Available: No
Baby Swap Available: No
Type of Vehicle: Rocket ships
Type of Restraint: Seat belt
Attraction Open During Extended Evening Hours: Yes. See our Extended Evening Hours page for more information.
Ride Photo Available For Purchase: No

Planning a Walt Disney World Vacation?
For a Free no-obligation quote, contact our sponsor
The Magic For Less Travel
. Services are provided free of charge and their expert planning advice will help you make the most of your vacation time and money.
Ride Restrictions
Height Requirements: None
Flash Photography or Video Allowed: This ride is outdoors. All types of photography are allowed.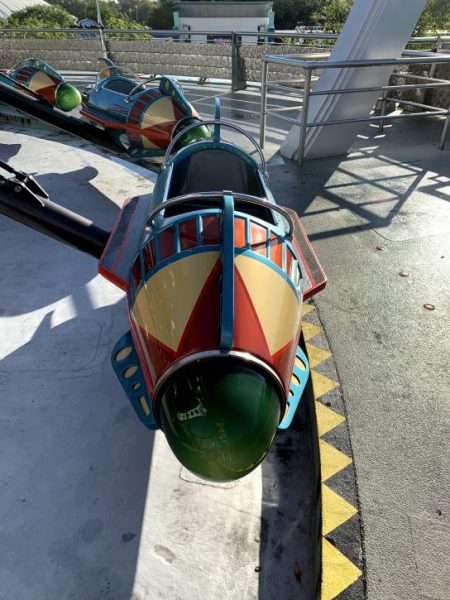 Safety, Accessibility, and Guest Policies
Accessibility: Must Transfer from Wheelchair/ECV
You must board a small elevator to reach the loading platform. If you tend to be claustrophobic you may want to skip this ride.
Guest Policies: Children under age 7 years must be accompanied by a person age 14 years or older.
Location
Park Map of Magic Kingdom:
Other Rides/Attractions In the Area:
This attraction is located in the Magic Kingdom's Tomorrowland.
Shopping: Check out a wide assortment of souvenirs at the nearby "Mickey's Star Traders."
Dining/Refreshment: At the base of Astro Orbiter, The Lunching Pad serves specialty hot dogs and pretzels, and frozen beverages. Also in Tomorrowland, Tomorrowland Terrace has seasonal offerings; Cosmic Ray's Starlight Café serves counter service meals of chicken, ribs, burgers, and sandwiches; and Auntie Gravity's Galactic Goodies offers ice cream. For those preferring a sit-down meal, The Plaza Restaurant is located nearby off Main Street USA and offers numerous sandwiches and ice cream treats.
Restroom:  Restrooms can be found nearby between Space Mountain and Walt Disney's Carousel of Progress, and between Cosmic Ray's Starlight Cafe and Auntie Gravity's Galactic Goodies
Smoking Location: Smoking is permitted in designated smoking areas only. Disney parks are smoke free.
Astro Orbiter Fun Facts
Did you know?
Originally called "Star Jets," Astro Orbiter received a name change as well as a refurbishment as part of a comprehensive Tomorrowland enhancement in 1994.
Astro Orbiter loads 80 feet off the ground atop both The Lunching Pad restaurant and the "Tomorrowland Transit Authority PeopleMover" track. Guests are transport to and from the rockets via elevator.
Astro Orbiter has 12 rocket ships that can hold up to two riders each.
An elaborate diorama including planets and other celestial objects enhance the setting of Astro Orbiter.
Because of its height, riders on Astro Orbiter can see terrain outside the Magic Kingdom, most notably the Contemporary Resort.
Disneyland's version of this attraction has a different spelling, "Astro Orbitor," and loads at ground level. Overseas versions are located at the Disneyland parks in Paris and Hong Kong and both are entitled "Orbitron." Both Orbitron attractions load at ground level. Unlike the other versions, Hong Kong's Orbitron utilizes flying saucers as ride vehicles instead of rockets.
Tokyo Disneyland opened with a version of the Astro Orbiter, entitled "Star Jets." However, this ride closed in 2017.
Top 5 Tips for Astro Orbiter
For shorter wait times, onsite resort guests can experience Astro Orbiter during Morning Extra Magic Hours.
Astro Orbiter is a great attraction to ride after dark because of Tomorrowland's neon lighting.
Guests should prepare to travel in an elevator.
Though this attraction can be compared to a pair of other Magic Kingdom attractions, The Magic Carpets of Aladdin and "Dumbo the Flying Elephant," because the vehicles fly in circles, Astro Orbiter is more likely to induce motion sickness. The rockets travel quickly and tightly.
Use the on-board lever to control the rocket's altitude.