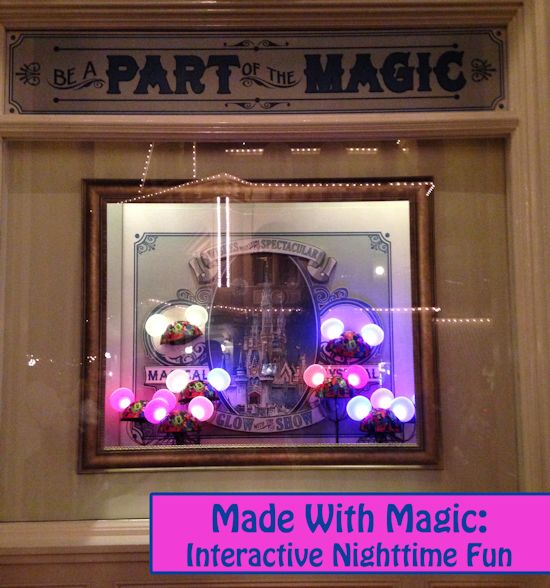 Made With Magic
Walt Disney World is the most magical place on Earth, and now you can glow with the show. Guests can now become a part of the show, with the "Made With Magic" interactive nighttime show merchandise. There are 4 different "Made with Magic" items to choose from. Made with Magic items can be purchased at several locations at the Walt Disney World Resort and these items will interact with many of the different shows around Walt Disney World and Disneyland. Guests can watch in wonder as these technologically advanced products have been programmed to change color and blink in time to the music.
"Made with Magic" items currently work with many of Disney's nighttime extravaganzas.
Products Show Locations Purchase Locations Tips
"Made With Magic" Products
3.0 Connected Ear Hat
Disney's newest hat in the shape of Mickey Mouse's ears can connect through Bluetooth to your phone and be controlled by the Disney app (color remote). The color remote allows you to change the colors of the ears and the strobe speed. When you watch some of the shows at Disney the colors and strobe speed will sync with the music and colors of the show itself!
Minnie Mouse Headband
When you purchase a made with magic Minnie Mouse Headband you'll glow with the show every time! Plus its a pearlescent pink that every little girl will love!
Sorcerer Mickey Wand
With Mickey's sorcerer wand you will be able to do great things! When you wave this wand at your other made with magic items you can change the colors just like Sorcerer Mickey.
Rivers of Light Totem Glow Wand
These wands are inspired by Rivers of Light by Animal Kingdom and comes with 4 different animals on them that will light up to the sequence of select shows at Walt Disney World. The Totem Glow Wands can also control your other made with magic items as well.
Made with Magic Show Locations
Walt Disney World
At Walt Disney World, the products work at all four theme parks.
Magic Kingdom
Epcot
Select concerts at the America Gardens Theatre in the American Adventure Pavilion
Disney's Hollywood Studios
Disney's Animal Kingdom
Disneyland Resort
Disney California Adventure
Disneyland Park

Planning a Walt Disney World Vacation?
For a Free no-obligation quote, contact our sponsor
The Magic For Less Travel
. Services are provided free of charge and their expert planning advice will help you make the most of your vacation time and money.
Made with Magic Purchase Locations
There are many locations where made with magic items are available for purchase at the Disney Parks. Items are also available for purchase online at the Shop Disney Parks website, or the Shop Disney Parks mobile app.
The Chapeau on Main Street, U.S.A.
Emporium on Main Street, U.S.A.
Mouse Gear in Future World
Sunset Ranch Souvenirs on Sunset Boulevard
Celebrity 5 & 10 on Sunset Boulevard
Mickey's of Hollywood on Hollywood Boulevard
Beverly Sunset on Sunset Boulevard
Emporium on Main Street, U.S.A.
Pooh Corner in Critter Country
The Star Trader in Tomorrowland
Gag Factory in Mickey's Toontown
Merchandise carts
Off the Page in Hollywood Land
Seaside Souvenirs on Paradise Pier
Merchandise carts
Downtown Disney at Disneyland
TheMouseForLess Made with Magic Tips

You can bring items back with you time and time again, and they will work!

The products use AAA batteries, so when they do eventually run out of juice, you can easily replace the batteries.

Bought a "Made with Magic" item at Disneyland, or vice versa? Good news!  They will work on both coasts!

 The "Made with Magic Ear Hat 3.0: Connected" will work at home! All you have to do is download the Shop Disney Parks app, put on your 3.0 glowing ears, and turn on the TV. During select performances and television specials, you can "Glow at Home" along with the show! The Bluetooth technology allows viewers at home to interact with their TV, while the app lets users sync with the audio from the special interactive Made with Magic.