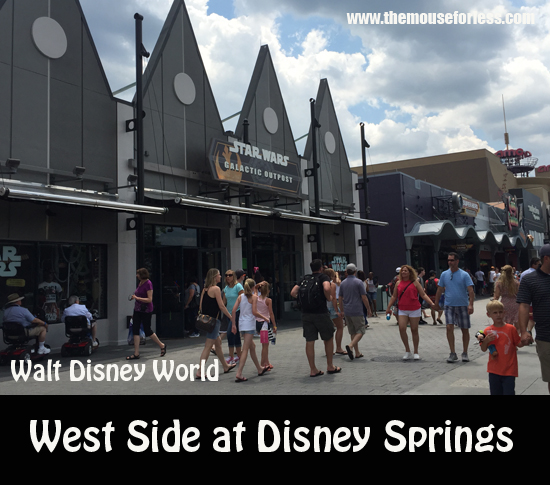 Disney Springs Map The Landing Town Square Marketplace Disney Springs Guide
Special Announcements
Everglazed Donuts & Cold Brew Now Open
There is a brand new coffee and donut dining establishment open called Everglazed Donuts & Cold Brew. Everglazed offers Guests both classic donut options, as well as incredible gourmet creations. They also specialize in cold brew coffee. Finally, if you're looking for some savory bites, Everglazed has you covered too courtesy of a wide array of sandwiches and different waffle fry options.
M&M'S Orlando Now Open
Guests are now able to stock up on their favorite candy at the brand new M&M'S Orlando. This store is completely state-of-the-art and includes immersive experiences for Guests to enjoy. The new M&M'S Orlando store is located on the West Side near the NBA Experience.
Sunshine Churro Open
Sunshine Churro carts can be found on both the Marketplace side and on the West Side. These carts serve up a variety of classic and gourmet churros. Flavors include things like watermelon, salted caramel, strawberry cheesecake, fruity cereal, and cookies and cream. You can even try churros dipped in milk chocolate or chocolate-hazelnut spread.
City Works Eatery and Pour House Now Open
A new restaurant called City Works Eatery & Pour House is open at Disney Springs. This is a lively eatery that offers 80 local and global craft beers on draft and American food with brilliant chef-driven twists, City Works delivers an upbeat, energetic atmosphere, and superior service. The restaurant is 8,632 square foot and offers retail space, expansive seating, plenty of high-definition TVs, including a 165-inch screen, and a 1,767 square foot patio. The space also includes three full-service bars, two of which allow for covered, and open air dining along the patio.
DisneyStyle Now Open
DisneyStyle, the newest shopping destination at Disney Springs is now open. Located across from Starbucks, this modern shop debuts a collection of apparel and accessories inspired by timeless characters and beloved experiences at Disney Parks.
Jaleo Now Open
On the West Side is Jaleo, a concept by Chef José Andrés. Bringing the spirit and flavors of Spain, the Disney Springs restaurant will feature an extensive menu of tapas that reflect the rich regional diversity of traditional and contemporary Spanish cuisine, such as paella cooked over a wood fire, hand-carved Jamon Iberico de Bellota and wood-grilled Iberico pork.
Cirque du Soleil la Nouba Closed/New Show Coming
The entertaining West Side show, Cirque du Soleil la Nouba saw its final performance on December 31, 2017.  There will be a Cirque show that will debut November 18, 2021 that is called Drawn to Life and is themed around Disney storytelling. More details about this show can be found here.
AMC Theaters Special Showings
The AMC Entertainment site has posted a list of upcoming "Sensory" movies and dates that will be show at AMC theaters in Disney Springs at Walt Disney World in 2015. The program, in partnership with the Autism Society provides a special opportunity for families to enjoy their favorite films in a safe and accepting environment. The auditoriums dedicated to the program have their lights up, the sound turned down and audience members are invited to get up and dance, walk, shout or sing! All shows are at 10:00 am local time.
Military Pricing is available every day starting at 4 p.m. Just present a valid Military ID at the box office.
Visit our Spend Less in the Park page for info on more Disney Springs Discounts.
Entertainment
Live Entertainment
Live entertainment can be found in several Disney Springs locations. 'Music from around the World' is featured nightly in the area in front of Wetzel's Pretzels. Also look for Living Statues in this area. Additionally, Bongos Cuban Cafe offers live Latin music on Wednesday, Thursday, Friday and Saturday evenings. Scroll below for info about live music at House of Blues.
Splitsville Luxury Lanes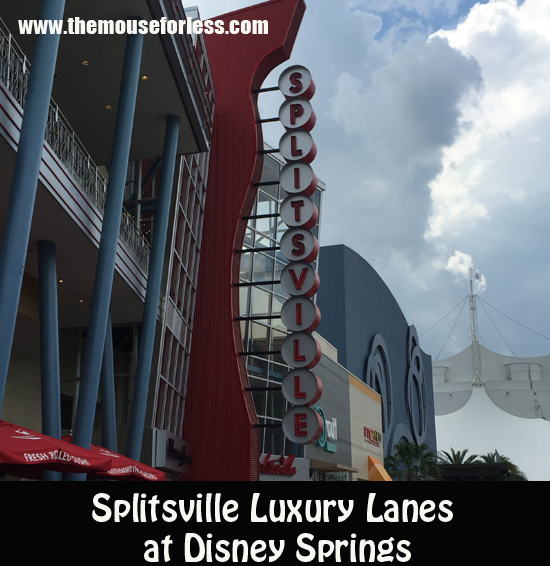 This 50,000 square feet, two-story venue features 30 bowling lanes, billiard tables, live entertainment, full-service indoor and outdoor balcony dining, lane-side dining, two upscale sushi bars, 5 bars throughout and more than 60 TV sets. Lane Concierge will deliver shoes and bowling balls to guests lanes prior to their arrival (kids' balls feature special Mickey and Minnie Mouse designs!). When you arrive, everyone's names will be on the overhead screen and the scoring is done automatically. Gutter bumpers are available for children and will automatically go up and down when it's their turn. Splitsville also offers an optional bowling ball ramp for very small children who might have difficulty throwing the ball. Walk-ins are assigned on an availability basis; you will be given a beeper so that you can wander throughout Disney Springs West Side. Also, you don't have to bowl to eat here. Just come and watch the game. This is definitely the place for sports fans! Thursdays, Fridays and Saturdays, the second floor is reserved for guests ages 21+ who arrive after 10:30 p.m. Live entertainment happens daily. View a menu for Splitsville dining in the menu section of our web site.
Advance reservations are available by calling 407-938-7467 or going online. Hours: Sun 10:00 a.m.-12:30 a.m.; Mon-Wed 10:30 a.m.-12:30 a.m.; Thu-Fri 10:30 a.m.-2:00 a.m.; Sat 10:00 a.m.- 2:00 a.m.
Bowling Prices*
Monday through Friday
Daytime (open to 4pm): $17 person
Evening (4pm to close): $20 person
Saturday and Sunday
All Day & Evenings (open to close): $20 person
*Shoe rental is included in bowling fee
*Prices above are for a specific amount of bowling time that will vary with party size; guests may bowl as many games as they can within the allotted time:
1 hour: 1-2 people
1 hour 15 minutes: 3-4 people
1 hour 30 minutes: 5-6 people
1 hour 45 minutes: 7-8 people
Lane Reservations: Lane Reservations allow your group to receive the next available lane(s) upon check-in. Maximum of 2 lanes per group. Maximum of 8 bowlers per lane. Shoes are $4 per person extra. Must book at least 1 day in advance.
Daytime: 10:00 a.m. to 4:00 p.m. – $80 hour
Evening & Late Night: 4:00 p.m. to 2:00a.m. – $125 hour
Early Bird Bowling: For a limited time, the General Public can take advantage of an early bird offer at Splitsville in Disney Springs. Monday through Friday from 10:30 a.m – 12:30 p.m. Adults can bowl for $10 and kids for $9. "Early Bird" Prices include shoe rental and exclude holidays and certain blackout dates.
Billiards Pricing (second floor): $10 per hour per table
AMC Downtown Disney 24 (Currently Closed)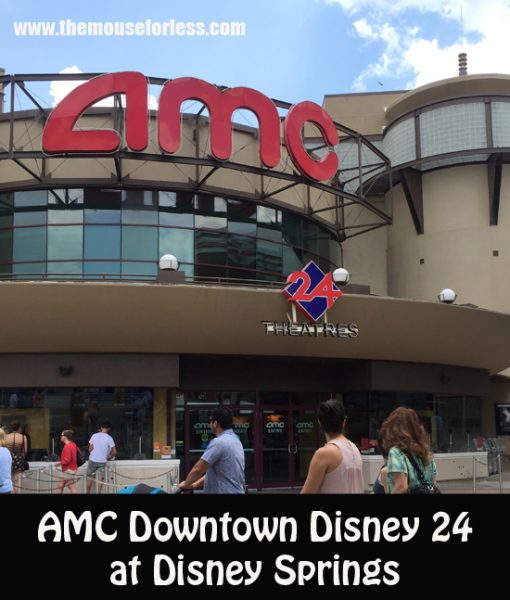 This theater complex features loveseat-style stadium seating, state-of-the-art THX Surround Sound, new Sony Dynamic Digital Sound, a "Concession Stand of the Future" offering self-serve snack options, a full-service bar and lounge area, as well as Florida's first "Fork & Screen Theater," which provides restaurant dining with "seat-side service". Fork & Screen guests must be at least 18 years old unless accompanied by a parent or guardian. AMC Entertainment upgraded Auditorium One to be the first Enhanced Theater Experience (ETX) in the United States. The ETX auditorium includes a 20 percent larger, floor-to-ceiling screen, 3D technology, 12 channel audio and digital projection that delivers higher resolution than HD.
Adult tickets are regularly priced at $11 after 4:00 p.m., Children (ages 2-12) are $8.00 and Seniors 60+ pay $10.00. Matinee tickets are $9.00 for all before 3:55 p.m. Showtimes before noon are $6 for all every day of the week. There is a $4 per ticket upcharge for RealD 3D Experiences and Enhanced Theatre Experience. Enhanced Theatre Experience in 3D have a $5 per ticket upcharge. Fork & Screen movie pricing: Shows starting before 12pm: Adult – $9.00, Child – $9.00; Shows starting 12:00 p.m. – 3:55 p.m.: Adult – $12.00, Child – $10.00; Shows starting after 4:00 p.m.: Adult – $14.00, Seniors – $13.00, Child $10.00. The menu features a variety of classic favorites for an additional charge. Discounts for AMC Downtown Disney 24 can be found on our Spend Less in the Parks page.
Box Office Opens: Sunday-Thursday 10:30 a.m. and Friday & Saturday at 9:30 a.m.
If you're going, Buy Your Movie Tickets Online Now and Skip the Lines! Use zip code 32830 to see movie schedules and find tickets for this theater.
Cirque du Soleil
Cirque du Soleil La Nouba closed on December 31, 2017. A new Cirque du Soleil show is in the works for the building.  More details can be found here.

Cirque du Soleil is a mesmerizing and extraordinary avant-garde circus spectacle performed at an exceptional theater built especially for show. This must-see show features opulent sets, brilliant choreography, theatrical lighting and provocative music, along with a mix of mesmerizing high wire and flying trapezes, stunning acro-gymnastic performances and other dynamic displays of coordination and strength. Cirque du Soleil shows take place Tuesday through Saturday, 5:30 p.m. and 8:00 p.m.
La Nouba Prices: 
Golden Circle: $169 adults; $135 ages 3-9
Front & Center: $145 adults; $115 ages 3-9
Category 1: $129 adults; $99 ages 3-9
Category 2: $99 adults; $79 ages 3-9
Category 3: $85 adults; $69 ages 3-9
Category 4: $69 adults; $55 ages 3-9
Tickets are available for purchase online or by calling (407) 939-7328, or at the box office located on the plaza level of the theater. Group discounts (12 or more) are available by calling (702) 352-0197.
The theater is dark Sundays and Mondays.
Check Disney's web site for latest update or to purchase tickets directly through Disney or or call (407) WDW-SEAT. Discounts for La Nouba can be found on our Spend Less in the Parks page.
NBA Experience (Currently Closed)
Guests who have purchased tickets to the NBA Experience will be able to be immersed in the world of basketball. Here they will be able to do things like test and improve their shooting and dribbling skills, get a photo taken while throwing down a rim-rocking dunk, and feel like a top draft pick. Activities include:
Dunk! – Challenge Your Skills "Above the Rim": Demonstrate the dunking skills you've only dreamed of until now.
Shoot! – Beat the Clock, Bring Home the Win: Step on the court, where you'll be guided through a sequence of shots, with a virtual crowd cheering you on.
Dribble – Bounce that B-Ball… "Show-off": Grab a ball and let the coach take you through the drills to assess your basketball-handling skills.
Slingshot – Score, Score, Score!: Using a large slingshot, you'll try to shoot the ball through hoops set at varying heights.
Combine – Stand out from the Crowd: Explore the science behind the sport as you put your skills to the test through a series of Combine drills. You'll get real-time feedback on your performance to see how you measure up to a real player.
Trivia – Get your Brain in the Game: Test your knowledge of the NBA—past and present—in a competitive game of trivia. The heat is on as you compete against up to 24 other players, as well as the clock.
Champions – That Winning Feeling: Relive the NBA and WNBA's history in the Hall of Champions.
Replay – Be the Ref!: Do you have what it takes to make the correct call? Correct calls will earn points.
Theaters: The NBA Experience is home to 2 custom-made theaters showing new, short films.
Draft – The Number One Pick is… You!: Experience what it's like to be drafted into the league.
Players – Inside the Player Sanctuary: Enter the locker room, where you can explore current team rosters, records and highlights from the season.
Trophy Moments in Hall of Champions: Have your own championship moment with a league MVP trophy to hold high and proud for a thrilling photo op.
Arcade Area: Test your hand-eye coordination at a variety of arcade games:

B-Ball Games Up-Close and Personal: Beat the clock with a perfect shot as your basketball skills are put to the test in this spin on classic basketball arcade games.
Pop-A-Shot: Fan can try their hand at a series of Pop-A-Shot arcade games that include static hoops and hoops that move side to side.
NBA 2K, NBA Live and NBA Playgrounds: Test your skills in the digital arena with the latest immersive video games of the NBA
Guests are welcome to participate as many times as they would like in each activity. The activities inside the NBA Experience will take between 5-15 minutes each and Disney estimates that it will take approximately two hours to enjoy everything the NBA Experience has to offer.
Tickets to NBA Experience cost $34 (plus tax) for Guests ages 10 and older, and $29 (plus tax) for children ages 3-9. The NBA Experience is a single entry experience and reentry into the building is not permitted.
Guests visiting this attraction are encouraged to wear athletic shoes, as well as athletic gear, in addition, Guests will also be asked to sign a waiver prior to entering and children under 18 will need a parent or guardian to sign the waiver for them.
House of Blues
Front Porch Musicians play nightly at 4:00 p.m
Click the link above to see House of Blues' upcoming Concert Schedule or to purchase tickets.
Sunday Gospel Brunch is served at House of Blues at 10:30 a.m and 1:00 p.m. The menu boasts delicious Southern cuisine to be enjoyed while the best regional and national gospel groups perform.
Characters in Flight
 
Guests can get a birds-eye view of Disney Springs at 400 ft. The 72-foot-diameter tethered balloon can lift up to 29 Guests at a time on a six-minute "flight" and launches from Disney Springs West Side seven days a week, weather permitting. The original balloon that was installed for this attraction has been replaced, and the new balloon features a red, yellow and blue color scheme, as well as a new set of flying characters: Tinker Bell, Peter Pan, Buzz Lightyear, Dumbo, Jasmine and Aladdin. On a clear day, you should be able to see from the top of La Nouba all the way to the outskirts of Disney property. Spaceship Earth, Tower of Terror, the Contemporary Resort should all be visible.
Cost: $18 for adults and $12 for children (ages 3-9).
Hours of operation: Every day from 8:30 a.m. to 10 p.m. (hours may vary)
Special Pricing: For a limited time, those who take a Characters in Flight Balloon ride before 10:00 a.m., will pay just $10.
Dining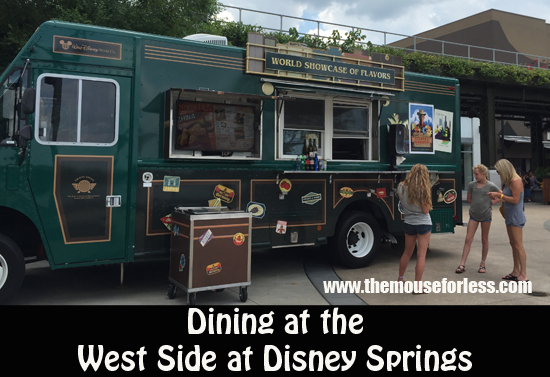 Shopping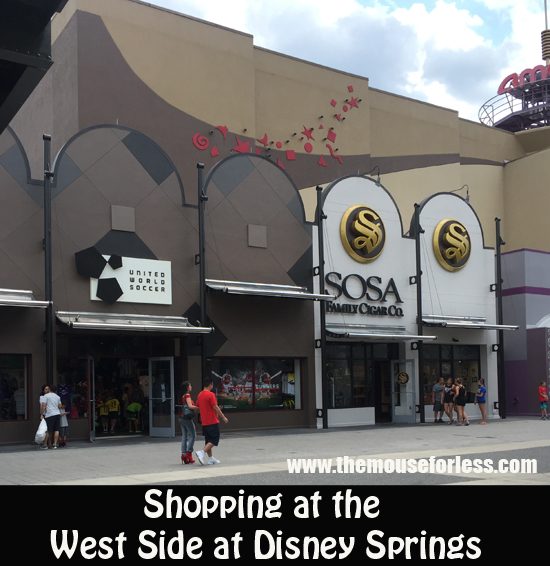 Disney's Candy Cauldron – Sweet Treats Featuring a Show Kitchen
DisneyStyle – Disney themed apparel and accessories
House of Blues Gear Shop – Original Folk Art, Eclectic Music, Funky threads, Hard-to-Find Books
Memory Lanes – The spot for bowling themed merchandise
M&M's – Grab merchandise themed around your favorite candies
NBA Store – The spot to grab all your NBA merchandise
Pele Soccer – Features soccer merchandise such as team jerseys, sports gear, cleats, and accessories.
Sosa Family Cigars – The Finest in Fresh, Hand-Rolled Cigars
Star Wars Galactic Outpost – The spot to visit for the latest and greatest Star Wars merchandise
Super Hero Headquarters – Purchase super hero themed merchandise
Sunglass Icon – This Sunglass Hut flagship store features cutting edge technology & the latest in sunglass fashion from around the world.
West Side Shopping Hours: 10:00 am – 11:00 pm (Sunday – Thursday)
West Side Shopping Hours: 10:00 am – 11:30 am (Friday and Saturday)
West Side Dining & Entertainment Hours: 11:00 am – 2:00 am (Daily)
(Note: Hours vary by venue)