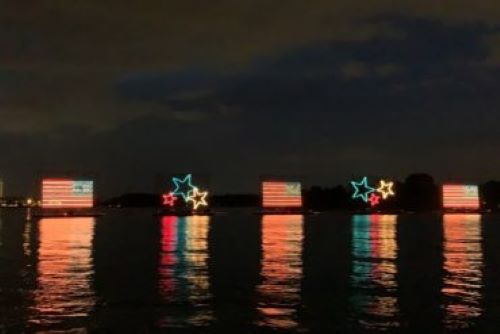 The Electrical Water Pageant is an electrical light parade that floats through the Seven Seas Lagoon and the nearby Bay Lake. Many guests remember watching it when they were children.   The floats depict real sea creatures and mythical ones, too.  The musical-style is reminiscent of the Main Street Electrical Parade, but the Electrical Water Pageant utilizes a number of different songs.  Also, the pageant has a patriotic ending with glowing American Flags, Stars, and patriotic music.  This is a great fun and free activity to enjoy,  Plus, you do not have to be staying at the resorts to go and visit the pageant. Taking pictures can be a bit challenging, but are a great addition to any vacation scrapbook!
There are several great locations from which to view the Electrical Water Pageant:
The Electrical Water Pageant can also be viewed from outside the Magic Kingdom at the turnstiles but only when the park is open late.  It is also possible to see the pageant from the Ferry boat if you are able to time it right.  Also, the dock at the Ticket and Transportation Center is a goof place to consider.
Check with the My Disney Experience app or resort hotel front desk for Electrical Water Pageant times.  The times can be impacted by the weather and by the Magic Kingdom fireworks show times.  The show is subject to cancellation due to bad weather.
Take a look at the show from a unique vantage point on the water of the Seven Seas Lagoon on our YouTube channel.
Looking for some other fun and lesser known things do to at Walt Disney World?  Check out our Hidden Gems pages for some ideas.