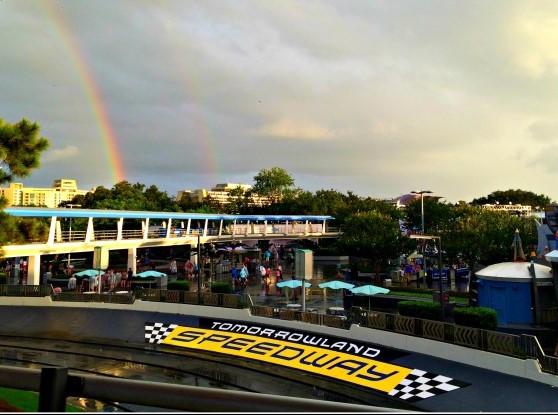 Severe Weather      Rainy Weather Gear       Having Fun Anyway         Staying Dry
Tips for Walt Disney World in the Rain
When the rain is coming down in "rushing, rising, rivulets," it is possible to have a magical day in a Disney park! Rain is something to be expected almost daily in tropical Florida.  There are a few tips for Walt Disney World in the rain that will keep your vacation magical, no matter the weather!
Severe Weather
If there is thunder and lightning, many outdoor attractions will be declared closed until any weather related danger has passed. At the water parks and pools, there is a severe weather policy that requires guests to leave the water until danger has passed. In the case of a hurricane warning, Disney has a cancellation policy in place, so that it is easier to reschedule your vacation if you choose to do so.
Rainy Weather Gear
In the summer months, rain in Florida tends to consist of afternoon thundershowers that go away shortly. These thunder showers can be very advantageous to any guests at Disney World who stick it out through the shower because many people will leave during the rain. So, if you can make it through a rain shower, because you know about these tips for Walt Disney World in the rain, it is likely that lines will be shorter once the rain is gone.  To stick it out through the rain without getting drenched, many people invest in a poncho. These will be readily available for purchase all over the parks if rain is looming.
It is much cheaper to purchase a disposable rain poncho ahead of time to carry with you, than to purchase one in the parks. A poncho can be used not only to keep you dry, but also to keep your possessions dry as well.  In times of desperation, it is not uncommon to see tourists utilizing trash bags to keep dry, but a poncho is an inexpensive investment that will likely serve you better than a trash bag.
Other than a poncho, Ziploc bags are recommended to keep technology and other small items safe from water.  As far as clothing goes, a rain jacket can be a commodity in an afternoon shower.  You will be  grateful for shoes or sandals that are still comfortable wet. One thing that it is inadvisable to bring is an umbrella. This unwieldy tool, will likely get in the way more than help in defending your head from getting soaked.
Having Fun Anyway
Believe it or not, there is so much to do at Disney World.even in bad, rainy weather, that you will likely be singin' in the rain. Although some outdoor experiences do close in rainy conditions, there are some experiences that get even better. For example, at Animal Kingdom the animals take advantage of the rain to cool off and clean off.  Thus, the animals are often much more active during rain showers than any other time.
Additionally, it is possible to take advantage of drastically reduced wait times for attractions. Experiencing the parks in the rain is often refreshing on a hot day. Being doused with water can be rejuvenating.  This often resulting in memories that would not have been made without the rain. So grab your Ziploc encased camera, and your positivity, and you will be ready to go rain or shine!
Staying Dry
If you're not interested in being  in the rain, you can still have a great time. If you stay in the parks, there are attractions where it is possible to wait out the water. At Magic Kingdom shows like the Hall of Presidents, the Carousel of Progress, and Philharmagic are excellent places to wait out a storm. In Epcot, there are countless stores and indoor attractions that are perfect places to stay dry in a downpour of rain. Of course, a rain shower could also present the perfect opportunity to go eat at an indoor restaurant or take a nap in the parks. Be aware, though, that these indoor activities become more crowded as the rain comes down.
A rainy afternoon is the perfect time for a nap that could increase your energy for later. If you aren't tired, Disney Springs is the perfect place to spend a few hours indoors. This recently updated area  of Walt Disney World is home to shopping, bowling, movie theaters, restaurants and more. You are certain to be able to find something to do while keeping in out of the rain!
With these tips for Walt Disney World in the Rain, you are prepared for any weather that comes your way!