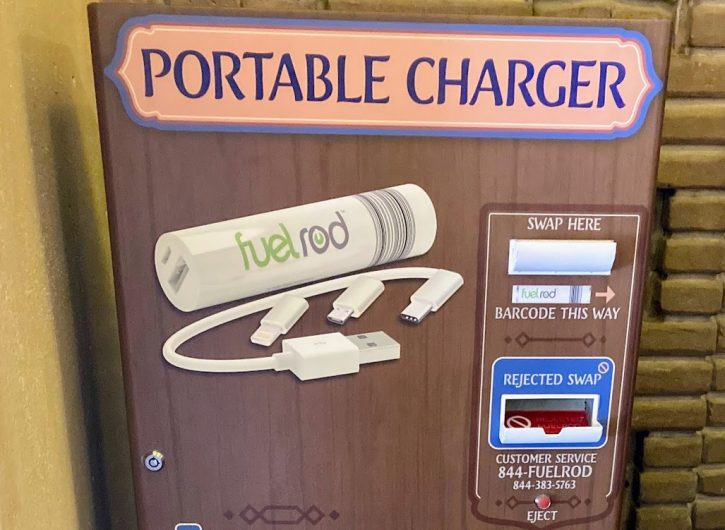 Keeping Your Phone Charged at Walt Disney World
It seems like a necessity to have your phone charged and ready to go all the time. This is especially true while at Walt Disney World in case you get separated from your group or need to update a dining or Genie+ reservation on the MyDisneyExperience app. You can charge your phone at any empty and easily accessible plug-in, but please remember not to go into Cast Member only areas and do not unplug anything that is already plugged in at an outlet that you find.
Here are some tips on extending the battery charge of your phone:
Turn off unnecessary and background apps are not currently being used. This can be done by turning off "background app refresh" on devices.
For iPhone users, enable "Low Power Mode".
Turn off your device's bluetooth option if there are no devices connected.
Delete any apps or widgets that may be using up a lot of battery life, then reinstall them later in the evening or when you return from your vacation.
Minimize the usage of the camcorder option on cell phones.  Long recording times takes up a significant amount of battery life.
Simply switch your phone into airplane mode if it is asked that cell phones are silenced or turned off during an attraction . The cell phone will use more power turning back on than it will coming out of airplane mode.
Bring a portable battery charger or purchase FuelRod in the parks. Read more about FuelRod including locations to purchase below.
If conserving energy for your phone isn't enough, we have found a number of places and methods at Walt Disney World to keep your phone charged.  Look for outlets along the walls at restaurants in the parks. In addition, there are multiple locations where guests can find convenient stations to take a break and plug in their cell phones.
All Four Parks Magic Kingdom Epcot Hollywood Studios  Animal Kingdom Disney Springs ESPN Wide World of Sports Water Parks Disney Resorts
FuelRod: FuelRod is a portable battery that you can purchase in the parks for $30.00 plus tax.  This FuelRod package comes with a six inch USB chord that has adapters for Androids and iPhones (both30 pin and lightning). These chargers can add up to eight hours of charge to your phones. Once purchased, the FuelRod chargers are for  you to keep; guests get to take the charger home with them.  Therefore, their usefulness extends beyond your vacation.
FuelRod exchange machines are in all of the parks and in all of the resorts.  Also, airports commonly have FuelRod kiosks.  The convenience of exchanging an empty FuelRod for a charged one is also beneficial for your travel time.
The $30.00 initial purchase is a one time fee. After you use the FuelRod, you can exchange it for a freshly charged FuelRod. In some locations, such as airports, there is a charge to exchange your empty FuelRod for a charged one.  At the Walt Disney World Resort, exchanges are currently free.  If you make it a habit to exchange your FuelRod frequently, that helps with keeping your phone charged.
Money Saving Tip:  Before your vacation, FuelRods can be purchased on Amazon. Generally, this is a less expensive option than buying them when traveling.
There are available outlets in all parks at First Aid and Baby Centers.
Magic Kingdom
Tomorrowland
The exit to Space Mountain near the arcade
The Tomorrowland Terrace
Cosmic Ray's Starlight Cafe: In the hallway outside the restrooms there are outlets.
Fantasyland
The tent at the back of Storybook circus near Dumbo and Barnstormer, next to Pete's Silly Sideshow
Tangled Rest Area: Outside of the Tangled restrooms in Fantasyland, there are benches and tables with places to plug in and charge your electronic devices (outlets in the "stumps").
Liberty Square
Fuel Rod Locations:
Merchant of Venus
Big Top Souvenirs
Curtain Call Collectibles
Epcot
World Nature
The Land and the Seas: The Land has chairs near outlets at the exit area of Soarin.'  Also, there are outlets at The Seas.
World Showcase
Norway and Morocco generally have multiple outlets.
FuelRod Locations:
International Gateway Entrance
Gateway Gifts (near International Gateway)
Disney Traders
Imagination Pavilion
Test Track gift shop
The Living Seas gift shop
Mission Space gift shop
Disney's Hollywood Studios
Star Wars Launch Bay: There are a few benches near wall outlets in Star Wars Launch Bay.
ABC Commissary: Outlets can be found in this quick service dining location.
PizzeRizzo: Outlets can be found in this quick service dining location.
FuelRod Locations
Celebrity 5 & 10
Rock around the Shop near Rock'n'Roller Coaster
PizzeRizzo
Tower of Terror
Near Toy Story Midway Mania
Vacation Fun
Disney's Animal Kingdom
Because Animal Kingdom is a park that celebrates nature and the outdoors, there are fewer locations for charging electronic devices in this park. Look in and around buildings and restaurants to find places to restore that phone battery.  In addition, you can also go to Guest Relations and ask to have your phone charged.
Pizzafari: Outlets can be found in this quick service dining location.
Finding Nemo Theater:  Outlets can be found near the benches
Shops on Discovery Island: Check out shops in Animal Kingdom for outlets.
FuelRod Location:
Island Mercantile
The Dino Institute Shop
Conservation Station
Discovery Trading Company
Serka Zong Bazaar
Disney Springs
FuelRod Locations:
Disney PhotoPass Studio
Disney Springs Sundries
Disney Springs Welcome Center
ESPN Wide World of Sports
FuelRod Location:
ESPN Clubhouse Shop
Wide World of Sports Grill
State Farm Fieldhouse
Water Parks
FuelRod Locations:
Blizzard Beach: Beach Haus
Typhoon Lagoon: Singapore Sal's
Disney Resorts
FuelRod Locations: