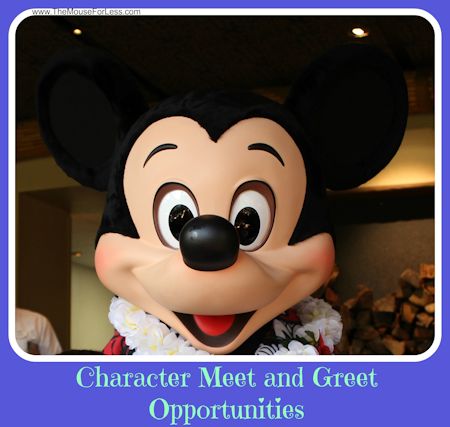 Disney Character Meet and Greet Opportunities
Meeting characters at Walt Disney World is one of the highlights of many vacations. There is something so fun about seeing someone that you know and love, getting the chance to give them a hug, get a photo, and possibly grabbing an autograph.
Characters are like rock stars. For some, their popularity can cause a bit of chaos, so at Walt Disney World, guests meet characters in relatively organized lines. Often there will be a Cast Member around to tell you where to go and how long you can expect to wait.
Here is a listing of the current characters meeting at Walt Disney World.  Do keep in mind that characters' schedules are subject to change and not all listed may appear at the same time.
For exact Disney Character Meet and Greet Opportunities details (like times), be sure to pick up a Times Guide or check the My Disney Experience app or website.  In addition, if you are looking for a specific character, make sure to ask at Guest Relations, as you never know who could potentially be out greeting guests.
Magic Kingdom   Magic Kingdom Character Dining Epcot   Epcot Character Dining Disney's Hollywood Studios  Disney's Hollywood Studios Character Dining Animal Kingdom   Animal Kingdom Character Dining Resort Character Dining Tips
Magic Kingdom Characters
Magic Kingdom Table-Service Character Dining
Epcot Characters
Epcot Table-Service Character Dining
Disney's Hollywood Studios Characters
Disney's Hollywood Studios Table Service Character Dining
Disney's Animal Kingdom Characters
Disney's Animal Kingdom Table Service Character Dining
Walt Disney World Resort Hotel Table Service Character Dining
MouseforLess Tips
Disney Character Meet and Greet Opportunities Tips
When getting autographs, try to use a big fat pen or a thick Sharpie.  The fatter the writing instrument, the better the character can maneuver.
Make sure to have your autograph books ready to go, open to the page you want signed.
Put your contact information in the front of your autograph book.  If it gets lost, it will be much easier to return to you.
Consider having something unique signed, instead of an autograph book. Suggestions include storybooks, photo mats, hats, and even Christmas ornaments.
Have your cameras, video cameras, or Magicbands (Memory Maker) ready to go.  Turn devices on and have them set on the correct settings. Photopass photographers will use your camera if asked!
Take the candid photos too!  Don't focus on only capturing the posed photos.  Some of the best photographs you can get are the candid moments that happen between your family and the characters.
Interact with the characters.  Ask them questions that pertain to them.  Mimic their poses. Characters like to play. (For example, I've seen Buzz Lightyear arm wrestle with guests.)
Try to approach characters from the front.  Their vision isn't always great.
Keep in mind that characters do take breaks.  The characters will be back soon, often only needing a 5-10 minute break. Characters are only allowed to stay out for a certain time length and it's really important that they leave when the greater tells them it's time to go.
Courtesy goes a long way.  Be nice to the characters.  Please DO NOT grab them.  Also, try to be polite to the other guests as well.  They've waited patiently too.
While characters can sign most things, they cannot sign clothing that is currently being worn.
Characters cannot hold your children.
Some children can be shy when first meeting the characters. Most characters are very sensitive to this, and will try and accommodate your child's needs.  If you do have a shy child, consider meeting face characters first.
Consider meeting the characters at off hours.  Lines seem to be less lengthy during these times. This is especially true for characters who meet all day. For example, in the evening hours, The Character Spot at Epcot typically sees minimal waits.
One of the more fun things you can do is attempt to take a character selfie!  They can be difficult to get entire faces in, but they are fun memories!
Character meet and greets can be great fun for adults too! They are certainly not just for the kids.
If there is a character you want to see and you know where they will be meeting, line up before the character arrives. Arriving a few minutes early and waiting in line before the character actually appears can save you time later.
Watch for surprise characters. You never know who will pop up where!
Dress like the character you want to meet.  They typically respond well to seeing you dressed like them.  For example, when wearing a Mickey Mouse shirt, Mickey almost always comments.
Character Dining Tips
Again, have your camera ready-most characters will visit you at your table during your meal.  Also, take candid photos of your family's exchange with the character.
You may want to make your Advance Dining Reservations for "off peak" meal times. This will allow more time for character interactions because there will be less guests dining.
If you have finished your meal and you missed seeing a character, let one of the character attendants know and they will try to accommodate your request. This cannot always be done, but they will try.
Character meals, while sometimes pricey, can be a great way to see a large number of characters all at one time, therefore saving you time in line later. Consider whether the cost is worth it to you.
When dining in the parks for breakfast, try to get the earliest time possible. That way, when you're done, you can head immediately to the rides with little waits.