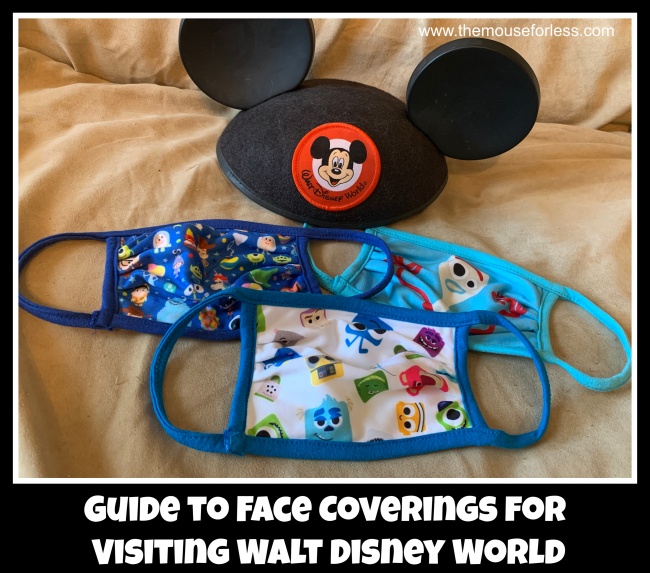 In order to visit the Walt Disney World Resort, Guests are required to wear face coverings. All Guests (ages 2 and up) will need to wear some sort of mask. Guests should bring their own masks and they will need to be worn at all times, except when dining or swimming. In addition, Disney has shared that Guests may now remove masks when taking photos outside. More details can be found here.
Face Covering Requirements
All face coverings (whether disposable or reusable) must:
Be made with at least two layers of breathable material
Fully cover the nose and mouth and secure under the chin
Fit snugly but comfortably against the side of the face
Be secured with ties or ear loops and allow the Guest to remain hands-free
Currently, at this time, based on guidance from health authorities, neck gaiters and open-chin triangle bandanas are not acceptable face coverings and will not be allowed as options for Guests to wear when visiting the Walt Disney World Resort. Also not allowed will be face masks containing valves, mesh material, or holes of any kind are also not acceptable. In addition, costume masks are also not considered appropriate and are prohibited from being worn.
Disney recently announced that face coverings with an integrated transparent plastic panel to aid in viewing the wearer's mouth can be worn. They must meet certain requirements. These face coverings must be a fabric face covering that includes a solid plastic panel. The panel can contain no openings. In addition, it must be attached to the fabric on all sides using tight knit stitching. The face mask must also meet all other face covering requirements.
In addition, the Walt Disney World Resort has closed a loophole where Guests did not have to wear a face mask while walking if they were consuming food or beverage items. More information about that can be found here.
Of course, while wearing a face covering is mandatory, the use of these kinds of masks are not a substitute for physical distancing. Also, keep in mind that this current mask policy can change at any time according to health guidelines.
At the Water Parks
When Disney's Blizzard Beach reopens, it will operate in alignment with the health and safety protocols implemented. This will include face coverings. Guests ages 2 and up will be require to wear face coverings in designated areas. This includes at the park entrance and exit, retail areas, and food and beverage ordering areas. Face coverings will not be permitted while going down the water slides or when swimming in the water. Face covering may also be removed while actively eating or drinking. Guests should remain stationary and maintain appropriate physical distancing.
Mouse For Less Tips
Bring multiple masks for each member of your party, especially in the summer. With the heat, it may be helpful to have multiple face coverings just in case.
Disney does sell face coverings in the parks, should something happen to yours.
Make sure all members of your party are comfortable wearing a mask. For little ones, try to practice before heading down to the parks.
Bring a plastic baggie to put your masks in while dining.
Disney does have relaxation stations where Guests can take their face coverings off and relax, should they need to. These can be found in various places throughout the park. Should you need to utilize one, check with a Cast Member on where the nearest one is located.