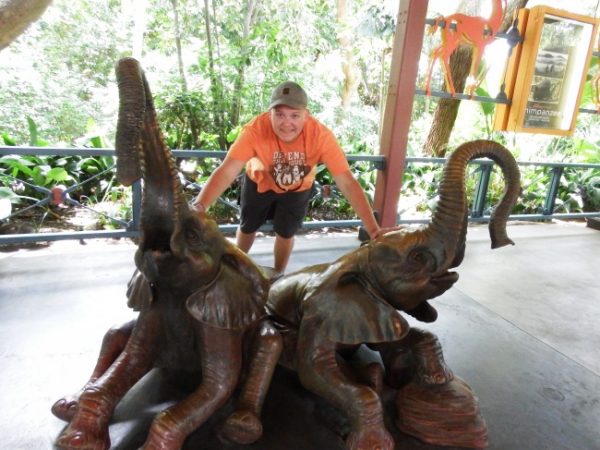 At Affection Section, guests can interact with a variety of domesticated animals at the Animal Kingdom's petting zoo.
Ride Information  Restrictions  Accessibility  Location  Fun Facts  Top 5 Tips
Ride Information
Opening Day: April 22, 1998
Type of Ride: Petting zoo
Age Recommendation: Children
Duration of Ride: Unlimited
Typical Queue Time: None
Single Rider Line: No
Chicken Exit Available: Yes
Baby Swap Available: No
Type of Vehicle: None
Type of Restraint: None
Attraction Open During Early Theme Park Entry: No. See our Early Theme Park Entry page for more information.
Ride Photo Available For Purchase: No

Planning a Walt Disney World Vacation?
For a Free no-obligation quote, contact our sponsor
The Magic For Less Travel
. Services are provided free of charge and their expert planning advice will help you make the most of your vacation time and money.
Ride Restrictions
Height Requirements: None
Flash Photography or Video Allowed: Yes
Safety, Accessibility, and Guest Policies
Accessibility: 
Guests must transfer into a wheelchair from a motorized scooter
Service animals are not permitted
Location
Shopping: Apparel, books, and animal plush dolls are among the items available for purchase at "Out of the Wild" in Rafiki's Planet Watch.
Dining/Refreshment: No dining options are available at Rafiki's Planet Watch. In the Animal Kingdom's Africa section, guests wanting a quick service lunch or dinner should consider eating at Harambe Market, where guests can enjoy skewers, flatbreads, and grilled vegetables and much more. Guests preferring a sit down meal can make Advance Dining Reservations for breakfast, lunch, or dinner at the Tusker House buffet. Tusker House serves a mixture of American and African dishes at all three meals with regular appearances from Donald Duck and friends.
Restroom: Find facilities at the Conservation Station.
Smoking Location: Smoking is permitted in designated smoking areas only. Disney parks are smoke free.
Affection Section Fun Facts
Did you know?
Guests of all ages can pet, brush, and feed various domesticated animals, including goats, sheep, donkeys, cows, and pigs, at Affection Section.
Brushes are provided for use in the area, and hand-washing stations are available.
Guests must take the Wildlife Express Train from the Animal Kingdom's Africa section to experience Affection Section. You will not randomly encounter Affection Section while walking around the park.
A petting zoo called "Grandma Duck's Farm" was located at the Magic Kingdom between June 18, 1988 and March 11, 1996.  Grandma Duck's Farm was originally located in the Magic Kingdom's new "Mickey's Birthdayland" section, named to celebrate Mickey Mouse's 60th birthday, and was retained when that area changed its name to "Mickey's Starland" in 1990.
Grandma Duck's Farm, save for the petting zoo's barn structure, closed for "The Barnstormer at Goofy's Wiseacre Farm" roller coaster which incorporated into the new "Mickey's Toontown Fair" in 1996. In 2011, Mickey's Toontown Fair closed, and its area annexed into the Fantasyland expansion. The Barnstormer was then rethemed and renamed The Barnstormer Starring the Great Goofini.
From 1986 to 2016 Disneyland Park in California had a petting zoo situated adjacent to the Big Thunder Mountain Railroad roller coaster named "Big Thunder Ranch. The area closed in 2016 to prepare for Disneyland's Star Wars expansion.
From the Animal Kingdom's opening day, April 22, 1998, until 2001, the area that the Affection Section resides in was called the "Conservation Station". In 2001 the area received the name "Rafiki's Planet Watch" after the baboon shaman from The Lion King (1994) with the "Conservation Station" moniker restricted to the area's main educational and entertainment building.
Top Five Tips for Affection Section
Affection Section is a great attraction for families with young children.
Keep in mind that Affection Section opens 30 minutes after the Animal Kingdom itself.
Be sure to wash your hands prior to departing the area.
If your schedule permits, check out Rafiki's Planet Watch's "It All Started with a Mouse" show, which features animals such as parrots, porcupines, sheep, pigs, and birds of prey with educational commentary from Cast Members.
If your family enjoys Affection Section, consider visiting the Tri-Circle-D Ranch at the Fort Wilderness Resort and Campground. Here, guests can view a variety of horses, and partake in pony, wagon, and carriage rides.