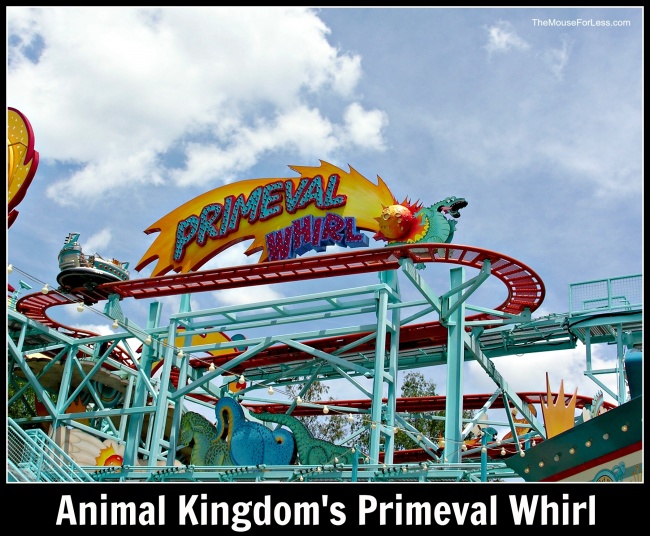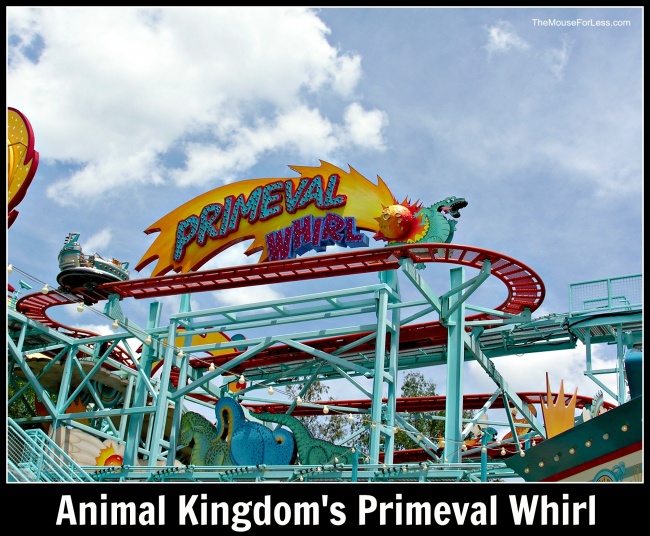 On Primeval Whirl, guests enjoy a wild roller coaster ride that takes you up, down, around, and through the jaws of a dinosaur.
As of July 2020, Primeval Whirl has been permanently closed.

Ride Information  Restrictions  Location  Fun Facts  Top 5 Tips
Ride Information
Opening Day: March 31, 2002
Closing Day:  March 15, 2020
Type of Ride: Roller Coaster
Age Recommendation: Older children and adults
Duration of Ride: About 2 minutes
Typical Queue Time: Moderate to long; typically peaks between 30 and 50 minutes
Single Rider Line: No
Chicken Exit Available: Yes
Baby Swap Available: Yes
Type of Vehicle: Roller coaster cars
Type of Restraint: Lap bar
Attraction Open During Early Theme Park Entry: Yes. See our Early Theme Park Entry page for more information.
Ride Photo Available For Purchase: No

Planning a Walt Disney World Vacation?
For a Free no-obligation quote, contact our sponsor
The Magic For Less Travel
. Services are provided free of charge and their expert planning advice will help you make the most of your vacation time and money.
Ride Restrictions
Height Requirements: 48 inches
Flash Photography or Video Allowed: No
Primeval Whirl Location
Shopping: Situated across from Primeval Whirl, "Chester and Hester's Dinosaur Treasures" sells assorted souvenirs in a zany setting. This establishment is themed after a roadside gasoline station converted into a roadside gift shop. In keeping with the rest of the Chester and Hester's Dino-Rama subsection of DinoLand U.S.A., the same intentionally tacky theme is found in Dinosaur Treasures.
Dining/Refreshment: Themed as the whimsical cafeteria for the nearby Dino Institute from the DINOSAUR attraction, Restaurantosaurus offers burgers, sandwiches, hot dogs, plus salads at both lunch and dinner. From 2002-2007, the Animal Kingdom's Donald Duck character breakfast, currently offered at Tusker House in the park's Africa section, was housed at Restaurantosaurus under the moniker "Donald's Breakfastaurus."
Restroom: Facilities convenient to Primeval Whirl are located at "Chester and Hester's Dinosaur Treasures" and Restaurantosaurus.
Smoking Location: Smoking is permitted in designated smoking areas only. Disney parks are smoke free.
Fun Facts
Did you know?
Primeval Whirl incorporates a story where guests travel back to the age of the dinosaurs and rush to return to the present before the infamous meteor strikes. The plot is essentially the same as that of DINOSAUR, across DinoLand U.S.A., except that you are expressly warned on Primeval Whirl to "not pick up any hitchhiking dinosaurs." On DINOSAUR, riders secure an Iguanodon before the meteor hits.
Primeval Whirl reaches a top speed of 29 miles-per-hour.
Primeval Whirl features two identical coaster tracks.
Primeval Whirl's coaster cars are themed after time machines.
The area surrounding the track is decorated with cutout time portals, meteors, and dinosaurs, including a gigantic dinosaur jaw. The track itself incorporates numerous sharp curves, tall hills, in addition to some short drops. The cars complete full spins while coming around the curves.
Primeval Whirl is one of two "wild mouse" coasters at Walt Disney World. In addition to Primeval Whirl, Space Mountain is also a wild mouse coaster, although it does not spin. Other Disney wild mouse coasters include "Goofy's Sky School" at Disney's California Adventure and "Crush's Coaster" at Walt Disney Studios Paris; the latter coaster features spinning, the former does not.
Top 5 Tips for Primeval Whirl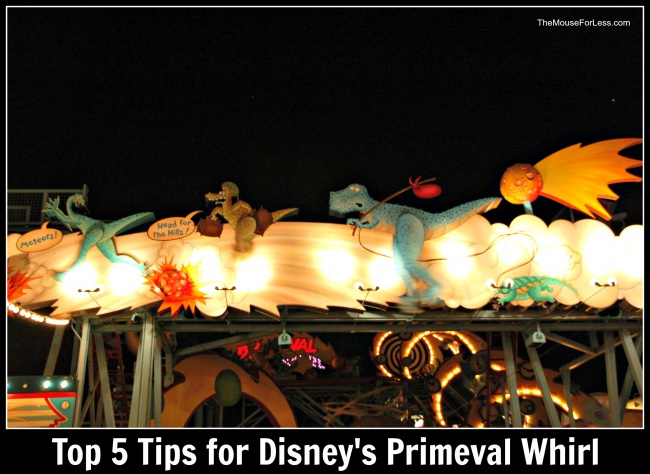 Riders should brace themselves for jarring curves in addition to lots of spinning.
Do not eat a heavy meal immediately prior to riding Primeval Whirl.
TriceraTop Spin, the Animal Kingdom's version of Dumbo the Flying Elephant, sits adjacent to Primeval Whirl and is a good place for non-riding adults to take younger children while other members of their party experience the coaster.
Take some photographs of the coaster and its surroundings.