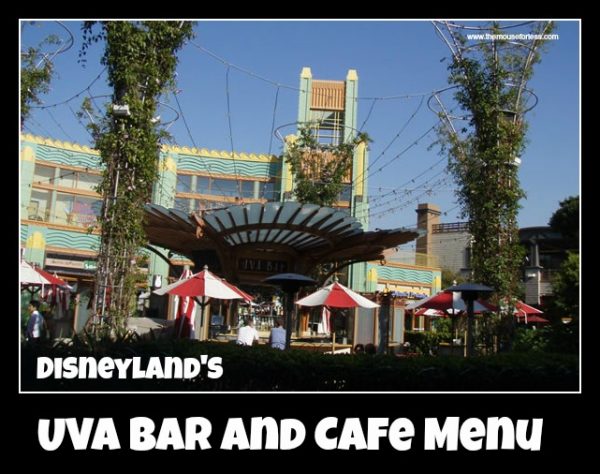 At UVA Bar, savor Cal-Mediterranean favorites and sip on refreshing craft beers and signature cocktails at this Downtown Disney al fresco destination. Bar snacks, crisp salads, and decadent burgers seared a la plancha provide a taste of Spain at UVA Bar, adjacent to Disneyland. Make sure to save room for the homemade ice cream sandwiches, floats, and shakes.
UVA Bar is located in the Downtown Disney District.  Find more Disneyland dining locations on our Disneyland Resorts menus page.
Restaurant Info: Mediterranean, Steak, Healthy Selections, Vegetarian, Lunch/Dinner, $$ – $15 to $34.99 per person
Breakfast Menu  Lunch/Dinner Menu

Planning a Disneyland Vacation?
For a Free no-obligation quote, contact our sponsor
The Magic For Less Travel
. The Magic For Less Travel is an Authorized Disney Vacation Planner and has been helping guests plan magical vacations since 2002. Receive the best prices and free travel planning services. Their fee-free services will help you save time, money, and stress while planning a vacation designed around you and your needs!
UVA Bar Breakfast Menu
Menu Date: 06/2021
Breakfast
Breakfast Burrito
Scrambled Egg, Potato, Bacon, Mild Red Chile Sauce, White Cheddar, served with Country Potatoes
Breakfast Sandwich
Scrambled Eggs, Sausage Patty, White Cheddar, secret Sauce, Brioche Bun, served with Country Potatoes
Eggs Your Way
two Cage-free Eggs, Bacon or Sausage, Country Potatoes, choice of Toast
Breakfast Bowl
Sausage, Bacon, Mozzarella Cheese, topped with Sunny Side Egg
Veggie Sandwich
Vegan Sausage patty, White Cheddar, Tomato, Guacamole, Brioche Bun
Greek Bowl
fresh Berries, Greek Yogurt, Granola, Honey
Kid's Scrambled Eggs
Bacon or Sausage
Non-Alcoholic Beverages
Soft Drinks – Coke, Diet Coke, Root Beer, Sprite
Passion Fruit Iced Tea
Lemonade
Specialty Lemonade – Strawberry, Blackberry, or Watermelon
Dasani
San Benedetto Bottled Water – Sparkling or Still
Uva Bar Lunch/Dinner Menu
Menu Date: 06/2021
Shared Plates
Guacamole
Avocado, Lime, Chile, Cotija Cheese, Cilantro, fresh Tortilla Chips
Trio Of Mediterranean Dips
Hummus, Baba Ghanoush, Muhammara, Warm Pita Bread
Corn Arepas
seared Corn Cakes topped with Pulled Pork, Guacamole, Cilantro, and Red Onion
California Flatbread
Roasted Chicken, Applewood Bacon, Avocado, Mozzarella, Red Onion, BBQ Sauce
Crispy Calamari
Wild Arugula, Cherry Tomato, Pickled Pepper, Spicy Aioli
Carne Asada Fries
Uva Garlic Fries, Marinated Flank Steak, Cheddar Cheese, Pico de Gallo, Avocado Salsa Verde, Chipotle Crema, and Cotija Cheese
Salads
BBQ Ranch Salad 
Romaine, Diced Chicken Breast, Applewood-smoked Bacon, Cherry Tomato, Red Onion, Grilled Corn, Cheddar, Onion Strings, House-made Ranch, spicy BBQ sauce
Pear and Cranberry Salad
Mixed Greens, Pear, Orange, Cranberry, Goat Cheese, Walnuts, Pomegranate Vinaigrette
Manchego Salad
Wild Arugula, Manchego Cheese, Shallot, Apple, Date, Candied Walnut, Toasted Walnut Vinaigrette
Entrees
Uva Burger
Certified Angus Beef, Tomato, Shredded Lettuce, Pickle, and Secret Sauce served with Garlic Fries
All American Burger
Certified Angus Beef, Applewood Bacon, Onion Strings, Cheddar Cheese, BBQ Sauce served with Garlic Fries
Veggie Burger
House-made Quinoa Patty, Cheddar, Shredded Lettuce, Caramelized Onions, Secret Sauce, served with Sweet Potato Fries
California Fish Tacos
Beer-battered Fish, House Coleslaw, Jalapeno Aioli, Pico de Gallo, Cotija Cheese, Cilantro-lime Vinaigrette, soft Yellow Corn Tortilla, served with Sweet Potato Fries
Buffalo Chicken Wrap
crispy Chicken, Buffalo Ranch Sauce, Bacon, Tomato, and Shredded Lettuce served with Garlic Fries
Chicken "Gryo"
Curry Yogurt Marinated Chicken Breast, Hummus, Cucumber, Tzatziki Sauce, Tomato, Lettuce, Onion served with Garlic Fries
Sides
Sea Salt Garlic Fries
Ketchup, Buttermilk Ranch
Sweet Potato Fries
Herb-garlic salt
Mixed Green Salad
Kids' Entrées
Mac N Cheese
Macaroni with choice of cheese or butter
Crispy Chicken Fingers
with Ketchup and Ranch
Hot Dog
All Beef Frank
Hamburger
with Lettuce, Tomato, and Pickles
Cheeseburger
with Lettuce, Tomato, and Pickles
Grilled Chicken Breast
with Mashed Potatoes
Kids' Beverages
Low Fat Milk – Regular or Chocolate
100% Juice – Apple, Orange or Pineapple
Kids' Soda – Coke, Diet Coke, Sprite, Root Beer, or Lemonade
Lemonade
Specialty Lemonade – Strawberry, Blackberry, Watermelon, or Blue Cotton Candy
Featured
Hollywood Flight
three 1-oz tastes of Teremana, Casamigos and Santo Silver Tequila
Beer + Shot
choose any Beer and (1) shot of Jim Beam Kentucky Fire, Jose Cuervo Silver Tequila or Redemption Rye (no substitutions)
Beer Flight
a sampler of four Draft Beers of your choice
Cocktails
UVA Adios!
Rum, Gin, Tequila, Vodka, Triple Sec, Blue Curacao, Sweet-and-Sour, Sprite
Ketel One Mule
Ketel One, Ginger Beer, Lime
The 'Phil' Collins
Gin, St. Germain, Raspberries, Cucumber, Lime, Soda
Emerald Crush
Tito's Handmade Vodka, fresh Agave, Lime Juice, fresh Kiwi
Uva Frose
Rosé blended with Lemon Juice, Simple Syrup, and fresh Strawberries
Uva Margarita
Tequila, Triple Sec, Sweet-and-Sour
Uva Long Island Iced Tea
Rum, Gin, Tequila, Vodka, Triple Sec, Sweet-and-Sour, Coca-Cola
Frozen Margarita
Cazadores Reposado Tequila, House-made Sweet-and-Sour mix with a choice of Original, Strawberry, Mango, or Raspberry
The People's Margarita
Teremana Tequila, Triple Sec, Sweet-and-Sour, Pineapple Juice, Jalapeños, Tajin Rim
Paloma
Maestro Dobel Tequila, Agave, Lime, Grapefruit, splash of soda
"The Duke" Old Fashioned
Maker's Mark Whiskey, Simple Syrup, Orange Bitters, Cherry, Orange
Mixed Fruit Mojito
Rum, Raspberries, Blackberries, Strawberries, Lime Juice, Simple Syrup, Mint, Soda
Cucumber Press
Chopin Vodka, Lemon Juice, Muddled Cucumber, Lemon-Lime Soda
Mega Margarita
AsomBroso Blanco Tequila, House-made Sweet n' Sour, Western Son Prickly Pear Vodka
Cucumber Martini
Ketel One Citroen, Lemon Juice, Simple Syrup, Cucumber, Mint
Cinnamon Toast Crunch Shooter
Rumchata, Fireball, Cinnamon Toast Crunch Rim
Mexican Lollipop Shooter
Tequila, Watermelon Pucker, Simple Syrup, Tabasco with Tajin Rim
German Chocolate Cake Shooter
Frangelico, Ketel One Citroen, Sugared Lemon Wedge
Mai Tai
Pyrat XO Reserve Rum, Lahaina Dark Rum, Dekuyper Orange Curaçao, aged in-house in American oak casks
Old Fashioned
Wild Turkey Rye aged five weeks with Angostura and Orange Bitters
Sangria
available in Red or White, our Sangria is a refreshing blend of Wine, Port, Citrus, and fresh Fruit
Wines
Brut, Patina Cuvée, France
Chardonnay, Patina, Spain
Chardonnay, ABC Patina Label, Santa Barbara
Pinot Grigio, Vista Point, California
Prosecco, Tiamo, Italy
Rosé, Domaine De Cala, France
Sauvignon Blanc, Margerum Patina, Santa Barbara
Cabernet Sauvignon, Noble Vines 337, Lodi
Grenache, Arrels de Clos Pissarra, Santa Rosa
Merlot, Patina, Spain
Pinot Noir, Au Bon Climat, Santa Barbara
Zinfandel, Gnarly Head, Napa
Beer
Large selection of Beer available
Non-alcoholic Drinks
San Benedetto Bottled Water

Dasani
Specialty Lemonade – Strawberry, Blackberry, or Watermelon
Soda
Passion Fruit Iced Tea
Lemonade 
** Uva Bar and Cafe Menu and Prices are Subject to Change Without Notice **