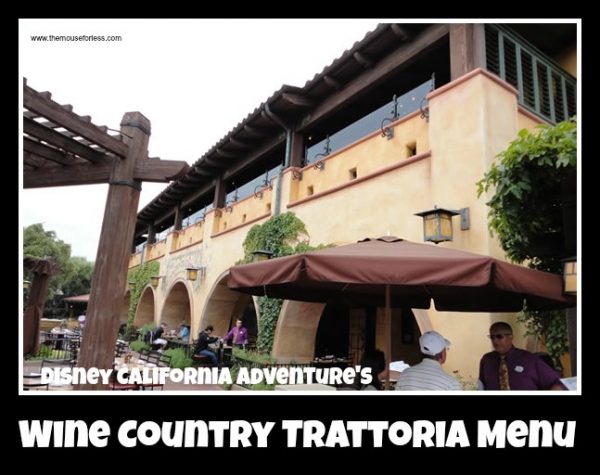 A trickling hand-carved stone fountain and soothing background music provide the perfect environment in which to taste various splendid varietals of wine with the assistance of a pleasant, informative wine expert.  Wine Country Trattoria is located in Disney California Adventure theme park.  Find more Disneyland dining locations on our Disneyland Resorts menus page.
Restaurant Info: Table Service, Casual Dining, Italian Cuisine $$ – $15 – $34.99 per person
Annual Passport Discounts: Signature Passport, Premium, Signature Plus Passport: 15%
Annual Passport Discounts: Deluxe, Southern California Select, Southern California Passport: 10% 

Planning a Disneyland Vacation?
For a Free no-obligation quote, contact our sponsor
The Magic For Less Travel
. The Magic For Less Travel is an Authorized Disney Vacation Planner and has been helping guests plan magical vacations since 2002. Receive the best prices and free travel planning services. Their fee-free services will help you save time, money, and stress while planning a vacation designed around you and your needs!
Wine County Trattoria Lunch & Dinner Menu
Menu Date: 06/2021
Wine Country Trattoria Appetizers
Soup Del Giorno 
Chef's Selection of Seasonal Ingredients – $7.00
Italian Insalata 
A slice of Iceberg Lettuce with Pepperoncini, Kalamata Olives, Roma Tomatoes, Cucumbers, and Shaved Parmesan with Red Wine Vinaigrette – $8.00
Rustic Bruschetta 
Roasted Artichokes, Mushrooms, Sun-dried Tomatoes, and Caramelized Onions on Crostini with Paprika Oil and Parmesan – $9.00
Caprese Salad 
Tomatoes, Basil, and Mozzarella drizzled with Olive Oil and Balsamic Vinegar – $9.00
Fried Calamari 
Lightly breaded Calamari and Haricot Verts served with Pepperoncini Aioli – $12.00
Entrées
Tuscan Salad with Sautéed Shrimp 
Blend of Romaine and Radicchio, Red and Yellow Grape Tomatoes, Celery, Green Beans, Cannellini Beans, and Roasted Peppers tossed in Creamy Italian Dressing – $24.00
Rib Eye Steak
served with creamy Garlic-stacked potatoes and roasted Brussels Sprouts with bacon and honey – $38.00
Lasagna Rustica
served with House-made Bolognese – $21.00
Fettuccine Shrimp Alfredo  
A Creamy Alfredo sauce, Parsley, Garlic, and Chili Flakes – $27.00
Spaghetti Aglio Olio
Lightly Tossed with seasonal vegetables, garlic, chili flakes, and lemon oil – $18.00
Spaghetti Bolognese
A Rich Ragu of Beef, Italian Sausage, Tomatoes, and Seasoning – $19.00
With Meatballs – $25.00
Chicken Parmesan
Breaded and Fried Chicken Breast with Tomato Sauce, ad Mozzarella over Spaghetti – $25.00
Salmon 
served with Roasted Potatoes, Tomatoes, and Arugula salad with Dill -Butter Cream Sauce – $27.00
Wine Country Trattoria Desserts
Tiramisu – $8.00
Tiramisu
Traditional Italian Tiramisù with Chocolate Sauce – $8.00
Wine Country Trattoria Non-Alcoholic Specialty Beverages
Coffee or Assorted Hot Teas 
Featuring Freshly Brewed Joffrey's Coffee®
Assorted Soft Drinks
Coca-Cola®, Diet Coke®, Sprite®, Fanta® Orange, Minute Maid® Light Pomegranate Lemonade, and Freshly Brewed Iced Tea
Wine Country Trattoria Alcoholic Beverages
Cocktails
Aperol Spritz – Aperol and La Marca Prosecco topped with Soda Water – $13.75
Negroni – Hendrick's Gin, Campari, and Sweet Vermouth – $15.50
Italian Margarita – $16.00
Old Fashioned – $14.50
Passion Fruit Mule – $16.00
Italian Manhattan – $16.00
Sandy Beach – $16.00
Frozen Limoncello – $17.00
Tuscan Mojito – $16.00
Prickly Pear Refresher – $16.00
Red Sangria – Beso Del Sol Red Sangria made from 100% natural marriage of Spanish Tempranillo Grapes, Orange, Blood Orange, and Lemon Juices with a touch of Natural Cinnamon – $10.50
White Sangria – Beso Del Sol White Sangria made from 100% natural blend of Airen White Spanish Grapes, Lemon, Peach, and Mango Juices – $10.50
Wine
Wine Flight – California Wine Country (2-oz pour)
Honig Vineyards Sauvignon Blanc, Napa Valley; MacMurray Estate Vineyards Pinot Noir, Russian River Valley; Schweiger Family Cabernet Sauvignon, Spring Mountain District – $21.00
Wine Country Trattoria Wine Flight – Tour of Italy (2-oz pour)
Placido Pinot Grigio, Veneto; Sogno d'Italia Chianti, Tuscany; Fontanafredda Nebbiolo, Barolo – $19.00
Assorted Sparkling and White Wine – $39-$142 Bottle; Glass $9-$21
Assorted Red Wine – $39-$131 Bottle; Glass $9-$24
Beer, Cider and Seltzer
Bud Light – St. Louis, MO (4.2% ABV) – $8.00
Chihuahua Rico Cerveza Strong Mexican-style Lager – Newport Beach, CA (6.5% ABV) – $9.25
North Coast PranQster – Fort Bragg, CA (7.6% ABV) – $10.50
Left Coast, Hop Juice Triple IPA – San Clemente (10.0% ABV) – $10.50
Seasonal Ace Hard Cider – Sebastopol, CA (5.0-6.9% ABV) – $9.25
Bud Light Hard Seltzer, Black Cherry – St. Louis, MO (5% ABV) – $8.00
Wine Country Trattoria Kids' Menu
Menu Date: 06/2021
Kids' Meals served with choice of small low fat milk or small Dasani water bottle. 
Entrees
Grilled Chicken Breast – with Broccoli and Pasta – $10.00
Whole Grain Pasta with Marinara and Meatballs – $10.00
Salmon – with Broccoli and Pasta – $12.00
Cheese Pizza – $10.00
** Wine Country Trattoria Menu and Prices are Subject to Change Without Notice **