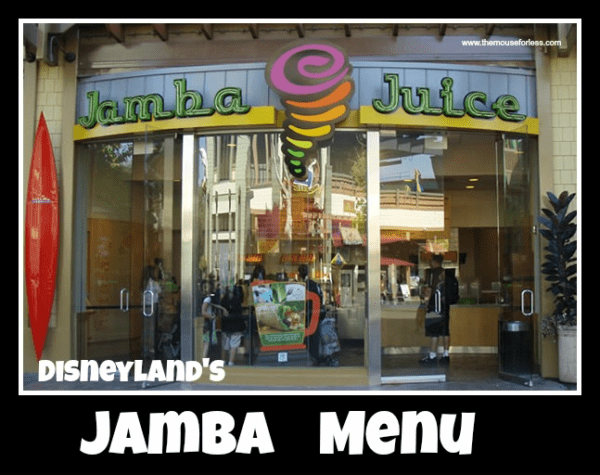 Famous for healthy, refreshing and revitalizing smoothies, Jamba offers an awesome array of tasty fruit combinations. Try the power-packed gourmet pretzels and breads for a quick snack or a healthy meal at Jamba Juice.
Jamba is located in the Downtown Disney District.  Find more Disneyland dining locations on our Disneyland Resorts menus page.
Restaurant Info: American, Healthy Selections, Vegetarian, Lunch/Dinner, $ – Less than $14.99 per person
Annual Passport Discounts: 10%

Planning a Disneyland Vacation?
For a Free no-obligation quote, contact our sponsor
The Magic For Less Travel
. The Magic For Less Travel is an Authorized Disney Vacation Planner and has been helping guests plan magical vacations since 2002. Receive the best prices and free travel planning services. Their fee-free services will help you save time, money, and stress while planning a vacation designed around you and your needs!
Jamba Menu
Menu Date: 09/2022
Classic Smoothies
Mango-A-Go-Go®
Mango, Passion Mango Juice, Pineapple Sherbet
Razzmatazz®
Strawberry, Banana, Peach Juice, Orange Sherbet
Aloha Pineapple®
Strawberry, Banana, Greek Yogurt, Pineapple Juice, Pineapple Sherbet
White Gummi
Peach Juice Blend, Pineapple Sherbet, Soy Milk, Lime Sherbet, Orange Sherbet, Mango, Raspberry Sherbet
Peanut Butter Mood
Peanut Butter, Banana, Soy Milk, Chocolate Moo'd Dairy base, Fat Free Vanilla Frozen Yogurt
Caribbean Passion®
Strawberry, Peach, Passion Mango Juice, Orange Sherbet
Strawberry Surf Rider™
Strawberry, Peach, Lemonade, Lime Sherbet
Strawberries Wild®
Strawberry, Banana, Apple, Strawberry Juice, Nonfat Frozen Yogurt
Orange Dream Machine
Orange Juice, Soy Milk, Orange Sherbet, and Fat Free Vanilla Yogurt
Matcha Green Tea Blast
Matcha Green Tea, Soy Milk, Fat Free Vanilla Frozen Yogurt
Plant Based Smoothies
Apple 'n Greens™
Kale, Banana, Mango, Peach, Apple Strawberry Juice
Strawberry Whirl™
Strawberry, Banana, Apple Strawberry Juice
Pomegranate Paradise™
Mango, Strawberry, Peach, Pomegranate Juice
Smooth Talkin' Mango
Oat Milk, Mango, Pineapple, Organic Agave
Mega Mango™
Mango, Strawberry, Orange Juice, Pineapple Juice
Greens 'N Ginger™
Mango, Kale, Peach, Ginger, Lemonade
Peach Perfection™
Peach, Mango, Strawberry, Apple Strawberry Juice, Peach Juice
Vanilla Blue Sky
Unsweetened Almond Milk, Vanilla Coconut Milk, Banana, Pineapple, Blue Spirulina Boost
Power Smoothies
Açaí Super Antioxidant™
Strawberry, Blueberry, Açaí Juice, Soy Milk, Raspberry Sherbet + Daily Vitamin +Zinc Boost
Orange C-Booster™
Orange Juice, Peaches, Bananas, Orange Sherbet, Vitamin C, Zinc,  and Daily Vitamin & Zinc Boost
Protein Berry Workout™
Strawberries, Bananas, Soy Milk and Soy or Whey Protein Boost
PB & Banana Protein
Milk, Banana, Peanut Butter, Honey, Whey Protein Boost
PB Chocolate Love™
Banana, Peanut Butter, Chocolate Moo'd® Milk
Boosts and Shots
3G Energy™
Daily Vitamin + Zinc
Soy Protein
Whey Protein
Chia Seeds
Non Fat Greek Yogurt
Kale
Pumpkin Seeds
Wheatgrass Shot
Ginger Puree
Ginger Orange Cayenne Shot
Ginger Lemon Cayenne Shot
Matcha Green Tea
Blue Spirulina
Almond Butter
Fresh Squeezed Juice
Purely Orange
Purely Carrot
Orange Carrot Twist
Bowls
Açaí Primo™
Açaí, Soy Milk, Banana, Strawberries, Blueberries, Coconut, Honey, Granola
Vanilla Blue Sky
Banana. Pineapple, Unsweetened Almond Milk, Vanilla Coconut Milk, Blue Spirulina, Organic Granola, Strawberry, Blueberry, Coconut Chips, Goji Berry, Sliced Almonds
Chunky Strawberry™ 
Strawberry, Banana, Peanut Butter, Soy Milk, Greek Yogurt, Granola
Nutty Almond Butter™
Almond milk, Almond Butter, Banana, Peach, Granola, Strawberry, Blueberry, Almond
Island Pitaya™
Pineapple, Banana, Pitaya, Strawberries, Mango, Blueberries, Coconut, Honey, Granola, Chia Seeds
Sandwiches, Flatbreads & Wraps
Roasted Tomato, Spinach and Feta Sandwich
Vegetable Egg White patty, Bistro Bun, Roasted Tomatoes, Neufchatel Cheese, Spinach, Feta Cheese
Bacon, Roasted Tomato, Spinach, Feta Sandwich
Vegetable Egg White patty, Bistro Bun, Roasted Tomatoes, Neufchatel Cheese, Spinach, Feta Cheese, Nitrate-free Bacon
Turkey Sausage, Roasted Red Pepper and Gouda Sandwich
Vegetable Egg White patty, Bistro Bun, Spicy Turkey Sausage, Gouda Cheese, Roasted Red Pepper Spread
Turkey Sausage 'n Cheese Breakfast Wrap
Homestyle Wrap, Scrambled Egg Whites, Cheddar Cheese, Turkey Sausage, American Cheese Spread
Spinach 'n Cheese Breakfast Wrap
Whole Wheat Tortilla, Scrambled Egg Whites, Spinach, Mozzarella Cheese, Asiago spread, Caramelized Onions
Four Cheese Flatbread
Ancient Grain Flatbread, New York Style Pizza Sauce, Mozzarella Cheese blend
Sweet 'n Spicy Chicken Flatbread
Ancient Grain Flatbread, Roasted Chicken strips, Mozzarella Cheese, Red Bell Peppers, Poblano Chiles, Cheddar Cheese, Jamaican Jerk Seasoning
Kids
Strawberries Gone Bananas™
Strawberry, Banana, and Apple
Blueberry Strawberry Blast-Off
Blueberry, Strawberry and Banana
** Jamba Menu and Prices are Subject to Change Without Notice **