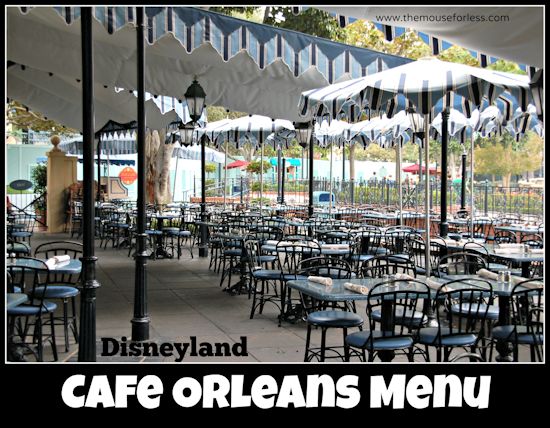 Sit down to "Big Easy" dining at this delicious table-service restaurant known as Cafe Orleans. Featuring classic American flavors with Cajun-Creole flair.
Cafe Orleans is located in the Disneyland theme park.  Find more Disneyland dining locations on our Disneyland Resorts menus page.
Restaurant Info: Cajun-Creole, Lunch/Dinner, $$ – $15 – $34.99 per adult
Annual Passport Discounts: Premium, Signature Passport, Signature Plus Passport – 15%,
Annual Passport Discounts: Deluxe, Southern California Select, Southern California Passport – 10%
Lunch and Dinner Menu  Kids' Menu

Planning a Disneyland Vacation?
For a Free no-obligation quote, contact our sponsor
The Magic For Less Travel
. The Magic For Less Travel is an Authorized Disney Vacation Planner and has been helping guests plan magical vacations since 2002. Receive the best prices and free travel planning services. Their fee-free services will help you save time, money, and stress while planning a vacation designed around you and your needs!
Thanksgiving Day Offerings
Available November 28 ONLY
Thanksgiving Monte Cristo Sandwich 
Turkey and Cheese Monte Cristo Sandwich served with Cranberry Sauce and Home-style Gravy
Kids Turkey Monte Cristo
Pumpkin Pie 
Cafe Orleans Lunch and Dinner Menu
Menu Date: 10/2019
Seasonal Offerings
Haunted Mansion 50th – Sarah "Sally" Slater's Swamp Fries
Crawfish Etouffee, atop Sweet Potato Fries with Chorizo, Clams, Tomatoes, Sweet Corn, and Green Onion – $11.00
Haunted Mansion 50th – Swinging Wake Cake
Layered Chocolate and Vanilla Sponge Cake, Caramel-Banana Filling, Caramel Buttercream Frosting, and Sugar Candle – $10.00
Starters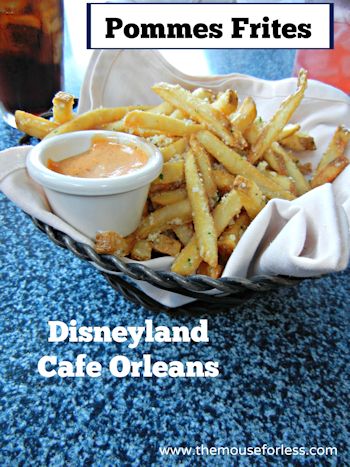 Seafood Gratin
Creamy blend of Lump Crab, Shrimp, Spinach, and creamy Tarragon Dressing served with Seasoned Croutons – $12.00
Pommes Frites
Traditional French-fried potatoes tossed with Parmesan cheese, garlic and parsley, served with a Cajun spice remoulade – $8.00
La Salade de Maison
Our Cafe Orleans signature house salad, featuring tossed baby greens in a raspberry vinaigrette topped with cherry tomatoes, crumbled goat cheese, and caramelized pecans. – $6.00
Charcuterie Board
Assorted Artisan Cheeses and Charcuterie  with Honey, Fruit, Nuts, and Crostini – $18.00
Seasonal Soup 
Served in a Cup – $7.00
Entrees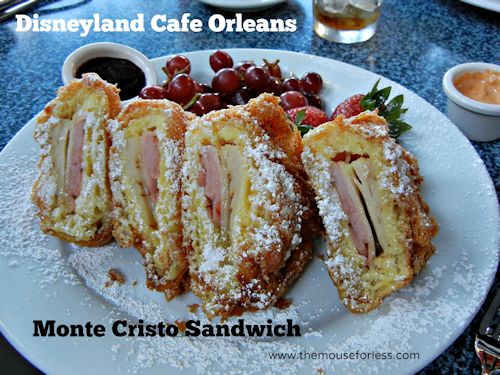 Monte Cristo Sandwich
Sliced turkey, ham and Swiss fried in a light batter and served with berry puree dusted with Powdered Sugar – $21.00
Three-Cheese Monte Cristo
Swiss, mozzarella and Double Crème Brie fried in a light batter and served with Berry Puree dusted with Powdered Sugar. – $21.00
Shrimp and Grits –
Creole Shrimp served atop Cheese grits, spiced sausage, Fava bean corn relish, and shrimp sauce – $23.00
Steak and Potatoes 
Chef's choice of steak, potatoes, and seasonal vegetables  paired with Chimichurri sauce -$25.00
Muffuletta Chopped Salad 
Ham, Capicola, Salami, Provolone, Roasted Red Peppers, Olives, Shaved Parmesan, and Giardiniera and served with Sherry Vinaigrette – $21.00
Vegetable Bolognese 
Zucchini, yellow squash, Eggplant, and Ratatouille Sauce – $20.00
Bourbon Street Chicken
Honey kissed chicken, with Hoppin John, Seasonal Vegetables, and Bourbon Sauce – $21.00
Nicoise Salad
Seared Aui Tuna with Spring Mix, Heirloom Tomato, Roasted Potatoes, Asparagus, Olives, Hard boiled egg, and Fresh Herb Vinaigrette – $24.00
Beverages
Assorted Fountain Drinks
Freshly Brewed Joffrey's Coffee
Cafe Orleans Kids' Menu
Menu Date: 10/2019
Kids' Disney Check Meals
Sustainable Fish
Pan-seared Salmon served with Popcorn Rice, Seasonal Vegetables, and Fruit with a choice of small Lowat Milk or Small Dasani Water. Meets Disney Nutrition Guidelines for Complete Meals without substitutions – $12.00
Chef's Chicken Speaciatly
Seared Chicken, served with Popcorn Rice, Seasonal Vegetables, and Fruit with a choice of small Lowfat Milk or Small Dasani Water. Meets Disney Nutrition Guidelines for Complete Meals without substitutions – $10.00
Chef's Beef Specialty
Seared Steak served with Popcorn Rice, Seasonal Vegetables, and Fruit with choice of small Lowfat Milk or small Dasani® Water. Meets Disney Nutrition Guidelines for Complete Meals without substitutions – $12.00
Kids' Meal
Shrimp and Grits
Sautéed Shrimp and Cheesy Grits served with Seasonal Vegetables and Fruit with a choice of small Lowfat Milk, small Dasani® Water, small Minute Maid® Juice, or small Chocolate Milk – $12.00
Mickey's Cheesy Macaroni
Yummy Noodles With Creamy Cheese Sauce served with Seasonal Vegetables and a choice of Small Lowfat Milk or Small Dasani Water – $9.00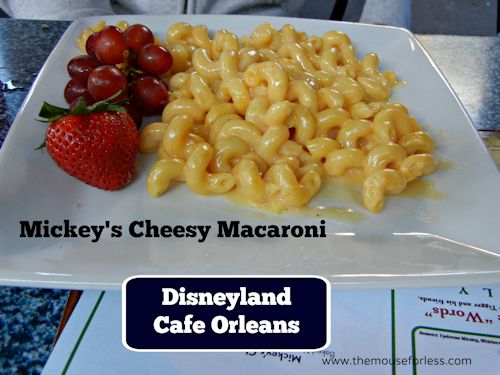 ** Cafe Orleans Menu and Prices are Subject to Change Without Notice **