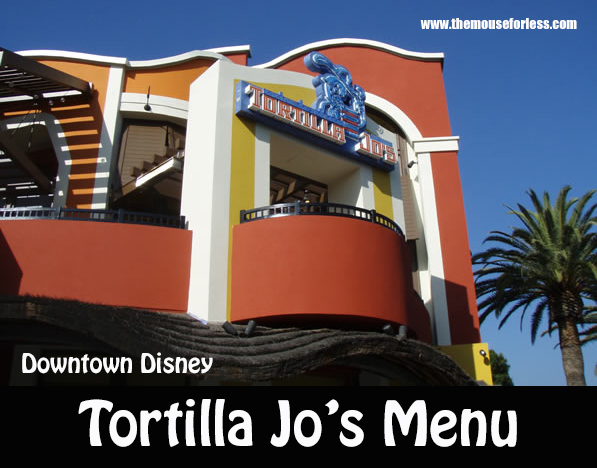 Revel in the spirit of Mexico with mouth-watering traditional dishes, magnificent margaritas and live mariachis that make Tortilla Jo's the perfect gathering place for fun and drinks. Tortilla Jo's offers a savory dining experience is guaranteed at the taqueria, which lets you create your own custom-built tacos, nachos, and burritos — now with 30 additional seats, shaded awnings, evening heat lamps, and house-made Aguas frescas!
Tortilla Jo's is located in the Downtown Disney District.  Find more Disneyland dining locations on our Disneyland Resorts menus page.
Restaurant Info: Healthy Selections, Mexican, Vegetarian. Casual Dining, $$ – Between $15.00 and $35.99 per person

Planning a Disneyland Vacation?
For a Free no-obligation quote, contact our sponsor
The Magic For Less Travel
. The Magic For Less Travel is an Authorized Disney Vacation Planner and has been helping guests plan magical vacations since 2002. Receive the best prices and free travel planning services. Their fee-free services will help you save time, money, and stress while planning a vacation designed around you and your needs!
Tortilla Jo's Brunch Menu
Menu Date: 07/2019
Entrees
Huevos Rancheros – Two corn tortillas, over easy eggs, refried beans, salsa ranchera, cotija cheese, served with Mexican red rice, fresh fruit, and dessert including mini apple chimichangas and churros – $14.00
Huevos con Chorizo – Scrambled eggs, Mexican-style sausage, served with Mexican red rice, fresh fruit, and dessert including mini apple chimichangas and churros – $14.00
Huevos Divorciados – one Over Easy Egg topped with Salsa Verde, and one Over Easy Egg topped with Salsa Roja, separated by Mexican Red Rice and Refried Beans with the choice of Corn or Flour Tortillas served with fresh Fruit and Dessert including Mini Apple Chimichangas and Churros – $14.00
Breakfast Burrito – Flour tortilla, choice of chorizo, machaca, bacon or sausage, scrambled eggs, potatoes, pico de gallo, Monterey Jack cheese served with Mexican red rice, fresh fruit, and dessert including mini apple chimichangas and churros – $14.00
Pozole Rojo – Red chile broth, slow cooked pork, hominy, cabbage, onion, radish, oregano, corn tortillas served with fresh fruit and dessert including mini apple chimichangas and churros – $14.00
Chilaquiles – House-made corn chips, scrambled eggs, cotija cheese, cilantro, onion, choice of salsa roja or salsa verde served with fresh fruit and dessert including mini apple chimichangas and churros – $14.00
French Toast – Brioche Bread filled with Sweet Ricotta Cheese, topped with fresh Berries, Cajeta Caramel and Horchata Whipped Cream, served with fresh fruit and dessert including mini apple chimichangas and churros – $14.00
TJ's Enchiladas  – Three corn tortillas filled with choice of machaca with salsa roja or shredded chicken with salsa verde, Mexican cheeses, topped with a sunny side egg served with fresh fruit and dessert including mini apple chimichangas and churros – $14.00
Huevos Americanos – Two eggs, choice of bacon or sausage, papas a la Mexicana, toast or tortillas served with fresh fruit and dessert including mini apple chimichangas and churros – $14.00
Non-Alcoholic Beverages
Horchate – $5.00
Agua de Tamarindo – $5.00
Solé Sparkling Water – $4.75
Soft Drinks – $4.50
Mexican Cinnamon Coffee – $3.85
Agua de Jamaica – $5.00
Fruit Smoothie (Strawberry, Mango, Lime, or Peach) – $4.75
Solé Still Water – $4.75
Juices – $4.50
Coffee – $3.85
Cocktails
Maria! – Herradura silver tequila, Bloody Mary mix, lime, olive, bacon – $10.00
Veeva la Vida – Veev, simple syrup, champagne, berries – $10.00
Bitter Blanco – Elderflower liqueur, grapefruit juice, white wine, orange slice – $10.00
Senor Collins – Gin, elderflower liqueur, simple syrup, lemonade, soda water, lemon – $10.00
Bottomless Mimosas – Orange, Cranberry, or Pineapple-Orange – $12.00
Café Coco – Margaritaville coconut tequila, coffee, cream, whipped cream – $10.00
Cucumber Fresca – Ketel One vodka, cucumber, mint, lime juice, soda water, garnished with cherry tomato – $10.00
Te Dulce – Cruzan Dark rum, simple syrup, iced tea, mint, lemon – $10.00
Bourberry – Jim Beam bourbon, agua de Jamaica, triple sec, sweet and sour, lime – $10.00
Draft & Bottled Beer
Dos Equis Lager – $9.00
Corona Extra – $9.00
Corona Extra Light- $9.00
Pacifico – $9.00
Negra Modelo – $9.00
Modelo "Especial" – $9.00
Samuel Adams Boston Lager – $9.00
Coronita Bucket of 5 – $23.00
Blue Moon – $9.00
Bootlegger's Palomino Pale Ale – $8.00
Budweiser – $8.00
Coors Light – $8.00
St. Pauli Girl Non-Alcoholic – $7.00
Kid's Menu
Buttermilk Pancakes – Warm maple syrup, choice of bacon or sausage – $9.00
Ninos Scramble – Eggs, choice of bacon or sausage – $9.00
Tortilla Jo's Lunch and Dinner Menu
Starters
Tableside Guacamole! – California Haas avocados, onions, tomatoes, cilantro, chile serranos, lime juice, prepared to your liking (Gluten Free) – $15.00
Empanadas – Puff pastry filled with pibil pork and cheese, served with jalapeno slaw – $10.00
Nachos – Fresh tortilla chips, Monterey Jack cheese, salsa roja, black beans, pico de gallo, guacamole, sour cream – $13. Add shredded chicken, beef, grilled chicken, or steak  – $16.00
Taquitos – Crisp-fried tortillas, chicken, guacamole, cream fresca – $10.00
Signature Barbacoa Nachos – Fresh tortilla chips, barbacoa beef, housemade cheese sauce, black beans, pickled jalapenos, Mexican cheeses, pico de gallo, guacamole, crema fresca – $16.00
Baja Ceviche – Wild Mexican shrimp, fresh Market fish, cucumber, lime juice, serrano chile, onion, cilantro, avocado, radish (Gluten-free) – $15.00
Tropical Ceviche – Market Fish, Jicama, Mango, Red Onion, Cherry Tomato, Fresno Chile, and Lime Juice – $16.00
Tuna Ceviche – Ahi Tuna, Avocado, Red Onion, and Chef's Special Negro Salsa – $16.00
Sinaloa Shrimp Ceviche – Mexican Shrimp, Diced Cucumbers, Red Onions, Tomato, Hint of Habanera, and Chef's Special Negro Sauce – $16.00
Ceviche Trio – Choose Any 3 – $19.00
Coctel de Camaron y Pulpo  – Mexican shrimp, octopus, tomato, cucumber, red onion, avocado, cilantro (Gluten-free) – $17.00
Tortilla Soup – All natural braised chicken, market vegetables, tortilla strips, Cotija cheese (Gluten Free) – $8.00
Street Tacos
Taco de Pollo – Three hand pressed corn tortillas with achiote marinated grilled chicken, onion-cilantro mix, Mexican red rice, and refried beans – $19.00
Taco de Carne Asada – Three hand pressed corn tortillas with grilled steak, adobe sauce, onion-cilantro mix, Mexican red rice, and refried beans – $19.00
Taco de Carnitas – Three hand pressed corn tortillas with carnitas, onion-cilantro mix, Mexican red rice, and refried beans – $19.00
Taco de Pescado – Three hand pressed corn tortillas with beer-battered mahi mahi, cabbage slaw, chile piquin powder, chipotle aioli, Mexican red rice, and refried beans – $20.00
Burritos
Refried Beans and Cheese – topped with salsa roja and served with Mexican red rice, pico de gallo, sour cream – $14.00
Shredded chicken – Refried beans, Monterey Jack cheese topped with salsa verde and served with Mexican red rice, pico de gallo, and sour cream  – $18.00
Shredded beef – Refried beans and Monterey Jack cheese topped with salsa roja and served with Mexican red rice, pico de gallo, sour cream – $18.00
Pork Carnitas – Refried beans and Monterey Jack cheese topped with salsa verde and served with Mexican red rice, pico de gallo, sour cream – $18.00
Fajitas Burrito – Grilled chicken or steak, refried beans, chile pasilla, onions, and Monterey Jack cheese topped with ranchera sauce and queso Cotija served with Mexican red rice, pico de gallo, and sour cream – $20.00
Vegetarian Burrito – Quinoa "Meatballs", Black Beans, Roasted Tomatoes, Poblano Peppers, Red Onion, Topped with Salsa Ranchera served with Cilantro Green Rice – $18.00
Puerto Vallarta Seafood Burrito – Fried Shrimp and Fish, Cilantro Rice, Lettuce, Pico de Gallo, Topped with Cotija Cheese, Salsa Ranchera, Avocado, served with Black Beans – $20.00
Ensaladas
Garden Salad – Mixed baby greens, shredded carrots, beets, radish, queso fresco, agave balsamic vinaigrette (Gluten-free) – $10.00
Sanora Wedge Salad – Iceberg Lettuce, Mexican Chorizo, Crispy Shallots, Green Onions, Queso Fresco, Cherry Tomatoes, and Jalapeno Ranch Dressing – $11.00
Grilled Chicken Mexican Caesar Salad  – Romaine lettuce, cherry tomatoes, chipotle Caesar dressing, corn tortilla chips, toasted pepitas, Cotija cheese – $17.00
Mexican Caesar Salad with Grilled Steak – Romaine lettuce, cherry tomatoes, chipotle Caesar dressing, corn tortilla chips, toasted pepitas, Cotija cheese – $18.00
Mexican Caesar Salad with pan-seared shrimp – Romaine lettuce, cherry tomatoes, chipotle Caesar dressing, corn tortilla chips, toasted pepitas, Cotija cheese – $20.00
Jo's Baja Salad Bowl – Grilled Chicken or Steak, Black Beans, Mexican Rice, Lettuce, Monterey Jack Cheese, Pico de Gallo, Fresh Guacamole, Corn, Sour Cream, Tortilla Chips, and Mexican Romesco Dressing – $18.00
Especiales De La Casa
Fajitas with Grilled Chicken – Sautéed peppers, onions, tomatoes, and fresh oregano served on a sizzling skillet. Served with refried beans or black beans, Mexican red rice, guacamole, sour cream, and handmade corn tortillas (Gluten-free) – $24.00
Fajitas with Grilled Steak – Sautéed peppers, onions, tomatoes, and fresh oregano served on a sizzling skillet. Served with refried beans or black beans, Mexican red rice, guacamole, sour cream, and handmade corn tortillas (Gluten-free) – $26.00
Fajitas with Pan seared Shrimp – Sautéed peppers, onions, tomatoes, and fresh oregano served on a sizzling skillet. Served with refried beans or black beans, Mexican red rice, guacamole, sour cream, and handmade corn tortillas (Gluten-free) – $27.00
Portobello Mushroom Fajita – Fesh Portobello Mushrooms, Seasonal Vegetables served on a sizzling skillet with Cilantro Green Rice, Black Beans, and Hand Pressed Corn Tortillas – $22.00
Fajita de Tres – Grilled chicken, steak, and shrimp (Gluten-free) – $28.00
Steak Ranchera – Marinated grilled hanger steak paired with a chile relleno served with Mexican red rice, refried beans, guacamole, salsa ranchero, and handmade corn tortillas (Gluten-free) – $28.00
Jo's Carnitas – Citrus-braised pork served with black beans, Mexican red rice, pico de gallo, guacamole, chile torreados, and handmade corn tortillas (Gluten-free) – $22.00
Chile Verde – Stewed Pork in Salsa Verde, Nopales, Served with Mexican Rice and Refried Beans and Hand Pressed Corn Tortillas – $21.00
Pozole Rojo – Red chile broth, slow cooked pork, hominy, cabbage, onion, radish, oregano, corn tortillas- $15.00
Camarones a la Diabla – Sautéed Shrimp in Salsa a la Diabla, Served with Mexican Rice and Refried Beans with Hand Pressed Corn Tortillas – $25.00
Camarones al Mojo De Ajo – Sautéed Shrimp in Garlic, Lime Juice, and Butter Served with Mexican Rice, Refried Beans, and Hand Pressed Corn Tortillas – $25.00
Enchiladas
Enchiladas Suizas – Two corn tortillas, pasilla-cilantro marinated chicken, suiza salsa, Mexican cheeses and served with sweet corn, black beans, and sour cream (Gluten-free) – $20.00
Seafood Enchiladas – Three Corn Tortillas filled with Shrimp, Crab, Red Snapper, Sautéed Onions, Cheese, and Cilantro, Topped with Salsa Ranchera, Shredded Lettuce, Red Onion, Avocado, and Cotija Cheese – $23.00
Enchiladas de Mole – Three corn tortillas, shredded chicken, sweet chile mole sauce, toasted sesame seeds, queso Cotija, and crema fresca served with Mexican red rice – $20.00
Combination Plates (Choose 2 or 3 Items)
Crispy Taco – Shredded chicken or beef, lettuce, Cotija cheese, pico de gallo, and a corn tortilla served with refried beans and choice of two items – Mexican red rice or sautéed vegetables (Gluten-free)
Cheesy Enchilada – Monterey Jack cheese, salsa roja, and corn tortilla served with refried beans and choice of Mexican red rice or sautéed vegetables (Gluten-free)
Chicken Enchilada – Shredded chicken, Monterey Jack cheese, salsa verde, and corn tortilla served with refried beans and your choice of Mexican red rice or sautéed vegetables (Gluten-free)
Beef Enchilada – Shredded beef, Monterey Jack cheese, salsa roja, and corn tortilla served with refried beans and choice of Mexican red rice or sautéed vegetables (Gluten-free)
Pork Tamale – Shredded pork, salsa roja, and Cotija cheese served with refried beans and your choice of Mexican red rice or sautéed vegetables (Gluten-free)
Chicken Tamale – Cilantro-pasilla marinated chicken, salsa verde, and Cotija cheese served with refried beans and choice of Mexican red rice or sautéed vegetables (Gluten-free)
Chile Relleno – Pasilla Chile, Mexican cheeses, and fire roasted tomato ranchera sauce served with refried beans and choice of Mexican red rice or sautéed vegetables
Sides
Champinones – Sautéed Mushrooms with Garlic, Sliced Guajillo Chile, Shallots, Epazote, and White Wine – $7.00
Rajas con Crema  – Mild Pasilla Chile and Onions, Cooked in Garlic Cream Sauce – $7.00
Nopales Rancheras – Cactus Leaves Sautéed with Onions, Tomatoes, Cilantro, and Fresh Oregano – $7.00
Esquites – Grilled Corn, Diced Peppers, Onions, Cilantro and Cotija Cheese, Coriander, Mayo Guajillo Powder – $7.00
Sweet Corn Cake – $5.00
Margaritas
Jo's Casa Margarita – Tortilla Jo's own 100% blue agave tequila, fresh lime juice, and simple syrup served on the rocks or blended – Pitcher $48.00 |Glass $9.50
Jo's Super Gold Margarita – Jose Cuervo Gold tequila, fresh lime juice, and simple syrup topped with a "floater" of Grand Marnier – Pitcher $54.00/Glass $14.00
Jo's Fruta Margarita – Choice of strawberry, peach, mango, or raspberry – Pitcher $50.00 | Glass $10.00
Tableside Margarita – Made tableside with Casamigos Blanco tequila, Patron Citronage liquor, fresh lime juice, and simple syrup – $15.00
Pomegranate Margarita – Espolon Blanco tequila, Pama pomegranate liqueur, fresh lime juice, simple syrup – $14.00
Organic Margarita – Azunia Organic Blanco tequila, organic agave nectar, fresh lime juice – $14.00
Strawberry Mint Margarita – Olmeca Silver tequila, muddled fresh strawberries and mint, lime juice, agave nectar, Cointreau – $14.00
Pineapple Cilantro Margarita – Muddled pineapple and cilantro, Tradicional Blanco tequila, lime juice, simple syrup – $14.00
Melon Margarita – Maestro Dobel Blanco tequila, fresh lime juice, simple syrup, Midori Melon liqueur – $14.00
Fresno Mezcal Margarita – Scorpion Anejo mezcal, muddled Fresno chile, and thyme, lime juice, simple syrup – $14.00
Skinny Margarita – Partida Blanco tequila, fresh lime juice, agave nectar, club soda – $14.00
Blood Orange Margarita – Cazadores Blanco Tequila, Stirrings Blood Orange, Simple Syrup, fresh Lime Juice – $14.00
Mezcal-Rita – Kimo Sabe Mezcal Joven, fresh Lime Juice and Simple Syrup – $14.00
Casamigos Tequila Flight – a flight of premium Casamigos Tequila comparing three different styles: a young Blanco, a mellowed Reposado and an aged Anejo – $25.00
Casa Noble Margarita Flight – Choice of three: Blood Orange, Strawberry, Pomegranate, Lime, Jalapeño-mango, or Pineapple-cilantro – $21.00
Casa Noble Schooner – Casa Noble Premium Tequila, fresh Lime Juice, and Simple Syrup served in a large schooner topped with a CoronaRita – $24.00
Alma de Agave"Autentico" Extra Anejo – 2oz Tasting, The Ultimate Tequila for the Ultimate Tequila Aficionado. Matured in Canadian Oak Barrels for 5 years. Enjoyed Neat or On the Rocks – $25.00
Draft & Bottled Beer
Domestic Draft – $7.50
Dos Equis Lager – $9.00
Corona Extra – $9.00
Corona Extra Light- $9.00
Pacifico – $9.00
Negra Modelo – $9.00
Modelo "Especial" – $9.00
Samuel Adams Boston Lager – $9.00
Coronita Bucket of 5 – $23.00
Blue Moon – $9.00
Budweiser – $8.00
Coors Light – $8.00
St. Pauli Girl Non-Alcoholic – $7.00
Cocktails
Jo's Classic Mo' – Cruzan Dark Rum, fresh mint, lime, simple syrup and a splash of club soda – $12.00
Jo's Coconut Mo' – Cruzan Coconut Rum, fresh mint, lime juice, simple syrup and a splash of club soda – $12.00
Peach Tree Mojito – Bacardi Red Peach Rum, fresh mint, lime juice, simple syrup and a splash of club soda – $12.00
Cherry Mojito – Bacardi Cherry Rum, fresh mint, lime juice, simple syrup and a splash of club soda – $12.00
Raspberry Mojito – Bacardi Rum, fresh raspberries, mint, lime juice, simple syrup and a splash of club soda – $12.00
Pineapple Mojito – Captain Morgan Pineapple Rum, Pineapple, fresh Mint, Lime Juice, Simple Syrup, Club Soda, Sprite®  – $12.00
Sangria Rojo  – Wine, Brandy, Peach Purée, Pineapple Juice, Orange  – $10.00 Glass | $48.00 Pitcher
Sangria Blanco – Pinot Grigio, Triple Sec, Lemonade, Lemon, Lime, Raspberries – $10.00 Glass | $48.00 Pitcher
Wines
Cava, Freixenet, Brut, Spain – $9.00
Chardonnay, House, California – $9.00 Glass | $34.00 Bottle
Pinot Grigio, House, California – $9.00 Glass | $34.00 Bottle
Sauvignon Blanc, Nicholas, Gascogne – $12.00 Glass | $42.00 Bottle
Cabernet Sauvignon, House, California – $9.00 Glass | $34.00 Bottle
Cabernet Sauvignon, Noble Vines, Monterey – $12.00 Glass | $46.00 Bottle
Merlot, St. Francis, Sonoma – $11.00 Glass | $42.00 Bottle
Pinot Noir, Noble Vines, Monterey – $12.00 Glass | $46.00 Bottle
Patina Cuvee, Brut, France – $36.00 Bottle
Rose, Domaine de Cala, France – $10.00 Glass | $38.00 Bottle
Chardonnay, Noble Vines, Monterey – $12.00 Glass | $46.00 Bottle
Merlot, House, California – $9.00 Glass | $34.00 Bottle
Non-Alcoholic Beverages
Horchate – $5.00
Agua de Tamarindo – $5.00
Solé Sparkling Water – $4.75
Soft Drinks – $4.50
Agua de Jamaica – $5.00
Fruit Smoothie (Strawberry, Mango, Lime, or Peach) – $4.75
Solé Still Water – $4.75
Juices – $4.50
** Tortilla Jo's Menu and Prices are Subject to Change Without Notice **