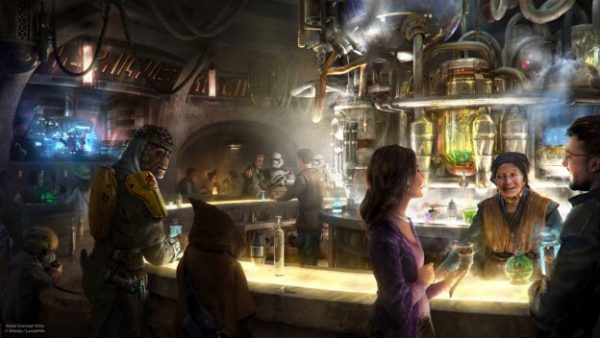 Come to Oga's Cantina for a refreshing cool down and lively music after exploring the new Star Wars: Galaxy's Edge. Indulge in signature cocktails that are out of this world, with or without alcohol. Oga's Cantina is even open in the morning for coffee, small breakfast snacks, and morning libations.
Oga's Cantina is located in the Disneyland theme park.  Find more Disneyland dining locations on our Disneyland Resorts menus page.
Annual Passholder discounts are available here.

Planning a Disneyland Vacation?
For a Free no-obligation quote, contact our sponsor
The Magic For Less Travel
. The Magic For Less Travel is an Authorized Disney Vacation Planner and has been helping guests plan magical vacations since 2002. Receive the best prices and free travel planning services. Their fee-free services will help you save time, money, and stress while planning a vacation designed around you and your needs!
Oga's Cantina Breakfast Menu
Menu Date: 03/2023
Concoctions without Alcohol
Hyperdrive (Punch It!)
Powerade® Mountain Berry Blast, White Cranberry Juice, Black Cherry Purée, and Sprite® – $6.00
Blurrgfire
Minute Maid® Lemonade, Pomegranate Juice, and Habanero-Lime – $7.00
Jabba Juice 
Simply Orange® with Pineapple, Kiwi, Cantaloupe, and Blueberry Flavor-filled Boba – $6.50
Black Spire Brew
Cold Brew Joffrey's Coffee®, Honey, Falernum, Passion Fruit, and Citrus – $7.00
Moogan Tea
|Gold Peak® Unsweetened Tea, Chocolate Milk, Vanilla, and Cinnamon, topped with Vanilla Whipped Cream, Cinnamon & Sugar-dusted Cereal – $7.00
Tarine Tea
Gold Peak® Unsweetened Tea, Peach, Huckleberry, and Mint – $6.50
Blue Bantha
Blue Milk served chilled – $8.00
Cliff Dweller
Citrus Juices, Coconut, Hibiscus-Grenadine, and Seagram's® Ginger Ale – $6.50
Cliff Dweller
Citrus Juices, Coconut, Hibiscus-Grenadine, and Seagram's® Ginger Ale served in a souvenir porg mug – $35.00
Provision
Oga's Obsession 
Minute Maid® Lemonade, Cotton Candy Flavor, and Blueberry Flavor-filled Boba, with a bursting Dried Fruit Mixture – $7.50
Snack
Five-blossom Bread
Warm Pretzel Knot with Hawaiian Black Sea Salt, served with Honey-Mustard Cream Foam and Calabrian Cheese Sauce – $10.50
Oga's Obsession
Minute Maid® Lemonade, Cotton Candy Flavor, and Blueberry Flavor-filled Boba, with a bursting Dried Fruit Mixture – $7.50
Batuu Bits
a light crisp Snack Mix from the galaxy – $8.00
Happabore Sample
a selection of Cured Meats, Artisan Cheeses, Rations, Crackers – $21.00
Concoctions with Alcohol
Fuzzy Tauntaun
Cîroc Peach Vodka, Bols Peach Schnapps, and Simply Orange® topped with Tangerine, Pure Cane Sugar, "Buzz Button Tingling" Foam – $17.00
Takodana Quencher 
Bacardi Dragonberry Rum, Bols Blue Curaçao, Simply Orange® with Pineapple, Kiwi flavors – $16.00
Jedi Mind Trick
Ketel One Botanical Grapefruit and Rose Vodka, John D. Taylor's Velvet Falernum, Bols Blue Curaçao, White Grape Juice, Lime Juice, and Grapefruit Bitters – $16.00
Fondor Fizz
Toniray Teal Chardonnay, Tito's Vodka and Joffrey's® White Tea, with flavors of Lemongrass and Pea Flower Citrus – $19.00
The Outer Rim
Patrón Silver Tequila, Stirrings Pomegranate Liqueur, Lime Juice, and Pure Cane Sugar, topped with Exotic Fruit Purée, rimmed with Black Salt – $18.00
Bloody Rancor 
Tito's Vodka, spicy Bloody Mary Mix and Rancor Bone – $19.00
Jet Juice
Maker's Mark Bourbon, Giffard Piment d'Espelette, Stirrings Pomegranate Liqueur, White Grape Juice and Lemon Juice – $16.00
Coruscant Cooler
Maker's Mark Bourbon, Luxardo Maraschino Liqueur, Carpano Antica Sweet Vermouth, Cranberry Juice, Lime Juice – $17.00
Tarkenian Night Flower
Refreshing Blend of Gin, Elderflower Liqueur, with flavors of Ginger and Huckleberry, garnished with Sweet Hibiscus Flower – $18.00
Yub Nub
Malibu Pineapple Rum, Sailor Jerry Spiced Rum, Citrus Juices, and Passion Fruit – $17.00
Beers on Tap
Black Squadron Lager
Golden Lager with a touch of Honey (Delahunt Brewing) (ABV 4.8%) – $14.25
Gamorrean Ale
(ABV 5.2%) Red Ale with Roasted Caramel, Hop character, and touch of Grapefruit (New Belgium Brewing Co.) – $14.25
White Wampa Ale
(ABV 4.5%) Classic Hefeweizen with a Banana and Citrus character (Ballast Point Brewing Co.) – $15.25
Rancor Beer Flight Souvenir Board with Four Teeth
enjoy a sampling of each Beer – $86.00
Bad Motivator IPA 
(ABV 6.0%) Tropical India Pale Ale with Galaxy and Comet Hops (Sierra Nevada Brewing Co.) – $14.25
Seltzer on Tap
Sesid Seltzer 
Tropical Pineapple-Orange Hard Seltzer (Garage Brewing) (ABV 5.0%) – $13.25
Wine on Tap
Imperial Guard, Goldschmidt Vineyards, Sonoma
Fully clad Crimson-colored, nicely Focused Red Cherry and Raspberry Aromas combined robust Red Berry Fruit flavors, a touch of Caramel, Dark Chocolate, and Spice with long, supple Tannins – $18.00
Toniray, Golschmidt Vineyards, Sonoma 
Formerly produced on Alderaan, Teal-colored, refreshing Crisp style, Aroma characteristics of Green Apple and Meyer Lemon with flavors of juicy White Peach, Apricot and a hint of Vanilla – $15.00
Oga's Cantina Lunch and Dinner Menu
Menu Date: 03/2023
Concoctions without Alcohol
Hyperdrive (Punch It!)
Powerade® Mountain Berry Blast, White Cranberry Juice, Black Cherry Purée, and Sprite® – $6.00
Blurrgfire
Minute Maid® Lemonade, Pomegranate Juice, and Habanero-Lime – $7.00
Jabba Juice 
Simply Orange® with Pineapple, Kiwi, Cantaloupe, and Blueberry Flavor-filled Boba – $6.50
Black Spire Brew
Cold Brew Joffrey's Coffee®, Honey, Falernum, Passion Fruit, and Citrus – $7.00
Moogan Tea
|Gold Peak® Unsweetened Tea, Chocolate Milk, Vanilla, and Cinnamon, topped with Vanilla Whipped Cream, Cinnamon & Sugar-dusted Cereal – $7.00
Tarine Tea
Gold Peak® Unsweetened Tea, Peach, Huckleberry, and Mint – $6.50
Blue Bantha
Blue Milk served chilled – $8.00
Cliff Dweller
Citrus Juices, Coconut, Hibiscus-Grenadine, and Seagram's® Ginger Ale – $6.50
Cliff Dweller
Citrus Juices, Coconut, Hibiscus-Grenadine, and Seagram's® Ginger Ale served in a souvenir porg mug – $35.00
Provision
Oga's Obsession 
Minute Maid® Lemonade, Cotton Candy Flavor, and Blueberry Flavor-filled Boba, with a bursting Dried Fruit Mixture – $7.50
Snack
Five-blossom Bread
Warm Pretzel Knot with Hawaiian Black Sea Salt, served with Honey-Mustard Cream Foam and Calabrian Cheese Sauce – $10.50
Oga's Obsession
Minute Maid® Lemonade, Cotton Candy Flavor, and Blueberry Flavor-filled Boba, with a bursting Dried Fruit Mixture – $7.50
Batuu Bits
a light crisp Snack Mix from the galaxy – $8.00
Happabore Sample
a selection of Cured Meats, Artisan Cheeses, Rations, Crackers – $21.00
Concoctions with Alcohol
Fuzzy Tauntaun
Cîroc Peach Vodka, Bols Peach Schnapps, and Simply Orange® topped with Tangerine, Pure Cane Sugar, "Buzz Button Tingling" Foam – $17.00
Takodana Quencher 
Bacardi Dragonberry Rum, Bols Blue Curaçao, Simply Orange® with Pineapple, Kiwi flavors – $16.00
Jedi Mind Trick
Ketel One Botanical Grapefruit and Rose Vodka, John D. Taylor's Velvet Falernum, Bols Blue Curaçao, White Grape Juice, Lime Juice, and Grapefruit Bitters – $16.00
Fondor Fizz
Toniray Teal Chardonnay, Tito's Vodka and Joffrey's® White Tea, with flavors of Lemongrass and Pea Flower Citrus – $19.00
The Outer Rim
Patrón Silver Tequila, Stirrings Pomegranate Liqueur, Lime Juice, and Pure Cane Sugar, topped with Exotic Fruit Purée, rimmed with Black Salt – $18.00
Bloody Rancor 
Tito's Vodka, spicy Bloody Mary Mix and Rancor Bone – $19.00
Jet Juice
Maker's Mark Bourbon, Giffard Piment d'Espelette, Stirrings Pomegranate Liqueur, White Grape Juice and Lemon Juice – $16.00
Coruscant Cooler
Maker's Mark Bourbon, Luxardo Maraschino Liqueur, Carpano Antica Sweet Vermouth, Cranberry Juice, Lime Juice – $17.00
Tarkenian Night Flower
Refreshing Blend of Gin, Elderflower Liqueur, with flavors of Ginger and Huckleberry, garnished with Sweet Hibiscus Flower – $18.00
Yub Nub
Malibu Pineapple Rum, Sailor Jerry Spiced Rum, Citrus Juices, and Passion Fruit – $17.00
Beers on Tap
Black Squadron Lager
Golden Lager with a touch of Honey (Delahunt Brewing) (ABV 4.8%) – $14.25
Gamorrean Ale
(ABV 5.2%) Red Ale with Roasted Caramel, Hop character, and touch of Grapefruit (New Belgium Brewing Co.) – $14.25
White Wampa Ale
(ABV 4.5%) Classic Hefeweizen with a Banana and Citrus character (Ballast Point Brewing Co.) – $15.25
Rancor Beer Flight Souvenir Board with Four Teeth
enjoy a sampling of each Beer – $86.00
Bad Motivator IPA 
(ABV 6.0%) Tropical India Pale Ale with Galaxy and Comet Hops (Sierra Nevada Brewing Co.) – $14.25
Seltzer on Tap
Sesid Seltzer 
Tropical Pineapple-Orange Hard Seltzer (Garage Brewing) (ABV 5.0%) – $13.25
Wine on Tap
Imperial Guard, Goldschmidt Vineyards, Sonoma
Fully clad Crimson-colored, nicely Focused Red Cherry and Raspberry Aromas combined robust Red Berry Fruit flavors, a touch of Caramel, Dark Chocolate, and Spice with long, supple Tannins – $18.00
Toniray, Golschmidt Vineyards, Sonoma 
Formerly produced on Alderaan, Teal-colored, refreshing Crisp style, Aroma characteristics of Green Apple and Meyer Lemon with flavors of juicy White Peach, Apricot and a hint of Vanilla – $15.00
*Olga's Cantina menu items & prices subject to change without notice.*