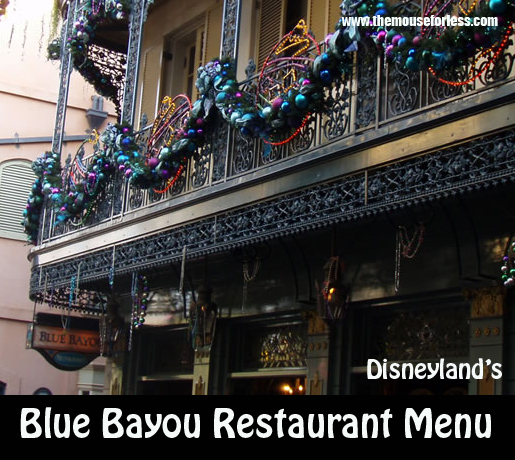 Savor down-home, Louisiana-inspired cooking, and full table service in the moonlit ambiance as Pirates of the Caribbean passenger boats drift past you at Blue Bayou. This popular restaurant serves a range of delectable dishes for lunch and dinner.
Blue Bayou is located in the Disneyland theme park.  Find more Disneyland dining locations on our Disneyland Resorts menus page.
Restaurant Info: Cajun-Creole, Healthy Selections, Vegetarian, Lunch/Dinner, $$$ – $35 to $59.99 per adult
Annual Passport Discounts: Signature Passport, Premium, Signature Plus Passport: 15%
Annual Passport Discounts: Deluxe, Southern California Select, Southern California Passport: 10%
Lunch Menu  Kids' Lunch Menu  Dinner Menu  Kid's Dinner Menu

Planning a Disneyland Vacation?
For a Free no-obligation quote, contact our sponsor
The Magic For Less Travel
. The Magic For Less Travel is an Authorized Disney Vacation Planner and has been helping guests plan magical vacations since 2002. Receive the best prices and free travel planning services. Their fee-free services will help you save time, money, and stress while planning a vacation designed around you and your needs!
Thanksgiving Day Offerings
Available November 28 ONLY
Turkey and Ham Special
Oven-roasted Turkey with home-style Gravy, Pineapple-glazed Ham, Yukon Gold Mashed Potatoes, Green Beans, Andouille Sausage Stuffing, and Cranberry Sauce
Pumpkin Creme Brulee
Kids Turkey Dinner
Blue Bayou Lunch/Dinner Menu
Menu Date: 10/2019
Starters
Fried Calamari
Shishito Peppers, Andouille Sausages, Remoulade – $14.00
Golden Beet Salad
Arugula, Goat Cheese, Sherry Vin, Strawberries, Pickled Onions, Pistachio – $12.00
Entrées
Bone-In Rib-Eye 
Butter Brushed, Mashed Potatoes, Broccolini – $48.00
Herb-crusted Rack of Lamb
Mashed Potatoes, Seasonal Vegetables, Feta, Roasted Garlic, and Rosemary Jus  – $44.00
Catch of the Day
Sustainable Fish Filet served with seasonal Vegetables and Chef's Seasonal sauce  – $43.00
Vegetable Pasta
Seasonal Vegetables, Pesto Cream Sauce, Fresh Egg Pasta – $30.00
Roasted Chicken Maison
Au Gratin Potatoes, Seasonal Vegetables, Vermouth Jus  – $35.00
 Jambalaya
Shrimp, Andouille Sausage, Chicken Sausage, Creole Rice – $36.00
Monte Cristo Sandwich 
Turkey, Ham, Swiss, Fruit Skewer – $29.00
Desserts
Creme Brulee – $9.00
8 Layer Chocolate Hazelnut Cake – $10.00 
Blue Bayou Kids' Lunch/Dinner Menu
Menu Date: 10/2019
Kids' Disney Check Meals
Sustainable Fish
Pan-seared and Served with Pasta Topped with Marinara, Seasonal Vegetables, and Fruit. Choice of small Lowfat Milk or Small Dasani Water – $12.00
Chicken Breast
Pan-seared and served with Pasta topped with Marinara, Seasonal Vegetables, and Fruit. Choice of Small Lowfat Milk or Small Dasani® Water. Meets Disney Nutrition Guidelines for Complete Meals without substitutions – $10.00
Kids' Meals
Mickey's Cheesy Macaroni
Yummy Noodles with Creamy Cheese Sauce served with Seasonal Vegetables and Fruit. Choice of Small Lowfat Milk, Small Dasani® Water, Small Minute Maid® Juice, or Small Chocolate Milk – $9.00
Chef's Beef Specialty 
served with Seasonal Vegetables and Fresh Fruit with a choice of small Lowfat Milk, small Dasani® Water, small Minute Maid® Juice, or small Chocolate Milk – $13.00
Fantasmic! Dining Package
N'awlins Gumbo
Chicken, Andouille Sausage, Tasso Ham, Rice
House Salad
Tomatoes, Red Onions, Yellow Peppers, Candied Pecans, Blue Cheese, Cranberries
Fantasmic! Entrées (Choice of one)
Seafood Pasta
Shrimp, Crab, Langoustine, spicy Shrimp Sauce, Squid Ink Linguini
Vegetable Pasta
Seasonal Vegetables, Pesto Cream Sauce, fresh Egg Pasta
Catch of the Day
Sustainable Fish served with Seasonal Vegetables and Chef's Seasonal Sauce
Surf & Turf
Split Lobster Tail, Petite Filet Mignon, Au Gratin Potatoes, Seasonal Vegetables, Cabernet Sauce
Roasted Chicken Maison
Au Gratin Potatoes, Seasonal Vegetables, Vermouth Jus
Bone-In Pork Loin
Mashed Potatoes, Cherry Barbecue Sauce, Cherry Relish, Legume Salad
Herb-crusted Rack of Lamb
Mashed Potatoes, Seasonal Vegetables, Feta, Roasted Garlic, Rosemary Jus
Bone-In Rib-Eye
Mashed Potatoes, Broccolini
Fantasmic! Desserts (Choice of one)
Sorcerer Mickey
Featured Fantasmic! Dessert – Pound Cake, Chocolate Mousse, Bananas Foster Center, Chocolate Glaze
Gingerbread Crème Brûlée
with Chantilly Cream and mini Gingerbread Chocolate Man
8-Layer Chocolate Hazelnut Cake
Raspberry Sauce, Macaron Top
Kids' Fantasmic! Starter
Vegetable Crudité with Ranch Dressing
Kids' Fantasmic! Entrées (Choice of one)
Mickey's Cheesy Macaroni
Seasonal Vegetables, Fruit
Chef's Beef Specialty
Roasted Potatoes, Seasonal Vegetables, Fruit
Chicken Breast
Pasta, Marinara, Seasonal Vegetables, Fruit
Sustainable Fish
Pasta, Marinara, Seasonal Vegetables, Fruit
Kids' Fantasmic! Dessert
Fondant Chocolate Cake
** Blue Bayou Menu and Prices are Subject to Change Without Notice **